Kitchens are busy places. Not only do we make food, coffee and all manner of other delicious treats in the kitchen, but it is also a social hub, a meeting place. Having a kitchen that fits the bill, i.e. is equipped with all the right machinery and kitchen appliances, means you can be proud of your space, whilst also making it easier to whip up meals for the family.
A food processor is now considered a staple piece of equipment in the kitchen. From making soups to blitzing ingredients, baking cakes, to making yummy milkshakes, a food processor is a seriously versatile appliance that is a must-have for any household. Of course, that also means that the market is flooded with different brands and models, so how are you supposed to choose the best one for you?
We've reviewed five of the best food processors under £100, so you don't have to do the hard work. Please note, we can't guarantee that these models will still be available for less than £100 when you read this article.
1. Philips 750 W Kitchen Food Processor HR7761/01
You can be assured of quality with any Philips product, and that gives you confidence in your purchase from the get-go. This particular model is packed with extras, such as PowerChop technology which is designed to aid with cutting and chopping of ingredients, as well as a pulse setting and two other speed settings besides.
The food processor is able to mix, churn, blitz, cut, chop, dice, slice, and shred ingredients, and also has a kneading function, which is perfect for bread making.
The bowl holds 2.1 litres of ingredients and has a very sturdy base, so it isn't going to move around on the work surface whilst in use. The food processor also looks the part, so will be a stylish addition to your kitchen.
If you want to add extra dimensions to your equipment, you can purchase extra attachments from the Philips range, to enable you to get even more use out of your product.
2. Philips HR7627/01 Daily Collection Food Processor
This Philips product is a great addition to your kitchen and one that looks the part, without breaking the bank. Similar to the last product we reviewed, but a different model, this food processor also has the PowerChop function, to enable to better chopping of ingredients, and it has two speed settings and a pulse setting, to cover many different culinary needs.
There is a low speed setting incorporated which is also ideal for baking cakes and other sweet treats, i.e. whipping cream and beating eggs correctly and completely.
This is a great choice for a larger family, as you can create five portions of whatever you're making at once, and that means less time and effort on your part. The machine also has stainless steel disc inserts within it, so again, chopping performance is on par with some of the more expensive food processors on the market. The feeding tube is also considered to be 40% larger than some other popular Philips models.
3. Kenwood FPM250 Multipro Compact Food Processor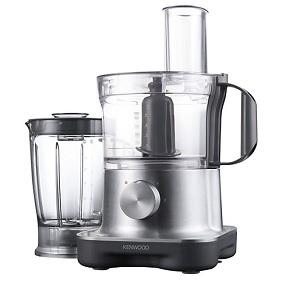 Another big-named brand is Kenwood, and this particular food processor model is a very popular one, whilst having a very attractive price. This is a very compact machine, so it's not going to take up too much space on your work surface, and you can store it away if you want to. The motor is also very powerful, at 750 watts, so you know that your food is going to be mixed or chopped just as you need it!
There are a huge 22 different functions with this product, and the bowl has a capacity of 2.1 litres. There is an included dough tool and twin geared whisk, which is ideal for beating eggs or cream and baking sweet treats.
In addition, there is an included grating disc, extra fine grater and a knife blade. All of the machine's parts can be put into the dishwasher for easy cleaning and are easy to remove.
4. Kenwood FDP301WH Multipro Compact Food Processor
This Kenwood model is a fantastic budget option for a small kitchen, and is small and compact enough to pack way or leave out on your counter top, without taking up hardly any room at all! Despite its small size, the machine is very sturdy and doesn't move around whilst in use, thanks to the rubber feet which keep it firmly in one place.
There are two speeds included and a pulse function, as well as a slicing and shredding disc which is reversible in function. In addition, there is also a whisking tool, so you can combine whatever you need with ease.
All the attachments have a safety lock function, so you don't have to worry about them coming away whilst in use and causing harm or a mess. Overall, for a small household, or a house which doesn't use a food processor on a constant basis, this is a great choice.
5. Cuisinart CH4BCU Mini Food Processor
Cusinart is a big-named kitchen brand and is iconic with products such as this. This particular food processor certainly looks the part and will be a stylish addition to any kitchen. It is also compact, despite packing a punch.
You can chop and grind any ingredients together using control that are touchpad in design and there is also an auto-reverse Smart Power blade system which means you can quickly chop smaller items, such as spices, as well as meat. You don't have to worry about the blades coming away, as there is a safety BladeLock system.
This is a great choice for anyone who uses a food processor regularly, because there some great features included, despite the low price and small size. The bowl does hold a little less than some other products we've reviewed, at 900ml, but for a small household that shouldn't be an issue.