As the name suggests, multi cookers are designed to allow you cook several different things with one device. Buying a multi cooker is cheaper and more space-efficient than buying a separate rice cooker, steamer and soup maker.
What is a Multi Cooker?
Multi cookers usually have several pre-set options for cooking things such as rice, porridge and soup, so you don't need to worry too much about choosing the right settings yourself. Lots of slow cooker recipes can be cooked in a multi cooker using a low heat setting.
Some of the things you can use a multi cooker for include the following:
Cooking rice
Preparing porridge
Making soup
Making yoghurt
What's the difference between a multi cooker, slow cooker and pressure cooker?
There is some overlap between these three products, so it can be confusing to know exactly what the difference is. Below is an overview of the differences.
| | | |
| --- | --- | --- |
| Device | Cooking methods | Ideal for |
| Multi-cooker | Usually about 10 different cooking settings, often including steaming. | Rice, soup |
| Slow cooker | Just one cooking method. Cooks food slowly (4-10 hours) with different heat settings available. | Soups and stews |
| Pressure cooker | Just one cooking method. Cooks food quickly using pressure. | Rice and beans |
One thing that these three devices all have in common is that the food you cook in them will retain more nutrients compared to other cooking methods such as boiling.
Best Multi Cookers in the UK
We've researched the market and picked out 5 of the best multi cookers available in the UK today.
1. Tefal RK302E15 8-in-1 Multi Cooker
The Tefal RK302E15 is one of the most popular multi cookers in the UK. It has a 2.2-litre capacity and offers 8 cooking settings: white rice, quick rice, brown rice, grains, oatmeal porridge, slow cooking, steaming and dessert.
Features
8 cooking settings
2-litre capacity
Steam basket
Delayed start function
Keep-warm function
Non-stick bowl (made from safe PTFE material)
Digital control panel
Pros
Bowl can be easily removed for cleaning
Works very well for making rice
Delayed start is very useful
Cons
Summary
This versatile gadget is excellent for cooking lots of different things, in particular rice. It's easy to clean and the delay timer is very handy. However, several buyers have found that their multi cooker stopped working properly after a year or so.
2. Russell Hobbs Multi-Cooker 21850
With a 5-litre capacity, the Russell Hobbs Multi-Cooker 21850 can cook more than twice as much food than the Tefal RK302E15 reviewed above. It's big enough for families, and is also a useful gadget for single people.
Features
11 cooking programmes (bread, cake, fish, meat, porridge, rice, slow cook, soup, steam, stew, yoghurt)
5-litre capacity
LED display
Keep-warm function
24-hour timer
Steam tray
Pros
Large bowl (5 litres)
Easy to use
Versatile – can be used for rice, bread, stews and more
Easy to clean
Cons
Instructions aren't very clear
Summary
This multi cooker is a very handy gadget that will make cooking simpler and reduce the amount of washing up you have to do.
3. Wilko Multicooker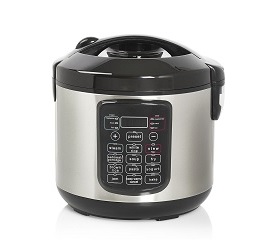 This budget multi cooker from Wilko offers an inexpensive alternative to products from bigger brand names. It has a good capacity and offers lots of different cooking functions.
Features
5-litre capacity
15 cooking functions: steam (vegetables, meat, fish), stew (vegetables, meat, fish), white rice, porridge, soup, fry, brown rice, pasta, yoghurt, jam, bake
Keep-warm function
2-year guarantee
Pros
Good value for money – cheaper than most multi cookers
Very versatile
Easy to clean
Cons
No recipe book included
Instructions aren't very detailed
Summary
This multi cooker is a great buy for the price. It could do with some more detailed instructions and a recipe book, but if you're already familiar with how multi cookers work you should find it easy to use.
4. Pressure King Pro Digital Pressure Cooker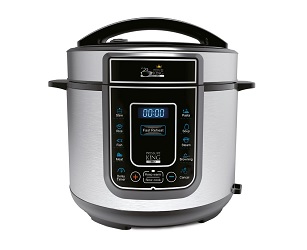 While it's sold as a pressure cooker rather than a multi cooker, the Pressure King Pro offers several different cooking functions as well as a slow cook option, so it's similar to the regular multi cookers reviewed here.
Features
5-litre capacity
24-hour delay timer
Keep-warm function
Dishwasher-safe pot
Pros
Easy clean
Straightforward to use
Cooks food quickly
Cons
Cookbook included doesn't have many ingredients
Scratches easily
Summary
This is an easy-to-use gadget that doesn't take up much space on your kitchen countertop. It's a great all-rounder, but be careful as the bowl can scratch easily.
5. Tefal RK812142 MultiCook Advanced 45-in-1 Multicooker
This multi cooker from Tefal has a huge number of functions—45 to be precise. It's more than a rice cooker; you can use the Tefal RK812142 to make yoghurt, prove bread dough
Features
5-litre capacity
45 programmes
5 cooking types: baking, soup, steam, stew, crust fry
LCD control panel
Spherical bowl for better heat circulation
Steam basket
Rice spoon
Pros
Easy to clean
Compact, space-saving design
Very versatile
Cons
Instructions aren't very clear
Choice of options can be overwhelming
Recipe book doesn't contain many recipes
Summary
If you want as many options and programmes as possible, this multi cooker is the one for you. However, the choice of programmes makes it quite complicated for beginners.
How to Use a Multi-Cooker
A multi cooker does exactly what its name suggests, it is one cooker that replaces loads of kitchen appliances. All you have to do to with a multi cooker is add your ingredients and select the corresponding setting, it is really that easy! Although all multi cookers are a little different, you can expect the following settings:
Cook – The cook setting can be used to make soups or rice or anything in between. This mode maintains a specific boiling temperature for a pre-set time.
Bake – The bake setting on a multi-cooker allows you to make cakes, biscuits, casseroles and pastries.
Fry – From chips to hot wings, a multi-cooker can fry them all.
Pasta – This mode is similar to the cook mode above—it maintains a boiling temperature for a certain amount of time. However, this mode can be paused when it's time to add any other ingredients.
Rice and grains – This setting heats to boil and then maintains this heat until all liquid is gone.
Stew – This setting is great for steamed veg, stew, meat and seafood. This one brings the multi cooker up to the boil and then cooks at a slightly lower temperature for a pre-set time.
Steam – Great for fish and veg as it locks in all the flavour and nutrients
Pilaf – This setting brings a broth to the boil, then raises the temperature and bakes for a few minutes.
Premium multi cookers can also include other modes like bread baking, yoghurt making and pressure cooking settings too. You may think that a multi cooker is very difficult to use with all these settings, but they are actually designed to be simple. As we said above, just place all your ingredients inside, select the right setting, and leave the multi cooker to do its thing. Depending on the setting, you typically don't have to do anything else until the programme has finished.
So, multi cookers provide a very quick and easy way of making whole meals or a portion of a meal. They allow you to throw everything in at the beginning, including all your spices and seasoning, push a button and go have a seat down. They make cooking lovely meals for any size family very simple, and that is why every household should have one!
Multi Cooker Recipes
The uses of multi cookers seem to multiply every time you look at recipes that can be achieved just be using a multi cooker. It is truly remarkable what you can make in a multi cooker and how little effort you have to put in to make very tasty food.
Scrambled Egg with Smoked Salmon Multi Cooker Recipe
To demonstrate how versatile multi cookers are, here is a scrambled egg with smoked salmon recipe. For this recipe, you'll need:
2 ounces of smoked salmon, flaked
4 eggs
1 ounce of cream cheese
2 tablespoons of sliced spring onions
2 teaspoons of butter
A quarter teaspoon of black pepper and the same of salt
To start, whisk the eggs, salt and pepper together in a medium-sized bowl.
Preheat your multi cooker on the simmer setting.
Add the butter and mix with a spatula to melt it.
Add the egg mixture to your multi cooker and cook for 4 minutes. You'll need to stir this occasionally to ensure the egg doesn't stick to the bottom of the multi cooker.
Now, gently fold in the spring onions, cream cheese and salmon.
Cook and stir for a further 2 to 3 minutes or until the eggs are cooked, but slightly moist.
And that is it, you now have a wonderful breakfast. Serve these scrambled eggs and salmon on toast to guests and they will think they are staying at an upmarket hotel and it only took you about 10 minutes from start to finish.
This is why multi cookers are excellent for everyone's kitchen. They are so simple to use that you can get brilliant results from them without needing a degree in cooking or engineering! Kitchen Aid has a bunch of great recipes here that only use a multi cooker. They're really easy, cheap and produce some fantastic food for any size family.