Ready to cook like a pro? Below are 5 tools you should have in your kitchen to help you prepare nutritious meals with the minimum amount of effort.
1. Hardwood cutting board
The quintessential kitchen implement, the butcher's block cutting board is essential for slicing, chopping and cutting meats and vegetables, as well as mincing onions, garlic and herbs.
Make sure to invest in a cutting board made from hardwood or bamboo if you are looking for durability.
Cutting boards also make a great DIY project, so if you have the right tools on hand, you can make one for yourself or make several to give away as gifts. Should you lack the time or tools to make one from scratch, then consider this T&G Tuscany acacia wood chopping board
.
2. Cast-Iron Skillet
Long before the advent of mass-produced non-stick pans, cast iron skillets were a kitchen staple thanks to their durability, ability to retain heat and allow food to cook more completely.
They even leach trace amounts of iron into your food, which is good for people with a deficiency of this mineral.
Not all cast iron skillets are created equal however, and you should look for a heavy and easy-to-clean model such as this 10.25-inch skillet from Lodge
.
3. Large stainless steel knives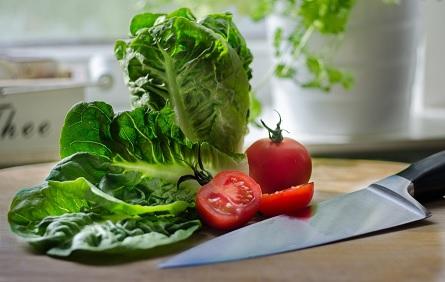 No kitchen is complete without a stainless steel chef's knife or set of knives. Essential for chopping, paring, slicing and general cutting, a good knife will make meal preparation easier and last for a reasonably long time.
A good kitchen knife usually ranges from 6 to 8 inches in size and is made from a heavy-duty material such as tempered or carbon steel. If you are looking to purchase a new knife or replace the one you currently use, you cannot go wrong with the classic knife from Wusthof.
4. Heat resistant measuring jug
Cooking is an exact science and much like chemistry and physics, you need to measure out exact quantities of ingredients to get the result you are looking for.
Enter the trusty measuring jug which can be used to measure accurately in addition to performing functions such as boiling water in the microwave and acting as a mixing bowl for sauces and dressings as well as for whisking soups.
Try this 1L Pyrex Measuring Jug
for its durable, non porous and heat resistant properties.
5. Slow Cooker Crockpot
Sometimes you simply do not have the time to prepare a meal from scratch, especially at the end of a long day. This is why it helps to have a Crockpot on hand.
You simply chop up the ingredients for your favourite meal, toss them into your Crockpot and leave them to cook slowly as you leave for work or to take care of other commitments.
Return home, turn off your Crockpot and enjoy a succulent meal that has been cooked to perfection.
Just starting out using a Crockpot? Then this 2.4 litre Crock-Pot Slow Cooker
will provide a great introduction to slow cooking.
Cooking need not be a complicated and long drawn out process. With the right tools at hand, you should be able to prepare quick and healthy meals that will have your guests reaching for more servings.