Whether you love making sauces or soups, or you just want to speed up chopping veg, a food processor is a brilliant tool for your kitchen. Today, we're exploring the best food processors available in the UK right now.
We'll also be looking at the many uses of food processors and how valuable they can be to a lot of cooking processes. But first, let's look at the best, shall we?
Best Food Processors in the UK
1. Ninja Food Processor with Auto-IQ

Capacity: 2.1 litres
Power: 850 watts
Ninja makes some of the best kitchen appliances available at the moment, and their fantastic food processor is no exception to this.
As well as having some excellent features, this Ninja food processor is also one of the easiest food processors to use, all thanks to the Auto-IQ feature.
If you want to chop veg, there is a setting for that. If you want to puree, slice or mix veg, there are also settings for that. There is also low, high and pulse settings, so you can really dial in the power for any type of chopping you need.
Along with the excellent settings, you also get a 2.1-litre bowl, which has plenty of space to create a wonderful sauce, salsa or soup.
The bowl is dishwasher safe, and so are the stainless-steel blades. This has all of the accessories a chef may need to slice, dice and precisely prep food.
2. Magimix 5200XL Compact Food Processor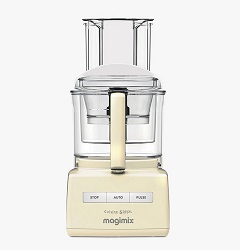 Capacity: 1.8 litres
Power: 1100 watts
Magimix has its roots in the commercial cooking industry. Because of this, its kitchen appliances and built to last in a professional kitchen.
This food processor was designed and built in France. It has simple to use controls and a powerful motor to make even the most demanding cooking tasks nice and simple.
This food processor is powerful enough to knead bread and delicate enough to whisk egg whites. It also features an induction motor. This is a whisper-quiet motor that is extremely powerful.
The motor comes with a 30-year guarantee, and the accessories come with a three-year guarantee. This is a food processor that is built to last and be used every single day.
3. KitchenAid Mini Food Processor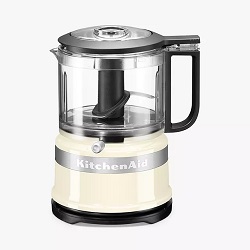 Capacity: 830 ml
Power: 240 watts
KitchenAid has been a staple in our kitchens for decades now and has led the way for bringing simple to use yet powerful kitchen appliances to our kitchens.
This mini food processor brings everything we love about KitchenAid to our kitchens in a small and lovely package.
While this is a small food processor, it still has a capacity of 830 ml. So, it is big enough to tackle sauces, chop veg for side dishes, and herbs for complex flavours.
We would've liked to see more options with this food processor. It only has two speeds and only comes with one set of blades.
This is a brilliant food processor, but it does have its restrictions compared to others on this list.
4. Sensio Home Mini Food Chopper/Small Food Processor

Capacity: 600 ml
Power: 300 watts
Whether you want to make sauces, soups or fruit salad, this small food processor can do it all and much more.
We love the size of this food processor. It is small enough to keep on your counter all the time, and yet the bowl is 600 ml, so it provides a good amount of room for creating loads of different dishes.
The mixing bowl also comes with a lid, so it can be stored in the fridge making food prep super simple.
Even though this food processor has a small 300-watt motor, the quad blades do an impressive amount of chopping and pureeing.
So, pestos, sauces and purees are easy in this one. For the price, this food processor is the best on the market and will be a valuable tool in your kitchen.
5. Cuisinart Mini-Prep Pro Mini

Capacity: 900 ml
Power: 250 watts
The Mini-Prep Pro from Cuisinart has a 900ml capacity making it perfect to use every day. Whether you want to make baby food, dips, dressings or hummus, you can do it all.
It is also nice and easy to use, with two power buttons; chop and grind. You can either pulse the power or leave it running depending on the consistency you want to achieve.
Plus, this also has a two-way motor, so finely chopped ingredients are really easy to do.
The lid also has drizzle holes, so you can precisely add ingredients. Making mayo in this food processor is so easy it seems like cheating. To top off this processor nicely, it has a brilliant design.
We love the stainless-steel colour, but you can also choose this food processor in a vintage rose or frosted pearl finish if you prefer.
6. Russell Hobbs 24732 Desire Food Processor
Capacity: 1.5 litres
Power: 600 watts
If you want your food processor to be as versatile as possible, this is the one to choose on our list. This has a lot of features to make processing food really easy and quick.
You can chop, dice, puree, slice, cream and more with the processor. However, it also comes with a blending jug attachment.
So, not only can you create amazing sauces in this processor, you can also make lovely smoothies and a great deal more.
We love the idea behind this food processor. It saves a tonne of space because it is two machines in one, and every attachment is dishwasher safe, making clean up a dream.
Plus, the controls are nice and simple, and it packs plenty of power to ensure that any food prep is quick and precise.
7. Bosch MultiTalent 3 MCM3501MGB Compact 800 W Food Processor
Capacity: 2.3 litres
Power: 800 watts
Here is another food processor that comes with more features than you can shake a stick at. Firstly, there is a powerful food processor that can slice, dice, chop, puree, and grate any ingredients you can throw in the top of it.
It also comes with a blending jug attachment, so smoothies, sauces and soups are really easy to do as well. Finally, it also comes with a smaller processor that is the perfect size for spices and herb mixes.
This food processor can easily take your cooking to the next level. You can also store whatever you make in the bowls themselves.
It is powerful enough to knead beard and grind coffee beans yet gentle enough to grind up herbs without bruising them. This is a very powerful and handy kitchen appliance that you're sure to love and use for years.
What Can You Use a Food Processor For?
Food processors can be used for loads of cooking tasks. Here is a quick breakdown of what food processors are capable of.
1. Slicing veg
You can slice and dice all of your ingredients in one of these, making prepping onions and veg for a stew really easy. You can also prepare veg for stir-fries and even grate veg for salads and coleslaw.
2. Dicing
Dicing in a food processor is as simple as changing the blades out for finer cutting blades. You can then create very finely chopped onions and anything else.
This is perfect when creating base ingredients for stocks, sauces, or stews. You can also use this for pestos and for finely chopping herbs.
3. Pureeing
The puree functions of a food processor are one of the handiest. While many of us don't make purees at home a lot, this can be used for sauces, baby food and a great deal more. You can even whisk egg whites with a food processor as well.
So, while many of us think of a food processor as a quick way of chopping veg, they can be used for much, much more. Having a food processor with additional accessories like a blending jug or coffee grinder also makes them even more versatile.
The coffee grinder is great for herbs, pestos and coffee, of course. And the blending attachment can be used for soups, smoothies and sauces. The more attachments a food processor has, the more versatile it will be in your kitchen.
Why Do You Need a Food Processor?
Food processors make prepping food really easy. You can chop all of your veg in under a minute and create the base of a sauce or stew. You can even grate with many food processors, so coleslaws and stir-fries are easy to do too.
So, food prep is super-fast, but you already know that. We all know food processors make chopping veg precisely and quickly really easy.
However, you can also make soups, sauces, pestos, stews and even bread in a food processor. To make a soup in a food processor, you just need to chuck all of your ingredients in and let it chop, slice and dice away until you are left with a smooth soup. You just need to cook it, and you're done.
Food processors let you focus on your ingredients and getting the perfect mixtures for lovely dishes. You don't need to spend valuable cooking time chopping and dicing as that is done for you. Instead, you can come up with lovely recipes and make them quickly. So, a food processor saves you time and lets you experiment in your kitchen.
Food Processor vs. Blender – What's the Difference?
What is the difference between a food processor and a good old blender? Is there even a difference?
The answer is yes.
Food processor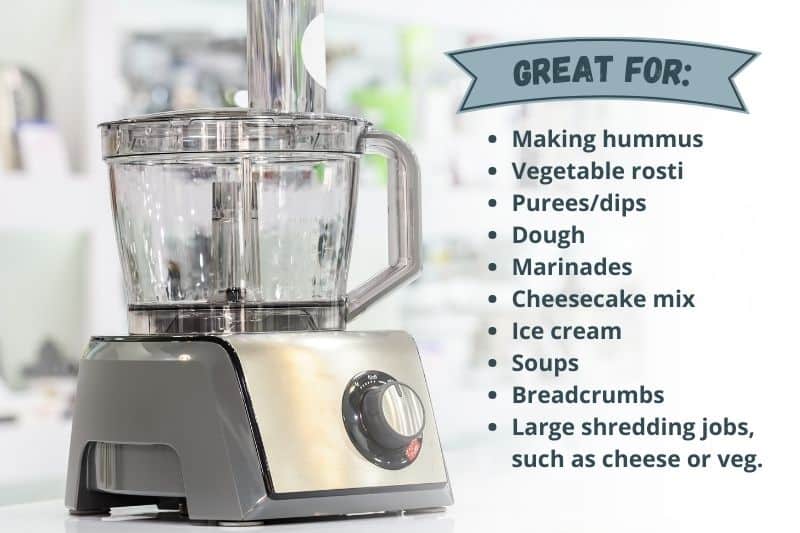 The clue is more or less in the title. A food processor's main aim is to aid you with food preparation, and they will usually come with a variety of different blades, accessories, and functions.
Most food processors come with a "feeding tube" at the top of the appliance, which allows you to gently and safely distribute various foods into it.
Main purposes of a food processor
Although food processors and blenders have similarities, the food processor aims to provide you with quick and precise food prep that would otherwise be done by hand or with a non-electronic utensil (both of which would take a lot longer). Food processors help you with:
Shredding
Slicing/Dicing/chopping
Grating
Kneading
Whisking
Churning
While blenders only tend to come with the standard built-in blade, food processors come with an array of different detachable blades designed for different purposes.
They are easy and safe to use, as well as simple to clean (most parts are dishwasher-friendly) and are ideal for cooking in bulk, entertaining, or just making life easier
Food processors are great for:
Making hummus
Vegetable rosti
Purees/dips
Dough
Marinades
Cheesecake mix
Ice cream
Soups
Breadcrumbs
Large shredding jobs, such as cheese or veg.
Blender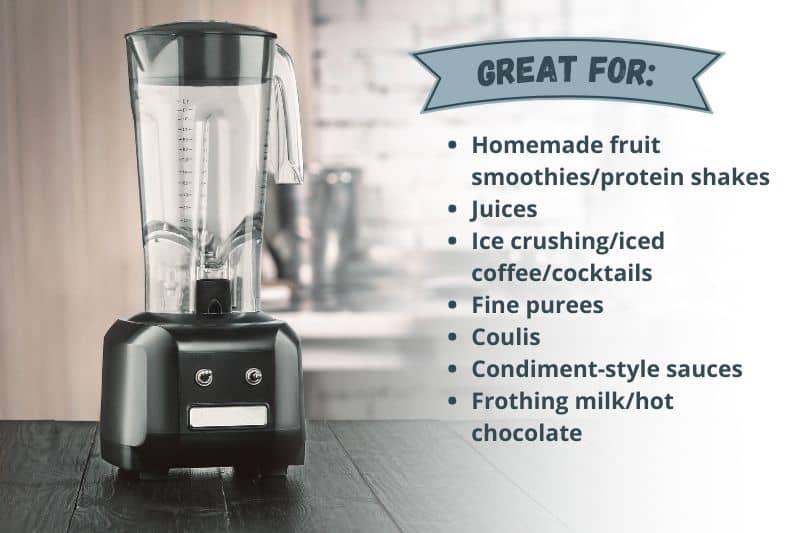 The difference between the two products lies in the desired outcome. If you require something with more of a liquid nature, then a blender should be your go-to item.
Unlike the processor, the blender had a fixed (non-removable) blade that rotates and blitzes its contents (the blender isn't really designed for foods of a solid nature – though ice is fine), and is ideal for various homemade beverages and the condiment side of cooking.
Main purposes of a blender
The blender's one and only purpose is to liquify all that comes into contact with it, so if you desire something a bit 'sturdier' in nature, such as a whipped feta dip, it is best to avoid using a blender.
The blender comes with a pitcher/jar-style main component that is detachable and has a 'lip' that is ideal for pouring fine liquids. Its aim is to create smooth, even textures, which is why it is a popular feature among the smoothie fanatic.
Blenders are great for:
Homemade fruit smoothies/protein shakes
Juices
Ice crushing/iced coffee/cocktails
Fine purees
Coulis
Condiment-style sauces
Frothing milk/hot chocolate
Food processor vs blender summary
There are pros and cons to each product, and while it is of course possible to use your blender for a multitude of other reasons (a lazy pasta sauce, for example!), a keen cook will ideally own both items and will use the specific product for the desired outcome.
Conclusion
We hope you found your favourite food processor above. We love the Ninja food processor. It is really versatile, yet so easy to use. For even more kitchen appliances and cookware that can add a lot to your kitchen, please explore Chef's Pick further. We have everything a chef needs to cook up a storm in their kitchen.

Scott is a writer and a passionate home chef. His passion for cooking began when he was 10 years old. Scott has been writing professionally for over five years now and loves to combine his passion for cooking with his day job.