Keeping your induction hob looking new and shiny can be a challenge. You need to have the right tools and the right cleaning methods for the job.
If you want to know how to clean your induction hob, we've explored that topic in depth in another article. If you want to know which are the best induction hob cleaning products on the market in the UK, read on!
Best Induction Hob Cleaners in the UK
1. Hob Brite
Hob Brite has very much become a staple in many ceramic and induction hob owners cleaning cupboards.
The reason Hob Brite is one of the most popular hob cleaners on the market is simply that it is a fantastic cleaning product. Many people swear by this cream cleaner, since it's arguably more powerful than Cif.
Hob Brite can remove burnt-on food and stains and also kills 99% of bacteria on your hob. Whether your induction hob is in great condition or needs some TLC, Hob Brite will be your best friend.
Hob Brite will get rid of any boil marks, any of the most stubborn burnt-on food stains and leave your induction hob looking brand new!
2. Astonish Hob Cleaner
If people don't use Hob Brite to clean their hob, they will often use Astonish hob cleaner instead. Astonish is designed for use on all kinds of ceramic hobs, including induction hobs.
This powerful cream cleaner removes any burnt-on stains and will leave your hob looking brand spanking new.
Astonish also leaves a protective layer on your hob that doesn't interfere with cooking on an induction hob but keeps the hob protective if you clean with it regularly.
Astonish is tried and tested by Schott Ceran (a ceramic hob manufacturer), and has proved itself in homes with ceramic and induction hobs for many years!
This ceramic hob cleaner is one of the best on the market, and it works great on induction hobs too.
Astonish has loads of uses around the kitchen too, for example, it's a great cleaner for microwaves also.
3. E-cloth

E-cloths are a way of cleaning your hob without using any chemicals or cleaning products at all. All you need is an E-cloth, some water and elbow grease. The fibres in these cloths do the rest of the work.
Now, E-cloths must be magic because most people who use them have never experienced cleaning like this without chemicals and with just some water and a cloth!
E-cloths can keep your hob, kitchen, bathroom, windows and general household very clean, but they are also keeping the environment clean too.
These cloths prevent the use of chemicals meaning you aren't breathing these in when cleaning, you aren't tipping these chemicals down the sink, and you aren't using paper towels.
So, if you want to save the environment, but don't want to sacrifice the cleanliness of your hob, grab yourself the E-cloth!
4. Neff Original Cooker Glass & Ceramic Hob Cleaner Kit
This is one of the most-used cleaning kits by induction hob and ceramic hob owners in the UK.
This hob cleaning kit comes with everything you'll need for your induction hob cleaning needs.
In the kit, you get a scraper that is built for cleaning glass hobs, a fantastic cleaning cloth that works brilliantly with the cleaning fluid which comes in the kit too.
The cleaning fluid that comes in this induction hob cleaning kit is powerful, and yet it won't damage the hob at all.
However, it will soften any burnt-on food and stains and make cleaning them easy.
Of course, the Neff cleaning kit was designed by Neff for their induction and ceramic hobs but will work perfectly well on other brands of induction hobs and ceramic hobs too.
5. Stellar Ceramic Hob/Glass Scraper
This ceramic and glass hob scraper is perfect for those who are new to using a scraper for cleaning their hob.
The handle of this scraper holds the replaceable blades at the perfect angle, so with the right grip on the scraper, removing burnt-on food from your hob is simple and easy and won't result in scratches.
Of course, without the correct grip, this scraper is just as likely to cause scratches as any other. So do make sure to research how to scarp burnt on food off of your induction hob prior to use.
Now, this scraper doesn't completely remove the need for some elbow grease, but using this scraper in conjunction with a cleaning fluid from this list and a good quality cloth will result in your induction hob or ceramic hob looking brand new once you have finished.
You won't use this scraper each time you clean your hob, but when you need it, you'll be glad you have it.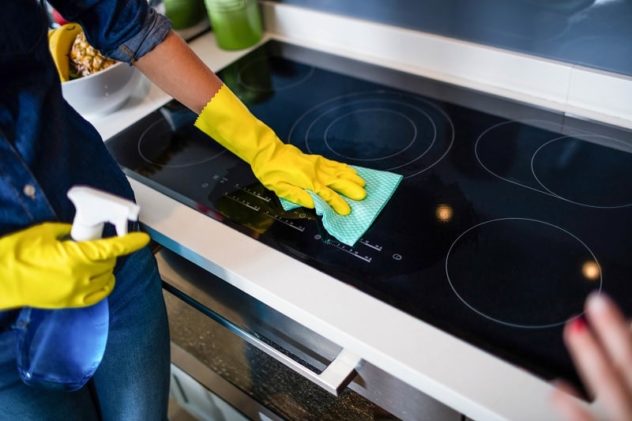 Induction Hob Cleaning FAQs
Here we have compiled answers to some of the most frequently asked questions about cleaning induction hobs.
How do you clean an induction glass cooktop?
The easiest way to keep an induction glass cooktop clean is to make it a regular habit.
Even a quick three-minute clean of your induction hob every day with a general-purpose kitchen cleaner can be enough to reduce the likelihood of burnt-on food and stains.
I know that finding the time to clean your induction hob isn't always easy, but it will keep your induction hob looking shiny and new for as long as possible!
How do you remove stubborn marks from an induction hob?
Many induction hob owners swear by using tile scrapers to scrape the surface of their hob.
An excellent way to remove stubborn marks from an induction hob is by using a good cleaning product and letting it soak in. You can then carefully use a scraper (I recommend using purpose-made ceramic and induction hob scrapers rather than a tile scraper, more on those in a bit) and a cloth or sponge mixed with a bit of elbow grease to remove those marks.
After you use the scraper, carefully wipe away the burnt food and grime with the cloth. If you go in all guns blazing, the grime may scratch the surface of your hob as you remove it.
Are induction hobs easy to clean?
Induction hobs are very to clean. As I said, the easiest way of ensuring your induction hob is kept clean is regular cleaning sessions. A few minutes of cleaning your hob a day will keep your induction hob at bay.
Just ensure that the hob is cool when you clean it, and it has completely dried before you start cooking on it. It's a good idea to use glass cleaner on your hob regularly too. This, of course, cleans up any streaks from the regular cleaning process and ensures the induction hob shines brightly.
Can you use ceramic hob cleaner on an induction hob?
You can use certain ceramic hob cleaners on induction hobs, but this varies from manufacturer to manufacturer.
It's best to buy a cleaning product that states that it can be used to clean an induction hob.
Now, some of the hob cleaning products reviewed above are perfectly safe and great for using on induction hobs and ceramic hobs, but I cannot say that every single induction hob cleaner is perfectly safe for use on ceramic hobs and vice versa.
Can you use Cif cream on an induction hob?
This is an interesting one. Many swear by Cif cream; others avoid it at all costs.
You see, Cif cream has small particles in it that work as an abrasive to make cleaning easier. Now, this abrasive property works fantastically well for a lot of cleaning applications, but it can mark your induction hob.
There is also a lot of residue if you use Cif cream and so this means that you have to rinse your hob a lot before you use it.
So, if you are careful, Cif cream can work great, but it may scratch the surface of your induction hob and will very likely scratch the surface of a ceramic hob.
And there's more work to be done after using Cif cream to clean as you must remove the residue otherwise that may become burnt on. In short, if you're careful, Cif cream can clean an induction hob well, but many other cleaners are easier to use and require far less work.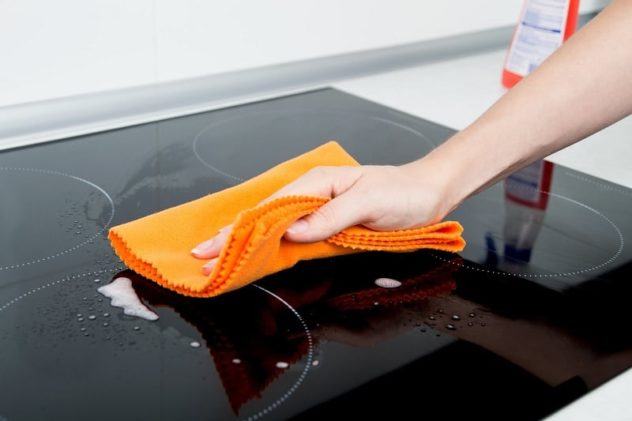 Conclusion
We hope this look at the best induction hob cleaning products will help you keep your induction hob or ceramic hob looking brand new. If we had to recommend just one, it would be Hob Brite. It's powerful and works well with different cloths and scrapers, which is why it's trusted by so many people.
As I said earlier, induction hob cleaning isn't difficult if you have a bit of time to put some elbow grease into it! Please explore our other induction hob articles for the best pans, tricks and tips for your induction hob!

Scott is a writer and a passionate home chef. His passion for cooking began when he was 10 years old. Scott has been writing professionally for over five years now and loves to combine his passion for cooking with his day job.