Have you just bought an induction hob? In that case, you may not have all of the cookware you need to cook amazing meals on it.
The first things most induction hob owners think of is pots and pans, of course. Your pots and pans need to be compatible with your induction hob for them to heat up.
However, cookware like a roasting pan is often not considered. But a roasting pan needs to be compatible with your induction hob if you plan on using it to make gravy, sear meat and anything else on the hob.
So, below we have the best induction roasting pans available in the UK right now. But before that, let's find out what an induction roasting pan actually is, shall we?
What Is an Induction Roasting Pan?
An induction roasting pan is exactly the same as a regular roasting pan. However, it has a ferrous metal bottom that allows it to be used on an induction hob.
With the right accessories, a roasting pan for an induction hob can actually be used to roast directly on the hob.
However, most chefs use a roasting pan in the oven and then finish off the gravy on the hob. But you can sear the meat directly on the hob and then transfer the roasting pan and the meat into the oven.
So, an induction roasting pan allows you to take your roast from the hob to the oven and back again. Granted, it's not the most versatile piece of cookware that we have ever discussed on here.
Still, these roasting pans can help you make the best roast you have ever made, so that makes them pretty great in our opinion. And, some roasting pans are actually way more versatile than most people realise, but more on that below.
So, let's look at the best induction roasting pans in the UK right now, shall we?
The Best Induction Roasting Pans in the UK
1. John Lewis Cast Aluminium Roasting Pan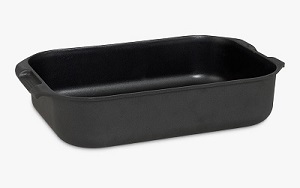 This cast aluminium roasting pan has some weight to it, but that is why we like it. It holds heat very well and makes roasting a dream come true.
Of course, this roasting pan is induction safe, and it has large handles to make transferring it from the hob to the oven and back again nice and simple.
This is a large roasting pan, 39 cm in length. So, make sure that you can fit this roasting pan in your oven before you buy it.
If you do buy this induction roasting pan, you will love roasting meat in it. It is really well built, it is large enough for the biggest cuts of meat, and most birds too.
Plus, the non-stick coating is superb. For the price, this is one of the best roasting pans on the market, whether you want to use the induction hob compatibility or not.
2. Le Creuset Signature Volcanic Cast Iron Roasting Pan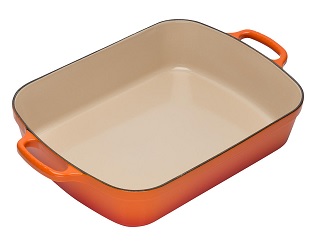 We had to choose this Le Creuset roasting pan for our list. Firstly, it is a very stylish roasting pan that will look great in any kitchen.
However, it is also perfectly designed for roasting meat and veg and using an induction hob too. It's made from cast iron and has an enamelled finish. This means that the heat distribution and retention is top-notch.
However, it is also deep enough to cook casseroles, lasagne and some of the best roast potatoes that you have ever made.
If you love cooking, this roasting pan is an investment that you will use all of the time. This certainly isn't a roasting pan that you'll save for Christmas, you'll use this throughout the year to create beautiful meals or sides.
3. Kopf Santorin Cast Aluminium Roasting Pan
This roasting pan comes in two sizes – 3.8 litres or 5 litres. It also comes with a lid, and so this roasting pan can be used for loads of dishes, not just for roasting.
Of course, the cast aluminium body means that this pan holds heat extremely well, meaning it is a monster for roasting. But it is great for lasagne and casseroles too.
The roasting pan is oven safe to 260 degrees Celsius, but the lid is only oven safe to 180 degrees. This does restrict the uses of the lid a bit, but we still think that this roasting pan brings a lot of value to your kitchen.
As this roasting pan is induction safe, you can use it to sear, fry, braise, roast and steam on the hob or in the oven.
4. Kitchen Crew Stainless Steel Roaster
We love this roasting pan from Kitchen Crew. It is a fantastically well-made stainless-steel roasting pan with a lid and a removable rack. The lid allows you to use this roasting pan to seal in flavour and moisture.
The rack means that you can create juicy roast meats that are healthier because the meat isn't sitting in a layer of oil and fat throughout the cooking process.
Plus, with the lid and the rack included with this roasting pan, you can also steam, fry, braise, sear and more very quickly and easily. Just to top this roasting pan off, it is also made from the highest grade of stainless steel possible.
The only true downside of this roasting pan is that it doesn't have handles as such. Instead, the rim of the pan is shaped into a handle.
But for what this roasting pan brings to your kitchen, we can't take too many points off for the lack of handles.
5. MasterClass Enamel Roasting Tin

This is a nice and basic roasting pan that works so well that we had to include it on our list. This is a 27 cm by 21 cm roasting pan that is very simple and easy to use.
Just place your meat and veg into the pan, pop in the oven, roast it, bring it out, let the meat rest and make some gravy from the juices in the pan on the hob. It is that simple and easy to get a tasty roast with this pan.
The enamel coating is nice and tough, and the whole pan is made from steel. This means that this roasting pan is very robust and will last a long time in your kitchen.
Granted, this roasting pan won't last as long as the others on this list, but it will see a good few Christmases and, for the price, we can't complain about that too much.
Conclusion
So, there's our favourite roasting pans that are induction hob safe. If we had to pick just one to recommend, it would be the John Lewis Cast Aluminium Roasting Pan. It's tough, non-stick and easy to clean.
We hope you've found the perfect roasting pan for your needs on here. To find out more about induction cookware and induction hobs themselves, please explore our website further. We have all the articles an induction hob owner needs to take their cooking to the next level.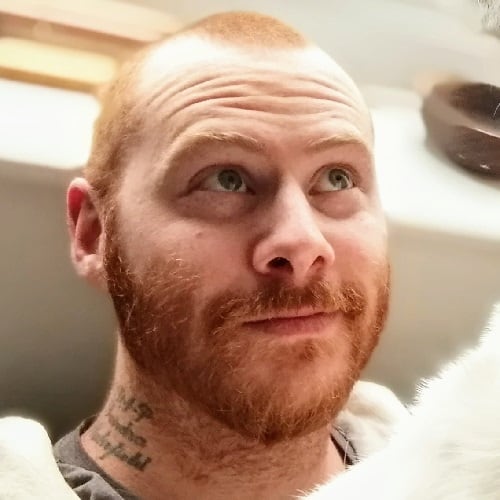 Scott is a writer and a passionate home chef. His passion for cooking began when he was 10 years old. Scott has been writing professionally for over five years now and loves to combine his passion for cooking with his day job.