Have you just bought an induction hob? In that case, you may not have all of the cookware you need to cook amazing meals on it.
The first things most induction hob owners think of is pots and pans, of course. Your pots and pans need to be compatible with your induction hob for them to heat up.
However, cookware like a roasting pan is often not considered. But a roasting pan needs to be compatible with your induction hob if you plan on using it to make gravy, sear meat and anything else on the hob.
So, below we have the best induction roasting pans available in the UK right now.
The Best Induction Roasting Pans in the UK
1. ProWare Stainless Steel Tri-Ply 35cm Roasting Pan
Dimensions: 44.1 x 29.2 x 14 cm
Materials: Stainless steel
This roasting pan from ProWare has an attractive brushed stainless-steel finish and feels very tough and sturdy.
Thanks to the aluminium inner core, it holds heat extremely well, meaning it is a monster for roasting. But it is great for lasagne and casseroles too.
The "Tri-Ply" in the name refers to the three layers in this roasting pan's design. There is a layer of stainless steel on the inside, then a layer of aluminium, then another layer of stainless steel on the outside. Isn't non-stick, but it's easy to clean if you soak it first
This pan measures 35 cm long by 26 cm wide and 6 cm deep, so it's pretty large.
The roasting pan is oven safe to 260 degrees Celsius. If you're using it in the oven, bear in mind that the stainless-steel handles get very hot, so you will need gloves!
This roasting pan doesn't come with a lid or a rack, but if you want a straightforward induction-compatible roasting pan with a good capacity, it's a great choice.
2. MasterClass Enamel Roasting Tin
Dimensions: 27 x 21 x 4 cm
Materials: Steel with an enamel coating
This is a nice and basic roasting pan that works so well that we had to include it on our list. This is a 27 cm by 21 cm roasting pan that is very simple and easy to use.
Just place your meat and veg into the pan, pop in the oven, roast it, bring it out, let the meat rest and make some gravy from the juices in the pan on the hob. It is that simple and easy to get a tasty roast with this pan.
The enamel coating is nice and tough, and the whole pan is made from steel. This means that this roasting pan is very robust and will last a long time in your kitchen.
Granted, this roasting pan won't last as long as the others on this list, but it will see a good few Christmases and, for the price, we can't complain about that too much.
3. Le Creuset 3-Ply Stainless Steel Roaster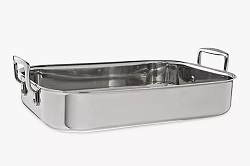 Dimensions: 35 x 25 x 7 cm
Materials: Stainless steel
We love this roasting pan from Le Creuset. It is a fantastically well-made roasting pan with a layer of stainless steel on the inside and outside, and a layer of aluminium in the middle. The aluminium helps distribute heat evenly throughout the pan.
As well as being suitable for induction hobs, this roasting pan is also oven safe up to 260 degrees Celsius, or Gas Mark 7. It's also dishwasher safe.
This roasting pan measures 35 cm long by 25 cm wide and 7 cm deep. However, 7 cm doesn't include the handles, which add extra height and mean you will need more space in your oven.
The Le Creuset 3-Ply Stainless Steel Roaster doesn't come with a rack, but you can buy one separately.
As you'd expect for a Le Creuset product, this roasting tray is expensive, but it's very well made and should last for years, if not decades. It's the perfect choice if you're serious about roasting!
4. Le Creuset Signature Volcanic Cast Iron Roasting Pan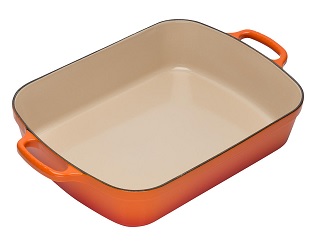 Dimensions: 36.3 x 21.3 x 6.6 cm
Materials: Cast iron
We had to choose this Le Creuset roasting pan for our list. Firstly, it is a very stylish roasting pan that will look great in any kitchen.
However, it is also perfectly designed for roasting meat and veg and using an induction hob too. It's made from cast iron and has an enamelled finish. This means that the heat distribution and retention is top-notch.
However, it is also deep enough to cook casseroles, lasagne and some of the best roast potatoes that you have ever made.
If you love cooking, this roasting pan is an investment that you will use all of the time. This certainly isn't a roasting pan that you'll save for Christmas, you'll use this throughout the year to create beautiful meals or sides.
What Is an Induction Roasting Pan?
An induction roasting pan is exactly the same as a regular roasting pan. However, it has a ferrous metal bottom that allows it to be used on an induction hob.
With the right accessories, a roasting pan for an induction hob can actually be used to roast directly on the hob.
However, most chefs use a roasting pan in the oven and then finish off the gravy on the hob. But you can sear the meat directly on the hob and then transfer the roasting pan and the meat into the oven.
So, an induction roasting pan allows you to take your roast from the hob to the oven and back again. Granted, it's not the most versatile piece of cookware that we have ever discussed on here.
Still, these roasting pans can help you make the best roast you have ever made, so that makes them pretty great in our opinion. And, some roasting pans are actually way more versatile than most people realise, but more on that below.
How to Choose an Induction Roasting Pan
Here are some things to consider when choosing a roasting pan.
Size
Before choosing a roasting pan, make sure you know the dimensions of your oven and your hob. To find this out, you can look in the user manual, search the internet for your oven and hob's model number of measure them yourself.
This is a good idea if you want to avoid making an expensive mistake and buying something too big.
You should also consider the size of what you are roasting. If you are roasting meat, you want there to be at least 5 cm space on each side of the meat to prevent the meat from drying out or dripping juices over the side of the pan and into the oven.
The average induction-compatible roasting pan measures about 35 cm long by 26 cm wide and 6 cm deep.
Material
In order to be induction compatible, a roasting pan needs to have a ferrous base. "Ferrous" means "containing iron", so an induction-compatible roasting pan will need a base that contains iron.
Stainless steel and cast iron are the most commonly used induction-compatible materials in roasting pans.
One confusing thing is that some induction-compatible roasting pans are made from cast aluminium. Cast aluminium itself isn't induction compatible.
To get around this, these pans have a stainless-steel base which does work with induction.
Many roasting pans combine layers of stainless steel and aluminium. Stainless steel is used for the outside since it is easy to clean, resistant to staining and is induction compatible, while aluminium is used on the inside for its heat conduction properties.
Extra features
Roasting pans are pretty straightforward, and if you have chosen something made from the right size and right materials there isn't much else to think about. The only extra features they can come with are handles, a lid and a rack.
Handles make it easier to get the pan in and out of the oven without spilling anything or dropping it. However, they can add extra height to the pan, so make sure you have enough space in your oven if you're buying a pan with handles.
Handles on these roasting pans are usually made from stainless steel, so they will get very hot and require gloves.
A lid can be a useful feature to help retain moisture and prevent roasts from drying out. However, you might not be able to roast something large like a chicken with the lid on since there might not be enough space.
Racks are useful for roasting meat as they allow air to circulate under the meat. They're also great if you want to avoid greasy roasts, as all the fat will drip off into the base of the pan.
Many racks have a non-stick coating, which makes them easy to clean and prevents the meat from sticking to your pan.
Price
The roasting pans reviewed here range in price from less than £50 on the low end to over £200. If you're on a tight budget, you should be able to find an induction-compatible roasting pan for around £20.
However, if you can afford it, it's better to invest in something high quality that will last for years and years into the future.
Roasting Pan vs Roasting Tin vs Roasting Tray – Are They the Same Thing?
If you're looking for a roasting pan, you may have noticed that different manufacturers and retailers seem to have different names for the same thing.
"Roasting pan", "roasting tin" and "roasting tray" all refer to the same thing: a large, oven-safe pan that is typically about 6 cm deep and often comes with a rack.
These pans come in different sizes but the depth is usually the same, at around 6 cm deep. The depth is the main thing that distinguishes this type of pan from a baking tray—baking trays are only about 2 cm deep.
Conclusion
So, there's our favourite roasting pans that are induction hob safe. If we had to pick just one to recommend, it would be the ProWare Stainless Steel Tri-Ply Roasting Pan since it's reasonably priced, tough and well made.
We hope you've found the perfect roasting pan for your needs on here. To find out more about induction cookware and induction hobs themselves, please explore our website further. We have all the articles an induction hob owner needs to take their cooking to the next level.

Scott is a writer and a passionate home chef. His passion for cooking began when he was 10 years old. Scott has been writing professionally for over five years now and loves to combine his passion for cooking with his day job.