Many chefs prefer cooking on gas over electric. Firstly, cooking with gas is often cheaper than cooking with electric, which is always nice.
However, a big advantage of cooking with gas is that you have much finer control of the heat. With a twist of a temperature knob, you can really dial in the size of the flame. This means that you can boil, sear and fry very easily on a gas hob.
However, this precision is only achievable if you have the right pans for the job. With any hob, the pans that you use play a big part in how you cook.
So, which are the best pans to use on a gas hob? Well, we have some great pans for your below.
But just before we get to the pans, let's look at why we have chosen these pans in particular, shall we?
What Makes a Pan Good for a Gas Hob?
As you know, gas hobs heat up very quickly, and you can adjust the flame very easily and quickly to bring the temperature down.
This is great, but if you don't have pans that work as fluidly as your hob, you aren't going to benefit from your gas hob.
Basically, there are pans on the market that are designed to absorb a lot of heat, which is brilliant when you are working with electric. The pans are made from thick metal, and so as the stove heats up, the metal heats up and retains the heat.
If you use these pans on a gas hob, though, you aren't going to benefit from the quick temperature changes possible.
So, the best pans to use on a gas hob are made from thinner metal. Or from thin layers of metals that are designed for even and quick heat distribution.
This allows the pans to heat up very quickly, but they lose heat fairly quickly too. So, when you crank the knob of your gas hob up, the pan heats up extremely fast, and you can sear a beautiful steak.
But when you dial back the flame, the thinner metal dissipates the heat quickly, so the water in your veg pot doesn't boil over.
It's worth noting that just because pans for gas hobs are made from thin metal, it doesn't mean that they won't last you a long time. If you care for your pans, you'll be using them for years as long as you buy a good set of pans. Speaking of good sets of pans, let's find out about the best pans for a gas hob available in the UK right now, shall we?
The Best Pans for a Gas Hob in the UK
1. Tower Cerasure Pots and Pans Set
This pot and pan set comes with everything you need for your gas hob. You get two frying pans and three saucepans of varying sizes.
Tower also does a few other sets of the Cerasure range, so if you already have frying pans, they still have a set that you can use.
All of the pots and pans in this set are made from a high-grade aluminium that is designed to heat up quickly, and it has fantastic heat distribution.
All of the pots and pans also have stay-cool handles which is a must for most cooks on a gas hob.
However, the reason this pan set made our list is because of the excellent ceramic non-stick coating.
One of the biggest problems with gas hobs is that they heat up so quickly that many cooks find it very difficult to cook without getting meat and veg stuck to the pan. However, the ceramic coating on these pots and pans can withstand the heat of a gas hob and is extremely tough.
So, you don't need much oil to cook with, and the coating will provide just as much control as the hob itself.
2. Prestige Thermo Smart Pots and Pans Set
What we loved about the pan set above is the excellent non-stick coating, and the non-stick coating on this pan set is exceptional too.
The frying pans in this set have a non-stick diamond surface that doesn't affect the heat distribution of the pan. But it works brilliantly and ensures that nothing you cook in the pan will stick.
Each of the saucepans in this set also has a great non-stick coating too. However, it is the amazing Thermo Smart feature of this pan set that got it onto our list.
These pans have a heat indicator on the stay-cool handle. When the light turns green, you can cook. This means, of course, that these pots and pans work brilliantly on any hob type, but they work fantastically well on a gas hob.
As gas hobs heat up so quickly, it is great having a heat indicator if you haven't used a gas hob before.
3. Eaziglide Non-stick Saucepan Set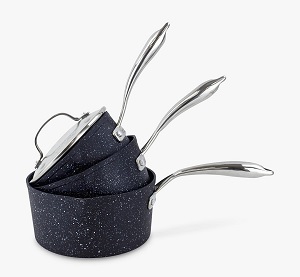 We are huge fans of Eaziglide and their incredible Neverstick2 non-stick coating. This non-stick coating is safe in the oven up to 260 degrees Celsius and so it just perfect for a gas hob.
The three saucepans in this set are made from aluminium and steel. The walls of the pans are aluminium, and the base is steel. So, they heat up nice and quickly and make it very easy to control the heat too.
These pans are so easy to clean as well. Thanks to the non-stick coating, you can simply wipe these pans clean, but they can go in the dishwasher too.
The handles of these pans are metal, so care needs to be taken when using them on your gas hob. However, the handles are intentionally longer than most to keep them out of the flames.
These are superbly made saucepans and will quickly become a real asset in your kitchen.
4. ProCook Gourmet Stainless Steel Saucepan Set
These stainless-steel saucepans have a 4 mm base and sides. This means that they heat up incredibly quickly, but will lose this heat nice and fast when you need them too. Although ProCook has designed these saucepans with induction hobs in mind, they are absolutely brilliant on gas hobs because of the amazing heat distribution.
Both of the saucepans in this set come with lids that are designed for straining and pour too making them very convenient for boiling veg and making sauces.
ProCook also offers this set as a 3 piece and 4-piece set. So, no matter how many saucepans you need, they have you covered.
5. Le Creuset Stainless Steel Saucepan and Frying Pan Set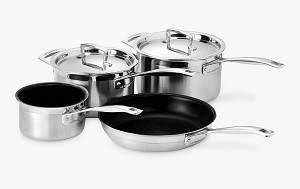 Le Creuset is a top name in the pot and pan world for good reason. They make some of the best cookware in the world that is amazing to use.
These pans are made of stainless steel, but they have a core of aluminium. This allows the pans to heat up nice and fast and hold the heat well too.
However, when you turn the gas down, the heat dissipates nicely, so you have amazing control of the temperature.
The milk pan and frying pan in this set also have a non-stick coating that is tough enough to withstand years of abuse.
You can use metal utensils on it, and it won't bat an eyelid. There is loads to love about this pot and pan set.
If you love to cook, this is probably the best pan set on the market for you. It is incredibly well built, works perfectly on gas hobs and is a joy to use.
Conclusion
So, there are our favourite pans for gas hobs. The Tower pan set is our favourite because of the amazing non-stick coating and the great size range in the set.
We really hope you find the best pans for your kitchen above. For more information about the best cookware in the UK right now, please explore our website further. We have the cookware you need to transform your kitchen into a cooking paradise.

Scott is a writer and a passionate home chef. His passion for cooking began when he was 10 years old. Scott has been writing professionally for over five years now and loves to combine his passion for cooking with his day job.