While oven gloves may seem like a trivial thing to buy for your kitchen, having good quality oven gloves can really protect your hands.
If you've ever used a tea towel to remove something from an oven, you'll know how careful you need to be. Each time you take something out of the oven, you run the risk of burning yourself, but oven gloves ultimate that almost altogether.
Today, we have the best oven gloves in the UK just for you. We have lots of styles of oven gloves to choose from, and we even have a guide to choosing oven gloves as well.
The Best Oven Gloves in the UK
1. MasterClass Double Oven Glove
Materials: Cotton, silicone
These MasterClass oven gloves have use silicone to protect your hands really nicely when they reach into the oven.
The silicone goes up to your wrist and keeps everything protected from the heat. However, the silicone also has lots of grip, allowing you to hold baking trays and dishes comfortably and stay in control.
These oven gloves have the classic loop of fabric holding the gloves together, so there are plenty of ways to hang these gloves when you aren't using them.
Plus, they are machine washable and cotton throughout. So, they are comfortable to wear and easy to clean, all while being some of the safety oven gloves on the market.
2. Wrendale by Royal Worcester Double Oven Glove
If you like some classic oven gloves, some oven mitts made from a loop of fabric that are nice and comfortable to wear but safe too, these are gloves for you.
Just like other classic oven mitts, these ones are made from cotton and are stitched to offer extra comfort and control during use. However, the reason these oven gloves made our list is because of the beautiful design on them.
There is a beautifully drawn owl on one glove that looks like many of us when we get out of bed. There is a duck on the other glove that seems to be slipping on some ice.
Both of the drawings look to be watercolours that have been printed onto the gloves really well. We think these oven gloves would suit a country kitchen just perfectly.
3. Enjoy Kitchen Gauntlet Oven Gloves With Silicone
Materials: Silicone, cotton, polyester
We're back with some silicone oven gloves again, but this time you get two gloves without the piece of fabric in the middle.
My partner and I have recently been trying out different pairs of oven gloves. We had a set of the fabric mitten ones for a while but have been trying single gloves out, and we love them.
You can pop one on to remove something from the oven and not have a large piece of fabric flapping around getting in the way.
These gloves are cotton lined but have silicone, non-slip grip hands. So, they are really comfortable inside, but thanks to the silicone, you get a lot of control and can barely feel any heat from what you pick up.
Finally, these gloves also have a lovely floral design, so they are great for just about any kitchen.
4. GEEKHOM Silicone Oven Gloves
Materials: Silicone, cotton
Why are oven gloves called gloves, but they are really mittens? If this question has bothered you, these oven gloves are the ones for you.
Ladies and gents, we give you actual oven gloves. These puppies are silicone gloves with thumb and fingers holes.
They are surprisingly grippy and fit to your hand really well. In fact, these oven gloves even come in different sizes to suit everyone.
Granted, these oven gloves aren't as quick to put on as some, and if you and your partner share cooking tasks and have very different hand sizes, you may need to buy two pairs, but these gloves are really handy in more ways than one.
They are machine washable, and you can use them while grilling, barbecuing and in the kitchen and still have a lot of control while using utensils.
5. Abbey Professional Cotton Oven Gloves
Materials: Cotton
If you're after some very simple oven gloves with no designs and no silicone grips, then these professional oven gloves from Abbey could be right up your street.
These are 100% cotton, they have no design, but they are really practical and very well made.
They have a strong weave construction, so heat doesn't penetrate into the gloves too quickly, and they have robust stitching, so they will last a long time too.
These oven gloves made our list because of how simple yet robust the design is. They are machine washable, really light and look really nice too. They offer a good grip on hot baking trays and keep their lovely, bright white colour for years.
6. Radiant Tech Oven Gloves
Materials: Silicone, cotton
These oven gloves have a really clever way of offering grip while still offering control. One big issue with silicone oven gloves is that they can be quite restricting when trying to pick up smaller items, but they do have a superior grip compared to normal cotton gloves.
Well, these get around the restrictions of silicone by having a weave pattern of silicone on the surface of the gloves. So, you still have the flexibility of cotton oven gloves, but also the grip of silicone too.
They are also double-layered, so none of the heat from the cookware you're moving will pass through to your hands. This double layer is also breathable, so your hands won't get hot and sweaty no matter how much of a storm you're cooking up in the kitchen.
7. AH Artisan Home Heat Resistant Black Oven Gloves
Lastly, we have a brilliant pair of oven gloves that have the classic styling of oven mitts but use silicone where it matters.
So, the oven mitts are made of very comfortable cotton, but the hands of the gloves have a silicone pattern on the surface. This pattern has been designed to offer a lot of grip but still allows the gloves to be flexible.
Artisan Home makes some beautiful kitchen products inspired by vintage items, and these gloves are very much true to their style.
While they would look great hanging on an AGA, they offer a practical, real-world use around the kitchen. These gloves are heat resistant, washable, practical and stylish, oh and a fantastic price too.
How to Choose the Right Oven Gloves for You
Choosing a pair of oven gloves may sound really simple, right? You could simply go and buy whichever oven gloves you first see, and they will do just fine for you.
However, if you put a bit of thought into how you cook and what you'll be using the gloves for mainly, you could actually buy some oven gloves that are going to protect you really well and look good hanging in your kitchen.
So, here's a quick guide on buying oven gloves that are perfect for you.
Silicone oven gloves
Some people love having lots of grip on oven gloves and will always choose silicone oven gloves as a result.
My dad has silicone oven gloves and gets on with them really well. These oven gloves last a lot longer than cotton ones, and the grip never really fades from them either, unless you are using them for hours at a time.
Silicone also has excellent heat resistant properties, so your hands will be protected from the heat for a long time.
I'm sure we've all picked something up in old, worn-out oven gloves in the past and have needed to put it down very quickly; otherwise, dinner will be all over the floor.
Well, with silicone oven gloves, you may never experience that. These oven mitts last for a very long time, offer plenty of grip (usually for the life of the gloves), and can look very stylish too.
The only downside to silicone oven gloves is that they are not as flexible as cotton gloves, so picking up small items with these gloves can be tricky.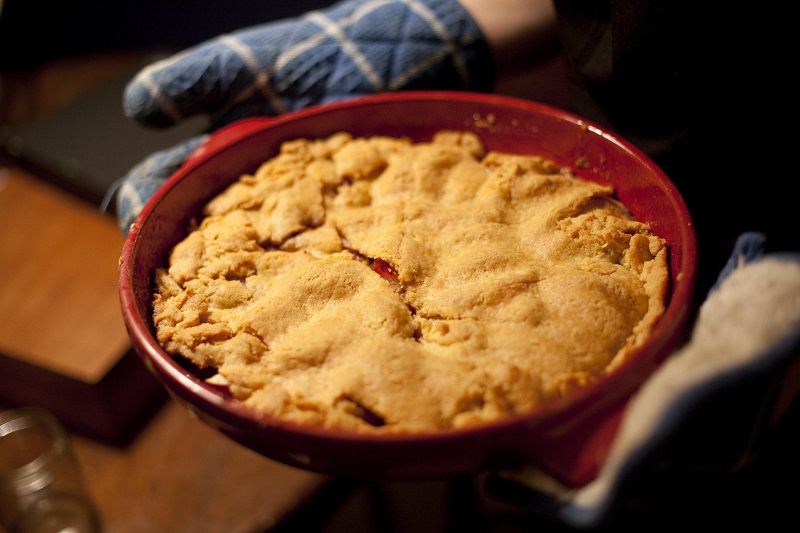 Cotton oven gloves
Cotton oven gloves are great if you want flexibility. Lots of people feel that silicone oven gloves don't provide enough feeling when handling things, and we understand that knowing you have a firm grip on something (especially something hot) is a big concern. So, cotton oven gloves may be the best route for you.
These oven gloves are nice and thick, so you'll still have some good heat resistance, but they do wear out quicker than silicone gloves.
However, cotton oven gloves usually come in a lot of different styles, so you can choose the perfect gloves for your kitchen and the paint scheme.
Plus, as they don't last as long, cotton oven gloves are usually cheaper than silicone ones.
Attached or separate?
Having used both separate oven gloves and attached oven gloves recently, I can certainly say that I prefer using single ones. I feel I have more control with single oven gloves, and I often only use one oven glove anyway.
If you're a maverick like me and only use one oven glove, you'll know that using attached oven mitts can be really unsafe as the other glove dangles down and gets in the way.
Of course, attached oven gloves still have their place in the kitchen and are great for certain tasks. Attached or detached oven gloves is really a personal thing. So, you could give both a try and see which you prefer.
Conclusion
Well, we hope you found the best oven gloves for your kitchen above. We loved the MasterClass oven gloves. The grip of the silicone is really unmatched by most oven gloves in the UK.
If you want to buy a new oven to really give your new gloves a proper test, Chef's Pick has an article for you!
We have everything a kitchen needs to be the heart of the home right here, so check out the rest of our cookware articles while you're here.

Scott is a writer and a passionate home chef. His passion for cooking began when he was 10 years old. Scott has been writing professionally for over five years now and loves to combine his passion for cooking with his day job.