Electric cookers offer easily controllable even heat distribution and quick cleaning for a busy family home.
They are excellent to cook with, especially when cooking something like a roast where you need every shelf in the oven to be at the same temperature at the same time.
Top 10 Electric Cookers in the UK
1. Beko KDC653W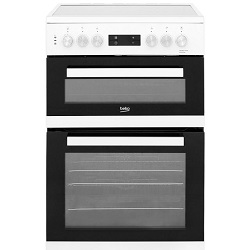 Width: 60 cm
Hob type: Ceramic
Energy rating: A/A
Oven capacity: 69 litres, 36 litres
This energy-efficient cooker from Beko is very pleasing on the eye and would look great in most kitchens. As well as white, you can also get it in a black or silver finish.
This cooker's two ovens cook evenly and are nice and quiet. The small oven (which also features a grill) is good for cooking for 1-2 people, while the main oven is good for big family meals.
One issue with this cooker is that it can be tricky to get the trays in and out—they are quite tight so you have to wiggle them a bit.
Given its build quality, features and stylish finish, this cooker offers good value for money. It heats up quickly and cooks evenly and quietly.
2. Amica 608CE2TAXX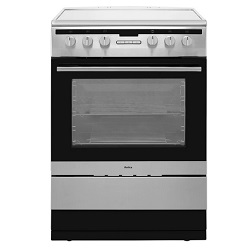 Width: 60 cm
Hob type: Ceramic
Energy rating: A
Oven capacity: 67 litres
This electric cooker from Polish brand Amica has a single oven rather than a double oven.
The oven has a large 67-litre capacity and has eight built-in functions or cooking programmes, including 'Rapid Preheating', 'Defrosting' and 'ECO heating'.
The oven is versatile and can be used for all kinds of cooking and baking tasks since you can control which of the heaters are on at any time, as well as choosing whether or not the fan should be on.
As you'd expect, there's a grill function built into the oven.
The hob is ceramic rather than induction. Like induction hobs, ceramic hobs heat up quickly and are very easy to clean. However, they're not quite as responsive or energy efficient.
One thing a lot of people like about this product is that there's a slide-out drawer underneath for storing pots and pans.
Most users find that this cooker works great and looks good too, while still being affordable.
3. Logik LFTC50W16 Electric Ceramic Cooker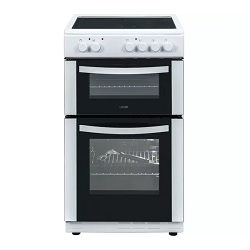 Width: 50 cm
Hob type: Ceramic
Energy rating: A
Oven capacity: 55 litres, 31 litres
This electric cooker from Logik is the smallest on our list coming in at only 50 cm wide. However, this is perfect for a small kitchen in a flat or small home.
Plus, overall it has about 85 litres of capacity in both ovens plus four hob plates on top, so, it isn't exactly tiny! You may not be able to cook a Tudor feast in this electric cooker, but you will certainly be able to cook for two or three easily.
The electric grill on top is full width so no matter the size of the meal you want to grill, you'll get total coverage. Plus, the fan-assisted bottom oven provides all the heat your meat and veg could need before it's ready to eat.
Overall, this is a basic electric cooker, but it's affordable, built well and will serve a small family well for years.
4. Flavel Milano ML61CDS Electric Ceramic Cooker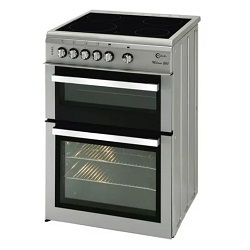 Width: 60 cm
Hob type: Ceramic
Energy rating: A
Oven capacity: 65 litres
This Flavel electric cooker provides everything a small family or couple may need for all their cooking needs. It has one fan-assisted oven and one separate grill.
The fan-assisted oven is large enough for most meals, while the grill provides the perfect way of making a full-English breakfast on a Sunday.
Although this electric cooker is smaller than others on this list, it does boast four electric rings on top. So, even if you are lacking slightly in the oven department, you still have enough rings to cook up a stir-fry or a storm!
This electric cooker also has one of the best energy ratings on this list and is just as easy to clean as the rest.
If you are after a small, but efficient electric cooker, this Flavel could be just what you're looking for.
5. Zanussi ZCV66060XE 60 cm Electric Ceramic Cooker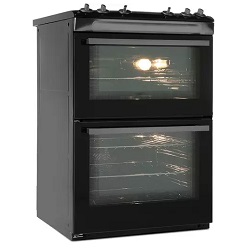 Width: 60 cm
Hob type: Ceramic
Energy rating: A/A
Oven capacity: 77 litres, 39 litres
This electric cooker boasts two large ovens suitable for cooking even the largest family meal. The bottom oven has a fan that offers perfect heat distribution throughout the oven so no matter where the food placed, it cooks evenly.
The top oven plays host to the grill and a more conventional heating system making it perfect for baking and roasting.
On top, you have a four-zone ceramic hob that provides reliable and responsive heat for boiling, frying and simmering.
Every part of this electric cooker is designed with easy cleaning in mind. From the ceramic hob to the enamel interior, cleaning is as easy as making the mess in the first place!
This is a fantastic cooker. It provides exceptional heat distribution even in the conventional top oven and has plenty of space. Even when it comes time to cook Christmas dinner, you'll have room to spare!
6. Currys Essentials CFSEWH18 50 cm Electric Solid Plate Cooker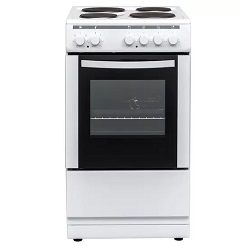 Width: 50 cm
Hob type: Solid plate
Energy rating: A
Oven capacity: 55 litres
This is one of the cheapest electric cookers on the market, so it could be a good choice if you're on a budget.
It's fairly small, with a width of 50 centimetres and a capacity of 55 litres. However, it could be a good choice if you're cooking for one or two people.
One disappointing thing about this cooker is that although it looks like there is a storage area below the oven, there actually isn't one.
The Currys Essentials CFSEWH18 is a good budget cooker that is perfect for small amounts of oven cooking. It's easy to clean and offers good value for money.
7. Beko XTC611S 60 cm Electric Cooker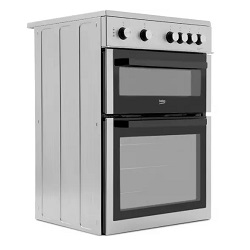 Width: 60 cm
Hob type: Ceramic
Energy rating: A
Oven capacity: 69 litres
This affordable cooker from Beko offers a single 69-litre oven plus a separate grill compartment. One nice touch is that you can remove the glass panels on the doors for easy cleaning.
This cooker can take a while to heat up. It's also a shame that the grill pan doesn't have a handle, so you need to be careful when taking it out.
This cooker offers good value for money, though it doesn't have as many features as some of the alternatives.
8. Zanussi ZCI66080BA Electric Cooker with Induction Hob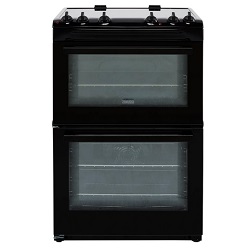 Width: 60 cm
Hob type: Induction
Energy rating: A/A
Oven capacity: 77 litres, 39 litres
This appliance from Zanussi has two separate ovens, perfect for cooking multiple dishes at once.
The top oven also doubles up as a grill or a great place to keep cooked food warm while waiting for other parts of your meal to finish cooking. This oven space is undeniably convenient and a must for big households.
On top of the oven is a modern induction cooktop. These are known for being much more energy-efficient than gas or electric hobs, and a great perk if you want to make your kitchen that bit greener. The overall appliance also has an A-Class energy rating, helping to keep costs down.
Additionally, the control panel for this electric oven is extremely easy to use. With rotary controls for the oven, you can easily spin the dial to the right temperature setting.
There are multiple oven settings too, ensuring everything you cook is baked to perfection. The cooktop is just as easily controlled, this time with a modern touchpad.
9. Beko ADC6M13K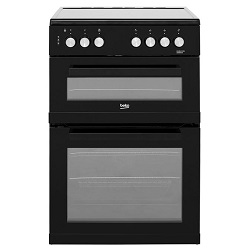 Width: 60 cm
Hob type: Ceramic
Energy rating: A/A
Oven capacity: 69 litres, 36 litres
This modern-looking cooker from Beko is great for both cooking and baking.
It offers a lot of different functions and options, making it ideal for chefs and bakers who need absolute control.
The hob heats up quickly and is easy to clean thanks to its ceramic finish. However, it can also be easy to scratch if you're not careful.
This oven is a particularly good option for bakers as it offers you lots of control over the settings. The Beko ADC6M13K heats up quickly and cooks evenly.
10. Stoves STERLING600E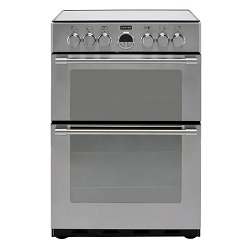 Width: 60 cm
Hob type: Ceramic
Energy rating: A/A
Oven capacity: 65 litres, 37 litres
The Stoves STERLING600E is a stylish but pricey electric cooker with a stunning stainless-steel finish.
It features two oven cavities. The main oven has a capacity of 65 litres, while the second oven has a capacity of 37 litres and also features a grill.
The ovens are very versatile and have some useful built-in programmes including 'Defrost', 'Bread proving', 'Pizza function', 'Intensive bake' and 'Keep warm'.
Most users find that the ovens cook well and evenly, though some find the top oven to be on the small side.
There's a four-zone ceramic hob, which heats up quickly and is easy to clean.
This cooker looks very classy and is generally very highly rated by users. A few complaints are that the fan can be noisy, and there are only 3 oven shelves included in total.
How to Choose an Electric Cooker
Choosing an electric cooker is a very personal thing. So, we won't pretend to know what cooker will suit your home best. However, we can offer some things to consider when buying a new cooker.
Many of these things are overlooked when cooker shopping, but they can make buying your new cooker much easier.
Capacity
All ovens have a litre measurement that tells you how much space each cavity has. For example, a 70-litre capacity means that, in theory, the oven cavity could be filled with 70 litres of water.
While a bigger capacity gives you more cooking space, the larger the capacity of your oven, the more time it will need to heat up. If you're buying a larger capacity oven because you'll think it will be handy for a few larger meals throughout the year (for example doing the Christmas turkey), remember that you'll need to heat it up every other day of the year too.
If it is too larger, it may become frustrating to use when making small meals
How many hob rings?
Most electric cookers have four hob rings, but some larger models (range cookers) can have six or even more. Most families can get by comfortably with four hob rings, but if you're passionate about cooking, you may feel the need to buy a cooker with more rings and space on the hob. Just remember, though, these cookers are larger, so it will need extra space.
How many ovens?
All-electric cookers have at least one oven, and most will typically have a grill too. However, there are some electric cookers that have two ovens (the top oven is usually a conventional oven and a grill too).
Having the extra oven is super handy for bigger meals—I wouldn't be without my second oven for Christmas day. Plus, the size of the cooker is the same; it just has more features.
Size/dimensions
Measuring the size of the cooker you need is quite simple. Just simply measure the width, height and depth of the current cooker you have.
If you're having a new kitchen installed, it could be the perfect time to buy a larger cooker. You may need to adjust the plans for your new kitchen to fit it in, though.
If you have a favourite cooker that you would like installed in a new kitchen, take the dimensions to your kitchen designer. They can create your perfect kitchen around your favourite cooker.
The standard dimensions of a cooker are roughly 90 cm high by 60 cm wide and 60 cm deep. The height and depth rarely change much from model to model, but there is a good choice of narrower cookers measuring 55 or 50 cm wide if you don't have so much space.
Energy efficiency
Most electric cookers nowadays are extremely energy efficient, but they can vary.
Most models have an energy rating of A if they have a single oven, or A/A if they have two ovens. There are a few models with an energy rating of A+ or A/A+, but they are very rare at the moment.
To get more details on the energy usage of each particular model of electric cooker, you can look at the product detail page on retailer websites, which usually shows the estimated enery usage in kilowatt hours (kWh) per usage or per hour.
Hob type
Most electric cookers these days have a ceramic hob. This is similar to an induction hob in that it heats up quickly and has a smooth ceramic surface that can be easily cleaned just by wiping it down.
Here's a quick guide to the different hob types you will find on electric cookers:
Solid plate – This is a somewhat outdated hob type that you are more likely to find on budget cookers. They heat up and cool down slowly, so they aren't very responsive when you want to quickly increase or decrease the heat level. They aren't as energy efficient as ceramic or induction hobs, as a lot of energy is lost when transferring it to your pots and pans.
Ceramic – Ceramic hobs are smooth and modern-looking. They heat up quickly and are relatively energy efficient, but aren't quite as responsive or energy efficient as induction hobs.
Induction – Induction hobs are the most modern and typically most expensive hob types. They look just like ceramic hobs, but are more energy efficient and you can turn the heat up and down instantly, like you can on a gas hob.
If you have the budget, we'd recommend choosing a cooker with an induction hob since they offer better performance and are more energy efficient. However, cookers with these hobs are pretty expensive, as this technology is still relatively new and costly to manufacture.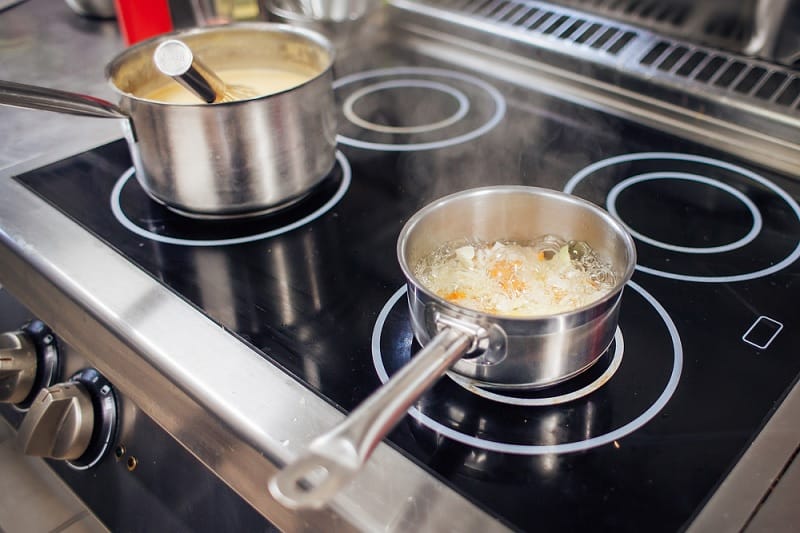 Electric Cookers vs. Gas Cookers
Everyone has a preference when it comes to the type of cooker they like using. Your preference is typically influenced by which cooker you have used in the past.
For example, if you have an electric cooker already, you'll likely stick to what you know as your kitchen is already set up for an electric cooker and you know how to cook with an electric cooker.
However, exploring your options when buying a cooker is never a bad thing. So, here are some pros and cons of electric and gas cookers.
Electric Cookers Pros
Quick to cook with
Easy to clean (especially hobs)
Heats evenly
Electric Cookers Cons
Slightly more expensive to run
Don't offer instant heat
More expensive to run
So, an electric cooker offers easy cleaning and the way it distributes heat offers easy cooking. While a gas cooker is cheaper to run, it doesn't offer the heat control of an electric cooker.
On average, you are looking at spending about £20 a year to use a gas cooker compared to £40 a year for an electric cooker.
So, depending on your yearly budget and how easy you want cooking to be, you should choose the cooker that offers the most for your home and family.
Which is more important to you, cheaper running costs or being able to cook meals more easily?
Unfortunately, there's no definite answer to the question of which type of cooker is best—electric or gas.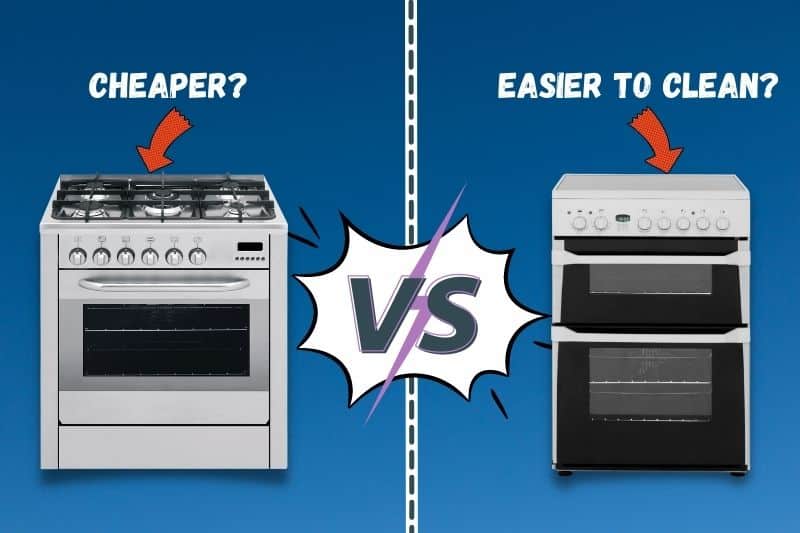 Electric Cooker FAQs
Are electric cookers cheaper to run than gas?
Electric cookers are typically more expensive to run than gas cookers.
The reason for this is that electricity prices are currently much higher than gas prices. Electric cookers are more energy efficient than gas cookers, but they still work out more expensive to run since electricity prices are so high.
Can you just plug in an electric cooker?
Electric cookers are generally rated at more than 3kW, which means they need to be hardwired and can't just be plugged into a 13-amp plug.
Can I install electric cooker myself?
If you know what you are doing, you can install an electric cooker yourself. However, you will still need to have a qualified electrician inspect your work when you have finished and issue you a Minor Electrical Installation Works Certificate.
Most retailers offer an installation service when you buy an electric cooker, so it will usually make sense to use this rather than trying to do it yourself, unless you're an electrician.
Conclusion
We hope this look at the best electric cookers in the UK has helped you choose your next cooker. If we had to pick just one to recommend it would be the Beko ADC6M13K 60 cm electric cooker.
It's one of the most highly rated and popular electric cookers in the UK right now, and offers all the essential features the average home chef needs.

Chef's Pick is your guide to the best kitchen equipment and appliances in the UK.
We help you understand the confusing world of cookers, ovens and cookware so you can get the most out of your kitchen.