Electric cookers offer easily controllable even heat distribution and quick cleaning for a busy family home.
They are excellent to cook with, especially when cooking something like a roast where you need every shelf in the oven to be at the same temperature at the same time.
However, many people opt for gas cookers over an electric cooker. So, before we get to the best electric cookers in the UK, let's first throw our hat into the ring and put electric and gas cookers head to head.
Electric Cookers vs. Gas Cookers
Everyone has a preference when it comes to the type of cooker they like using. Your preference is typically influenced by which cooker you have used in the past.
For example, if you have an electric cooker already, you'll likely stick to what you know as your kitchen is already set up for an electric cooker and you know how to cook with an electric cooker.
However, exploring your options when buying a cooker is never a bad thing. So, here are some pros and cons of electric and gas cookers.
Electric Cookers Pros
Quick to cook with
Easy to clean (especially hobs)
Heats evenly
Electric Cookers Cons
Slightly more expensive to run
Don't offer instant heat
More expensive to run
So, an electric cooker offers easy cleaning and the way it distributes heat offers easy cooking. While a gas cooker is cheaper to run, it doesn't offer the heat control of an electric cooker.
On average, you are looking at spending about £20 a year to use a gas cooker compared to £40 a year for an electric cooker.
So, depending on your yearly budget and how easy you want cooking to be, you should choose the cooker that offers the most for your home and family.
Which is more important to you, cheaper running costs or being able to cook meals more easily?
Unfortunately, there's no definite answer to the question of which type of cooker is best—electric or gas.
However, if you've decided to buy a new electric cooker, here are some of the best freestanding electric cookers on the market right now.
Top 10 Electric Cookers in the UK
1. Hotpoint HARE60K Electric Cooker with Ceramic Hob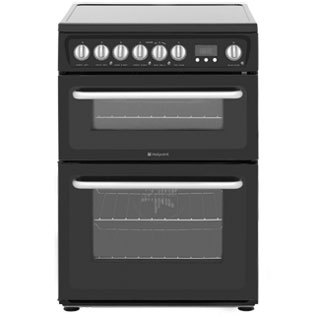 Top features
Ceramic hob
60 cm width
Fan oven
This Hotpoint electric cooker offers over 100 litres of cooking space, a vast amount of space fit for any large family meal.
Baking, roasting and grilling is taken care of in the conventional top oven, while the fan-assisted bottom oven provides a perfectly heated space for any dishes that need even cooking.
Up top, you have a four-zone electric hob that is spacious enough for even the largest saucepan or wok.
Thanks to the easy-to-use controls, this hob offers one of the most controllable heats on the market currently.
Pros
Great build quality
Looks great
Excellent value for money
Quiet
Cons
Some have found it complicated to use
Summary
Overall, this Hotpoint electric cooker works great.  It's easy to clean, it's quiet (even with the fan-assisted oven on) and heats up very quickly.
This electric cooker is perfect for a busy family home where meals and cleaning need to happen fast!
2. Beko KDC653W 60cm Electric Cooker with Ceramic Hob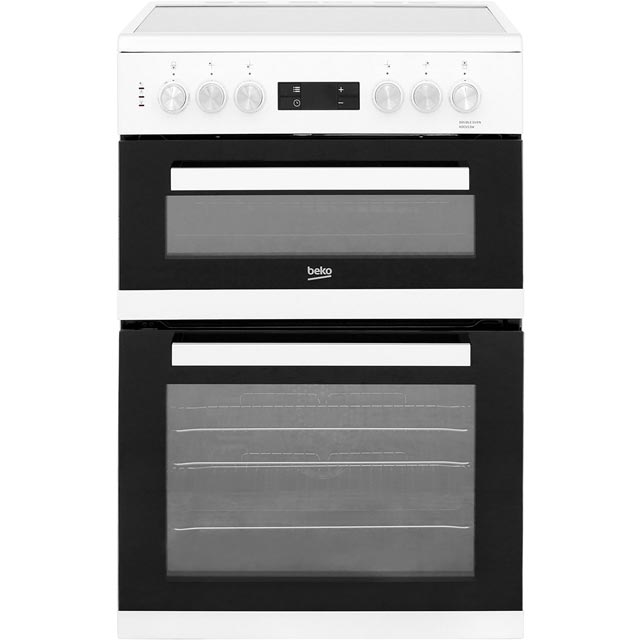 Top features
60 cm width
2 ovens, both A rated for energy efficiency
Grill in second oven
Programmable timer
Enamel coating for easy cleaning
This energy-efficient cooker from Beko is very pleasing on the eye and would look great in most kitchens. As well as white, you can also get it in a black or silver finish.
This cooker's two ovens cook evenly and are nice and quiet. The small oven (which also features a grill) is good for cooking for 1-2 people, while the main oven is good for big family meals.
One issue with this cooker is that it can be tricky to get the trays in and out—they are quite tight so you have to wiggle them a bit.
Pros
Ovens cook evenly
Ovens are quiet
Stylish design
Cons
Can be tricky to get trays in and out
No grill tray included
Summary
Given its build quality, features and stylish finish, this cooker offers good value for money. It heats up quickly and cooks evenly and quietly.
3. Hotpoint Ultima HUE61GS 60 cm Electric Ceramic Cooker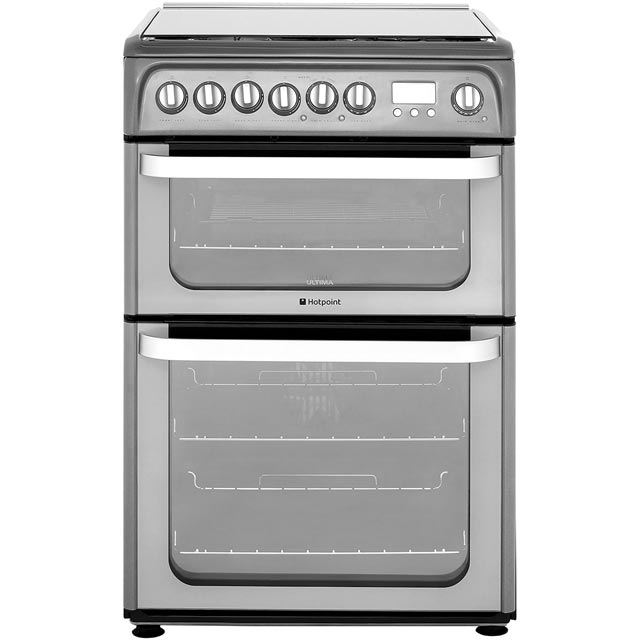 Top features
60 cm width
2 ovens, both A rated for energy efficiency
Catalytic liners for easy cleaning
Timer
This cooker has a main fan oven which cooks things evenly and can reduce cooking times.
The smaller second oven features a handy variable grill.
One downside to this cooker is that the labels under the controls are hard to read, and you might have to bend down to read them until you learn them off by heart.
It's also a shame that the top oven doesn't have a light, though this isn't a problem when grilling as you keep the door open while using the grill.
Pros
Easy to use
Easy to clean
Quiet
Cons
Labels under controls are small and hard to read
Top oven doesn't have a light
Grill handle is short
Summary
There's a lot to like about this cooker. It's easy to use, energy efficient and quiet. However, there are a few issues to be aware of as you can see in the list of cons above.
4. Beko ADC6M13K 60cm Electric Cooker with Ceramic Hob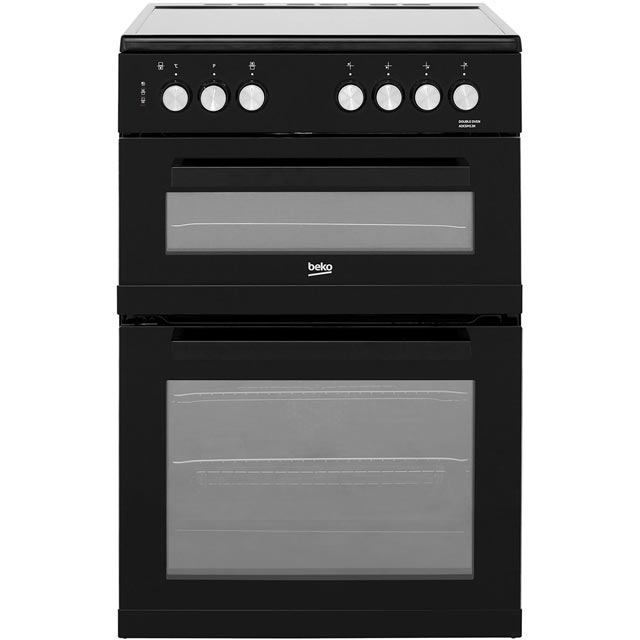 Top features
60 cm wide
Ceramic hob for easy cleaning
Choice of fan or conventional cooking
2 ovens
Grill in second oven
This modern-looking cooker from Beko is great for both cooking and baking.
It offers a lot of different functions and options, making it ideal for chefs and bakers who need absolute control.
The hob heats up quickly and is easy to clean thanks to its ceramic finish. However, it can also be easy to scratch if you're not careful.
Pros
Cooks evenly
Hob heats up quickly
Lots of cooking options
Cons
Can be hard to slide shelves in and out
Top oven can only be used as a grill
Summary
This oven is a particularly good option for bakers as it offers you lots of control over the settings. The Beko ADC6M13K heats up quickly and cooks evenly.
5. Zanussi ZCV66060XE 60 cm Electric Ceramic Cooker
Top features
Easy to clean oven liners
Double oven with grill
Fan oven
This electric cooker boasts two large ovens suitable for cooking even the largest family meal. The bottom oven has a fan that offers perfect heat distribution throughout the oven so no matter where the food placed, it cooks evenly.
The top oven plays host to the grill and a more conventional heating system making it perfect for baking and roasting.
On top, you have a four-zone ceramic hob that provides reliable and responsive heat for boiling, frying and simmering.
Every part of this electric cooker is designed with easy cleaning in mind. From the ceramic hob to the enamel interior, cleaning is as easy as making the mess in the first place!
Pros
Heats up quickly
Easy to install
Excellent oven light
Great build quality
Cons
Doesn't have a timer
Oven dial markings could be better
Summary
This is a fantastic cooker. It provides exceptional heat distribution even in the conventional top oven and has plenty of space. Even when it comes time to cook Christmas dinner, you'll have room to spare!
6. Hotpoint Newstyle HAE60KS Electric Cooker with Ceramic Hob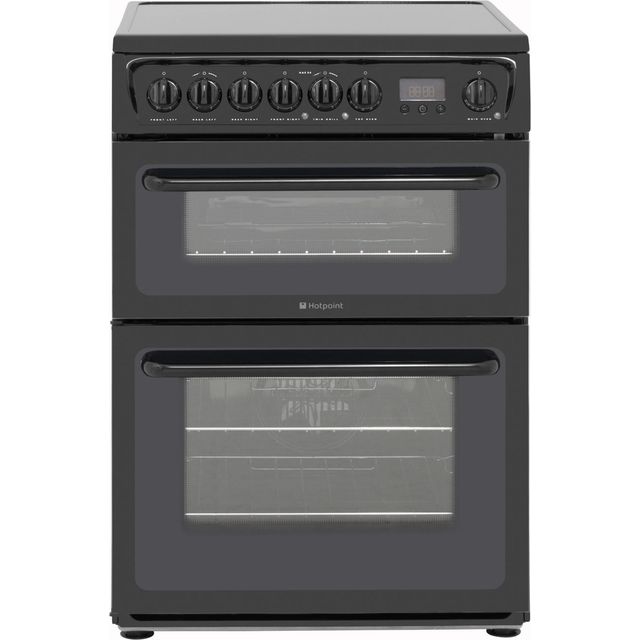 Top features
Main oven is fan assisted
Slow cook function
60 cm width
Residual heat indicator
This Hotpoint comes with some excellent features like a wipe-clean ceramic hob, fan-assisted main oven and conventional top oven.
The four heating zones on top combined with the over 100-litre capacity below, means that you can cook Christmas dinner and still have space spare! This cooker will be the life and soul of your kitchen every day of the week.
However, it is on the colder days where this cooker comes into its own. For a hearty meal on a winter evening, you can take advantage of the slow cook feature.
You can make amazing casseroles, pulled pork and tagine easily.
Pros
Easy to use
Looks stylish
Great build quality
Excellent features that people really use
Cons
Some find it noisy, but may not be used to an electric cooker
Summary
The slow cooker feature is what separates this cooker from the rest. The ease of cooking this feature provides (not to mention the counter space it saves as it replaces your slow cooker) is a dream come true for every busy household.
7. Beko XTC611S 60 cm Electric Cooker
Top features
60 cm width
4-zone ceramic hob
Light in oven
This affordable cooker from Beko offers a single 69-litre oven plus a separate grill compartment. One nice touch is that you can remove the glass panels on the doors for easy cleaning.
This cooker can take a while to heat up. It's also a shame that the grill pan doesn't have a handle, so you need to be careful when taking it out.
Pros
Good value for money
3 oven racks included
Cons
No grill pan handle
Quite slow to heat up
Summary
This cooker offers good value for money, though it doesn't have as many features as some of the alternatives.
8. Logik LFTC50W16 Electric Ceramic Cooker
Top features
50 cm width
Single, fan-assisted oven with separate grill
Easy to clean
This electric cooker from Logik is the smallest on our list coming in at only 50 cm wide. However, this is perfect for a small kitchen in a flat or small home.
Plus, overall it has about 85 litres of capacity in both ovens plus four hob plates on top, so, it isn't exactly tiny! You may not be able to cook a Tudor feast in this electric cooker, but you will certainly be able to cook for two or three easily.
The electric grill on top is full width so no matter the size of the meal you want to grill, you'll get total coverage. Plus, the fan-assisted bottom oven provides all the heat your meat and veg could need before it's ready to eat.
Pros
Easy to use
Heats up quickly
Great electric cooker for small homes
Inexpensive
Cons
Only has one oven rack
Fan oven is a little noisy if you aren't used to fan-assisted ovens
Summary
Overall, this is a basic electric cooker, but it's affordable, built well and will serve a small family well for years.
9. Flavel Milano ML61CDS Electric Ceramic Cooker
Top features
60 cm width
Single fan-assisted oven with separate grill
Easy clean
This Flavel electric cooker provides everything a small family or couple may need for all their cooking needs. It has one fan-assisted oven and one separate grill.
The fan-assisted oven is large enough for most meals, while the grill provides the perfect way of making a full-English breakfast on a Sunday.
Although this electric cooker is smaller than others on this list, it does boast four electric rings on top. So, even if you are lacking slightly in the oven department, you still have enough rings to cook up a stir-fry or a storm!
This electric cooker also has one of the best energy ratings on this list and is just as easy to clean as the rest.
Pros
Heats up quickly and cooks evenly
Simple yet functional
Looks great
Cons
No timer
Not very tall oven space
Summary
If you are after a small, but efficient electric cooker, this Flavel could be just what you're looking for.
10. Currys Essentials CFSEWH18 50 cm Electric Solid Plate Cooker
Top features
50 cm width
Single oven with built-in electric grill
4-zone hob
This is one of the cheapest electric cookers on the market, so it could be a good choice if you're on a budget.
It's fairly small, with a width of 50 centimetres and a capacity of 55 litres. However, it could be a good choice if you're cooking for one or two people.
One disappointing thing about this cooker is that although it looks like there is a storage area below the oven, there actually isn't one.
Pros
Easy to clean
Good value for money
Heats up quickly
Cons
Only one shelf included
No storage area below the oven
Summary
The Currys Essentials CFSEWH18 is a good budget cooker that is perfect for small amounts of oven cooking.
Conclusion
We hope this look at the best electric cookers in the UK has helped you choose your next cooker. If we had to pick just one to recommend it would be the Hotpoint HARE60K.
It's one of the most highly rated and popular electric cookers in the UK right now, and offers all the essential features the average home chef needs.