If you're looking for an electric cooker at a fantastic price, you're in the right place. We have searched high and low for cookers that will bring a lot of style and cooking power to your kitchen.
Just because these cookers are under £500, that doesn't mean that they aren't great. In fact, many of the cookers below are well below this price, and they offer everything you'll need in a cooker will no compromises at all.
Best Electric Cookers Under £500 in the UK
1. Beko KDC653W 60cm Electric Cooker with Ceramic Hob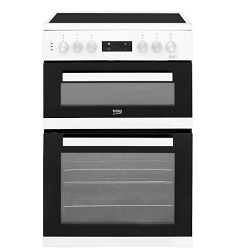 Main oven capacity: 69 litres
Energy rating: A/A
This Beko cooker has a lovely, spacious main oven and a second oven that is also a good size. Overall, you get over 100 litres of cooking space in this oven.
The main oven is also fan assisted, so the two shelves can be used anywhere in the oven, and you'll still get even heat.
The second oven is a conventional oven and a grill. This makes this cooker ideal for chefs and bakers alike.
Many cooks note that this hob does mark easily. Of course, this is a ceramic hob, and these can scratch and mark easily with use.
Also, some say that the door opens a bit too low to the ground for their liking; perhaps this is something you'll get used to.
Overall, though, most people love this cooker and get along with it just fine.
2. Amica 608CE2TAXX 60cm Electric Cooker with Ceramic Hob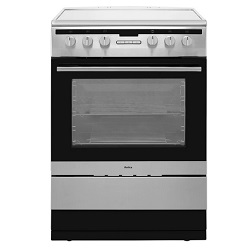 Main oven capacity: 67 litres
Energy rating: A
With one cavity of 67 litres, this cooker will be excellent for a couple or someone that lives by themselves, maybe even a small family.
The oven gives plenty of space and comes with two shelves. It can also be used as a grill and has seven other functions to make cooking much easier and faster.
The ceramic hob provides plenty of options for boiling veg, making pasta and frying steaks, and it is very easy to keep clean. All of the controls for the hob and cooker are rotary, so it is really easy to dial in the ideal cooking temperatures.
We love the triple-glazed door of this oven. It keeps the heat locked inside the oven and helps it achieve the fantastic A energy rating. We also think the door hinges are excellent. The door pulls down to open, providing lots of access to the cavity.
While some people may miss the second oven, we believe this cooker is ideal for a couple or single person and perhaps even a smaller family. The oven has plenty of features and functions, and the hob is really nice to use.
3. Hotpoint Newstyle HAE60KS Electric Cooker with Ceramic Hob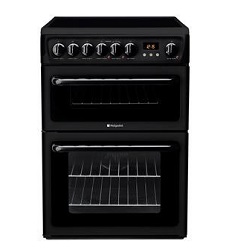 Main oven capacity: 71 litres
Energy rating: B/B
The Hotpoint Newstyle is a range of cookers that have just as much style as they do cooking power.
This one looks great and will add a lot to any kitchen, but we feel the slightly farmhouse style to this cooker would look great in a modern kitchen.
A few bakers have noted that the fan in the main oven turns off once the oven reaches the temperature you've set.
While this is great for everyday cooking and can save a bit of money, bakers find it difficult to bake cakes and biscuits and stuff and feel that an override function would be great.
However, if you're just after a cooker for family meals, the large main oven and simple controls are ideal.
4. Flavel MLB5CDW Electric Ceramic Cooker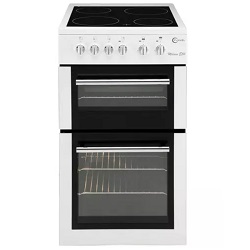 Main oven capacity: 58 litres
Energy rating: A
Flavel has done something very clever with this cooker. They have created a cooker that looks very stylish and modern yet kept the controls nice and simple.
The 58-litre main oven and the four ceramic hob zones will be plenty for everyday cooking, and there is a grill for those cheese-on-toast kind of nights.
So, this cooker has everything you need to cook a lovely meal for a small family. However, what it doesn't have are lots of confusing modes.
To cook with this cooker, you just need to turn it on, set the temperature of the oven to your desired heat setting, turn the grill or hob zone on that you want, and get to cooking.
In a world of very complex cookers, sometimes the simplest work the best for many of us. And that is what most people love about this cooker, as well as the design. It seems to fit perfectly in most modern kitchens.
5. Indesit ID67V9HCX/UK Electric Cooker with Ceramic Hob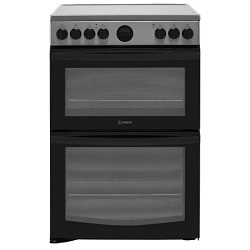 Main oven capacity: 77 litres
Energy rating: A/A
With a 77-litre main oven cavity and a 49-litre second oven cavity, this cooker is ideal for a larger family. It is nice and simple to use, and even cleaning is really simple.
The main cavity has catalytic liners. These absorb grease during the cooking process, so clean-up is very minimal.
The four-zone ceramic hob ensures that you'll never be short of places for boiling pots of pasta and sauces. And the built-in timer will help you keep track of all your meals.
One of the best things about this cooker, though, is just how easy it is to use. The controls are very simple and work very well.
If you've owned an electric cooker before, you'll already be used to the controls, and you'll be cooking in no time.
How to Choose Your Cooker
Choosing a cooker can be tricky, and I won't pretend to know what all of you want out of a cooker. Some people want a cooker that can be used for baking and cooking; I know my partner does. And others, like myself, just want a simple to use cooker with simple controls that heats up quickly.
While I can't tell you what cooker is perfect for you, I can offer some things to think about during your quest for your cooker.
Size
When we talk about size, cookers can vary a lot. Now, all of the cookers above were 60 cm wide, which is the standard cooker size. Others are 50 cm, 90 cm or even 110 cm.
There are also other sizes to consider, like the size of the ovens. The size of the main ovens for the cookers above ranges from 56 litres to 71 litres.
A 56-litre oven will heat up quicker than a 71-litre oven, but there isn't as much cooking space. A 56-litre oven will be fine for a couple or a small family, but if you have a larger family, you will likely need a larger oven.
Fuel type
As you're looking at a list of electric cookers, you probably already know what fuel type you'd like. Still, it's worth mentioning.
Cookers come in a few fuel types: gas, electric and induction. For the easiest and cheapest installation of your new cooker, it is best to match the fuel type you already have.
Replacing an electric cooker with another electric cooker is far easier than replacing it with a gas alternative. Of course, if you really want gas, you can do it, but you may need to run gas lines and this may cost a pretty penny.
The same goes with replacing a gas cooker with an electric one. While it certainly isn't impossible, it can cost some money. So, it's worth factoring in these costs when budgeting for your cooker.
Functions
As I said, my partner loves baking. So, her ideal cooker would have some functions that made baking easier, but it could also be used for everyday cooking.
I don't bake, but I love to cook, so the oven I choose doesn't need any fancy functions, just simple controls that get me from A to B quickly.
If you enjoy a certain type of cooking or are an avid baker, try and find a cooker in your price range that makes your cooking passion easier. You can then focus on your recipes, and the cooking will take care of itself.
Energy rating
A lot of the cookers above have an A energy rating, but one or two of them had a B rating. B is not a terrible energy rating by any means. However, if you've gone from an A-rated cooker to a B-rated cooker, you may notice a slight increase in your energy bills.
Of course, most of us are replacing cookers that are 5-10 years old, so we likely won't notice any increase, but it is still worth considering the energy rating. The cooker may be a good deal upfront, but it may cost you a bit more in the future.
Conclusion
We hope you found your next cooker above. If we had to choose a cooker from the ones above, we'd go with the Beko KDC653W. While many users say the hob marks easily, this could be that they aren't used to ceramic hobs.
As long as you're careful, the Beko above will do wonders in your kitchen. It is a quality cooker at a great price.
While you're here, why not check out our lists of pots and pans too? Add some quality cookware to your kitchen to use on your new cooker.

Scott is a writer and a passionate home chef. His passion for cooking began when he was 10 years old. Scott has been writing professionally for over five years now and loves to combine his passion for cooking with his day job.