If you're looking to replace your gas cooker this year there are plenty of models to choose from on the market right now, but it pays to do a little research before you buy.
Freestanding gas cookers that fit into an existing space in your kitchen can be a fantastic cost-effective option, usually combining an oven, grill and hob all in one, but gas cookers can be prone to cooking food unevenly if you buy the wrong model.
The good news about gas cookers is that they're usually cheap to cook with, costing £17 a year to run on average and with some models only costing "as little as £14 a year to run" according to Which?
So, what else should you look for when buying a new 50 cm gas cooker? Gas cookers can sometimes be trickier to clean, so look for features like enamel coated hobs and ovens that are easier to wipe down.
Some appliances now come with other handy features including built-in timers and flame failure devices which cut out the gas supply when the flame goes off for safety.
You may also prefer a gas cooker with an eye-level grill that makes it easy to check your food when you're cooking.
Gas cookers tend to be cheap to buy, but you will need to pay a qualified professional accredited by the Gas Safe Register to install any new gas cooker.
We've listed some of the best 50 cm gas cookers available to buy right now in the UK below.
Best 50 cm Gas Cookers in the UK
1. Beko KA52NEW 50 cm Gas Cooker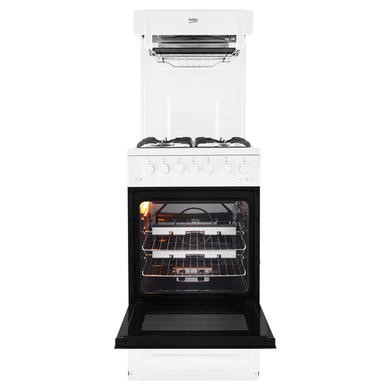 The Beko KA52NEW 50 cm Gas Cooker is a stylish white cooker from Turkish brand Beko. This cooker has an impressive A energy rating, so it's cheap to run, and it has easy-to-use rotary dials to adjust heat settings. 
This cooker has a handy eye level grill which is ideal for anyone suffering with a bad back, as you won't need to bend down to make quick snacks like cheese on toast.
The main oven is perfect for cooking roast dinners evenly, and there are some handy safety features including a Flame Failure Safety Device and automatic safety shut-off. There's also a useful space-saving compartment at the bottom of the cooker to store pans and baking trays.
Overall this is a good value appliance that's idea for anyone looking for an eye level 50 cm gas cooker.
2. Electra SG50B 50 cm Gas Cooker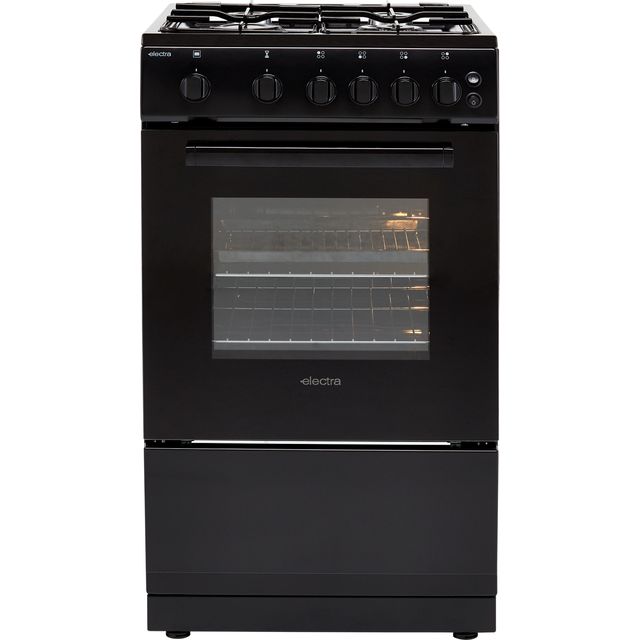 The Electra SG50B 50 cm Gas Cooker is one of the cheapest cookers on the market, but still comes with an impressive set of features and is rated A for energy efficiency.
The oven is slightly smaller than on some other 50 cm gas cookers – offering 48 litres of cooking space – but the heat rises well inside making it a perfect option for those who love baking cakes.
This cooker has a stylish black finish, and the hob is very easy to clean thanks to a smooth steel finish. The enamel pan supports are also easy to clean and provide a safe, sturdy surface for keeping pans steady.
This is a stylish, compact gas cooker that offers great value for money and is perfect for small kitchens and spaces.
3. Beko KDG581W 50cm Gas Cooker with Gas Grill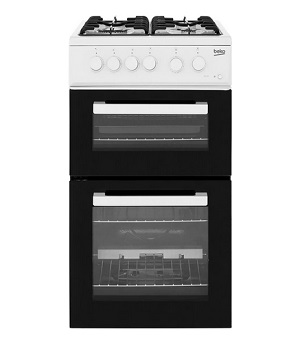 While the first Beko on this list is a fantastic gas cooker with a grill, we understand that the gas cooker's style isn't everyone's cup of tea. So, Beko is back on this list to offer you another fantastic 50 cm gas cooker that is more modern, but just as powerful and awesome.
As we said, this gas cooker has a 50 cm oven, but the grill is also full width, so there is plenty of cooking space in this oven and the grill.
Also, thanks to the design of this gas cooker, the hob, oven and grill are so easy to use. There is a knob for each hob ring and the oven and grill that provide very easy control of the heat.
If you love a gas cooker and how easy they are to use, this is a great option for you. It looks great and works just the way a gas cooker should.
4. electriQ 50 cm Gas Cooker with Single Oven
The electriQ 50 cm Gas Cooker with Single Oven is an easy-to-use cooker with a 48L capacity conventional oven that's ideal for traditional baking. The internal oven light lets you check your food without opening the oven door and reducing oven temperature, and you can help reduce the cost of your energy bills thanks to the impressive 'A' energy efficiency.
The four hob burners are patented by experts at SABAF, with perfect flame distribution for even cooking, and you can start the burners by auto-ignition using just one hand.
This cooker also comes with an LPG conversion kit and can be converted to run on LPG bottled gas, so it's also suitable for anyone who doesn't have access to a natural gas supply or for caravans and holiday homes.
5. Flavel FHLG51W Gas Cooker
With an eye-level grill, the white Flavel FHLG51W Gas Cooker has a stylish retro feel. It also has a spacious 51 litre oven that's ideal for cooking meals for guests or family, and the gas burners are easy to use giving you total control over your cooking. The high level grill is at the perfect height so you can keep a close eye on any pans cooking on the hob whilst grilling food at the same time.
There's also a Flame Safety Device for extra peace of mind, and a viewing window on the front of the oven so you can check on your food without opening the door.
Gas cookers can be notoriously difficult to clean, but this model has an easy-clean enamel interior which is quick and simple to wipe down after cooking.

A viewing window means you can watch the progress of your food while the double glazed glass efficiently traps in the heated energy, although the door can get hot so children should be kept away whilst the oven is on.
Conclusion
If we had to pick just one 50 cm cooker to recommend, it would be the Beko KA52NEW as it offers good value for money and features a handy eye-level grill.