If you're looking to replace your gas cooker this year there are plenty of models to choose from on the market right now, but it pays to do a little research before you buy.
Freestanding gas cookers that fit into an existing space in your kitchen can be a fantastic cost-effective option, usually combining an oven, grill and hob all in one, but gas cookers can be prone to cooking food unevenly if you buy the wrong model.
The good news about gas cookers is that they're usually cheap to cook with, costing £17 a year to run on average and with some models only costing "as little as £14 a year to run" according to Which?
So, what else should you look for when buying a new 50 cm gas cooker? Gas cookers can sometimes be trickier to clean, so look for features like enamel coated hobs and ovens that are easier to wipe down.
Some appliances now come with other handy features including built-in timers and flame failure devices which cut out the gas supply when the flame goes off for safety.
You may also prefer a gas cooker with an eye-level grill that makes it easy to check your food when you're cooking.
Gas cookers tend to be cheap to buy, but you will need to pay a qualified professional accredited by the Gas Safe Register to install any new gas cooker.
We've listed some of the best 50 cm gas cookers available to buy right now in the UK below.
Best 50 cm Gas Cookers in the UK
1. Beko KA52NEW 50 cm Gas Cooker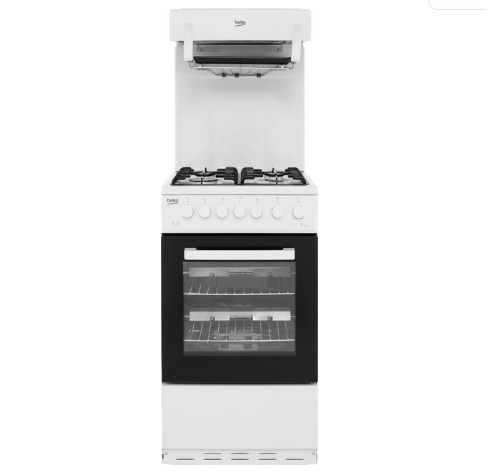 Energy rating: A
The Beko KA52NEW 50 cm Gas Cooker is a stylish white cooker from Turkish brand Beko. This cooker has an impressive A energy rating, so it's cheap to run, and it has easy-to-use rotary dials to adjust heat settings.
This cooker has a handy eye level grill which is ideal for anyone suffering with a bad back, as you won't need to bend down to make quick snacks like cheese on toast.
The main oven is perfect for cooking roast dinners evenly, and there are some handy safety features including a Flame Failure Safety Device and automatic safety shut-off. There's also a useful space-saving compartment at the bottom of the cooker to store pans and baking trays.
Overall this is a good value appliance that's idea for anyone looking for an eye level 50 cm gas cooker.
2. Hotpoint HD5G00CCX 50cm Double Cavity Gas Cooker with Lid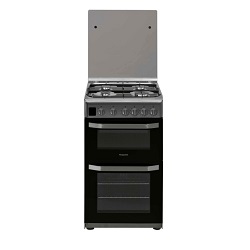 Energy rating: A
This Hotpoint 50 cm gas cooker has easy cleaning in mind.
It features enamel pan supports that offer a non-stick surface for your pans to rest securely while cooking. They are removable, meaning that the stovetop is very easy to wipe down. And a quick soak in the sink will bring the pan supports up a treat too.
The easy cleaning doesn't stop at the stovetop, though. The top and bottom ovens also have catalytic liners, making them very easy to clean with regular cleaning sessions.
There is also a glass cover for the stove, so you can use it as an additional countertop when you aren't using it.
Finally, there are some simple controls and a built-in timer. So, you can focus on cooking your recipes with this stylish, easy to use and clean cooker.
3. Beko KDG581W 50cm Gas Cooker with Gas Grill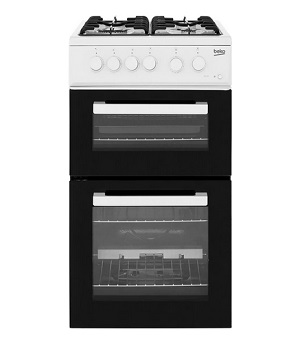 Energy rating: A+
While the first Beko on this list is a fantastic gas cooker with a grill, we understand that the gas cooker's style isn't everyone's cup of tea.
So, Beko is back on this list to offer you another fantastic 50 cm gas cooker that is more modern, but just as powerful and awesome.
As we said, this gas cooker has a 50 cm oven, but the grill is also full width, so there is plenty of cooking space in this oven and the grill.
Also, thanks to the design of this gas cooker, the hob, oven and grill are so easy to use. There is a knob for each hob ring and the oven and grill that provide very easy control of the heat.
If you love a gas cooker and how easy they are to use, this is a great option for you. It looks great and works just the way a gas cooker should.
4. Beko ADVG592K 50cm Gas Cooker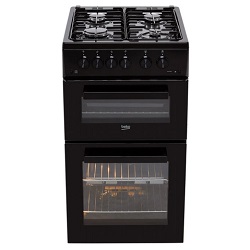 Energy rating: A+/A
This gas cooker from Beko provides a really interesting mix of traditional and modern design that makes it a really great addition to just about any kitchen.
Whether you have a beautifully charming farmhouse style kitchen or an ultra modern kitchen, this cooker will never look out of place.
Plus, it has the cooking power to keep up with modern life as well. With four powerful gas hobs that are a joy to use as they allow for amazing precision over the heat. And with two gas ovens, this cooker has everything a family needs to cook complete meals easily.
The conventional gas oven has lots of power, yet it can be finely adjusted, so it is great for roasts or slow cooking.
The secondary oven also has a grill, which some users have found a bit lacking and frustrating to use. However, when it comes to Christmas dinner, this second oven will be a life saver.
Beko has created a really stylish and very practical gas cooker here, and it has one of the best energy ratings in its class.
5. Indesit Cloe 50cm Gas Cooker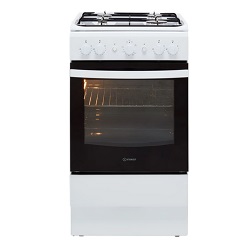 Energy rating: A
For those home cooks looking for a powerful cooker with a small footprint, this one is worth considering.
The single oven acts as a grill too, so you still have plenty of ways to cook. You also have four gas burners with very sturdy pan supports that can be removed for easy cleaning.
At 59 litres, the oven offers loads of room. You can easily cook a roast in this gas oven. And if you are used to conventional gas ovens, then you'll love using this one.
As the hot air rises, it allows you to perfectly slow roast on the bottom shelf and crisp up your roast potatoes on the top shelf.
The stylish white exterior also means that it will look great in just about any kitchen.
Will Gas Cookers Be Phased Out in the UK?
There was a proposal by the government's climate change advisory body to phase out gas cookers in the UK by 2025.
However, to the best of Chef's Pick knowledge, this was only a proposal, and the government hasn't agreed to this.
The government has stated, though, that gas heating in new build homes will be banned by 2025. As it stands right now, though, gas hobs will be allowed.
Of course, if new build homes don't have a gas supply, it will make it rather difficult to install a gas hob. Well, difficult and costly.
If you live in a new build in 2025 and would like a gas hob, you may need to have a gas line run to your home, which could cost thousands of pounds. Ultimately, this could eventually lead to the natural phase-out of gas cookers in the UK. Still, it could take decades for that to happen.
Right now, gas cookers have brilliant energy ratings. In fact, most of the gas cookers on our list above have an energy rating of A or higher.
So, they are a very energy efficient kitchen appliance, meaning there is no reason to issue a ban on gas cookers, hobs or ovens.
However, as the UK becomes less reliant on fossil fuels, we could see more and more homes switching from gas to more environmentally friendly fuel sources, thus, naturally phasing gas appliances out once and for all.
Conclusion
If we had to pick just one 50 cm cooker to recommend, it would be the Beko KA52NEW as it offers good value for money and features a handy eye-level grill.

Chef's Pick is your guide to the best kitchen equipment and appliances in the UK.
We help you understand the confusing world of cookers, ovens and cookware so you can get the most out of your kitchen.