Range cookers are large cookers that feature multiple ovens and more hob space than regular cookers.
They are usually between 90 and 110 cm wide, so they're at least 30 cm wider than a standard oven.
Some of the advantages of range cookers include the following:
More space – You can cook for more people as you have more oven and hob space. This makes range cookers a great choice for social gatherings. They're also great if you're cooking complicated dishes and need to keep things warm until you're ready to plate up.
Versatility – Range cookers often include extra features you won't find in regular cookers such as a wok burner.
Range cookers can be categorised by the type of fuel they use:
Gas – Gas range cookers use gas for the oven(s), hob and grill.
Electric – Electric range cookers use electric for the oven(s), hob and grill.
Dual fuel – Dual fuel range cookers combine gas and electric. Usually, electric is used for the ovens and grill, while gas is used for the hob.
The cheapest range cookers on the market at the time of writing cost around £600, while the most expensive cost over £4,000.
Several models are available for less than £1,000. We've listed some of the best in this price range in this article.
Best Range Cookers Under £1,000
1. Beko KDVC100X 100cm Electric Range Cooker with Ceramic Hob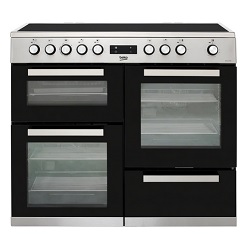 Width: 100 cm
Fuel Type: Electric
Our top-rated range cooker for less than £1,000 is this gorgeous stainless steel appliance from Beko. It is unbeatable for the price and has four separate cavities for plenty of options over mealtimes, including two ovens, one grill, and a storage compartment. This is enough cooking space for whipping up a feast for the entire family!
Both the electric ovens have fans to ensure even cooking on every shelf. Thanks to the glass doors and interior oven lights, it's easy to keep an eye on your delicious dishes to guarantee they're cooked to perfection.
The inner glass door also features a special nano-coating. This repeals grease to make the job of cleaning your oven less effortful and time-consuming.
On top of the double ovens is a state-of-the-art induction cooktop. This hob features five induction zones so you can steam, boil, and fry multiple foods simultaneously.
Its sleek glass top also looks at place in any modern kitchen and makes cleaning as easy as ever.
2. Beko KDVF100X 100cm Dual Fuel Range Cooker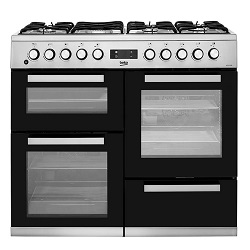 Width: 90cm
Fuel Type: Dual (Gas & Electric)
This modern range cooker from Beko is perfect for anyone constantly entertaining big groups of guests.
It only measures 90cm wide so doesn't require too much space, but it features two electric fan ovens, an electric grill, a storage compartment, and a spacious seven-burner gas hob. There is plenty of space for cooking multiple dishes at once!
Both the main and second ovens are fan ovens, helping food cook evenly on every shelf. The interior of the oven doors is also lined with a special nano-coating that prevents the build-up of grease and makes cleaning easier, while the enamel interior helps to keep the rest of your oven clean.
The gas hob is also one of the best and provides a visual cooking experience. Your pans are held securely with the enamel pan supports that can easily be removed when cleaning.
You'll have constant peace of mind when cooking on this hob, too. Beko has made it safer to cook with its flame-safety device, switching the gas off automatically if the flame goes out.
3. Flavel MLN10FRS Dual Fuel Range Cooker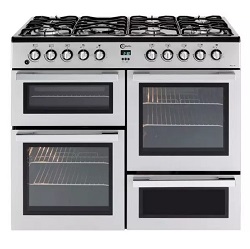 Width: 100 cm
Fuel type: Dual (Gas & Electric)
This range cooker from Beko-owned brand Flavel is one of the most affordable range cookers on the market.
It's a dual fuel cooker that gives you two electric ovens, an electric grill, and a gas hob with seven burners. This means you can enjoy the even and precise cooking offered by an electric oven as well as the instant heat of a gas hob.
The Flavel MLN10FRS Dual Fuel Range Cooker also features a wok burner, which is great for stir frys.
The ovens are lined with enamel, which makes them easy to clean.
The Flavel MLN10FRS looks the business and is relatively cheap for a range cooker. It offers you lots of cooking space and is easy to use, though it does have a few flaws such as the noisy fan and slippery cooking grids.
4. Leisure Cookmaster CK90F232C 90 cm Dual Fuel Range Cooker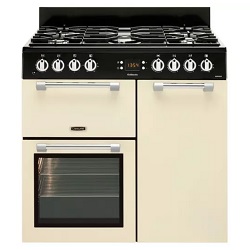 Width: 90 cm
Fuel Type: Dual (Gas & Electric)
This fantastic-looking range cooker from Leisure would look beautiful in a traditional kitchen, but we think it would make a brilliant statement piece in a modern kitchen as well.
Of course, because this is a Leisure range cooker, it doesn't just look good; it works amazingly well too.
The five-zone gas hob has plenty of room for all your pots and pans. Even the largest meals won't fill this stovetop. There is plenty of space in the ovens too, and a cooking power that anyone will love.
The ovens are electric, but because they have tall fans, they circulate the heat much faster and more regularly than a typical electric oven. So, you'll be cooking quickly and easily.
Plus, the main 58-litre oven cooks meals quicker, so you'll be spending less on energy over the year as well.
This is a very traditional-looking range cooker built for the modern kitchen. It looks beautiful and works fantastically well.
5. Kenwood CK306SL 90 cm Dual Fuel Range Cooker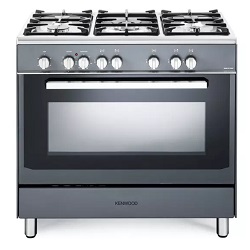 Width: 90 cm
Fuel Type: Dual (Gas & Electric)
Out with the traditional and in with the ultra-modern. This range cooker wouldn't look out of place in a restaurant kitchen and certainly has the cooking power to work full-time in a busy kitchen as well.
This has a five-burner gas hob with a wok burner. Wok burners are excellent for heating things quickly, so boiling water for pasta or cooking a delicious stir-fry will be quicker and easier than ever.
There is only one oven on this range cooker, but it is a whopper. At 118 litres, it is plenty big enough to prepare dinner and prep your lunches for the week.
There is also a storage compartment underneath the oven to keep baking trays and pans.
If you're after a range cooker with a beautifully industrial design, this one is certainly one to consider.
It's a powerhouse in the cooking department and looks amazing in the slate grey and chrome colours.
6. LOGIK LRC100B21 100 cm Dual Fuel Range Cooker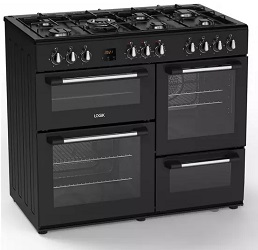 Width: 100 cm
Fuel Type: Dual (Gas & Electric)
If you'd like more control over your cooking, perhaps you are a baker and would like a dedicated oven to bake in while preparing dinner, try this range cooker on for size.
This has two electric ovens and a separate grill, offering plenty of space for all cooking tasks.
The extra cooking space continues up top too. With seven gas burners, you'll never be short of space to heat sauces or boil water. Plus, the burners are all gas allowing you to really dial in the controls.
This is a lot of range cooker for the price and would suit a modern kitchen really nicely.
The all-black design offers a sleek and lovely look and would pair nicely with a white kitchen and slate-coloured flooring.
Which Fuel Type Is Best on a Range Cooker?
Electric vs gas oven
Traditional range cookers used solid fuels to provide constant heat and hot water. However, nearly all modern versions around today rely on electricity to power the ovens.
Electric fan ovens are your top choice as they help to ensure heat is evenly distributed between all the shelves. This helps with even cooking so you create perfect meals every time.
Gas vs traditional electric hob
In terms of hobs, modern range cookers either use either gas or electricity. Gas hobs are better when compared to traditional electric hobs. They provide more instant heat for quicker and more efficient cooking. You can also control the temperature more accurately and visually see how much heat you're applying to the pan based on the size of the flame.
A range cooker that has electric ovens with a gas hob is known as a 'dual fuel' appliance, as it combines the two fuel types.
Induction hob
Another arguably better option is an induction cooktop. These are powered by electricity but are far superior to traditional electric hobs.
They work by supplying an electromagnetic current to your cookware to heat the pots and pans directly. This makes them the most energy-efficient hobs, and they're easier to clean than gas cooktops thanks to their smooth glass surfaces.
Which Size Cooker Should You Choose?
Range cookers are large appliances, so choosing the right size is important. You'll be pleased to hear that range cookers come in a range of sizes. The most common widths are:
However, "mini" range cookers such as these on AppliancesDirect.co.uk are also available, which are the same width as a regular cooker (60 cm).
Mini range cookers are really just regular cookers that are designed to look like range cookers, so they don't offer the same versatility and cooking space of a full-blown range cooker.
In order to choose the right size of range cooker, start by measuring the width of the space available and use this to narrow down your search.
Your range cooker needs to fit into the available space in your kitchen, ideally with no unsightly gaps between the cooking and the countertops.
Check the depth of your kitchen counters as well and add on a few centimetres to allow for electric sockets and gas pipes.
Conclusion
If we had to pick just one of these range cookers to recommend it would be the Beko KDVC100X as it is priced well below £1,000 (at the time of writing), offers a generous amount of cooking space and is very highly rated by users.
If your budget stretches a bit further, see our list of the best range cookers overall.

Chef's Pick is your guide to the best kitchen equipment and appliances in the UK.
We help you understand the confusing world of cookers, ovens and cookware so you can get the most out of your kitchen.