Gas cookers are arguably the best option for those who like to cook quickly and efficiently, but sometimes knowing which one to invest in can be a bit of a minefield.
If you're looking to splash out on a brand-new cooker to whip up some culinary crackers in your kitchen (and have your heart set on a gas cooker), but are a little stumped at where to begin, allow us to lend you our expertise!
This article looks at the best 60 cm gas cookers currently on the UK market. We'll explore cookers from different brands and in different price ranges, and explain each particular cooker can do.
We'll also look at some of the pain points of the cookers to give you an objective, unbiased insight to what you'll be getting for your money.
The Best 60 cm Gas Cookers in the UK
1. Stoves Sterling STERLING600G 60 cm Gas Cooker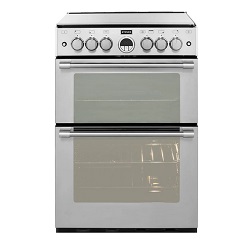 Energy efficiency rating: A
Oven(s): Double oven
The roomy Stoves Sterling gas cooker is stainless steel-built and comes with an array of features that go beyond what the standard cooker can offer.
The Stoves Sterling is particularly useful for the lover of baking, as the main conventional oven compartment generates heat that rises, ideal for bread dough, cakes, pastries, and biscuits.
It also has an electronic programmable timer, so you can always be in complete control of your cooking and time every meal to the second!
Gas cookers can traditionally be a nuisance to clean, but this one comes with a glass-top hob, which helps with cleaning any food/grease splattering.
It comes in a colour option of black or stainless steel; both of which will suit many types of kitchen designs, whether modern or traditional.
2. Indesit ID67G0MCB/UK Gas Cooker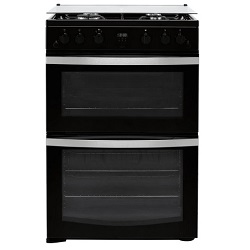 Energy efficiency rating: A+/A+
Oven(s): Double oven
This gas cooker is excellent for anyone looking for a workhorse. Whether you are a baker, or just have a lot of mouths to feed, this gas cooker will come in really handy.
If you're a baker, you'll love the highly precise controls and the rising heat of the gas cooker. For larger families, the main oven has plenty of capacity, and the second oven can help when you need it most too.
Everyone will love the enamel liners, though. They make it so easy to keep the oven cleaner.
This cooker only comes with two shelves, one for the top oven and one for the bottom. This can be a bit frustrating, but not the end of the world.
If you still have your old oven, keep hold of the shelves that it came with. If not, you can buy additional oven shelves.
3. Beko KDG611K 60 cm Gas Cooker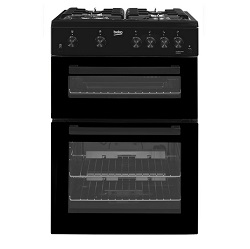 Energy efficiency rating: A/A+
Oven(s): Double oven
The stylish and super safe Beko KDG611K gas cooker has been designed with both practicality and ease in mind.
Due to its well-designed safety features, this cooker would suit families with young children.
It comes with a flame safety device, so if a flame is accidentally extinguished, the gas will be cut off to prevent any potential leaks, allowing you full peace of mind when cooking.
Arguably one of the best features is the LED timer that ensures you avoid over/under-cooking your food, as well as a handy oven light that lets you keep an eye on your cooking without needing to open the door and risk losing heat.
It has also been created with easy cleaning and maintenance in mind; this gas cooker has a smooth inner glass panel and an enamel interior, which is free from bumps and grooves where unwanted residue can accumulate, making it quick and easy to clean.
4. Hotpoint HDM67G0CCX/UK Gas Cooker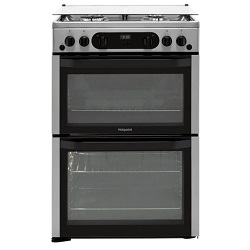 Energy efficiency rating: A+/A+
Oven(s): Double oven
This oven on this gas cooker comes complete with a fan. This means that it is nice and fast to heat up and very even when it comes to heat distribution. You won't have any soggy bottoms or burnt lasagna in this oven!
The hob has four powerful gas rings and comes complete with a protective glass top. This is ideal for a home with kids that love to explore, or if you don't have too much kitchen counter space. You can use the glass top as additional counter space when you aren't using the hob.
You do need to be a bit careful when operating the top oven. The springs on the door are really powerful, and opening the door can blow the flames out. Once you get used to this, though, this cooker will be a fantastic addition to your kitchen.
5. LOGIK LFTG60W22 60 cm Gas Cooker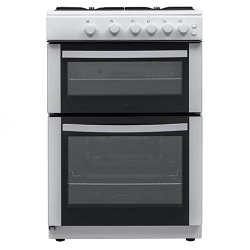 Energy efficiency rating: A+
Oven(s): Double oven
With so many fancy and really complicated cookers on the market now, wouldn't it be great if someone made one that was just simple to use? Well, LOGIK does!
This gas cooker has very simple controls that still allow for precise adjustments for the hob and the two ovens.
The styling is also very simple, but it will work well in most kitchens. Whether your kitchen is modern or more traditional, this gas cooker will fit nicely.
The size is also great. For the average family, this cooker has plenty of space for a full meal.
The only downside to this cooker is that the grill leaves a bit to be desired. It doesn't seem powerful enough to do much grilling. However, if you intend to use this cavity as an oven, it will do some good work for you!
Overall, this is a very built and designed gas cooker with simplicity in mind. The simple design is also reflected in the price!
Things to Consider When Buying a Gas Cooker
Product reviews
The beauty of the digital era is that every product or service advertised online is likely to have numerous "brutally honest" product reviews from previous consumers, so you can ensure a product's reliability will have an unbiased account to it.
This can make the selection of your gas cooker easier. It will allow you to understand if the cooker is ideal for your cooking needs, as well as advice about product reliability and any other info regarding the supplier that may be applicable.
Space
Other top tips include ensuring there is at least 76 cm clearance space above where you intend to put your cooker to allow for a safe "hot zone" area. You will also need to make sure the measurements of your desired cooker are compatible with the space in your kitchen.
Installation
Most importantly, it is vital to ensure the cooker is safely and correctly installed to its gas connection, therefore you will need a gas-safe registered engineer to fit the cooker.
Gas vs. Electric Cookers
There are pros and cons to each, of course. For example, a gas cooker is often cheaper to run than an electric cooker, but they can be slower to heat up and more tedious to clean.
There is no definitive answer as to which is the best option. It is down to your particular kitchen and your own preferences within your cooking needs.
Conclusion
A gas cooker is a strong choice of equipment for any kitchen, and regardless of your budget, you're likely to find one that is stylish, practical, and easy to maintain for your kitchen.
Gas cookers heat up quicker than electric ovens and can often be more energy-efficient, meaning the costs of cooking for yourself and your family doesn't have to break the bank!
If it was down to us, however, we would choose the Stoves Sterling since it is very highly rated by users, has a stunning stainless-steel design and has a great range of features while being easy to clean.
However, it is quite pricey. If the Stoves Sterling is out of your price range, the Indesit ID67G0MCB/UK is a reliable choice.

Clara is a freelance writer and former chef. Though she may have hung up her apron, her love of food and cooking is still going strong! When she's not whipping up a verbal storm, she'll be in her kitchen sipping wine and whipping up a culinary storm.