Gas cookers are arguably the best option for those who like to cook quickly and efficiently, but sometimes knowing which one to invest in can be a bit of a minefield.
If you're looking to splash out on a brand-new cooker to whip up some culinary crackers in your kitchen (and have your heart set on a gas cooker), but are a little stumped at where to begin, allow us to lend you our expertise!
This article looks at the best 60 cm gas cookers currently on the UK market. We'll explore cookers from different brands and in different price ranges, and explain each particular cooker can do. We'll also look at some of the pain points of the cookers to give you an objective, unbiased insight to what you'll be getting for your money.
The Best 60 cm Gas Cookers in the UK
1. Hotpoint Newstyle HARG60K 60 cm Gas Cooker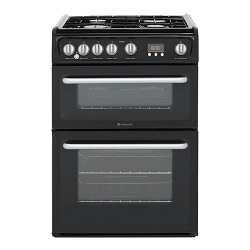 Energy efficiency rating: A+/A
Oven(s): Double oven
Dimensions: 90 x 60 x 60 cm
The Hotpoint Newstyle HARG60K 60 cm Gas Cooker comes in an option of black or white, and is one of the more energy-friendly gas cookers on the market.
Boasting a roomy main oven space, the Hotpoint Newstyle can be ideal for "traditional cooking", minus the lengthy cleaning that often comes with trad cooking. This oven interior is designed to be self-cleaning, as it contains catalytic cleaners designed to absorb splatter from the messier dishes we all love to make (but hate to clean up after!)
The second oven compartment will allow for cooking dishes with lots of trimmings, and the grill setting can be used for finishing off some of your favourite meals with a crispy or golden finish (or simultaneously cooking your dessert!)
The Hotpoint Newstyle is one of the more budget-friendly cookers currently on the market.
Pros:
The interior is designed to use its own heat to keep itself clean
Exterior of the oven leans towards a 'traditional' look, meaning it will fit into a rustic/cottage-chic kitchen design
Plenty of room in both oven compartments
Ideal for kitchens tight on space
Flame failure safety device
Cons:
Hob isn't as easy to clean as glass-top cookers
Not overly obvious/easy to see when the grill is on
Metal plates on hob prone to burning/charring
Only two oven shelves
Lack of a glass lid
Grill pan is a bit small
Hob is prone to chipping
2. Indesit Advance ID60G2K Gas Cooker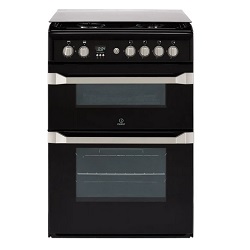 Energy efficiency rating: A+
Oven(s): Double oven
Dimensions: 90 x 60 x 61 cm
Designed to make cooking your favourite dishes as simple but effective as possible, the Indesit Advance is a simple, well-priced cooker. It features two traditional cooking spaces that allows for heat to fully circulate and rise to ensure even cooking, and the compartments are quite spacious.
Because the Indesit Advance is a roomy oven (conventional cavity with 2 shelves and 81 litre usable capacity), it would suit those with big families, or those who like creating meals with all the bells and whistles!
It also has a glass hob top and a grease-proof enamel coating, which makes it easy to keep clean. It comes with a glass lid, which can serve as extra prep space when not in use. The oven door windows are double-glazed, maintaining the heat inside and preventing your kitchen from getting hot, which can be a common complaint with gas ovens.
This cooker's appearance is a mix of traditional and modern, which would suit many kitchen designs.
Pros:
Easy to keep clean
Comes with a cooker top (with auto shut-off)
Minute minder timer
LPG convertible
Interior lighting
Cons:
Slippery, lightweight hob racks
Buttons can get hot when oven and hob on
Only two oven shelves
Grill does not come forward enough when in use, so the back of food burns before front fully cooks
3. Beko KDG611K 60 cm Gas Cooker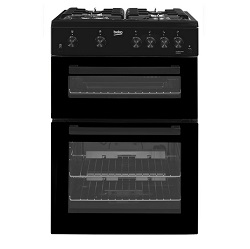 Energy efficiency rating: A/A+
Oven(s): Double oven
Dimensions: 90 x 60 x 60 cm
The stylish and super safe (it comes with a flame safety device – if a flame is accidentally extinguished, the gas will be cut off to prevent any potential leaks, allowing you full peace of mind when cooking) Beko KDG611K gas cooker has been designed with both practicality and ease in mind. Due to its well-designed safety features, this cooker would suit families with young children.
Arguably one of the best features is the LED timer that ensures you avoid over/under-cooking your food, as well as a handy oven light that lets you keep an eye on your cooking without needing to open the door and risk losing heat.
It has also been created with easy cleaning and maintenance in mind; this gas cooker has a smooth inner glass panel and an enamel interior, which is free from bumps and grooves where unwanted residue can accumulate, making it quick and easy to clean.
Pros:
Roomy
Easy to clean
Dual oven
Stylish design
Cons:
Grill features are only 'on' and 'off'
No glass cover for hob
Shelf space is quite restrictive
Oven takes a while to light
4. Logik LFTG60W16 60 cm Gas Cooker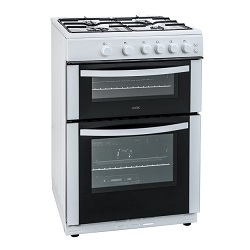 Energy efficiency rating: A
Oven(s): Single oven
Dimensions: 85 x 60 x 60 cm
A modern take on a classic-style gas oven, the Logik LFTG60W16 is stylish-looking, practical, and accommodating for large family meals/entertaining at dinner parties.
One of its key selling points is its anti-tilt bracket, which has been designed to prevent trays of food slipping out the oven when you pull the shelf out – making it a safer and incident-free option for the clumsy cook!
It also comes with a flame supervision device (FSD) to keep you and your family safe. The FSD will stop the gas supply if the flame is extinguished. It's also a dream for those who aren't fanatical on the subject of cleaning! The LOGIK LFTG60W16 comes with removable doors for a quick but thorough clean, as well as easy-to-clean enamel oven liners.
Featuring a colour option of both black and white, so it'll likely suit most modern kitchen designs.
Pros:
Stylish and modern looking
Easy to clean
Heats up quickly
Easy to use
Safety features
Cons:
Doesn't come with a connection pipe
Only one oven shelf
No glass lid
No clock or timer
Enamel prone to chipping
5. Stoves Sterling STERLING600G 60 cm Gas Cooker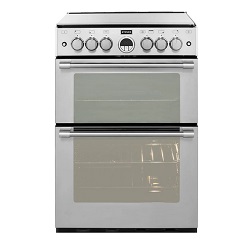 Energy efficiency rating: A
Oven(s): Double oven
Dimensions: 90 x 60 x 60 cm
The roomy Stoves Sterling gas cooker is stainless steel-built and comes with an array of features that go beyond what the standard cooker can offer. Made here in Great Britain, the Stoves Sterling is particularly useful for the lover of baking, as the main conventional oven compartment generates heat that rises, ideal for bread dough, cakes, pastries, and biscuits.
It also has an electronic programmable timer, so you can always be in complete control of your cooking and time every meal to the second!
Gas cookers can traditionally be a nuisance to clean, but this one comes with a glass-top hob, which helps with cleaning any food/grease splattering.
It comes in a colour option of black or stainless steel; both of which will suit many types of kitchen designs, whether modern or traditional.
Pros:
Modern, stylish design
Easy to clean
Cast iron, robust pan supports
Automatic ignition
Spacious
Glass hob top
Because it isn't enamel, it won't be prone to chipping
Cons:
Temperature numbers small and difficult to read
Wouldn't suit all kitchen designs
Control knobs prone to getting hot
No light in the grill
Timer is difficult to set
The valve that controls the gas supply to the top oven and the grill sometimes gets stuck
Things to Consider When Buying a Gas Cooker
Product reviews
The beauty of the digital era is that every product or service advertised online is likely to have numerous "brutally honest" product reviews from previous consumers, so you can ensure a product's reliability will have an unbiased account to it.
This can make the selection of your gas cooker easier. It will allow you to understand if the cooker is ideal for your cooking needs, as well as advice about product reliability and any other info regarding the supplier that may be applicable.
Space
Other top tips include ensuring there is at least 76 cm clearance space above where you intend to put your cooker to allow for a safe "hot zone" area. You will also need to make sure the measurements of your desired cooker are compatible with the space in your kitchen.
Installation
Most importantly, it is vital to ensure the cooker is safely and correctly installed to its gas connection, therefore you will need a gas-safe registered engineer to fit the cooker.
Gas vs Electric Cookers
There are pros and cons to each, of course. For example, a gas cooker is often cheaper to run than an electric cooker, but they can be slower to heat up and more tedious to clean. There is no definitive answer as to which is the best option. It is down to your particular kitchen and your own preferences within your cooking needs.
Conclusion
A gas cooker is a strong choice of equipment for any kitchen, and regardless of your budget, you're likely to find one that is stylish, practical, and easy to maintain for your kitchen. Gas cookers heat up quicker than electric ovens and can often be more energy-efficient, meaning the costs of cooking for yourself and your family doesn't have to break the bank!
If it was down to us, however, we would choose the Hotpoint Newstyle HARG60K 60 cm Gas Cooker. It's really reasonably-priced, not too absorbent of energy, looks fab in any kitchen, and is a dream to keep clean (it cleans itself!). What's not to like about any of that?!

Clara is a freelance writer and former chef. Though she may have hung up her apron, her love of food and cooking is still going strong! When she's not whipping up a verbal storm, she'll be in her kitchen sipping wine and whipping up a culinary storm.