If you're reading this cookware article, you may have heard some horror stories about non-stick frying pans.
Non-stick coatings on cookware can contain harmful chemicals that can release toxins during cooking.
These chemicals are usually only released during high-temperature cooking, for example, if you transfer your frying pan to the oven. If the oven is hot enough, the non-stick coating can begin to release toxins.
There are other ways that cookware can release these toxins, but high heat is the most common way.
So, wouldn't it be great if there was a non-stick pan that didn't release these toxins? Perhaps even a pan that has no harsh chemicals involved in the coating at all? Well, wouldn't that be lovely!
Thankfully, there is. Below we've listed some of our favourite non-stick frying pans that are safe and healthy.
Best Non-Toxic Frying Pans in the UK
1. GreenChef Frying Pan
Diameter: 30 cm
Materials: Aluminium, non-stick coating
This reasonably priced frying pan from Belgian brand GreenPan uses a non-stick coating known as Thermolon, which is made from sand and doesn't contain harmful PFOA or PFASs.
It can be used on any kind of cooking surface including gas, ceramic and induction hobs. It's also safe to put the GreenChef frying pan in the oven up to temperatures of 160°C.
The pan features Bakelite handles which don't conduct heat, so you can safely handle the pan without gloves.
You can also put this pan in the dishwasher, though the manufacturer recommends washing it by hand to prolong its life.
One of the great things about this pan is that it comes in a large choice of sizes, from 20 cm to 30 cm. You can also buy it as part of a set of three pans in different sizes.
Most people find that this pan works well and allows them to cook with very little or no oil. However, a few users have found that the pan started to lose its non-stick properties after a few months of use.
2. MSMK Stainless-Steel Induction Frying Pan
Diameter: 30 cm
Materials: Aluminium, non-stick coating
This 30 cm induction-compatible frying pan is a great choice if you're cooking for a family as it has a lot of room.
The non-stick coating is made from tough titanium and diamond, and is free from PFOA, PTFA and cadmium.
The MSMK pan a stainless-steel bottom which makes it compatible with induction hobs and helps to evenly distribute heat throughout the pan. It comes with a glass lid, which lets you keep an eye on what you're cooking.
This pan is mid-priced and feels very sturdy and professional for the price. We couldn't find much information out about MSMK as a brand when researching this article, but the pan has good reviews online.
3. Prestige Thermo Smart Forged Aluminium Non-Stick Frying Pan
Diameter: 24 cm
Materials: Aluminium, non-stick coating
This non-stick pan from British cookware brand Prestige comes in three sizes: 20 cm, 24 cm and 30 cm. It offers good value for money and is compatible with all hob types including induction.
This pan is made from aluminium and features a PFOA-free non-stick coating infused with real diamonds.
There's a heat indicator on the handle that turns green when the pan has heated up. The handle is heat resistant so you can use the pan without needing gloves.
You can put this pan in the oven at temperatures up to 180°C. When you're done, it can be easily cleaned by hand or in the dishwasher.
Most users find that the non-stick coating on this pan works really well. The heat indicator on the handle is a nice addition that can be very for letting you know when the pan is ready for your eggs!
4. The Stone Earth Frying Pan
Diameter: 20 cm
Materials: Aluminium, non-stick coating
This eco-friendly frying pan has a non-stick coating that is derived from stone. It is free of all harsh chemicals and will work non-stop for you for many years.
This frying pan has a lovely design too. You can tell that The Stone Earth really care how their products feel to use, but they also care about build quality.
This frying pan is one of a few on the market that has a handle that is riveted on with three rivets. It's basically impossible to break the handle.
The body of the pan is also great quality. It is made from die-cast aluminium, built to last once again.
So, if you'd like a beautifully designed, very well-built frying pan, this is one of the best we know of.
5. Moneta Diamant Frying Pan 30cm
Diameter: 30 cm
Materials: Aluminium, non-stick coating
This frying pan from Moneta has one of the best non-stick coatings on the market right now. It is perfectly safe with no harsh chemicals at all, but it's also extremely tough. It is a ceramic coating that is reinforced with diamonds.
The coating on this pan will last a very long time. The body of the pan is made from high-grade aluminium, and the handle is riveted onto the body too, so it is nearly impossible to break this frying pan.
Moneta also makes this frying pan in a few different sizes. They also make loads of other cookware with this fantastic non-stick coating as while.
If safe, tough, non-stick coatings are your thing, you'll love this frying pan and everything else that Moneta offers!
Non-Stick Coating Jargon Explained
When researching non-stick pans, you'll encounter lots of strange chemical names and acronyms. Here's a quick explanation of the main non-stick coating terms.
What Makes a Non-Stick Frying Pan Safe and Healthy?
As I said above, some non-stick coatings are made using harsh chemicals. So, you need to find a non-stick coating that isn't made with these.
The chemicals in question include PFOA, PTFE and other less commonly known ones like APEO, NEP and NMP. So, to ensure that a frying pan is as safe as possible, avoid any frying pan with any mention of these chemicals.
But how can a frying pan be healthy? Surely, a frying pan cannot be adding anything into your food that is good for you, can it?
Well, no. A lot of manufacturers call their frying pans healthy because they don't release these chemicals, but there is another reason too.
The other reason is the non-stick coating used in place of the harmful ones. Ceramic non-stick coatings, for example, are so good that you do not have to use much oil at all during cooking. This means that these frying pans help with a healthy lifestyle simply because they reduce the amount of butter or oil you need to use during cooking.
That is really it, that is how a frying pan can be safe and healthy. Another great thing about these frying pans is that they are inexpensive. A good quality frying pan with a safe non-stick coating that reduces the use of oil will not break the bank. Just before we get to our examples of these frying pans, though, let's take a quick look at choosing a frying pan, shall we?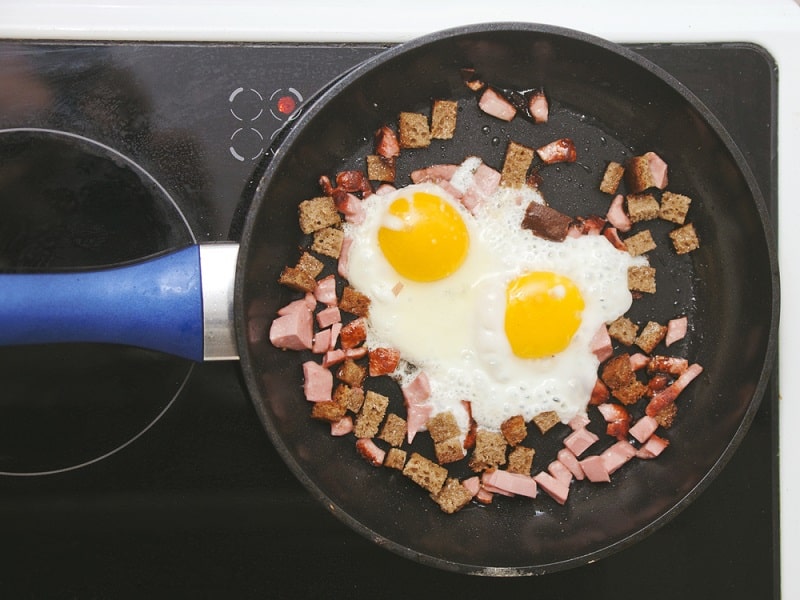 Choosing a Safe Non-Stick Frying Pan
We have covered choosing a non-stick frying pan in other articles, so this will be a quick overview of the topic. Make sure you check out our other non-stick frying pan articles for more info.
Basically, choosing a frying pan is all about compatibility with your hob, the size and the thickness of the metal.
Hob type
Do you have an induction hob? Then you'll need a frying pan that you can use with that hob. There are plenty of safe, non-stick frying pans on the market that are suitable for induction hobs, and we have included examples below.
Size
Size-wise, we recommend getting a few frying pans of different sizes. This allows you to cook off different parts of a meal at the same time. It also makes timing a lot easier.
Having a few good-quality frying pans really makes cooking a lot less stressful and far more enjoyable.
Thickness
Finally, the thickness of the walls of a frying pan is important. Now, some frying pans are designed for quick flash frying. The walls of these pans are a lot thinner than others.
Others are designed for a slow build-up of heat, but they are capable of holding this heat a lot better.
The frying pan you choose is ultimately based on personal preference. However, if you'd like a general-purpose frying pan, a thick-walled pan with a good solid base that is 26-28cm in size will serve you well for many years.
Right, let's look at some of the safest frying pans in the UK right now, shall we?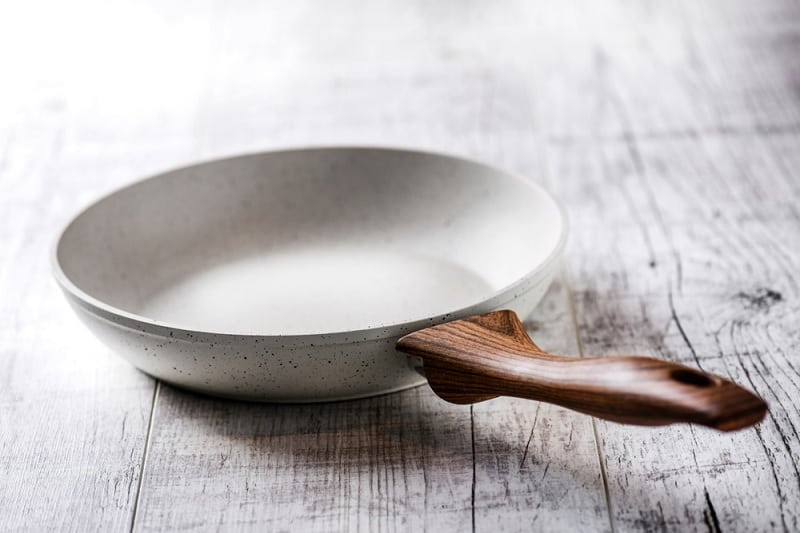 Conclusion
We hope our favourite non-stick frying pans above have piqued your interest in buying a safe and healthy frying pan.
I love the GreenPan frying pan above. I love the traditional styling with the addition of the fantastic non-stick coating.
However, if you didn't find your favourite frying pan above, do check out our list of the best ceramic frying pans. There are some fantastic frying pans on that list, all of which provide a safe and healthy way of frying. Happy cooking!

Scott is a writer and a passionate home chef. His passion for cooking began when he was 10 years old. Scott has been writing professionally for over five years now and loves to combine his passion for cooking with his day job.