If you're reading this cookware article, you may have heard some horror stories about non-stick frying pans.
Non-stick coatings on cookware can contain harmful chemicals that can release toxins during cooking.
These chemicals are usually only released during high-temperature cooking, for example, if you transfer your frying pan to the oven. If the oven is hot enough, the non-stick coating can begin to release toxins.
There are other ways that cookware can release these toxins, but high heat is the most common way.
So, wouldn't it be great if there was a non-stick pan that didn't release these toxins? Perhaps even a pan that has no harsh chemicals involved in the coating at all? Well, wouldn't that be lovely!
Thankfully, there is. Below we've listed some of our favourite non-stick frying pans that are safe and healthy.
Firstly, though, let's explore what makes a frying pan healthy and safe, shall we?
What Makes a Non-Stick Frying Pan Safe and Healthy?
As I said above, some non-stick coatings are made using harsh chemicals. So, you need to find a non-stick coating that isn't made with these.
The chemicals in question include PFOA, PTFE and other less commonly known ones like APEO, NEP and NMP. So, to ensure that a frying pan is as safe as possible, avoid any frying pan with any mention of these chemicals.
But how can a frying pan be healthy? Surely, a frying pan cannot be adding anything into your food that is good for you, can it?
Well, no. A lot of manufacturers call their frying pans healthy because they don't release these chemicals, but there is another reason too.
The other reason is the non-stick coating used in place of the harmful ones. Ceramic non-stick coatings, for example, are so good that you do not have to use much oil at all during cooking. This means that these frying pans help with a healthy lifestyle simply because they reduce the amount of butter or oil you need to use during cooking.
That is really it, that is how a frying pan can be safe and healthy. Another great thing about these frying pans is that they are inexpensive. A good quality frying pan with a safe non-stick coating that reduces the use of oil will not break the bank. Just before we get to our examples of these frying pans, though, let's take a quick look at choosing a frying pan, shall we?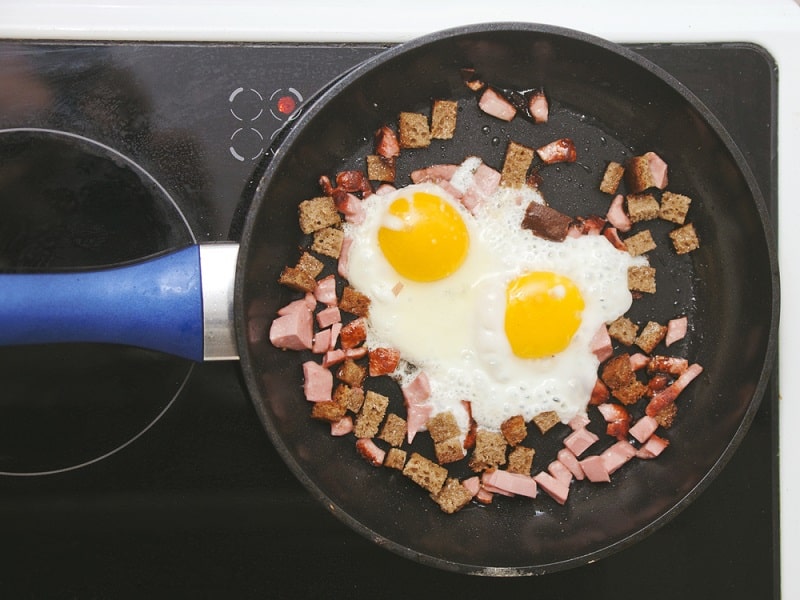 Choosing a Safe Non-Stick Frying Pan
We have covered choosing a non-stick frying pan in other articles, so this will be a quick overview of the topic. Make sure you check out our other non-stick frying pan articles for more info.
Basically, choosing a frying pan is all about compatibility with your hob, the size and the thickness of the metal.
Hob type
Do you have an induction hob? Then you'll need a frying pan that you can use with that hob. There are plenty of safe, non-stick frying pans on the market that are suitable for induction hobs, and we have included examples below.
Size
Size-wise, we recommend getting a few frying pans of different sizes. This allows you to cook off different parts of a meal at the same time. It also makes timing a lot easier.
Having a few good-quality frying pans really makes cooking a lot less stressful and far more enjoyable.
Thickness
Finally, the thickness of the walls of a frying pan is important. Now, some frying pans are designed for quick flash frying. The walls of these pans are a lot thinner than others.
Others are designed for a slow build-up of heat, but they are capable of holding this heat a lot better.
The frying pan you choose is ultimately based on personal preference. However, if you'd like a general-purpose frying pan, a thick-walled pan with a good solid base that is 26-28cm in size will serve you well for many years.
Right, let's look at some of the safest frying pans in the UK right now, shall we?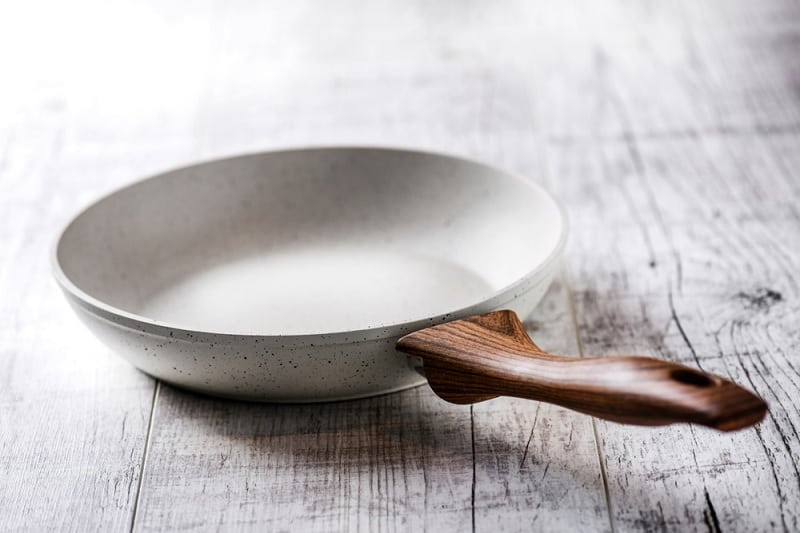 Safest & Healthiest Non-Stick Pans
1. GreenPan Barcelona Stainless-Steel Frying Pan
We absolutely love the styling of this frying pan. This screams Sunday brunch to us. However, while GreenPan always pulls it out the bag with styling, they go one step beyond this with the build quality.
The body of this frying pan is made from stainless steel, and the stainless handle is very securely riveted onto the body.
The non-stick coating on this pan is ceramic, but it happens to be the best ceramic coating on the market at the moment.
This coating is called Thermolon Infinity. It is enhanced with diamonds. No harsh chemicals needed here! You can use metal utensils in this pan and it will never scatch! This is the ultimate safe and healthy frying pan right now!
2. WMF 3-Piece Frying Pan Set
This is a wonderful set of frying pans that will be perfect for any cooks who've just moved into their first home and want to get all of their cookware sorted.
These frying pans are made from stainless steel and have a very tough ceramic coating. The ceramic coating on these frying pans is so good that it can withstand temperatures of up to 400 degrees Celsius.
This frying pan set comes with a 20cm, 24cm and 28cm pan. All of the pans are induction hob safe too.
What's more, these pans don't contain any harsh chemicals either. These quality frying pans will get you started in your new home but will be with you for years.
The pans were developed in Germany and built to last with excellent materials.
3. SkyLight Stone-Derived Non-Stick Frying Pan
This frying pan from SkyLight uses a granite non-stick coating from Germany that is one of the toughest on the market.
It has three layers of this coating too, so you can abuse this frying pan and it will always work for you.
The body of this frying pan is made from aluminium with a steel base to make it suitable for induction hobs.
The reason this fantastic frying pan made our list is because it can be brought alone, but it also comes in a set.
SkyLight make a 10-piece cookware set with this exceptional and safe non-stick coating. If you're looking for an excellent set of cookware that will last you many years, look no further.
4. Moneta Diamant Frying Pan 30cm
This frying pan from Moneta has one of the best non-stick coatings on the market right now. It is perfectly safe with no harsh chemicals at all, but it's also extremely tough. It is a ceramic coating that is reinforced with diamonds.
The coating on this pan will last a very long time. The body of the pan is made from high-grade aluminium, and the handle is riveted onto the body too, so it is nearly impossible to break this frying pan.
Moneta also makes this frying pan in a few different sizes. They also make loads of other cookware with this fantastic non-stick coating as while.
If safe, tough, non-stick coatings are your thing, you'll love this frying pan and everything else that Moneta offers!
5. The Stone Earth Frying Pan
This eco-friendly frying pan has a non-stick coating that is derived from stone. It is free of all harsh chemicals and will work non-stop for you for many years.
This frying pan has a lovely design too. You can tell that The Stone Earth really care how their products feel to use, but they also care about build quality.
This frying pan is one of a few on the market that has a handle that is riveted on with three rivets. It's basically impossible to break the handle.
The body of the pan is also great quality. It is made from die-cast aluminium, built to last once again.
So, if you'd like a beautifully designed, very well-built frying pan, this is one of the best we know of.
Conclusion
We hope our favourite non-stick frying pans above have piqued your interest in buying a safe and healthy frying pan.
I love the GreenPan Barcelona frying pan above. I love the traditional styling with the addition of the fantastic non-stick coating.
However, if you didn't find your favourite frying pan above, do check out our list of the best ceramic frying pans. There are some fantastic frying pans on that list, all of which provide a safe and healthy way of frying. Happy cooking!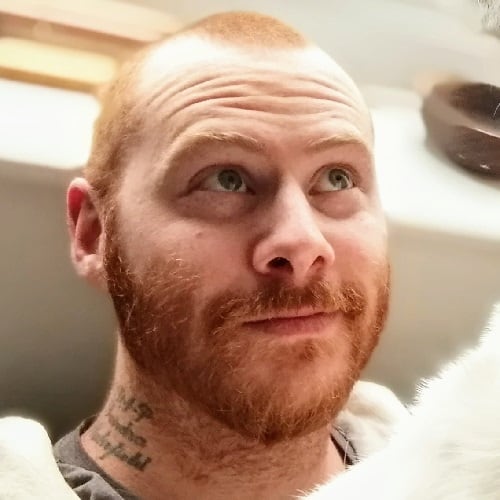 Scott is a writer and a passionate home chef. His passion for cooking began when he was 10 years old. Scott has been writing professionally for over five years now and loves to combine his passion for cooking with his day job.