Ah, the humble egg. Delicious in many ways, but can be a tricky little thing to master cooking.
Many professional chefs have a dedicated pan just for eggs. You don't necessarily need to do this at home, but if you're a fan of omelettes and fried eggs, getting a good non-stick pan that can cook them evenly and is easy to clean is a great idea.
Below you can see some of the most egg-friendly frying pans on the market in the UK.
Best Frying Pans for Eggs in the UK
1. Blackmoor 24 cm Frying Pan
Diameter: 24 cm
Materials: Forged aluminium base, hybrid stone non-stick coating
These Blackmoor frying pans are suitable for use on induction, electric and gas hobs, and their handy cool touch handles keep your hands safe from burns even during prolonged use.
The black, marble-effect non-stick coating means you don't need much oil, your food won't get stuck and it's easy to clean, however, this frying pan is not dishwasher safe.
In addition to stopping food from sticking, this coating is scratch-resistant too, which will keep your pan looking and feeling like new for longer.
Owners love that this frying pan is incredibly easy to clean and that the non-stick coating means they need to use minimal oil to cook food.
However, some people have found that without adequate care, the handle can work loose, and tightening it back up isn't possible.
2. OXO Softworks 20cm Frying Pan
Diameter: 20 cm
Materials: Aluminium, non-stick coating
This OXO frying pan has a very comfortable handle, perfect for making a lot of fried eggs on a Sunday morning. It is also dishwasher safe so great for cleaning up afterwards too.
The reason that this 20cm frying pan made our list, though, is because of its fantastic non-stick coating. It is a PFOA-free, German engineered coating that will last for years.
Underneath that excellent non-stick coating is a heavy grade aluminium. This holds heat really well and will never warp, so your eggs will never roll around the bottom of the pan.
If you're looking for a comfortable frying pan to fry your eggs in, this is it. We choose the 20cm frying pan for this list, but it is also available in other sizes too, perfect for other cooking tasks.
3. Ninja Foodi ZEROSTICK 28 cm Frying Pan
Diameter: 28 cm
Materials: Hard-anodised aluminium, non-stick coating
This frying pan from Ninja has a sturdy aluminium construction and is suitable for use across all hob types, including induction.
In addition to being suitable for use on all hob types, this frying pan is oven safe up to 260°C, and once you've finished cooking, it can be cleaned in the dishwasher too.
Ninja's Zerostick coating uses plasma ceramic bonding to create a unique non-stick coating that is durable and long-lasting, without using any harsh chemicals.
This coating means not only can you cook with little to no oil, but you can also use metal utensils and the pan will stay pristine for years to come.
Ninja are so confident in their frying pans, that if you register it after purchase, you can get a 10-year replacement guarantee that covers the non-stick coating too.
Owners find that the pans are lightweight enough to be easy to use, whilst still feeling sturdy. However, some people do find that the frying pans are deeper than expected.
4. Carote Non Stick Frying Pan
Diameter: 20 cm
Materials: Stainless steel, granite non-stick coating
Carote's non-stick frying pan has an attractive marble-effect coating with wood style bakelite handle.
The non-stick coating in this frying pan is free from nasty chemicals, and the construction is designed to heat through quickly and easily to not only promote even cooking, but save on your energy usage too.
This frying pan is suitable for use on all hob types, and once you're done, the non-stick coating makes the pan easy to clean too.
Users find that the non-stick coating performs fairly well for the price, and as long as you look after the pan, it will last too. However, some users have had issues with using this pan on certain induction hobs.
5. Tefal C6450642 Titanium Excel 24cm Frying Pan
Diameter: 28 cm
Materials: Aluminium, titanium non-stick coating
We've covered Tefal Titanium frying pans before on our lists. However, this frying pan is getting another outing on this list because of its exceptional non-stick coating.
This titanium coating lasts an impressively long time even with some abuse. It is 24 times stronger than most non-stick coatings and is even metal utensil-safe!
Want a frying pan that can do it all, take a beating and still come back and cook eggs without them all sticking to the pan? This is certainly it.
This frying pan also has the classic Thermo-spot to let you know when it's up to temperature. Plus, it is very well made and just simply a joy to use!
The Tefal Titanium range is arguably one of the toughest on the market and is made to be used a lot!
If you cook a lot but want a frying pan that you can use for pretty much anything, this is certainly the best choice.
6. Stellar Rocktanium SP20 Frying Pan
Diameter: 20 cm
Materials: Stainless steel, titanium non-stick coating
The Rocktanium frying pan from Stellar has a durable non-stick coating that is not only dishwasher safe, but it's oven safe up to 210°C too.
This frying pan has a thick base that promotes quick and even heat distribution on all hob types, including induction, gas, ceramic, electric and even on an Aga.
The slick non-stick coating means you can use little to no oil, and it's much more durable than conventional non-stick coatings too. For those of us who like the added peace of mind, this pan has a ten-year guarantee.
Users find that the non-stick lasts really well and the pan conducts heat evenly too, making for easier, stress-free cooking.
These pans are also lightweight enough to be manoeuvrable, whilst still feeling durable and sturdy.
7. Circulon Infinite 20cm Frying Pan
Diameter: 20 cm
Materials: Aluminium, non-stick coating
You'll notice a theme with these frying pans. Here comes another one with a top-notch non-stick coating.
This aluminium frying pan has a stainless-steel bottom. This means it works on induction hobs and is brilliant with heat too.
Plus, the non-stick coating is so tough that you can use metal utensils, once again. However, Circulon stands by their products so much that they offer a lifetime guarantee!
This is a frying pan that can really be put through the wringer, and it will always come out fighting.
You can put this frying pan in the oven and the dishwasher too. In fact, you can do whatever you like with this frying pan, you really can't destroy it!
Once again, Circulon does make different sizes of this frying pan with their exceptional coating too. So, if you want a frying pan set that will likely outlive you, this is a brilliant choice.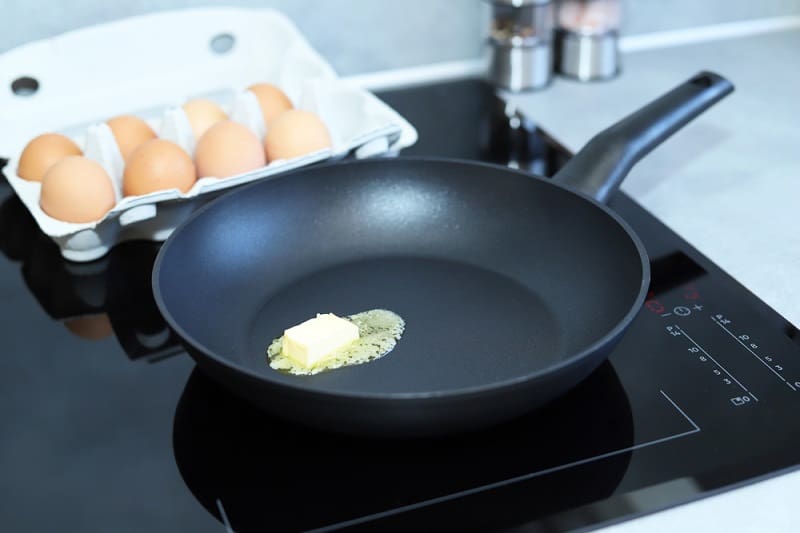 What Type of Metal Is Best for Eggs?
When it comes to frying eggs, you need a frying pan that will release the eggs quickly and that does not scratch easily. If the surface of the pan scratches easily, the eggs will just get stuck.
With that in mind, whether you are cooking fried eggs, an omelette or scrambling eggs, you want to pick out a frying pan made from a good-quality metal. The best metal pans for this purpose tend to be made from stainless steel, aluminium or copper.
What Kind of Pan Do Eggs Not Stick To?
The key to frying good eggs is making sure the eggs do not get stuck, but this can be easier said than done. The problem comes from the fact that eggs are (by nature) incredibly sticky, which means that as it cooks, it binds to the frying pan's surface.
Whilst you can technically cook eggs in any pan with just a healthy splash of oil, the best choice for most household cooks is to use a frying pan with a good non-stick coating.
The non-stick frying pans on this list will all enable you to cook the perfect fried egg or omelette with little to no oil.
What Is the Safest Type of Pan to Cook Eggs In?
Over the years, concerns have been raised about the safety of certain chemicals that have been traditionally used in non-stick coatings. With this knowledge in mind, many people find themselves wondering what the safest pans are to cook eggs. Fortunately, there are countless choices available on the market today.
Toxin-free non-stick
Non-stick frying pans were demonised because of the chemicals that used to be in their coatings, but fortunately that doesn't need to be the case anymore.
The harsh chemicals in question, including PFOS and PFOA, which are used to make Teflon and similar substances, are now fortunately restricted from use in the UK and should not be found in the coatings of any new non-stick pots and pans that you find on the market.
As such, non-stick pans are perfectly safe for use when cooking eggs or any other meal that takes your fancy.
Ceramic
Ceramic frying pans are a chemical-free non-stick frying pan choice that manages to be durable, oven-safe and non-reactive to even acidic food.
The natural non-stick nature of a ceramic coating means that a fried egg can just slide straight out, with minimal oil or butter required.
Cast iron
Cast iron is a chef's favourite because it's incredibly durable and can last a very long time. As no chemicals are used in the coating and they instead need to be seasoned, they are also an incredibly safe and risk-free choice too.
However, the need for the pan to be seasoned means that it isn't as popular a choice amongst home cooks as ceramic or non-stick.
Do You Need a Frying Pan Just for Eggs?
No. You do not need a frying pan just for eggs. However, there's a good reason why many professional chefs do have a frying pan that is solely for eggs.
Eggs love to stick during cooking. So, an egg pan in a pro kitchen is simply a frying pan with a good non-stick coating that has no scratches, and it hasn't been beaten up by the entire kitchen staff. This means the chances of eggs sticking to the surface is minute.
Now, this is great if you're going to be cooking 30-40 eggs in a morning, but will a home kitchen really benefit from a frying pan that is just for eggs?
Well, no, not really. However, we'd recommend having one frying pan in your kitchen that you keep in excellent condition. So, for example, you don't use any metal utensils in that frying pan.
You can still use this frying pan for a host of cooking applications. Still, when it comes time to cook an omelette or fry an egg, you won't be pealing it from the surface of the pan when it is ready.
So, there you go, that is why pro-chefs have a dedicated egg pan and why you may want to consider having a frying pan that is for light work.
How to Fry the Perfect Egg
Frying eggs may seem easy to many of you. If you feel that frying an egg is easy, then please do skip this section. However, if you find frying eggs tricky, here's how to get the perfect fried egg.
Timing is everything
Frying an egg is all about the time you put into it. If you turn the hob up to max and crack the egg into the pan, you'll be enjoying a slightly burnt, crispy-bottomed eggs in a few minutes. However, if you take your time, you'll enjoy the best egg you've ever had.
Keep the pan on a low heat. Crack the egg into the pan if you're feeling brave. If not, crack it into a cup, remove all of the pieces of shell and then carefully pour the egg into the pan.
Before you get your egg in the pan, add some butter or oil. Then, just leave the egg to cook. It will take about three minutes to cook, and you'll have the best egg you've ever tasted.
To flip or not to flip?
Now, to flip or not to flip? There is an argument for flipping an egg once the white has cooked, I don't, but I won't judge you for doing so either. If you do flip your egg, do so after the white has gone completely white. That's after about three minutes.
Flip and leave for one minute and then remove. That way, the egg will stay together. Cooking on a lower heat will also mean that when you flip the egg back over, the yolk isn't ruined.
That is it really. Cooking a fried egg is all about low temperatures. If you cook it on a low temperature, you won't get too many crispy bits, you won't burn it, and it's less likely to stick to the bottom of the pan.
Just make sure that all of the white is cooked through. It takes less than 5 minutes to cook the perfect fried egg this way.
The cooking instructions for eggs here are for sunny-side up and over-easy. These are my preferred methods for cooking eggs. Give them a try, your eggs will be the hit of the home, I promise!
Conclusion
So, those are the top frying pans for eggs in the UK right now. If we had to pick just one, it would be Blackmoor 24 cm Frying Pan. It features a scratch-resistant surface and cool touch handles, and the non-stick coating makes it perfect for frying eggs without having a difficult washing up job afterwards!
These frying pans are excellent for eggs. Still, as we said, they can fry far more than that too.
To find out more about excellent pots and pans, please explore our website further. We have loads of cookware articles on here that can take your cooking to the next level and make cooking that little bit more enjoyable.
Check out our roundup of the best non-stick frying pans if none of the options reviewed here take your fancy.

Scott is a writer and a passionate home chef. His passion for cooking began when he was 10 years old. Scott has been writing professionally for over five years now and loves to combine his passion for cooking with his day job.