Ah, the humble egg. Delicious in many ways, but can be a tricky little thing to master cooking.
You'll know all about eggs being tricky to cook if you've ever tried to cook them in a frying pan with no non-stick coating. However, do you really need a dedicated frying pan just for eggs?
Many professional chefs swear by having an egg pan, but will your home kitchen benefit from that?
Well, just before we get to our list of the best frying pans for eggs, let's explore this idea a bit more, shall we?
Do You Need a Frying Pan Just for Eggs?
No. You do not need a frying pan just for eggs. However, there's a good reason why many professional chefs do have a frying pan that is solely for eggs.
Eggs love to stick during cooking. So, an egg pan in a pro kitchen is simply a frying pan with a good non-stick coating that has no scratches, and it hasn't been beaten up by the entire kitchen staff. This means the chances of eggs sticking to the surface is minute.
Now, this is great if you're going to be cooking 30-40 eggs in a morning, but will a home kitchen really benefit from a frying pan that is just for eggs?
Well, no, not really. However, we'd recommend having one frying pan in your kitchen that you keep in excellent condition. So, for example, you don't use any metal utensils in that frying pan.
You can still use this frying pan for a host of cooking applications. Still, when it comes time to cook an omelette or fry an egg, you won't be pealing it from the surface of the pan when it is ready.
So, there you go, that is why pro-chefs have a dedicated egg pan and why you may want to consider having a frying pan that is for light work.
Grab another frying pan from our lists to beat up and abuse, but save the frying pan from this list for the best eggs your family has ever eaten!
Let's find out about the best frying pans for eggs now, shall we?
Best Frying Pans for Eggs in the UK
1. OXO Softworks 20cm Frying Pan
This OXO frying pan has a very comfortable handle, perfect for making a lot of fried eggs on a Sunday morning. It is also dishwasher safe so great for cleaning up afterwards too.
The reason that this 20cm frying pan made our list, though, is because of its fantastic non-stick coating. It is a PFOA-free, German engineered coating that will last for years.
Underneath that excellent non-stick coating is a heavy grade aluminium. This holds heat really well and will never warp, so your eggs will never roll around the bottom of the pan.
If you're looking for a comfortable frying pan to fry your eggs in, this is it. We choose the 20cm frying pan for this list, but it is also available in other sizes too, perfect for other cooking tasks.
2. Prestige Stone Quartz 20cm Frying Pan
Remember when we mentioned non-stick coatings and how important they are when cooking eggs? Well, this frying pan is the answer to all your non-stick needs.
It is a very durable, Quartz non-stick coating that will last a very long time. Plus, the body of this frying pan is made from cast aluminium. This means this pan is nice and tough.
It is also pretty thick. This aids in keeping the pan hot no matter how many eggs you have on the go.
For those of you with induction hobs, don't worry, this frying pan has a steel base meaning it will work on an induction hob.
Finally, it has a very comfortable handle and looks great too. This is a wonderful general-purpose frying pan that happens to be excellent for frying eggs too.
3. Tefal Titanium Excel 24cm Frying Pan
We've covered Tefal Titanium frying pans before on our lists. However, this frying pan is getting another outing on this list because of its exceptional non-stick coating.
This titanium coating lasts an impressively long time even with some abuse. It is 24 times stronger than most non-stick coatings and is even metal utensil-safe!
Want a frying pan that can do it all, take a beating and still come back and cook eggs without them all sticking to the pan? This is certainly it.
This frying pan also has the classic Thermo-spot to let you know when it's up to temperature. Plus, it is very well made and just simply a joy to use!
The Tefal Titanium range is arguably one of the toughest on the market and is made to be used a lot!
If you cook a lot but want a frying pan that you can use for pretty much anything, this is certainly the best choice.
4. Circulon Infinite 20cm Frying Pan
You'll notice a theme with these frying pans. Here comes another one with a top-notch non-stick coating.
This aluminium frying pan has a stainless-steel bottom. This means it works on induction hobs and is brilliant with heat too.
Plus, the non-stick coating is so tough that you can use metal utensils, once again. However, Circulon stands by their products so much that they offer a lifetime guarantee!
This is a frying pan that can really be put through the wringer, and it will always come out fighting.
You can put this frying pan in the oven and the dishwasher too. In fact, you can do whatever you like with this frying pan, you really can't destroy it!
Once again, Circulon does make different sizes of this frying pan with their exceptional coating too. So, if you want a frying pan set that will likely outlive you, this is a brilliant choice.
5. Sky Light 24cm Omelette Frying Pan
This frying pan is made from 6mm forged aluminium. This offers excellent heat-storing abilities, plus it means that this frying pan is very robust.
What's more, this frying pan features three layers of non-stick coating with no harsh chemicals added at all.
Because of the excellent non-stick coating on this pan, you don't need to use too much oil or butter in your cooking either. So, it is healthy for you in many ways.
While the health benefits this frying pan offers is certainly a big draw, it was the build quality that helped it make this list.
The forged aluminium body holds heat really nicely. The protective, non-stick coating also means that cooking eggs perfectly is just one feather in this pans cap. The possibilities with this frying pan are endless.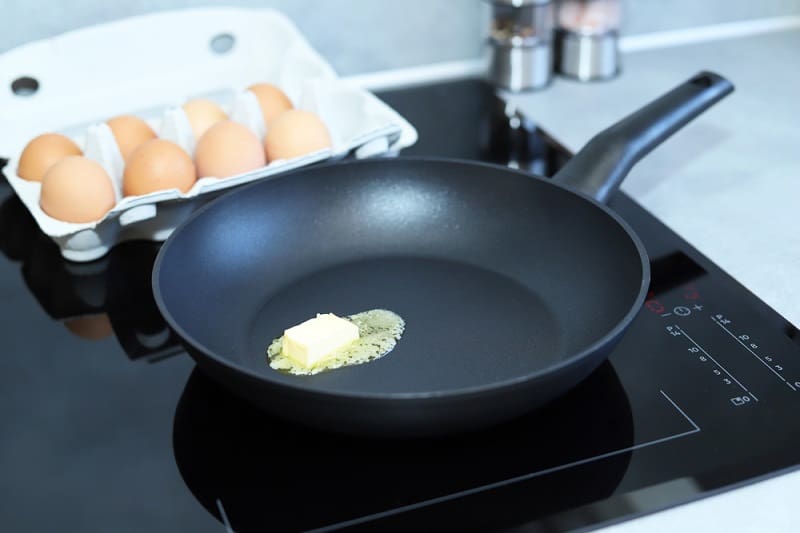 How to Fry the Perfect Egg
Frying eggs may seem easy to many of you. If you feel that frying an egg is easy, then please do skip this section. However, if you find frying eggs tricky, here's how to get the perfect fried egg.
Timing is everything
Frying an egg is all about the time you put into it. If you turn the hob up to max and crack the egg into the pan, you'll be enjoying a slightly burnt, crispy-bottomed eggs in a few minutes. However, if you take your time, you'll enjoy the best egg you've ever had.
Keep the pan on a low heat. Crack the egg into the pan if you're feeling brave. If not, crack it into a cup, remove all of the pieces of shell and then carefully pour the egg into the pan.
Before you get your egg in the pan, add some butter or oil. Then, just leave the egg to cook. It will take about three minutes to cook, and you'll have the best egg you've ever tasted.
To flip or not to flip?
Now, to flip or not to flip? There is an argument for flipping an egg once the white has cooked, I don't, but I won't judge you for doing so either. If you do flip your egg, do so after the white has gone completely white. That's after about three minutes.
Flip and leave for one minute and then remove. That way, the egg will stay together. Cooking on a lower heat will also mean that when you flip the egg back over, the yolk isn't ruined.
That is it really. Cooking a fried egg is all about low temperatures. If you cook it on a low temperature, you won't get too many crispy bits, you won't burn it, and it's less likely to stick to the bottom of the pan.
Just make sure that all of the white is cooked through. It takes less than 5 minutes to cook the perfect fried egg this way.
The cooking instructions for eggs here are for sunny-side up and over-easy. These are my preferred methods for cooking eggs. Give them a try, your eggs will be the hit of the home, I promise!
Conclusion
So, those are the top frying pans for eggs in the UK right now. If we had to pick just one, it would be the OXO Softworks 20cm Frying Pan. Its non-stick PFOA-free coating makes it perfect for frying eggs without having a difficult washing up job afterwards!
These frying pans are excellent for eggs. Still, as we said, they can fry far more than that too.
To find out more about excellent pots and pans, please explore our website further. We have loads of cookware articles on here that can take your cooking to the next level and make cooking that little bit more enjoyable.
Check out our roundup of the best non-stick frying pans if none of the options reviewed here take your fancy.

Scott is a writer and a passionate home chef. His passion for cooking began when he was 10 years old. Scott has been writing professionally for over five years now and loves to combine his passion for cooking with his day job.