Many chefs have their favourite non-stick coating and their favourite cookware as a result. However, that doesn't mean that this cookware is durable.
Good quality non-stick cookware should be enjoyable to use but also hard-wearing. Wouldn't it be great if all non-stick cookware could hold up to decades of daily use?
Is there any type of non-stick cookware that can do just that? Well, today, we're looking at the most durable cookware on the market that has fantastic non-stick properties.
If you're looking for new cookware and want to know which are the toughest in the world right now, this is the cookware article for you!
For many of us, the first signs of wear and tear in a non-stick pan are small scratches. These can be caused by metal utensils or heating the pan too much.
If your pan does have small scratches in the non-stick coating, the coating around the scratch can come away from the surface and end up in your food.
So, it is a good idea to buy a new non-stick pan. But where do you start? After all, many non-stick coatings state that you shouldn't use metal utensils or get them too hot.
Well, thankfully, there are some excellent choices of cookware available that don't have these issues.
There are exceptional non-stick coatings that last a very long time. And some of this cookware is extremely affordable for any budget too.
Of course, some of the most durable cookware available does have a higher price. However, this cookware is designed to last decades.
Below, we have collected the most durable non-stick cookware available in the UK right now. We have included cookware for all budgets.
The cookware below is designed to show you the most durable non-stick coatings. If you like the look of a non-stick coating but already have the piece of cookware we've shown as an example, not to worry.
There is likely a piece of cookware with that type of non-stick coating perfect for your needs.
The Most Durable Non-Stick Cookware
1. Ceramic Non-Stick Cookware – GreenPan Frying Pan

Ceramic non-stick coatings are extremely durable. Yet, they are also toxin-free. There are no toxic fumes, and the coating stands the test of time.
Most ceramic coatings can also be used in the oven up to around 180 degrees Celsius. The frying pan that we have here is made using Thermolon. This is a unique ceramic coating that has diamonds in it to strengthen the coating and also improve the non-stick properties.
This is one of the best ceramic coatings available right now, and Greenspan uses it in many of their pots and pans.
One of the best things about ceramic cookware, though, is that it's extremely affordable but also very durable.
This non-stick cookware won't last for 50 years, but treated right, it could easily last five years in your kitchen.
2. Stone-Derived Non-Stick Cookware – ZUOFENG Nonstick Frying Pan Skillet

Stone-derived cookware and ceramic cookware are some of the most affordable yet durable cookware available.
Typically, stone-derived cookware is made from granite. This means this coating is extremely tough, but food just glides off of the surface. Also, it is super easy to clean granite cookware because of the fantastic non-stick properties.
If you take care of stone-derived cookware, it will last many years. The only downside to this type of non-stick cookware is that generally, it is recommended that you handwash it instead of putting it in the dishwasher, and in most cases, it can't be used in the oven.
Still, if you want cookware that is durable in every other sense and very affordable, this is a great option.
3. Toughened Non-Stick Coatings – Le Creuset 3-Piece Professional Set
The reason that many non-stick pans can't be used in the oven is that the non-stick coating is venerable to heat.
However, some manufacturers have created toughened non-stick coatings that are mighty impressive. These coatings can handle metal utensils. They can be used in the oven (the example we have can handle temperatures of 260 degrees Celsius).
These non-stick coatings are extremely durable and will stand up to a lot of use. The way that manufacturers toughen non-stick coatings varies quite a bit.
Above you saw a non-stick coating with added diamonds for protection. Here, we believe Le Creuset has applied thicker layers of their coating and fused it to the surface at a higher temperature. There are many options for toughened non-stick coatings, and most are very durable.
4. Stainless + Non-Stick Coating – John Lewis Classic Stainless Steel Non-Stick Frying Pan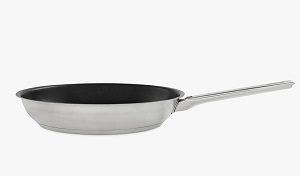 Stainless-steel cookware is incredibly tough, so combining a stainless-steel base with a non-stick inner coating makes a great combination.
This tough pan from John Lewis comes with a lifetime guarantee and is oven safe up to 180 ℃. It's available in three sizes (20, 24 and 28 cm).
The base and walls of the pan are made from stainless steel, while there's a durable non-stick coating on the inside of the pan, offering the best of both worlds.
5. Cast Iron Cookware – KICHLY Pre Seasoned Cast Iron Skillet

Properly seasoned cast iron cookware has some of the best and most durable non-stick properties in the world.
We know that seasoning cookware can seem confusing, but it is actually nice and simple. We have a few articles about seasoning cast iron that explain the process and make caring for your cast iron easy.
Cast iron has been used for cooking for thousands of years because it is fantastic to cook with. If you care for it properly, it is extremely durable and a joy to use.
Cast iron cookware is also not that expensive and can last the rest of your life if you take care of it. Oh, and if the seasoning process really puts you off, you can find cast iron cookware that comes pre-seasoned.
Finally, when choosing the perfect piece of cast iron cookware for you, make sure it really is cast iron. Some pots and pans look exactly like cast iron but are actually made from aluminium and other materials. This may not affect the cooking too much but can affect the non-stick properties.
Conclusion
Cookware having a durable non-stick coating is great, but if the material the pot or pan is made from isn't up to par, then that piece of cookware could fail. Of course, we've spoken about cast iron, and stainless steel above, any good quality grade of both of those materials will stand the test of time.
However, if you'd prefer a non-stick coating rather than relying on the base material for its non-stick properties, make sure the pan you choose is made from good quality materials.
This could be aluminium, stainless steel or steel. These are all very durable materials if they are manufactured and used correctly.
We hope this look at durable non-stick cookware has been helpful. This is the toughest cookware on the market that can last many years in even the busiest of kitchens.
To find out more about non-stick cookware, explore our website further. We have plenty of lists that show some of the best non-stick cookware available in the UK right now!

Scott is a writer and a passionate home chef. His passion for cooking began when he was 10 years old. Scott has been writing professionally for over five years now and loves to combine his passion for cooking with his day job.