If you need a new frying pan, you may have noticed heavy-based frying pans during your search.
Heavy-based frying pans are fantastic tools for certain cooking tasks, and today, we're going to find out all about these frying pans.
Should you buy one of these pans or stick with a lighter frying pan? Well, it depends on what you want to cook, but more on that in a bit.
First, though, let's find out what a heavy-based frying pan actually is, shall we?
What Is a Heavy-Based Frying Pan?
These frying pans have a heavy base, but I bet you guessed that from the name! This base can be made from stainless steel, steel, aluminium or copper.
However, one of the most famous heavy-based frying pans is the cast iron skillet. The heavy base is designed for a reason; it isn't just so the pan feels nice in your hand.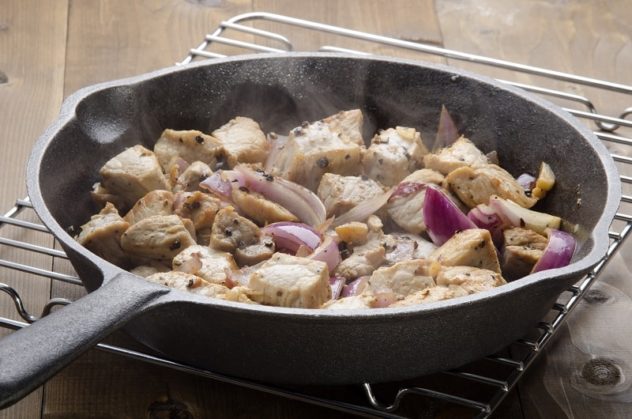 The base is made from a metal that has excellent heat conductivity. This allows it to hold the heat really well and distribute it around the pan evenly.
A heavy-based pan does take a while to heat up compared to a frying pan with a thinner base. However, it holds the heat extremely well.
Some manufacturers of heavy-based frying pans also incorporate a different type of metal into the base. This not only provides the heat retention but it allows pans made from non-ferrous metals to be used on induction hobs.
Certain grades of stainless steel are non-magnetic, for example, so they won't work on an induction hob. So, the manufacture can use a ferrous metal, either a type of stainless steel that is ferrous or aluminium, for example.
This creates the heavy base and means that the pan is completely universal and can be used on any hob type.
When to Use a Heavy-Based Frying Pan
Thanks to the brilliant heat retention of the base, these frying pans are perfect for searing and frying meats, fish and veg.
If you fry a lot of steak or love fish, a heavy-based frying pan is an excellent choice for you. A heavy-based frying pan, though, can be used for pretty much any cooking task that you would normally do in a frying pan.
Just remember, these pans get hot and stay hot for longer than a thinner frying pan. So, controlling the heat is difficult. This can mean that delicate tasks, like frying an egg or making pancakes, is difficult in a frying pan with a heavy base.
Our Favourite Heavy-Based Frying Pans in the UK Right Now
1. MasterClass Cast Aluminium Frying Pan
This fantastic frying pan is made from cast aluminium, so it is suitable for all hob types and has a nice and heavy base.
The cast aluminium body of this pan holds heat incredibly well, and the non-stick coating makes cooking with it so easy.
The non-stick coating is scratch-resistant and really hard-wearing. This means that you don't need to use much oil in this pan, and the non-stick coating will be performing well for many years.
This heavy-based frying pan is available in 20, 26 and 28 cm sizes. We love the 26 cm frying pan. It is plenty big enough for a steak, yet small enough to tackle fried eggs and a great deal more.
And yes, this heavy-based frying pan can cook fry eggs. This is thanks to the brilliant non-stick coating!
2. Sky Light Wok Pan
We know you came here for frying pans and not woks, but hear us out as Sky Light has made a very clever pan here that could be the answer to your cupboard full of pots and pans.
This is a wok, but it can also be used as a frying pan and a saute pan. This means that this heavy-based pan is really versatile, perfect for the smaller kitchen or those that don't like clutter.
It also has a fantastic PFOA-free non-stick coating and a heavy-based that is compatible with all hob types.
The pan is 30 cm too, so if you have a large family, you can cook an entire stir fry or steaks for everyone in this!
Plus, it has a detachable wooden handle so it can go in the oven and the dishwasher. We love this heavy-based pan. It is one of the most useful pans you could have in your kitchen.
3. Uno Casa Cast Iron Skillet Set
A cast-iron skillet is the grandparent of heavy-based frying pans. However, it is still really hard to beat a well-made cast iron pan. They are totally ovenproof at any temperature.
They have a natural non-stick coating that is easy to maintain, and they fry some of the best steaks ever.
The only thing that Uno Casa has added to this cast iron pan set that is modern are the stay-cool handles that are removable. Oh, and a very tasty and modern recipe book.
Cast iron pans are nice and heavy. They hold heat fantastically well and can be used on any hob type. You can even use cast iron on a fire in your garden!
We know seasoning cast iron sounds scary, but it is simple, we promise. If you're looking for a heavy-based frying pan, cast iron is extremely hard to beat and has been for thousands of years.
We hope this look at heavy-based frying pans and some of our favourites has been helpful. Heavy-based frying pans are generally a sign of good quality and will last you for many years.
While you're here, do take a look at the rest of Chef's Pick. We have loads of amazing cookware articles on here that help you build the perfect kitchen arsenal for your needs!

Scott is a writer and a passionate home chef. His passion for cooking began when he was 10 years old. Scott has been writing professionally for over five years now and loves to combine his passion for cooking with his day job.