There are many high-end cookware manufacturers that home cooks covet more than anything. However, spending a few hundred pounds on a frying pan for many of us just doesn't seem practical.
Well, after the frying pans we have to show you today, a few hundred pounds may seem like a drop in the ocean.
Get ready for your wallet to scream as we're looking at the most expensive frying pans in the world below.
You may need a cup of tea or something a bit stiffer for this cookware article! Things are about to get expensive!
Brandimarte Firenze Large and Medium Skillet Set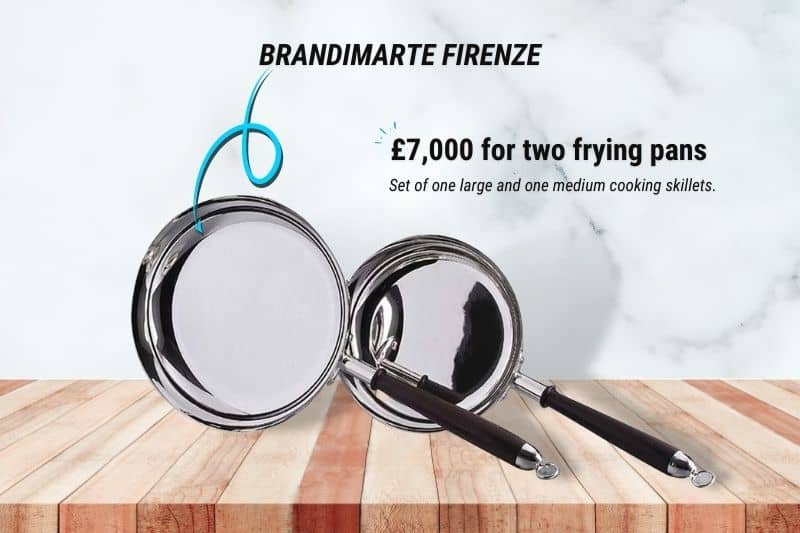 Coming in at nearly £7,000 for two frying pans, the Brandimarte Firenze large and medium skillet set is the most expensive set of pans that we could find.
£3,500 for one skillet pan is an astounding number. During our research, we even looked at cookware sold at auction and couldn't find any that were more expensive than these frying pans. But why are they so expensive? Are they made of gold?
Well, no, actually, they are made from silver. These frying pans are handmade in Italy and made to order. So, you'll need to wait a cool 6-7 weeks as Italian artisans handcraft your new frying pans for you.
The entire frying pan is made from solid silver, including the handle, we believe. Amazingly, Brandimarte Firenze doesn't give you a lot of info about the frying pans and their construction.
We know they have a hand-carved wooden handle that looks to be rosewood, but again, there isn't much info about these pans on offer.
Brandimarte Firenze does say that these frying pans are perfect for cooking safely. Silver is famed for its antibacterial and antimicrobial qualities.
Other than the elegance of these frying pans, the main selling point is the antibacterial properties of silver. However, you're using these to heat your food up, destroying and killing any bacteria with heat, which you can do with any old £20 frying pan.
Thomas Goode Silver Pans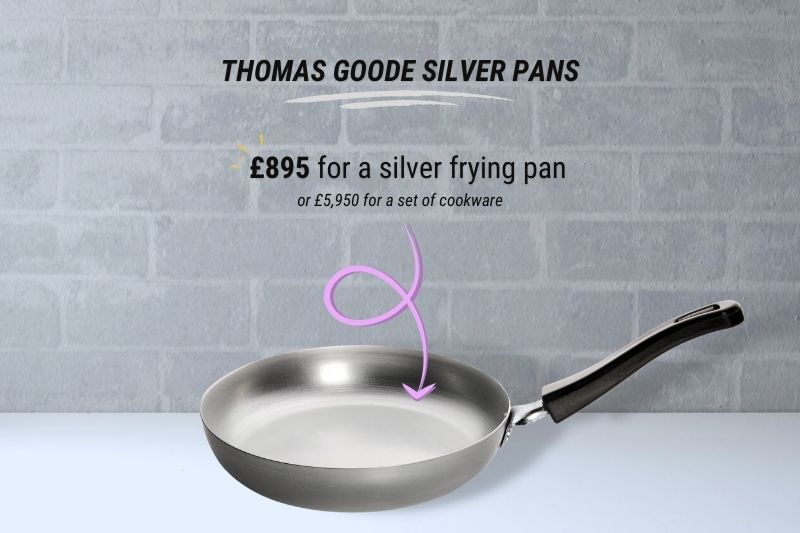 Thomas Goode used to sell a solid silver frying pan for £895, or a full set of their cookware for only £5,950 according to this Evening Standard article from the year 2000. However, their website doesn't list any pans for sale at the time of writing.
The Evening Standard asked two chefs to try out this pan. The thing that both chefs loved about this silver pan was the amazing heat distribution.
They said it was like using a very heavy stainless-steel pan with a thick bottom. It allowed for a low distribution of heat that was very even.
Both chefs work in professional kitchens and gave an insight into which pans they use on a daily basis as well. One preferred to use good quality stainless steel pans, and the other enjoyed copper pans and also mentioned some Le Creuset cookware too.
It would appear that a good quality stainless steel frying pan is just as good as the silver one these chefs used in their review.
So, even if you buy Le Creuset or De Buyer, some of the most expensive readily available cookware out there, you will still pay a fraction of the price and get an excellent quality frying pan that is comparable to am £895 pan.
In fact, during that test, both chefs were concerned with the rivets holding the handle to the pan. The rivets, just like the handle and the body of the pan, are silver. So, everything is made from a soft metal, meaning with use, the rivets are likely to give way.
Are These Pans Worth It?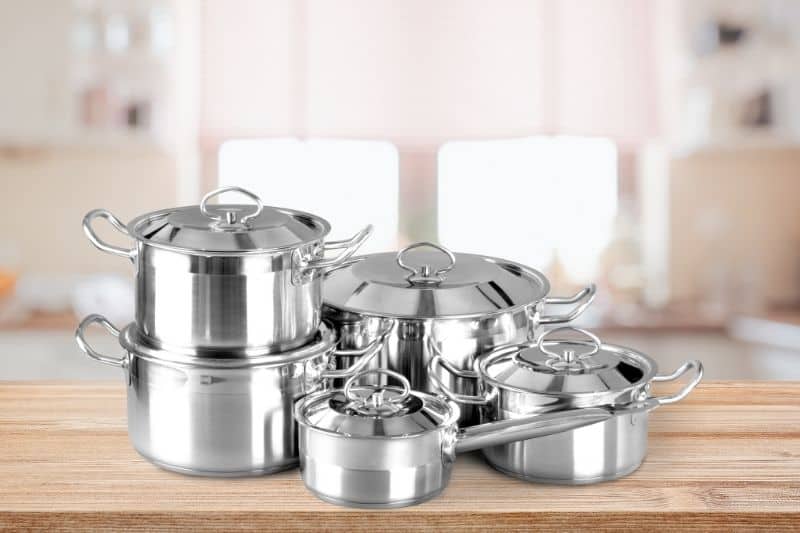 The short answer is no. Two professional chefs both said that using this solid silver pan was much like using a stainless-steel pan.
So, we'd highly recommend you buy a good quality stainless steel frying pan, keep the other £700 and go on holiday, or buy a new cooker. Or keep the other £3,300 and take a longer break.
If you have thousands and thousands of pounds to burn on cookware, it doesn't mean you have to.
After all, if you were to buy solid silver frying pans, would you use them? The professional chefs, when asked whether they would buy one, both said 'no', with no further explanation needed.
We know that most home chefs are simply looking at these frying pans in just as much shock as us and have no intention of buying these handmade frying pans for their kitchen.
If you are, just remember, two professional chefs said that a good quality stainless steel pan was comparable, and you can pick one of these up for £200 or less.
So, why not take a look at the rest of our cookware articles before you leave. We have hundreds of pieces of cookware that are well below this price. In fact, we have everything you need to kit out your entire kitchen for far less money than these frying pans.

Scott is a writer and a passionate home chef. His passion for cooking began when he was 10 years old. Scott has been writing professionally for over five years now and loves to combine his passion for cooking with his day job.