Ceramic cookware is excellent. It provides a non-stick, no-fuss way of cooking your food.
Thanks to the excellent non-stick properties of ceramic, this cookware is perfect for family homes. It allows people to experiment with different cooking techniques without the risk of food sticking stead-fast to the pan, it also has health benefits too.
But what are the health benefits of ceramic frying pans? Well, before we get to our favourite ceramic frying pans, let's explore the health benefits of using these pans, shall we?
What Makes Ceramic Frying Pans Healthy?
Manufacturers of ceramic cookware claim that it is a healthy option, but why? Does the ceramic release something into your food that makes it healthier? Well, no, actually it is the opposite.
You see, traditional non-stick coatings on frying pans and pots, contain harsh chemicals. These chemicals (PFOA, PTFE and more) can release toxins when you're cooking.
Granted, it takes a lot of heat for these toxins to be released, and it isn't a regular occurrence in typical cooking tasks. Still, it's nice there is a non-stick option for those of us that don't want to take the risk.
So, one health benefit to ceramic frying pans is there are no harsh chemicals used in the non-stick coating.
The other health benefit of ceramic coatings comes from how well they perform their job. Ceramic non-stick coatings are so good that you need far less oil or butter when cooking. The reduction in fats is great for any diet.
So, while ceramic frying pans may not have any direct health benefits, they help reduce the number of chemicals in your home and reduce the amount of fat in your diet.
So, how do you choose the right ceramic frying pan for your needs? Well, that's what we're looking at next.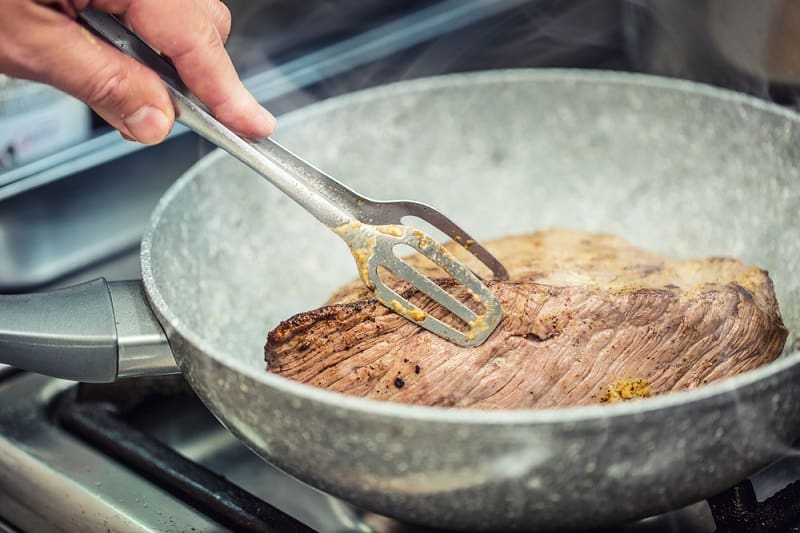 Choosing the Right Ceramic Frying Pan for Your Needs
Size
When choosing a frying pan, there are a few things to think about. Firstly, size. Ceramic frying pans come in a few different sizes.
We recommend owning a couple of frying pans of different sizes, it can make cooking separate components of meals a lot easier.
We'd go with 20cm, 26cm and 30cm frying pans. These sizes will keep you covered for pretty much every cooking task.
Material & induction compatibility
Most of the ceramic frying pans below are made from aluminium which is a fantastic choice for a frying pan as it heats up quickly and holds the heat really well.
However, some of the pans below will not work on an induction hob. If you have an induction hob, make sure that the frying pan (or at least the base) is compatible. Don't worry, we've mentioned which frying pans below are induction hob compatible.
Wall thickness
Some frying pans have thicker walls than others. Now, this doesn't mean that the thinner frying pans are poor quality, they are just designed for a different type of cooking.
Thinner walled frying pans are designed to heat up really quickly and are perfect for flash frying. Thicker walled pans are designed to hold heat in a lot better.
Both types of frying pan will work for most general cooking tasks, this is more about personal preference.
Metal or plastic handle?
With a metal handle, you can transfer your frying pan to the oven. You can with some plastic handled pans too, but not all.
If you like to flash fry and then transfer to the oven, a metal handle is probably better for you. If you aren't too worried, plastic will be fine.
That is about it. Ceramic frying pans are fantastic and provide superior cooking for many years. And considering all of the things above will mean your new frying pan will be enjoyable to use too.
But which pan will you choose? Well, here are some of our favourite ceramic frying pans in the UK right now.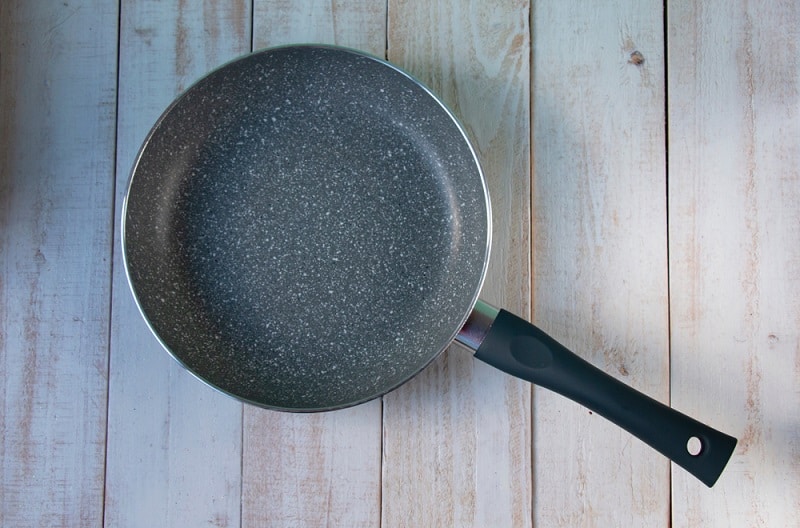 Best Ceramic Frying Pans in the UK
1. GreenChef Profile Plus Stainless Steel Frying Pan 20cm
This pan only just made the top spot of this ceramic non-stick frying pan list. However, it is excellent.
The ceramic coating on this pan is reinforced by diamonds. The body of this pan is made from stainless steel, and it has an extra-thick base.
This aids in heat retention and means that the pan is suitable for all hob types. It is also dishwasher and oven safe.
What makes this pan special, though, is the non-stick coating. Right now, the non-stick coating on this pan is the best on the market.
It has the same coating as the GreenPan Venice Pro below, but it is a bit better for your wallet. Sure, this frying pan lacks a few style points compared to the GreenPan, but we can let that slide for such a fantastic non-stick coating!
2. GreenPan Venice Pro Frying Pan
This frying from GreenPan was very close to making the top of our ceramic pan list. The styling of this frying pan is beautiful, and the ceramic coating is one of the toughest on the market too.
Let's start with the non-stick coating. This pan has the Thermolon, Infinity Pro coating. This is a ceramic coating reinforced by diamonds.
You can treat this frying pan however you like; the coating is going to last for years.
The body of the pan is made aluminium while the Magneto 2 means that it can be used on induction hobs.
The pan has a beautiful aluminium colour on the inside and a riveted stainless handle. This frying pan is beautiful and works flawlessly, it is perfect for passionate cooks.
3. ProCook Ceramic Frying Pan 24cm
Here we have another lovely frying pan built to last and to look good while it proves to be the workhorse your kitchen needs it to be.
The ceramic coating on this frying pan is, once again, reinforced with titanium to make an incredibly tough coating. ProCook is so confident with this coating, they offer a 25-year guarantee with all of their pro ceramic cookware.
This frying pan is also oven safe and has a stainless-steel base bonded to the bottom, making it safe for all hob types too.
The ergonomic handle means it is also nice and comfortable. The handle is made from stainless but has a CoolTouch technology so it will remain cool throughout cooking. Overall, this ceramic frying pan is proving very difficult to beat.
4. Ozeri Green Earth Frying Pan 12-Inch
Ozeri uses a German-made ceramic coating called Greblon. It's free of all harsh chemicals and incredibly durable.
However, the coating isn't the only thing that is durable on this frying pan. The body of the pan is made from heavy gauge aluminium.
This means this frying pan is heavy but built to last and outperform much of the competition throughout its life.
This frying pan comes with a silicone handle and is, once again, suitable for all hob types. The ceramic coating on this pan is also textured.
This means that the non-stick properties are fantastic, but there is a bit of grip so your steak won't slide all over the place while you try and dish it up.
5. John Lewis Aluminium Ceramic Frying Pan
This frying pan from John Lewis would've made this list on looks alone. We love the styling of this frying pan.
Still, the design is backed up beautifully by the great build quality and exceptional non-stick properties too.
The body of this frying pan is made from thick aluminium, while the coating is a titanium-fused ceramic coating. That means that this pan's non-stick coating is pretty much indestructible.
What's more, this frying pan is dishwasher safe and oven safe up to 240 degrees Celsius. Plus, it's suitable for all hob types.
If design matters to you and you need a pan that will function perfectly too on any hob type, this is an excellent choice.
Once again, this frying pan comes in a range of sizes from 20cm to 30cm. Each of which has a lovely design and will work hard in any kitchen.
6. Jean Patrique Bio Supreme Frying Pan 3-Piece
This three-piece frying pan set is an excellent set of starter pans for someone moving into their first place, perhaps a university student, for example.
The set comes with a 20cm, 24cm and 28cm frying pan. Each of the larger pans also comes with a lid. The lid and the fantastic ceramic coating make these pans extremely versatile.
These frying pans can also be used on all hob types. They are made of thinner material so are more suited to cooks that like cooking quickly.
They heat up fast, and the non-stick coating will never let you down. To top it off, these frying pans also come in three colours, making them the perfect gift for university students, new homeowners and anyone else for that matter.
7. MasterClass Eco Frying Pan 20cm
This frying pan from MasterClass has a chemical-free ceramic non-stick coating. It is made from excellent quality aluminium, and it has a flat iron base meaning it can work with induction hobs.
The frying pan we have here is 20cm, but MasterClass also makes this model in a few other sizes.
The reason this frying pan made our list is that it is exactly what a ceramic frying pan should be. This pan is very well made, the non-stick coating is exceptional, and it looks great too.
If you're looking for a frying pan that will last years and doesn't cost the earth, this is a great option!
This frying pan is perfect for any chef but in particular beginners. They can take advantage of the superior non-stick properties and learn to good excellent food.
Conclusion
So, that is our list of ceramic frying pans. We hope you've found the ceramic frying pan of your dreams on this list.
If it were us, we'd happily use the GreenChef Profile Plus every day of the week.
However, if you love your cookware to have a bit of flair and style, the GreenPan Venice Pro is an extremely solid choice.
Don't forget to check out our other cookware articles. We have all the articles you need on here to kit out your kitchen and cook fantastic meals!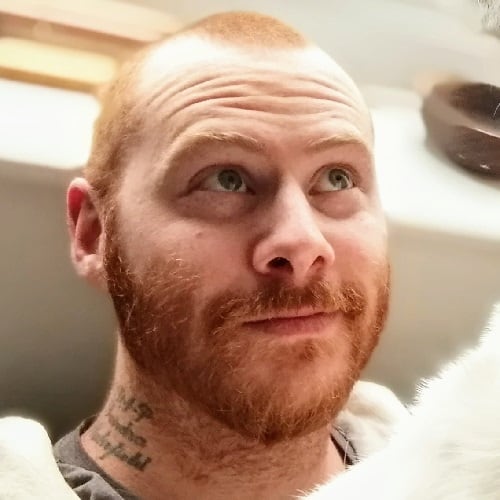 Scott is a writer and a passionate home chef. His passion for cooking began when he was 10 years old. Scott has been writing professionally for over five years now and loves to combine his passion for cooking with his day job.