When buying a non-stick frying pan, it is always worth shopping around to find the best pan for your needs.
Of course, we've done all the shopping around for you here. Before we started writing this cookware article, we researched the market to find the best non-stick frying pans in the UK right now.
So, if you need a frying pan, you're in the right place. Read our recommendations below and explore our buyer's guide covering all you need to know about purchasing a frying pan.
Best Non-Stick Frying Pans in the UK
1. Tefal 30cm Comfort Max Non-Stick Frying Pan
Diameter: 30 cm
Materials: Stainless steel, Tefal Power Resist non-stick coating
The reason this Tefal Comfort Max made the top of our list is simple. Firstly, it has the ThermoSpot that has served many Tefal owners, like myself, well for many years. This spot lets you know when the frying pan is at the perfect temperature.
It also has a very durable non-stick coating. This is called the Power Resist non-stick coating, and it is safe in the oven up to 175 degrees.
If you want a frying pan that can be transferred to a hot oven, perhaps choose another pan on our list. However, for general cooking tasks, this Tefal is perfect.
It's made from superior grade stainless steel. It has a very robust base that won't deform, and the base will work with an induction hob too.
I love this frying pan because it is very comfortable to use. It is also well made, and the non-stick coating is fantastic.
2. Blackmoor Frying Pan
Diameter: 20, 24 or 28 cm
Materials: Forged aluminium, hybrid stone coating
This Blackmoor frying pan has a sturdy coating that is both non-stick and anti-scratch. The handle is cool-touch, and it's suitable for use on all hob types too. Depending on your needs, you can purchase this frying pan with a diameter of 20, 24 or 28 cm.
These frying pans have a sleek, black marble effect coating that will complement any style of kitchen. The frying pan has a medium weight; strong enough to be durable, but not uncomfortably heavy.
Unlike some of the other frying pans on this list, the Blackmoor pan is not dishwasher safe and needs to be carefully hand washed to protect the coating.
That being said, users have found that when looked after well, the non-stick coating is very good and you will need little to no oil to cook most dishes.
3. Le Creuset 28cm Toughened Non-Stick Frying Pan
Diameter: 20, 22, 24, 26, 28 or 30 cm
Materials: Aluminium, PFOA-free non-stick coating
This frying pan from Le Creuset certainly wins on style points, but it has a lot more to offer than just style too.
The frying pan is made from aluminium and has three layers of a PFOA-free non-stick coating. The coating's so good that you can use metal utensils with this pan and it has a lifetime warranty.
Plus, as this frying pan has a stainless handle, it can be used in the oven up to 240 degrees Celsius.
Thanks to the aluminium body, this pan has fantastic heat retention. Even on low heats, this pan is capable of sealing food perfectly and creating some wonderful caramelised flavours.
We chose the 28 cm frying pan for our list, but it comes in 20 cm to 30 cm options too. If you want a frying pan with style, class and superior non-stick properties, this one is perfect!
4. JML Copper Stone Non-Stick Frying Pan
Diameter: 24 cm
Materials: Forged aluminium, stainless steel, non-stick coating
The copper stone frying pan from JML has a sturdy, hard-wearing construction that offers more than just the aesthetics of copper cookware.
The moulded wood effect handle is an aesthetically pleasing finishing touch, and the forged aluminium core makes for even heat distribution.
The stainless steel base means that this frying pan is suitable for use on all hob types, and it's dishwasher safe too. The non-stick coating not only supports even heat distribution, but it is scratch resistant and able to withstand the direct heat of a blow torch too.
Users find that this non-stick frying pan looks great, feels well made and can last for years and years, however the non-stick coating does struggle with some foods.
5. Circulon 82828 Premier Professional frypan
Diameter: 20 and 28 cm
Materials: Hard anodised aluminium, stainless steel, non-stick coating
Remember when I mentioned that two frying pans are often better than one? Well, that is how this fantastic set of frying pans made our list.
Circulon makes some excellent frying pans that have been featured in a few of our lists. However, these professional frying pans are incredible.
Both are made from anodised aluminium and have a stainless-steel base. This means these frying pans are extremely tough.
The non-stick coating on these pans has also been really well thought out. They have used the best non-stick coating possible and then made it better with their Total non-stick system.
Now, I don't how their Total non-stick system works, but the results are incredible. Circulon has created two frying pans here that will last many years and be extremely versatile in the kitchen too.
6. Carote Non-Stick Frying Pan with Lid
Diameter: 24, 28 or 32 cm
Materials: Granite, PFOA-free non-stick coating
When it comes to non-stick coatings, granite is one of the best choices. The granite coating on this pan comes from Switzerland, and there are five layers of it.
If you can destroy this non-stick coating in a few years, then Carote should hire you as a tester because it is extremely tough.
While this pan could've easily made this list with just this coating, the frying pan below the coating is also excellent.
The body of this great pan is made from thick aluminium, but it has a base that will work with an induction hob too.
Plus, this frying pan comes with a lid as well. So, suddenly this amazing frying pan offers so many more ways of cooking.
Carote offers a lifetime warranty with this frying pan too, so use it, abuse it and love it!
7. Eaziglide Neverstick 2 Frying Pan
Diameter: 20 cm
Materials: Aluminium, PFOA-free non-stick coating
Eaziglide makes some exceptional frying pans. The Neverstick 2 range is just the tip of a very non-stick iceberg!
This body of this pan is made from forged aluminium to provide a very robust base. Then, Eaziglide has forge-welded a piece of stainless steel to the bottom of the pan. This forms an unbreakable bond and means this pan is induction hob compatible too.
The Neverstick 2 non-stick coating is a secret formula, but it does contain titanium. This means that this non-stick coating is practically indestructible. Plus, the coating is so good that you don't need to use oil or butter during cooking.
You can use this pan in the oven, with metal utensils and it is dishwasher safe too. This non-stick coating allows you to cook healthy meals and never worry about your frying pan wearing out!
Guide to Choosing a Non-Stick Frying Pan
Know your non-stick coatings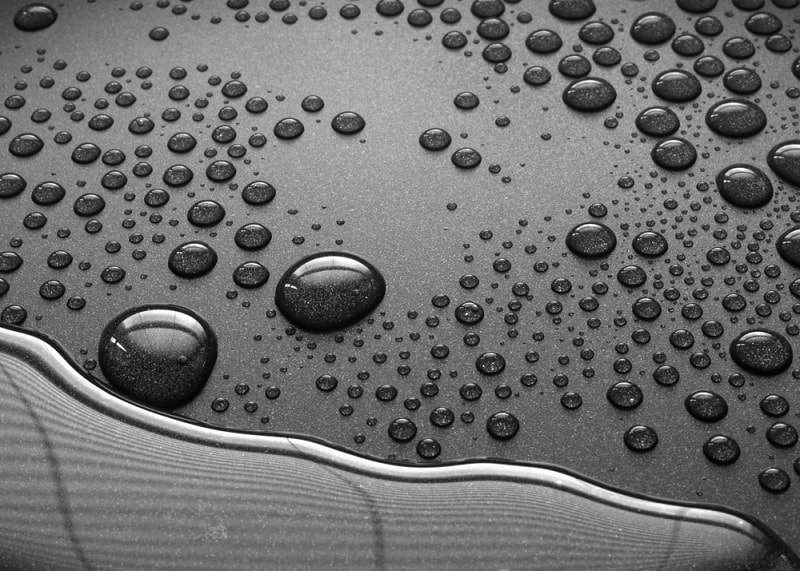 When choosing a non-stick frying pan, it is important to know what the type of non-stick coating it has.
For many years, manufacturers of frying pans used non-stick coatings that contained harmful chemicals. These chemicals were PTFE and PFOA. These were known for breaking down at high temperatures, typically over 240 degrees Celsius. This breakdown meant that harmful chemicals could be released into your food.
Thankfully, a lot of manufacturers are now breaking away from these non-stick coatings. They are opting instead for more natural non-stick coatings like ceramic and titanium.
Ceramic and titanium provide a really strong bond to the metal of the pan and offer an excellent non-stick coating that will last for years.
Depending on how you use a frying pan, of course, a non-stick coating with PFOA or PTFE can work for you. However, for the most flexibility and durability, while cooking, we recommend a more modern non-stick coating like ceramic or titanium.
Material
Frying pans can be made from stainless steel, aluminium, copper and more. Does the metal really make a difference, though? Well, in a way, yes.
A pan made from aluminium, for example, will heat up differently when compared to a copper pan.
Also, some materials will not work with induction hobs. Keep in mind that frying pans are intended for different purposes, and some are created for a specific cooking method.
Generally, though, if you want a solid frying pan that will last years and perform well during those years, stainless or aluminium is a good bet.
Wall thickness
Even really good frying pans come with a variety of wall thickness. Some very high-end pans have a really thin wall.
This isn't because the pan is made cheaply; it is designed that way. A thin-walled frying pan heats up really quickly but doesn't hold heat in so it needs constant high heat to perform well.
A thick-walled frying pan, on the other hand, can hold heat really well, it just takes a bit longer to heat up.
For everyday use, a thick-walled pan is usually acceptable. However, some people prefer a thinner wall.
Is one frying pan enough?
We recommend having a few sizes of frying pan. In fact, at home, I have two frying pans of the same size and then another one that is a lot smaller for eggs.
We only have two of the same size frying pans because my partner liked the look of one and I preferred the other.
However, having two frying pans really helps when creating different parts of a meal. For example, if I fancy tuna one night, but my partner wants a steak, we can sear both and cook them to perfection at the same time.
Even if you live alone, two frying pans can be used to cook different components of a meal. Now that we own two frying pans, we certainly won't be going back to just one, two are so handy!
Size
In most cases, 26cm to 30cm is a good size. With a 30cm frying pan, you can put a good amount of spinach in it or sear a steak without the frying pan cooling down too much.
If you love your steak, 30cm is the best option. As steaks are large, you need a larger pan so that when the meat is first put into the pan, it doesn't draw all of the heat away from the bottom and the sides.
A 20cm frying pan is excellent for eggs and omelettes, but it isn't as universal as a pan that's 26cm to 30cm.
Induction hob ready?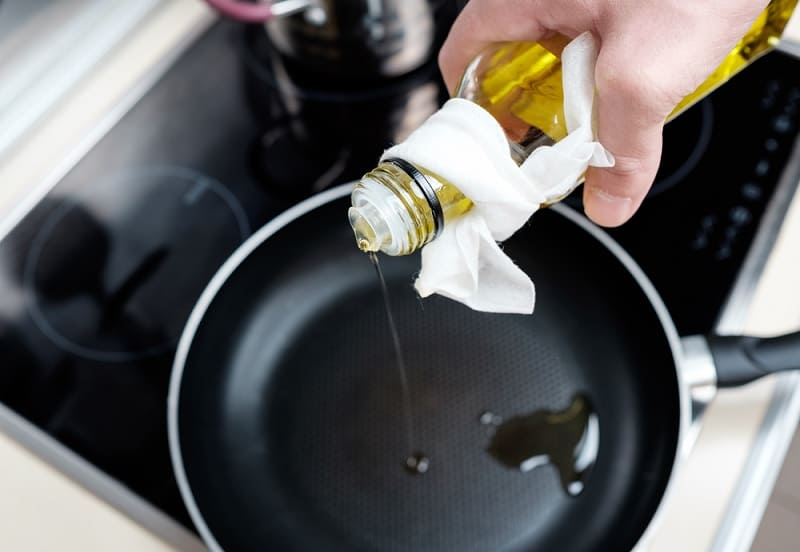 About 80% of frying pans now work with induction hobs because they are increasingly popular. However, if you own an induction hob, or want to own one in the near future, always check. Particularly if you're purchasing a frying pan on our list.
The frying pans below are extremely good quality, and you'll have them for years. So, you won't want to give up your favourite frying pan because it isn't compatible with your new hob.
Is it oven-safe?
Even frying pans with plastic handles claim to be oven-safe nowadays, but are they really? Some manufacturers claim their frying pans can be used in an oven up to 400 degrees Celsius. For others, it's about 250 degrees.
If you love transferring your frying pan to the oven, this is an important factor to check. Also, go for a pan that can easily handle the temperatures you typically cook at.
If you go for a pan that can just about manage the heat, the non-stick coating could begin to fail, or other parts of the pan.
Is it dishwasher-safe?
Most non-stick frying pans are dishwasher safe, but do check. Pans made from cast iron, for example, can't be put in the dishwasher as the cleaning cycle will affect the seasoning on the pan.
To sum up this frying pan buyer guide, there is no pan in the world perfect for everyone. There are certainly general-purpose frying pans that will work perfectly for most general tasks. However, if you want a frying pan for a specific reason, these are things to consider:
How many pans do I need?
Should the walls be thick or thin?
What material should it be made from?
Will it work on my induction hob?
The perfect size for me
Is it oven and dishwasher safe?
Asking yourself how you use or want to use a frying pan will help you buy the right pan for the job. I have a Tefal non-stick frying pan and an aluminium skillet that I love, but you may hate the combination.
Cooking should be enjoyable and so finding the equipment that can bring you as much joy as possible is important.
We hope this frying pan buyer's guide has helped you narrow down the pans you're considering.
What Does PFOA-Free Mean?
For years, PFOA was used in the non-stick coatings of most pots and pans. However, in recent years, concerns have been raised about health risks associated with this manmade material.
What is PFOA?
PFOA, or perfluorooctanoic acid is a chemical used in polymer-based coatings that are designed to be heat, stain, scratch or stick resistant. This chemical is commonly used in cookware, however has also been used in other industries, including construction and manufacturing.
If a non-stick cookware product is advertised as being PFOA-free, this means that the non-stick coating does not contain any PFOA.
Is PFOA still used?
PFOA has not been used in the manufacturing of non-stick cookware since 2013, but by that point, the chemical had already taken its toll on both people and the environment.
PFOA is known as a "forever chemical". This means that it does not degrade in the environment, so PFOA used even decades ago can still be found in the air, ground and water.
Laws were introduced governing the use of PFOA as there is a chance that PFOA could have a negative health impact in sensitive individuals, and that the chemical is possibly carcinogenic in humans.
How to Care for a Non-Stick Pan
There are a range of methods that you can use to extend the lifespan of your new non-stick pans, including using appropriate utensils and cleaning the pan carefully.
1. Use gentle utensils
Most modern non-stick pans are very durable, however they will always last longer if you choose your utensils carefully. Instead of metal, try to use only plastic, wooden or rubber utensils.
2. Clean the pan carefully
Avoid using abrasive metal cleaning equipment as this can damage the coating of the pan. Instead of these harsh scourers and pads, use soft sponges or washcloths.
Some new non-stick pots and pans are dishwasher safe, but it is still recommended in a lot of cases that the pans are hand washed instead. If in doubt, check with the manufacturer for guidance.
3. Use lowest possible temperatures
High temperatures increase the chances of food sticking and burning, which can lead to the breakdown of most non-stick coatings. The best way to preserve the life of your non-stick coating is to cook every dish at the lowest possible temperature.
Conclusion
And there you have it, there is our list of the best non-stick frying pans in the UK.
With our buyer's guide, you can get the perfect frying pan for your kitchen and enjoy it for years. However, the Tefal Comfort Max would get our vote all day, every day. Its comfortable handle and the superior non-stick coating make it a joy to use.
We hope this look at non-stick frying pans has been helpful. For more info about non-stick pans, how to get the coating to last as long as possible and more, check out our other articles.
We have a wealth of information about non-stick cookware on here that can help you enjoy cooking that little bit more.

Scott is a writer and a passionate home chef. His passion for cooking began when he was 10 years old. Scott has been writing professionally for over five years now and loves to combine his passion for cooking with his day job.