Gas cookers are a great addition to any kitchen. They heat up quickly, offer some excellent control when cooking and are perfect for anyone serious about making meals.
Of course, we're sure you already know that though. Most people who are looking for a gas cooker are replacing an older gas cooker.
Once you have cooked with gas, it can be quite a culture-shock to replace it with an electric cooker.
Now, let's take a look at the top 10 best gas cookers in the UK!
Best Gas Cookers in the UK
1. Hotpoint Newstyle HARG60K 60cm Gas Cooker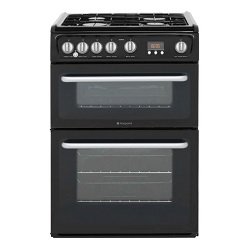 Energy rating: A+/A
Dimensions: 90 x 60 x 60 cm
Number of ovens: 2
This stylish black Hotpoint gas cooker offers quite a lot of cooking space: the main oven is 81 litres while the top oven offers 32 litres.
This is a massive amount of space that when utilised right, can be used to prepared even the largest family meal. The top oven has a grill function, which makes this cooker quite versatile.
The Newstyle HARG60K also features catalytic liners, so you can enjoy easy cleaning just by wiping it down.
The hob offers four burners, as well as a pan holder section in the middle.
This cooker offers great performance for the price. It looks and feels well-made and is highly rated by most users.
2. Beko KDG581W 50cm Gas Cooker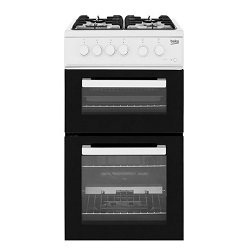 Energy rating: A+
Dimensions: 90 x 60 x 50 cm
Number of ovens: 2
If you're looking for a simple yet great value oven for straight forward cooking requirements, this black gas cooker from Beko is the best option. With two separate spaces for oven and grill, you have plenty of room to create your favourite meals.
The cooker itself is only 50 cm across, which is relatively narrow. The main cavity has a capacity of 61 litres.
Safety features are also in place to automatically turn off the gas if not ignited within a few seconds, or if the flame is extinguished by drafts.
Whilst the cooker does have a lot to offer, it's definitely suited to those with more compact cooking requirements.
3. Beko KA52NES 50cm Gas Cooker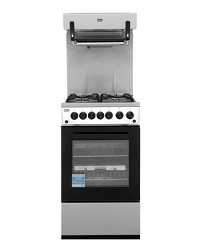 Energy rating: A
Dimensions: 146 x 60 x 50 cm
Number of ovens: 1
The Beko KA52NES features 62-litre oven with an eye-level grill. The oven is a conventional oven rather than a fan oven, so it's a good choice for people who prefer more traditional cookers.
This freestanding cooker has an eye-level grill, which is quite rare in cookers these days. It's great for grilling and toasting without having to bend down.
At just 50 cm wide, this cooker is quite narrow, which is worth bearing in mind before purchasing. Usually, kitchens are designed to accommodate 60 cm appliances, so there might be a gap either side if you choose a 50 cm cooker.
The 62-litre single oven is spacious, so you can easily cook a large roast. However, some people prefer the flexibility of having two ovens.
4. Electra SG50B 50cm Gas Cooker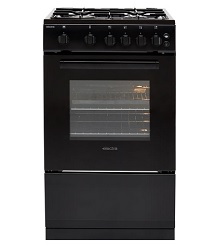 Energy rating: A
Dimensions: 90 x 60 x 50 cm
Number of ovens: 1
The Electra SG50B is an inexpensive cooker with a conventional rather than fan gas oven. This cooker has a single oven rather than a double oven. The oven has a grill function.
The oven has a capacity of 48 litres, which is relatively small for a single-oven cooker. The oven capacity isn't as large as it could be as the cooker features a storage drawer at the bottom.
One useful feature is the timer, which lets you time dishes and baking perfectly without having to worry about accidentally burning things!
This cooker offers great value for money and has all the essential features you could ask for.
5. Hotpoint HAG60P 60cm Gas Cooker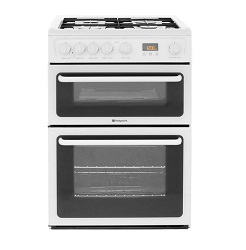 Energy rating: A+/A
Dimensions: 90 x 60 x 60 cm
Number of ovens: 2
This cooker from Hotpoint features two ovens. The largest oven has a 65-litre capacity, which is a good size for cooking large meals and cakes. The second oven can be used as a grill, which is great for toast, sausages or grilled vegetables.
The two ovens and four hob burners make this cooker very versatile and allow you to prepare a lot of different food at once, making it ideal for families with fussy eaters!
There isn't much to complain about with this cooker. Overall, the Hotpoint HAG60P performs very well and could be a great addition to any home kitchen.
6. Hotpoint CH60GCIK Carrick 60cm Double Oven Gas Cooker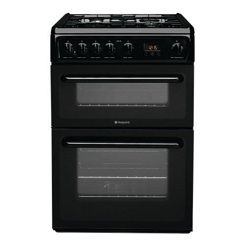 Dimensions: 90 x 60 x 60 cm
Number of ovens: 2
This black gas cooker from Hotpoint will add a fashionable touch to your kitchen. The Hotpoint CH60GCIK offers two ovens, with a grill in the top oven plus a detachable grill pan with a handle.
The hob has four burners in two different sizes, and has enamel pan rests.
Both the ovens and the hob are easy to clean. The ovens use catalytic liners in the ovens to help break down grease, so you can just wipe the walls clean without much difficulty.
This cooker is well made and looks more expensive than it is. A common complaint is that the grill can be difficult to ignite, making it quite frustrating to use.
7. Beko KDG611K 60 cm Gas Cooker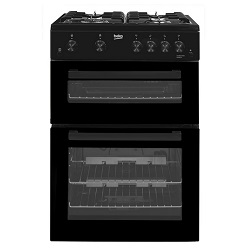 Energy rating: A+/A
Dimensions: 90 x 60 x 60 cm
Number of ovens: 2
The Beko KDG611K has two ovens. The main oven has a capacity of 72 litres while the second oven has a capacity of 32 litres and also features a grill function. On the hob you have four gas burners: two standard burners plus a rapid heat burner and an auxiliary burner for keeping things warm.
This cooker is easy to use and easy to clean. However, the ovens can take a long time to ignite. The oven cavities also aren't very deep, so sometimes regular-sized roasting tins and trays don't fit.
The Beko KDG611K is mid-priced and feels sturdy and well made.
8. Hotpoint DSG60K 60 cm Gas Cooker
Energy rating: A+
Dimensions: 90 x 60 x 60 cm
Number of ovens: 2
Another fantastic product from Hotpoint is this classic black gas cooker, which compliments a modern kitchen aesthetic. Designed with simplicity in mind, cooking is extremely simple with an extraordinarily small learning curve.
Cleaning is also made easy due to the catalytic coating within the oven, which breaks down food stuck to the surface above 200 degrees.
The integrated hob lid serves multiple purposes, acting as both a splashback to protect your walls and a convenient surface to create more space when closed.
However, the knob symbols are quite low down which can provoke a lot of bending to read, so this probably isn't the best gas cooker for those with back problems.
9. Indesit ID60G2K 60 cm Gas Cooker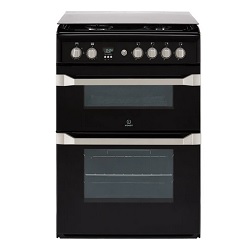 Energy rating: A+/A
Dimensions: 90 x 61 x 60 cm
Number of ovens: 2
This gas cooker by Indesit that offers incredible value for money. With a generous 81-litre capacity in the main oven, it's the perfect solution for those who need the space to make meals for the whole family with ease.
Even cleaning is painless with this cooker, as the enamel liners feature in both compartments to prevent food from burning onto the side of the oven. Simply wipe clean with a damp cloth when safe!
The glass lid on top is a nice added feature, which keeps your kitchen looking clean and tidy when not in use.
However, the pan supports are prone to sliding, so be sure to tread lightly when using the hob.
10. Kenwood CK234DF SL 60 cm
Energy rating: A
Dimensions: 91 x 60 x 59.8 cm
Number of ovens: 2
The Kenwood CK234DF SL 60 cm is a dual fuel cooker that combines the convenience of gas hobs with the precision of two electric cookers.
If you're into Asian cooking, the Kenwood CK234DF SL is ideal as it has a triple-ring wok burner with a cast-iron wok support to keep your wok in place.
One nice touch is that you can remove the glass from both oven doors to clean them more easily. This cooker also has useful timer and alarm functions.
This cooker is relatively pricey, but it's packed full of great features. It looks the business and feels like it's built to last.
However, the pan supports are prone to sliding, so be sure to tread lightly when using the hob.
Gas Cooker Glossary
Here's a quick explanation of the main technical terms you will come across when researching which gas cooker to buy.
13 Amp plug – Most gas cookers in the UK will use a 13 Amp plug. This is just a regular UK plug with a 13 Amp fuse. In the UK, 13 Amp fuses are used for devices with a wattage above 700 watts (such as cookers and washing machines), while 3 Amp fuses are used for devices with a wattage below 700 watts (such as televisions).
Catalytic lining – Catalytic liners are layers that coat the walls of an oven. They are usually made from ceramics. They trap grease and other cooking debris and allow it to be burnt off when the temperature in the oven goes over 200 degrees Celsius. This means you don't need to manually clean the grease from the walls of the oven, as it simply burns away instead.
Cavity – When it comes to cookers, 'cavity' simply refers to the space inside the oven. The size of an oven is usually given in litres (the amount of liquid an oven could theoretically hold). In double ovens, the large oven might be referred to as the 'main cavity' and the smaller one might be referred to as the 'second cavity'.
Double oven – A double oven is a cooker that has two oven compartments. This can be useful if you're cooking a dish that requires things to be cooked at different temperatures, or if you want to bake something for dessert while cooking a main.
Dual fuel – A dual fuel cooker combines gas hobs with an electric fan oven. Lots of people prefer gas hobs as you don't have to wait for them to heat up and you have much more control the heat. One advantage of electric fan cookers over gas cookers is that you can set the temperature more precisely and have the same temperature in all parts of the cooker.
Cooker Dimensions Explained
Normally the size of a cooker is given by the width. The most common sizes of gas cookers are:
50 cm – A good choice for narrow spaces.
55 cm – This is quite a rare size, but some 55-cm models are available.
60 cm – The most common width of a gas cooker.
The size of ovens is given in litres. While obviously you wouldn't fill an oven with liquid, using litres helps you to visualise the amount of space inside.
The average gas cooker will have a capacity of about 60-70 litres in the main oven. Bigger ovens are over 80 litres, whereas small ovens are around 50 litres.
Conclusion
We hope this look at the best gas cookers in the UK has been helpful in your quest to find your next gas cooker. If we had to pick just one product to recommend it would be the Hotpoint Newstyle HARG60K. It's a very popular and reasonably priced cooker with hundreds of positive reviews from buyers, so you're unlikely to regret choosing it.

Chef's Pick is your guide to the best kitchen equipment and appliances in the UK.
We help you understand the confusing world of cookers, ovens and cookware so you can get the most out of your kitchen.