50 cm cookers are ideal for smaller kitchens. While these cookers are small, you can use them for cooking all your favourites.
Many of the cookers below are just as versatile as their larger culinary cousins. So, if you're looking for a compact cooker that does it all, here are the best 50 cm electric cookers in the UK right now.
Best 50 cm Electric Cookers in the UK
1. Beko KDVC563AW 50cm Electric Cooker with Ceramic Hob
Energy rating: A/A
Number of oven cavities: 2
This electric cooker from Beko has everything you need to cook a slap-up meal for your family while being perfect for a smaller kitchen.
The main oven is fan assisted and has a capacity of 58 litres, which is impressively large for a 50 cm cooker.
The fan-assisted oven will heat up nice and quickly and evenly and ensure your food does the same.
The four-ring hob also features a brilliant rapid boil ring. This is brilliant for bringing water to a boil.
The second oven has a capacity of 31 litres and also has a grill function. So, even with a large family, this small cooker has plenty of cooking power.
This cooker doesn't come with a grill pan, which is a bit of a shame. However, if you're replacing your old cooker, just keep your old grill pan and handle.
Or you can buy separate grill pans from a variety of places for not too much money. Other than that, this is a well-built, reasonably priced cooker that is built to last.
2. Electra SE50B 50cm Electric Cooker with Solid Plate Hob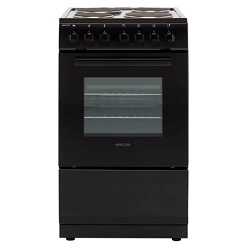 Energy rating: A
Number of oven cavities: 1
This is a brilliant cooker for anyone that wants that a very simple to use, standard cooker. While many cookers these days feature loads and loads of gadgets, this one is as standard as they come.
We certainly aren't saying this is a bad cooker because of that. In fact, we know that many people like cookers to be as simple as possible.
This cooker has a solid plate hob with four rings. These are more hard-wearing than ceramic glass topped hobs. It also only has a single oven.
The oven is a conventional oven and operates as a grill too. If you aren't worried about all the frills and features of a more expensive oven, save yourself lots of money and grab a bargain with this one, you won't regret it!
3. Flavel MLB5CDK 50 cm Electric Ceramic Cooker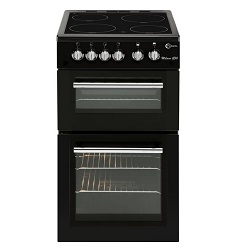 Energy rating: A
Number of oven cavities: 2
This sleek oven will look great in any modern kitchen, and it packs a punch in the cooking department too.
The main oven is 58 litres, and it is fan assisted, so it heats up evenly and quickly. There is also a separate top oven that has a grill too.
You also get four hob zones, and the ovens feature an easy to clean enamel lining as well.
This is a very impressive cooker that will get the job done no matter how big your family is.
The best thing about this cooker, other than the lovely, modern colour, is that it is designed for a small kitchen and really offers a lot of cooking power in a small space. So, if you love cooking but have a smaller kitchen, this is just about the best cooker you can buy.
4. Currys Essentials CFSEWH18 50 cm Electric Solid Plate Cooker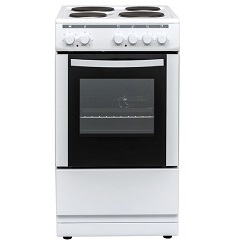 Energy rating: A
Number of oven cavities: 1
For the price, this is one of the best cookers available in the UK right now. That is why it made our list, of course.
This is a single oven cooker that is nice and simple to use. You have two control knobs for the single 55-litre oven. One for the heating elements and grill options and the other for temperature control.
You then have four controls for the four hob rings, and that is it. It has enamel linings to make cleaning it easier and a solid plate hob for easy cleaning up top too. However, that is about as far as the features get on this.
Again, we aren't saying this cooker is bad because of the lack of features. In fact, it is a brilliant cooker because of this.
It is a powerful cooker that will heat up quickly and perform well for you. And for this price point, this is a very impressive cooker.
So, if you're on a budget but don't want a budget cooker, this is ideal.
5. Hotpoint HD5V92KCW 50 cm Electric Ceramic Cooker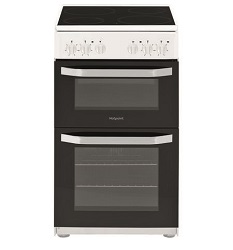 Energy rating: A
Number of oven cavities: 2
This Hotpoint cooker is one of the most expensive on our list, but it has features that make that price worthwhile. For example, it has catalytic liners that make cleaning the oven a breeze.
It also has a fan-assisted main oven that is a whopping 62 litres in size. It also has a second oven cavity with a grill that is 33 litres in size.
The ceramic hob rings on this cooker also make it look lovely and sleek and the white exterior provides a very sleek look in even a modern kitchen.
It is a shame that the grill doesn't also work as a secondary oven. If it had, this cooker would have likely topped our list. However, it does have very simple controls for the hob rings, grill and oven, which is brilliant.
At this price point, it'd be nice to see some more features on this cooker, but we think the catalytic liners may have pushed the price up a bit.
FAQs on Choosing the Right Cooker
Which size cooker is right for me?
All of the cookers above are 50 cm. This number is the width of the cooker, and so the cavity they go into should be very close to this measurement too.
It is worth measuring the amount of space you have for your cooker to avoid disappointment. You can even measure your old cooker if you have it.
Regular cookers come in 50, 55 and 60 cm widths (range cookers can be over 100 cm), so ensuring you get the right one means that it will fit nicely in your kitchen, and there won't be any big, unsightly gaps.
What litre capacity is right for me?
As you can see from the cookers above, the litre capacity of ovens can vary quite a bit. If you are looking at a single oven cooker, having a good capacity is crucial.
The more space you have, the more you can cook. However, even when it comes to two oven models, the capacity should be a consideration.
Also, if you are just cooking for yourself or you and your partner, maybe you don't need such a large oven.
Remember, the bigger the capacity, the more time it takes to heat up. So, if you feel that you can get by with a smaller oven, then by means, save some money and get a smaller oven!
Is energy efficiency important for cookers?
We'd say so. Having an energy-efficient cooker can save you loads of money throughout the year. If you're like me, you use your cooker at least once a day. So, having one that is very poor with its energy usage can really drain your wallet.
Most cookers nowadays have good energy ratings, but the best have at least an A energy rating. Make sure to look for a cookers energy rating before you buy it. It could just save you a good few pounds over the years.
One oven or two?
Having used almost exclusively two-oven cookers throughout my life, I know that I couldn't live without the other oven.
Even though it is just my partner and myself, that second oven comes in very handy when keeping things warm while you wait for other components of a meal to cook.
It is also fantastic when cooking big meals. I certainly couldn't cook Christmas dinner without a second oven now.
Having said that, I am sure there are plenty of couples that can get by with just one oven. Two ovens are certainly better for larger meals, and therefore larger families, but if you don't cook big meals that often, then a single oven may be perfect for you.
Plus, single-oven cookers are often much cheaper than double-oven models, so you can save some money too.
Remember, though, a single-oven cooker has the same footprint as a double-oven model. So, you will be saving money, but not space.
Are easy-clean ovens really easy to clean?
Many of the ovens above have enamel or catalytic liners in the oven. These do make clean up a lot easier in the oven as long as you stay on top of the cleaning.
Enamel liners are extremely smooth, which means food has a hard time sticking to them.
Catalytic liners, on the other hand, absorb food and grease. You can then set your oven to over 200 degrees, and it will all burn away.
Catalytic liners certainly make cleaning your oven easier. Still, enamel liners are a good option if you don't mind getting your hands dirty every so often.
Plus, a cooker with catalytic liners is often more expensive than one with enamel liners.
Conclusion
Well, we hope this look at 50 cm electric cookers has been helpful and that you found the perfect one for you.
If we had to choose a cooker above, we'd go with the Beko KDVC563AW. It has a great style that will add a lot to your kitchen, plus it is a solid cooker that will last years too.
For more info about cookers and cookware, explore Chef's Pick some more. We have everything the home chef needs to make the perfect meals at home.

Scott is a writer and a passionate home chef. His passion for cooking began when he was 10 years old. Scott has been writing professionally for over five years now and loves to combine his passion for cooking with his day job.