We love range cookers here at Chef's Pick. We have covered every type of range cooker and even got into depth about certain range cooker brands.
For many of us, range cookers are the dream cooker to have in our kitchen. And as you'll see, there are range cookers below that suit nearly every budget.
So, if you have the space, the dream of a range cooker may not need to stay a dream for much longer.
Best Range Cookers in the UK
1. Leisure Cookmaster CK100C210S Electric Ceramic Range Cooker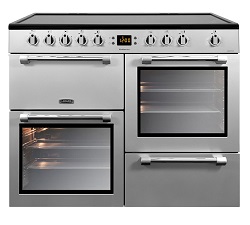 Main oven capacity: 63 litres
Energy rating: A
Number of ovens: Two ovens, a grill and a warming drawer
The Cookmaster is a very cleverly designed cooker that looks incredible and is a joy to use. From the control knobs to the sleek, black ceramic hob, every design aspect of this range cooker looks amazing.
The silver and chrome colour will look brilliant in any kitchen, and you'll love using it too. It feels like a quality cooker, and this shows throughout.
Even the shelves on this cooker have been cleverly designed. Each oven comes with two shelves, and they are much more robust than other cooker shelves. They have runners, too, so you easily pull each shelf out to get at what you're cooking.
The controls are also nicely laid out and very easy to use. This is an extremely high-quality cooker in every way and should be high up on your list of range cookers!
2. Beko KDVC100K 100cm Electric Range Cooker with Ceramic Hob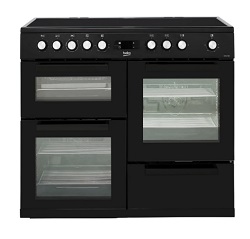 Main oven capacity: 63 litres
Energy rating: AA
Number of ovens: Two ovens, one grill and a warming drawer
This Beko range cooker has loads of cooking options, so even when you're preparing large meals, you won't run out of space.
It has a five-zone hob and two ovens. It also has a separate grill and a warming drawer. So, you can keep your plates warm while preparing a huge family meal.
To top this cooker off nicely, it also looks beautiful. It is a modern take on the range cooker that we very much enjoy.
This is a brilliant range cooker, there is no doubt about that. However, the main oven is only 63 litres in size.
Granted, you have two ovens and a grill, so the main oven lacking a few litres isn't the end of the world. And both ovens are fan assisted, so you don't need to compromise while cooking and baking.
3. Belling Cookcentre 90E Professional 90cm Electric Range Cooker with Ceramic Hob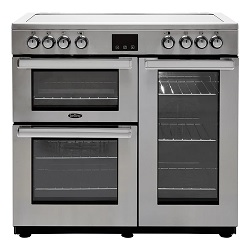 Main oven capacity: 91 litres
Energy rating: A
Number of ovens: Two ovens, one grill
Well, if the oven was a bit too small on the Beko above, how about a 91-litre oven on this Belling!
The second oven is a whopping 61 litres too, and you get a 35-litre grill! So, if you cook for a lot of people all the time, this is just about the perfect range cooker for you!
It also has a 5-zone ceramic hob, so boiling veg never gets in the way of searing steak. Also, the large oven has 3 shelves with 25 positions, so you can customise the way your cook almost endlessly.
We love the brushed metal look of this range cooker. It gives an industrial feel to this cooker, while the styling keeps it traditional.
So, it wouldn't look out of place in a country kitchen, but it would be perfectly at home in very modern kitchens as well.
4. Rangemaster Kitchener 90 Electric Ceramic Range Cooker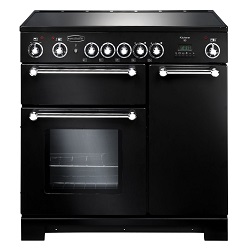 Main oven capacity: 69 litres
Energy rating: AA
Number of ovens: Two ovens, one grill
The Rangemaster Kitchener has been a staple in kitchens for decades, and this electric one is one of the best they have ever created.
Firstly, it has the classic Kitchener style making it perfect for any type of kitchen. Yet, it uses modern cooking technology to make using it more enjoyable.
This Kitchener has a five-zone hob, two ovens and a grill. There is a tall, skinny oven that is brilliant for batching out your favourite cakes or other bakes.
There is also a second oven that is more traditional in size and shape, perfect for quick meals.
We will say that the Kitchener does come with a steep price tag, but they are robust and built to last.
You can really feel the Rangemaster quality on this stove.
5. Flavel MLN9CRS 90 cm Electric Range Cooker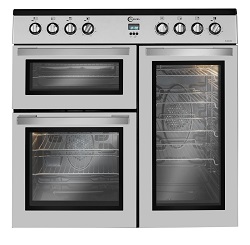 Main oven capacity: 79 litres
Energy rating: A
Number of ovens: Two ovens and a grill
This Flavel range cooker is very similar to the Rangemaster above and to the Belling too. However, it is a fantastic price compared to both.
The main oven is huge at 79 litres. And you get four shelves to cook things on.
The oven also has a big fan that pushes the hot air around the oven to ensure that everything cooks perfectly. The second oven is a fan assisted oven too, and you get a grill as well.
One design quirk of this range cooker is the layout of the controls. It has four control knobs on each side of the timer.
Flavel likely did this to keep the design symmetrical. However, the knobs for the hob are a bit all over the place.
While we're certain you'll get used to the control layout of this cooker, they could have been thought through a bit better.
Why Choose an All-Electric Range Cooker?
If you've been searching for a range cooker for some time, you likely know that there are many fuel types to choose from. There are gas range cookers, induction and gas, electric and gas and probably even more. So, why choose an all-electric range cooker?
Well, if you go for a dual fuel range cooker, you may need to spend some money on getting the additional fuel type connected.
For example, if you currently have a gas cooker and want to have a gas and electric range cooker, you'll need to ensure you have an electrical cooker circuit installed. Otherwise, the cooker won't function.
The same is true if you currently have an electric cooker and you'd like a gas range cooker. You'll need a gas line installed for your cooker to function, and this could be very costly.
If you already have an electric cooker, though, an all-electric range cooker can run on the same circuit. So, you can simply have your range cooker installed and start enjoying it.
So, choosing an all-electric range cooker is the easiest and cheapest option for people who already have an electrical cooker circuit in place.
Is a Large Range Cooker Right for Your Kitchen?
The range cookers above are all 90 cm wide, which is about 30 cm wider than the average cooker. So, people with small kitchens may be worried that having such a large cooker could really restrict their space.
Of course, I don't know how big your kitchen is, but I do have a heart-warming story about my mum and her range cooker.
When I was young, we had an Aga in our family home, and we loved it. When I was 12, we moved out of that home and said goodbye to the Aga. For 20 years, my mum didn't have a kitchen that she thought was big enough for another range cooker but desperately wanted one.
Finally, when my mum and her partner retired, they moved down to the coast, and their house had a good-sized kitchen. It wasn't massive, but my mum was determined that a range cooker would fit.
Finally, my mum now has her range cooker again. She has a gas Rangemaster Kitchener very similar to the one above, actually.
My mum has always loved baking; the smell of bread coming from that Aga when I was a kid is something that has stayed with me forever.
Now, you can bake in a traditional oven, of course, but you can't really bake and cook a meal at the same time. You can in a range cooker. In fact, you can cook three meals at once with a range cooker if you'd like.
I can't say if a range cooker is too big for your kitchen, only you can decide that. However, my mum's kitchen isn't massive by any means and her cooker fits in perfectly. It has become the very heart of her kitchen too.
Take some measurements in your kitchen. You may have the perfect space for a range cooker. Plus, remember most range cookers have five hobs.
If you don't need all of the hobs, you can add a wooden chopping board for extra space. In short, if a range cooker in your kitchen will make you happy, just like my mum, you'll find the space!
Conclusion
We hope you found the perfect range cooker for your kitchen above. If we had to choose a cooker from the list above, it would be the Cookmaster from Leisure.
It is a beautiful cooker that is very cleverly designed inside and outside. It will look incredible in your kitchen and last you for many years as well.
We have loads of range cooker articles on Chef's Pick because we are huge fans of these cookers. So, explore the rest of Chef's Pick for more info on cookers, cookware and even more!

Scott is a writer and a passionate home chef. His passion for cooking began when he was 10 years old. Scott has been writing professionally for over five years now and loves to combine his passion for cooking with his day job.