Whether you're installing a cooker hood yourself, or you want to check that your cooker hood is correct, you might be wondering about regulations.
Cooker hoods, or some other form of extraction in the kitchen, are now a legal requirement for new kitchens in the UK, so it is good to understand the regulations.
Does Your Cooker Hood Need to Be Ducted in the UK?
Whether or not you are legally required to have a cooker hood that ducts and extracts air out of your home depends on whether it is a new build or an existing dwelling.
The Building Regulations 2010, a government document intended to help people meet building regulations in England, states the following in reference to domestic kitchens:
New build: "Extract ventilation to outside is required in each kitchen, utility room and bathroom and for sanitary accommodation."
Existing dwelling: "If you carry out any 'building work', and there is an existing extract fan or passive stack ventilator (or cooker hood extracting to outside in the kitchen), you should retain or replace it. However, if there is no existing ventilation system you need not provide one."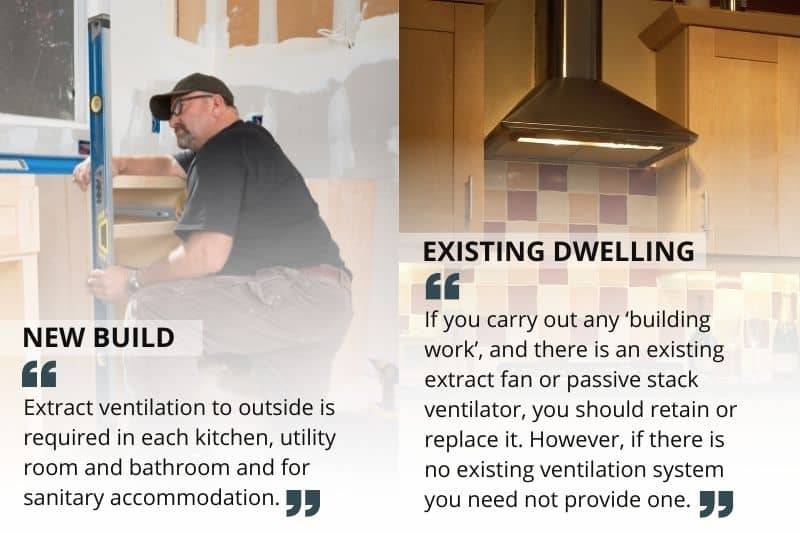 This means that if you don't already have an extraction cooker hood in your home, you don't need to buy one. However, all new homes will require one.
For non-domestic kitchens such as restaurant kitchens, recirculating cooker hoods aren't allowed. Instead, you need an extraction system that is ducted:
"In mixed use buildings, non-domestic kitchens, car parks, and plant rooms should have separate and independent extraction systems. Extracted air should not be recirculated."
Other Ducting Guidelines
Keeping your ducting short will improve the efficiency of extraction. There aren't any legal requirements about ducting length, but it's worth bearing it in mind.
Your cooker hood's ducting shouldn't exceed a maximum length of five metres. This must also be reduced by 1.2 metres for every right-angle bend that the ducting makes.
Most professionals recommend that your ducting is as short as possible, though. This is why most cooker hoods are installed with the extraction port in the wall above the oven.
That way, the fumes and grease can leave the kitchen as quickly as possible without getting trapped in long ducting.
How Far Should a Cooker Hood Be from Your Oven?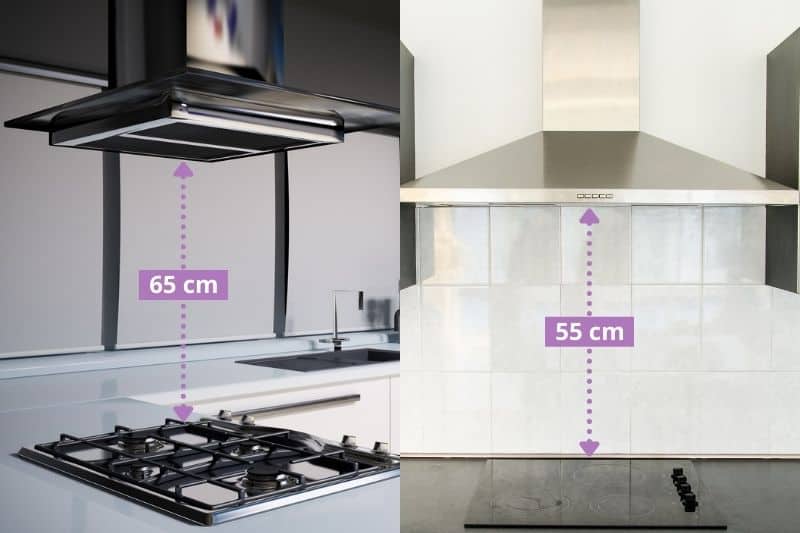 While we're talking about cooker hoods, we thought we'd explore how far one should be from your cooker. After all, the height of the hood determines how effectively it functions.
If you have an electric cooker, your cooker hood should be 550 mm (55 cm) above your stove at a minimum.
For gas, the minimum is 650 mm (65 cm). The maximum for both is 800 mm (80 cm). Any closer, and you can damage your hood. Any further away, the hood won't perform as well you'd like.
Conclusion
If you're planning on installing a cooker hood yourself, we have a guide on how to do it here. Most cooker hood comes with plans, instructions, and templates that make the process much easier.
However, if you're unsure or don't feel you have the skills to install the hood yourself, please ask a professional for advice or pay them to install your cooker hood.
We hope this look at cooker hoods and the regulations has been helpful. Don't forget to check out more of Chef's Pick to find out more about cooker hoods, cookers, and cookware. We have what you need to turn your kitchen into your dream cooking space.

Scott is a writer and a passionate home chef. His passion for cooking began when he was 10 years old. Scott has been writing professionally for over five years now and loves to combine his passion for cooking with his day job.