Have you noticed your induction hob sometimes stops working on one side?
Annoying, isn't it?
If you're wondering why this occasionally happens, get yourself settled and read on…
How Induction Works
Your Induction hob is comprised of magnetic ceramic plates and copper wiring that is heated by electrical induction – hence the name. The heat is drawn by placing an induction-friendly pan on the top, which acts as a heat magnet.
While Induction hobs are useful, well-crafted appliances, sometimes they 'act up' and only work on one side of the top. Here are possible reasons as to why…
Possible Causes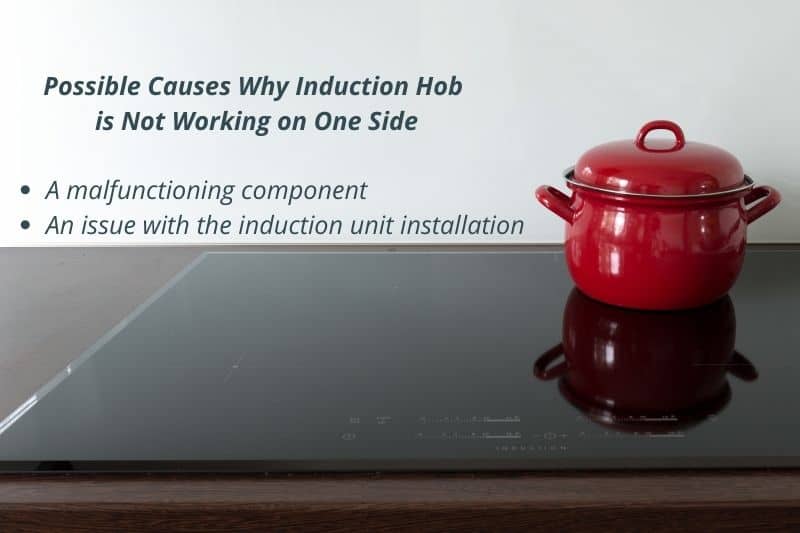 A malfunctioning component
An issue with the induction unit installation
Solutions
Isolate the electricity to your induction hob before any physical troubleshooting.
Make sure the electrical connection in the appliance connection box has been installed as per the instruction manual.
If your induction unit requires a fitted link connection, ensure this has been installed correctly.
Contact the manufacturer to diagnose the issue. It is important to always put safety first when dealing with a faulty Induction, so if you're ever in doubt, always seek advice from a professional.
Conclusion
As nifty and as useful as induction hobs are, they can sometimes be more troublesome than a gas or standard electric cooktop, but the good news is, for every fault there is always a solution!

Clara is a freelance writer and former chef. Though she may have hung up her apron, her love of food and cooking is still going strong! When she's not whipping up a verbal storm, she'll be in her kitchen sipping wine and whipping up a culinary storm.