Below, we have the best saucepans to use on your induction hob. There are saucepans for every budget and every style of kitchen in our list.
We also have some info about induction hob saucepans and when you should consider investing in these pans.
But first, let's look at the pans themselves, shall we?
Best Saucepans for an Induction Hob in the UK
1. John Lewis & Partners Classic Stainless Steel Lidded Saucepan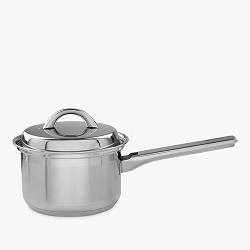 Diameter: 14, 16, 18 or 20 cm
Materials: Stainless steel
John Lewis makes some of the best saucepans available in the UK at the moment, and their stainless-steel induction hob pans are no exception to this.
These have a heavy and thick base for brilliant heat distribution while using them on an induction hob.
They also have a stainless-steel lid, which locks in the heat from all sides.
These induction hob pans are available in a few different sizes, so you'll always have the perfect sized pan for your needs if you buy all of them.
They are also a brilliant price for how well they are made. You can really feel the quality of these pans when you use them, and John Lewis includes a lifetime guarantee to reflect this quality.
2. Le Creuset 962009201 3-Ply Stainless Steel Saucepan with Lid

Diameter: 16, 18 or 20 cm
Materials: Stainless steel
A list of the best saucepans for induction hobs wouldn't be complete without Le Creuset.
They make some of the finest saucepans in the world with a fit and finish that is unmatched by most other cooking companies.
These saucepans are, once again, stainless steel throughout.
They also have a thick base and thinner sides. This allows the base of the pan to heat up slowly and the sides to heat up quicker and match the heat within the base. This will prevent your pans and food from burning during use.
This 20 cm saucepan has two handles which are both riveted securely into place. Both the handles are also stainless steel, so the pan and lid are oven safe, making these pans nice and versatile.
Le Creuset cookware does have a steep price tag, but once you use them, you'll quickly see that they are worth the price.
3. Carote Granite Non-Stick Saucepan with Lid

Diameter: 16, 18 or 20 cm
Materials: Granite, non-stick coating
Good quality induction saucepans don't always need to be extremely expensive. This Carote Granite saucepan is a fantastic price and really well thought through to provide a brilliant option for induction cooking.
This pan is made with aluminium and has nice thick sides and base. It is a heavy pan as a result, but the heat distribution and retention are incredible.
This pan also has five layers of ceramic non-stick coating over the aluminium. This is extremely hardwearing. You can wash this in a dishwasher 40,000 times without affecting the non-stick coating.
You can even use metal utensils with this pan, although to keep the coating in the best condition, you should use wooden or silicone utensils.
Finally, the wood-effect Bakelite handle on the pan and the glass lid mean that you can handle this pan throughout the cooking process without getting burnt.
This is a very solid choice if you want a saucepan for your induction hob that is a great price, non-stick and offers great heat retention.
4. Tower Cerastone T81219 Forged Saucepan with Non-Stick Coating

Diameter: 18 or 20 cm
Materials: Steel, aluminium, non-stick coating
Next up, we have Tower's forged aluminium induction saucepan range. They have just about every pot and pan you need in this range, including six saucepans, a wok, a frying pan and even a casserole pot too.
The entire range includes a granite non-stick coating which is just as hardwearing as the example above.
It also provides a beautiful grey colour to all of the pans that will match modern décor nicely.
The forged aluminium body provides great heat retention and distribution during the cooking process too, so cooking with these is a joy.
The plastic handles on these saucepans do let the style down a bit, and they aren't as secure as some of the other handles on this list. However, the pans themselves feel great to cook with.
5. Russell Hobbs RH00846EU Blue Marble 20 cm Saucepan

Diameter: 16, 18 or 20 cm
Materials: Aluminium, non-stick coating
Lastly, we have a cleverly designed induction hob saucepan from Russell Hobbs.
This saucepan (which is available in three sizes) features a pressed aluminium construction. This creates an almost perfect saucepan for use with an induction hob.
The aluminium controls the heat nicely and offers some brilliant heat distribution.
On top of the aluminium, there are two layers of blue marble non-stick coating. The coatings offer a lovely colour to these pans, but it is also extremely tough and makes it near impossible to get food stuck to the surface of the pan.
The saucepan comes with a glass lid, and the handles on the pan and the lid are made with Bakelite, so they stay cool during cooking.
What Is an Induction Saucepan?
We're sure you know that induction hobs work slightly differently than normal electric hobs. They need saucepans that are made using a ferrous metal. Some just have a layer of ferrous metal in the base, while others are made using entirely ferrous metal.
Induction hobs have a coil of wire underneath the glass top that creates a current, but to complete the circuit, a piece of ferrous metal must be placed on the surface of the hob.
When this happens, the hob begins heating that metal and not the stovetop. This means that less energy is wasted during the cooking process.
But means you have to have saucepans and frying pans that are compatible with the hob.
So, an induction saucepan is simply one made from ferrous metal or one that has a layer of ferrous metal in the base that the induction hob will recognise.
If your pans don't have this, the circuit underneath your hob won't recognise when you put the pan on the hob and so it won't heat up.
When Should You Invest in Induction Pans?
A lot of pans nowadays are made to be used with induction hobs. So, if you've invested in new pots and pans recently, it is worth checking them before you buy new ones.
You can look for the induction symbol on the bottom of the pan (this is a square with a coil of wire running through it).
Or test the bottom of the pan with a fridge magnet. If the magnet sticks, the pan will work on your new induction hob.
If you don't have any pots and pans that you can use with an induction hob, it is worth buying the pans before you get the hob.
You can use induction hob pans on any other hob, so you can get used to them before the new hob arrives.
Plus, when the hob does arrive, you are ready and raring to go with everything you need to cook up a storm.
Conclusion
We hope this look at induction saucepans has been helpful for you.
While we are huge fans of Le Creuset here at Chef's Pick, we have to say that the John Lewis & Partners Classic Stainless Steel Lidded Saucepan really impressed us. The fit and finish is very close to the Le Creuset pans but at a much more affordable price.
For more info about induction hobs and cookware that is designed for use with these hobs, please explore Chef's Pick further. We have the very best cookware, hobs, ovens and more right here.

Scott is a writer and a passionate home chef. His passion for cooking began when he was 10 years old. Scott has been writing professionally for over five years now and loves to combine his passion for cooking with his day job.