Induction hobs are some of the most modern and stylish hobs available right now.
A lot of the style points that these hobs have is in the control system. There are usually no knobs or dials, just a touch screen pad that allows you to easily control the power settings.
With these controls, an induction hob has a very sleek profile and can add a lovely modern twist to any kitchen.
But what if you don't like the touch screen control system? What if you just want to be able to control your hob the way you always have, with knobs?
Well, we have searched the web for all of the induction hobs that have knobs on them, so you don't have to.
We are going to share the hobs with you here, but don't get too excited. Knobs are rare on induction hobs, and we could only find three.
Also, for some reason, induction hobs with knobs seem to be at the higher end of the price bracket.
So, if you and your wallet are sitting comfortably, here are the three induction hobs with knobs.
Induction Hobs with Knobs
1. Smeg Classic 51cm Induction Hob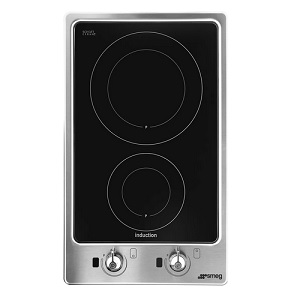 This cute little induction hob from Smeg is perfect for a smaller kitchen.
It has two rings, both controlled by very easy to use knobs.
It can also run on a 13-amp circuit too. Although it doesn't come with a plug for some reason, so it will still need wiring by an electrician.
Smeg has done a fantastic job with this hob. It has quite the old school, vintage look that a lot of Smeg products have. But it retains some modern styling thanks to the stovetop.
It is a very pleasing hob to look at and even more pleasing to use. It also has an excellent build quality and good manufacturer's warranty too.
2. Samsung Virtual Flame 80cm Induction Hob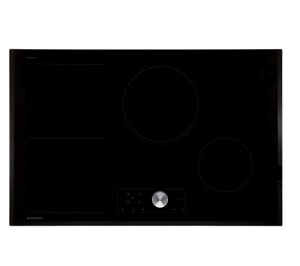 Well, Samsung has made an induction hob with a knob of the future here. This hob is beautiful. It screams of modern design and even has modern induction features too.
There is a virtual flame on this hob, so you can actually see when the hob is on, unlike other induction hobs. This is great if you have kids and want them to be careful while the hob is on.
Now, while this induction hob does have a knob, it only has one. So, if you wanted an induction hob with knobs to make the controls a bit easier, this might not be the best choice.
It does look wonderful, though, and the controls really aren't too difficult to learn, but there is a slight learning curve to this hob.
3. Smeg Victoria 60cm Induction Hob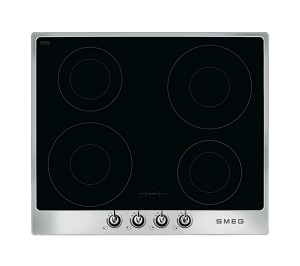 Lastly, we have another Smeg. In keeping with the traditional Smeg style, it is traditional, vintage and sleek and modern all at the same time.
This is the bigger brother of the hob we mentioned above. It has four induction rings, each of which is controlled by a knob (there are four knobs).
So many hob companies are going for the sleek, blacked-out frame hobs at the moment, and we love the fact that Smeg didn't with this hob.
Instead, it has a wonderful stainless-steel frame. It offers an industrial look to the hob, but not in a bad way at all.
This hob looks wonderful, and it should. It is an expensive hob, but it has the Smeg quality built right into it.
Do Hobs with Knobs Offer More Control?
So, you may be wondering if inductions hob with touch controls and one with knobs actually work differently. Do knobs offer more control over the heat?
The truth is, no. both the hobs function in the exact same way. The only difference is how you interact with the hob.
Some people prefer knobs over touch controls, and that is the main reason to lean towards a knob-controlled induction hob.
Other than that, there are no differences between the two types of induction hobs.
We hope this look at induction hobs with knobs has helped you find your next hob. Now, a big purchase like a hob wouldn't be complete without some procrastination, so we have loads of other lists about induction hobs with touch controls too.
If you don't mind getting a hob with touch controls, check out our guide to the best induction hobs in the UK.

Scott is a writer and a passionate home chef. His passion for cooking began when he was 10 years old. Scott has been writing professionally for over five years now and loves to combine his passion for cooking with his day job.