Most home chefs prefer gas hobs as they offer instant heat and instant control of the cooking temperature. Electric hobs can be a pain, as you have to wait for them to heat up, and then wait for them to cool down again as your pan boils over.
Gas hobs may be falling out of favour among manufacturers, but they're still popular among consumers. If you're looking for a high-quality and reliable gas hob, we've researched the market and picked out some of the best options available in the UK.
Read on to see our recommendations plus more info about how to choose a gas hob.
Best Gas Hobs in the UK
1. Samsung NA64H3110AS 60cm Gas Hob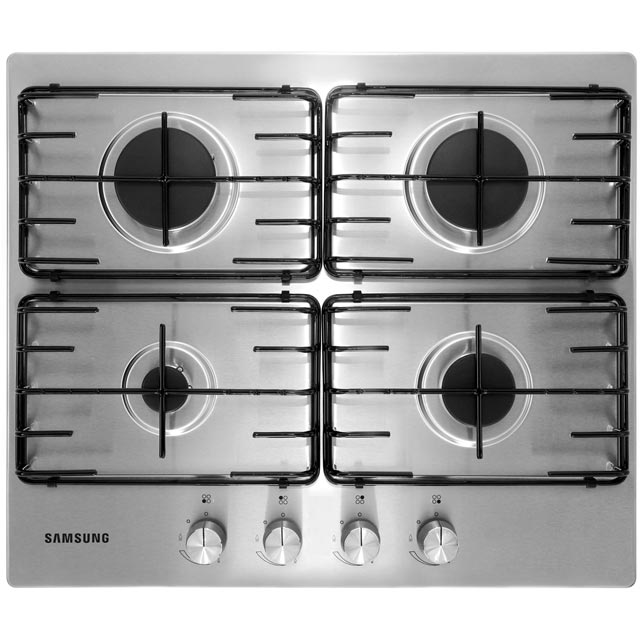 This regular-sized 4-burner gas hob from Samsung offers the reliable performance and ease of use most people are looking for in a gas hob.
It has a stylish stainless-steel design and uses automatic ignition to light the hob without the need of a match or lighter.
The pan supports are coated in enamel, which makes them easy to clean and means you can put them in the dishwasher.
Pros
Stylish design
Easy to clean
Automatic gas shut off safety feature
Cons
No small burner at the back, which would be good for simmering
Summary
This hob looks very stylish, is easy to clean and has automatically turns the gas off if you switch it on without igniting the hob.
There's a good selection of burner sizes, including a small burner suitable for a moka pot. However, it might have been nice to have a small burner at the back for safely keeping large pans warm, as the two large burners at the back are a bit too hot for simmering.
All in all, this is a great hob that will meet most people's needs perfectly.
2. Currys Essentials CGHOBB16 Gas Hob
If you're looking for a budget-priced hob, the Currys Essentials CGHOBB16 could be a great choice. It has four burners with automatic ignition, and has a flame failure safety feature that stops the gas supply if the flame isn't lit.
Pros
Enamel pan supports are easy to clean
Good value for money
Easy to light thanks to automatic ignition
Cons
Can be slow to light
Build quality could be higher
Summary
This hob is ideal if you're on a tight budget. It looks quite stylish given the price, and works well even though it's not the most high-quality product on the market.
3. Hotpoint PCN 641 IX/H Gas Hob
This hob from Hotpoint looks very sleek and has a somewhat unconventional burner layout. It uses automatic ignition and it's easy to turn each burner on by just pressing the knob and turning it to the heat setting you want.
Pros
Looks more expensive than it is
Tough cast-iron bars
Ignites quickly
Cons
Can be tricky to clean
Small ring at the back is close to the edge
Summary
The Hotpoint PCN 641 IX/H looks very sleek and modern, and is well made with tough pan supports.
The layout of the burners isn't to everyone's taste. Some people prefer it, while others find it awkward and worry that the burner at the back is too close to the edge (not great if your hob goes right up against the wall).
4. Bosch PBP6B5B60 Gas Hob
The Bosch PBP6B5B60 is a straightforward and reliable mid-priced gas hob with four burners and cast-iron supports. It uses manual ignition (a match or lighter), and has a flame failure safety device to switch the gas off automatically if the flame isn't lit.
Pros
Good safety features
Stable pan supports
Controls at the side—safer if you have kids
Cons
Can be tricky to clean as the pan supports are rough rather than having an enamel coating
Needs to be ignited manually
Summary
This hob is well made and offers good value for money. It's sturdy and has good safety features. However, it can be a bit hard to clean, and it needs to be ignited manually as it doesn't have an automatic ignition feature.
5. Neff T27DS59N0 Gas Hob
If you're looking for a five-burner hob with a wok burner, the Neff T27DS59N0 could be a good choice. The wok burner is great for quickly heating all kinds of large pan including not just woks but also Le Creuset casserole dishes and similar dishes from other brands.
This hob uses automatic ignition and features tough cast-iron pan supports. This hob is 75 cm wide, so you'll need more space than with a regular hob.
Pros
Precise control over each burner
5 burners including a fast, extra-hot wok burner
Automatic ignition lights quickly
Cons
Pan supports don't have a ceramic coating, so they're hard to wipe clean
Lowest flame is still too hot sometimes
Summary
If you want a five-burner gas hob with plenty of cooking space and enough burners for complex dishes, the Neff T27DS59N0 is a good choice.
6. GIONIEN Built-in Gas Hob 4 Burners 60cm Cooktop

Designed by Gionien, this 24-inch stainless steel gas burner will serve as a sophisticated addition to your kitchen. Equipped with an integrated safety device, it ensures that the gas supply is cut off when the flame is extinguished to avoid any leakages. This makes it ideal for simmering whilst you focus on other things around the house.
Pros
Easy, automatic ignition
Durable cast iron supports to reduce pan-sliding
Sturdy construction for heavy duty cooking requirements
Cons
Cleaning around the dials can be quite a pain at times
Summary
Overall, this is the best gas hob for creating simple, yet delicious meals in smaller volumes.
What to Consider When Buying a Gas Hob
There are lots of factors to consider when buying a gas hob. Here are some of the main things to think about.
Price
The price of a gas hob can range from under £100 to over £1,000, but the most popular products on the market in 2o2o cost between £100 and £200. Spending more usually means you get a product with better quality from a more reliable brand.
Number and arrangement of burner zones
The vast majority of gas hobs for home use have four burner zones, so you can use a maximum of five pans at once. The burners have different sizes, so you can arrange your pans depending on how much power each one needs.
It's a good idea to think about your cooking habits and take a close look at how the burners are laid out before buying a hob. Will you have enough space to arrange your pans they way you like to use them?
Kitchen layout
Most four-burner gas hobs measure about 60 cm wide, 50 cm deep and 5 cm high. Hobs with five burners will be wider, usually around 70-80 cm wide. If you need to fit the hob into a narrow space, make sure you're not buying one that is too wide.
Hobs also need to be at least 75 cm from the cooker hood.
Ease of cleaning
Gas hobs are a bit harder to clean than flat ceramic hobs that can be simply wiped clean. On a gas hob, you have to remove the cast iron pan supports and clean them in the sink or put them in the dishwasher.
Sometimes the cast iron has a ceramic coating, which makes them easier to clean as the surface is smooth and can be wiped with a cloth. If the cast iron doesn't have this coating, it will have a rough surface that is harder to clean and accumulates grease more easily.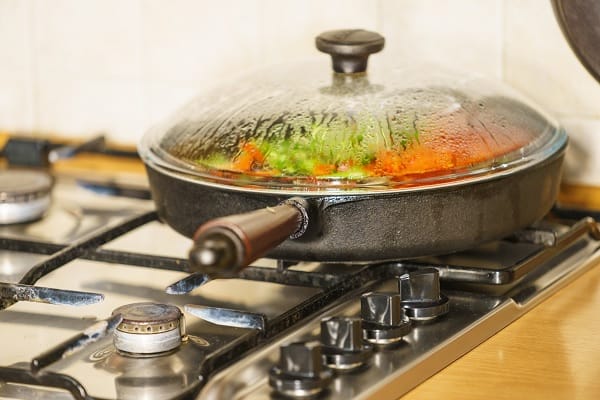 Gas Hob FAQs
Unless you're an expert on the topic, it's likely that lots of questions will come up when you're researching gas hobs. Here are some of the most frequently asked questions with their answers.
Are gas hobs a standard size?
Gas hobs usually have the same depth and height, but there's no standard size for the width. The depth is usually 50 cm and the height is usually 5 cm, but the width can vary from between roughly 60 cm to 90 cm.
Since the width is what varies, the most important thing to measure is the width of the space you have to fit a gas hob.
Bear in mind that five-burner hobs that feature a central wok burner are wider than regular four-burner hobs.
Are gas hobs being phased out?
Gas hobs seem a bit old-school compared to fancy electric ceramic hobs, but are they being phased out? Yes, as the UK government's Committee on Climate Change has recommended that no gas hobs are installed in new homes from 2025. This is just a recommendation, and as far as we're aware this hasn't become law yet.
There's no indication that you will be prevented from replacing an existing gas hob with a new one.
Are gas hobs environmentally friendly?
Gas is a fossil fuel, so it's not very environmentally friendly. It's cleaner than coal, but still contributes to greenhouse gas emissions. Electric hobs, in particular induction hobs, are better for the planet provided your energy supplier is relatively green.
Are gas hobs safe?
Gas hobs can be dangerous when they are faulty or haven't been installed properly. They can also be dangerous if you accidentally leave the hob turned on without being lit, as this will release carbon dioxide into the house.
Some gas hobs now have safety features that automatically turn the gas off if they are left on without the ignition being lit. Many also have a special mechanism for turning the gas on that prevents children from switching it on.
Gas hobs don't have to be dangerous, but they usually require you to be a bit more careful than with electric hobs.
Can a gas hob go in the dishwasher?
A gas hob's racks and burner rings can usually be detached easily and put in the dishwasher. Dishwasher salt can rust cast iron, so bear this in mind.
Do gas hobs need electricity?
If your gas hob uses automatic ignition, it needs to be connected to an electrical power supply in order to light the ignition. However, most can be lit with a match in the event of a power cut, so an electrical power supply isn't essential.
What is a gas on glass hob?
A gas on glass hob is a gas hob that is mounted on a smooth ceramic glass surface. This makes it easier to clean and also looks more elegant and modern.
What is automatic ignition on a gas hob?
Automatic ignition is a mechanism that lights the gas hob using an electrical spark. This means you don't need to light it manually using a match or lighter. However, it means that the hob needs to be connected to the electricity supply.
Gas Hobs vs. Electric Hobs
Gas hobs used to rule supreme, but electric hobs are becoming more and more popular each year.
Gas hob advantages
Some of the advantages that gas hobs offer over electric hobs are:
Offer instant control of heat
Pans are less likely to boil over
Can be used in event of a power cut (as long as they don't require on automatic ignition)
Easy to tell if they are hot or not. With electric hobs, you can accidentally burn yourself while the hob is cooling down after use.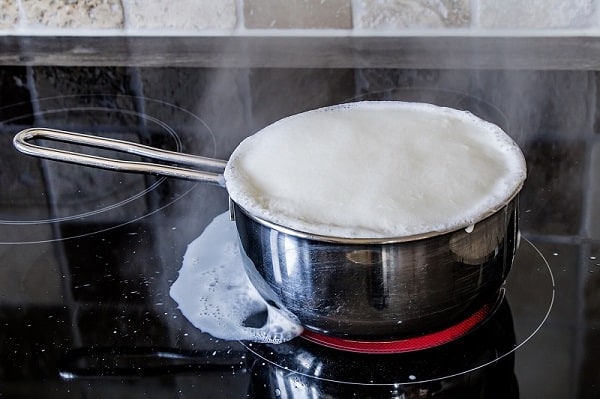 Electric hob advantages
There are a few ways in which electric hobs are better:
Usually easier to clean
More environmentally friendly
Usually have better safety features (important if you have kids)
Most people seem to find gas hobs easier to use than electric hobs, though it partly comes down to what you are used to—if you get used to an electric hob, you might end up preferring it.
Conclusion
If we had to recommend just one gas hob, it would be the Samsung NA64H3110AS. It's made by a reputable brand, has a stylish design and has some good safety features. It's a standard-sized four-burner hob that offers what most people are looking for in a gas hob.

Chef's Pick is your guide to the best kitchen equipment and appliances in the UK.
We help you understand the confusing world of cookers, ovens and cookware so you can get the most out of your kitchen.