Induction hobs provide an excellent way of cooking. They are way more economical than most other hob types. They are also incredibly versatile too.
To cook on an induction hob is to bring back a passion for cooking that may have been tainted by your old hob.
If you love cooking and are in the market for a new hob, having an induction hob installed is probably the best thing you'll ever do.
Sure, there can be a learning curve with induction hobs, but I promise you you'll love using an induction hob.
Best 5-Zone Induction Hobs on the Market
1. AEG IKE85431FB 78cm Induction Hob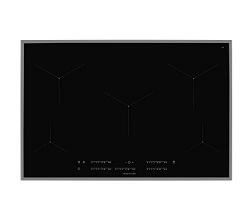 Top reasons to buy
Energy efficient
Optimum extraction
Quick heating
This induction hob has 5 zones to make it extremely versatile. These zones use electromagnets to heat your pans, rather than the hob surface. So, this hob is extremely quick to heat pans, as all induction hobs are.
When this hob senses a pan, that zone will start to heat up. There is also a PowerBoost function that means that boiling water is swift.
The Hob2Hood function on this induction hob is very impressive. This feature allows you to connect a compatible hood to your hob.
When you start cooking, the extraction hood will turn on. Of course, this induction hob also has a fantastic style perfect for any modern kitchen too. Plus, touch screen controls put you in complete control each time you cook.
Pros
Compact
Easy to clean and easy controls
Will reduce heat settings when food gets too hot
Cons
Some of your existing pans may not work on this hob
2. NEFF N70 T58FD20X0 80cm Induction Hob
Top reasons to buy
Flex Induction
17-stage power settings
Auto shut off on all zones
Neff has been making induction hobs for years, and this is one of the best induction hobs Neff has ever made.
This induction hob provides all of the versatility that they are known for, plus has some amazing safety features too. You have almost limitless control on this induction hob with the 17-stage power settings.
You have a boost setting for all zones, all of which is controlled by touch screen control for an ultra-sleek look.
This 5-zone induction hob also features the fantastic FlexInduction tech from Neff too. This means you can put a pot or pan anywhere and the hob will heat it in that exact spot.
This hob also features individual timers for each zone that automatically shut off and a control panel lock, so it is a really safe hob for a family home.
Pros
Very to clean and use
Instant heat
Very accurate controls
Well built
Cons
Can be difficult to see controls in certain lights
3. Bosch Serie 6 PIV851FB1E Electric Induction Hob
Top reasons to buy
Flexible cooking zones
Boost functions
Touch controls
Stylish
This Bosch induction hob is one of the most stylish on the market. It has a lovely bevel around the hob that looks amazing with the right countertops.
This induction hob is not just all show and no go, though. With DirectSelect, you can easily and quickly control all of the zones you are using. You can also use the boost functions to ensure rapid cooking on any zone you require.
Of course, the lovely flat surface makes clean up a dream too. Plus, this induction hob has loads of safety features to keep you and your family safe during use. This Bosch hob looks great, performs amazingly and will last you many years of happy cooking.
Pros
Rapid response when heating
Easy to clean
Looks amazing
Cons
The crosses are a bit hit and miss aesthetically
4. Siemens iQ100 80cm 5 Zone Induction Hob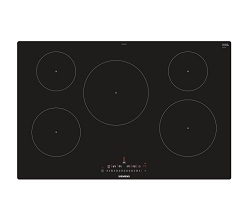 Top reasons to buy
touchSlider control
17 power levels
Energy consumption display
The Siemens 5-zone induction hob has easy-to-use touch controls that offer 17 power levels. For peace of mind, this induction hob even has a two-year warranty.
This hob has a timer for each zone, and an acoustic alert plays at the end of the timer. If you need a cup of tea in a hurry, the boost power setting will have a kettle boiled incredibly quickly. The hob is easy to work with and can help you to make light work of even complicated meals.
This Siemens hob has a variety of safety features, including automatic pan recognition, connection current management, and an automatic safety switch off to name just a few.
Pros
Consistent heat level during cooking
Sleek appearance
Can boil water very quickly
Cons
Icons are quite small which makes the controls tricky
Slider power control requires a learning curve
5. John Lewis & Partners 80cm JLBIIH806 Induction Hob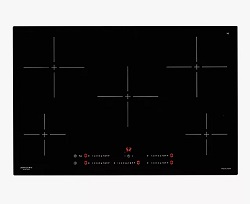 Top reasons to buy
3-year guarantee
Adjustable timers
The John Lewis & Partner's 5-zone induction hob has a three-year guarantee and has been designed to make light work of both cooking and cleaning up afterwards.
The hob adapts automatically depending on the shape and size of the pan that you are using, and sends immediate heat to fit their bases perfectly. Not only does this save energy, but it means you can safely clean up little spills as you go too.
This hob proves to be easy to clean and very quiet during use. If you're in a hurry, the PowerBoost function gives an instant burst of heat that will have pots and pans up to temperature in no time at all. This feature is therefore perfect for tasks like boiling vegetables or searing meat.
Pros
Affordably priced
Easy to clean during and after cooking
Heats up quickly and evenly
Cons
Surface can scratch easily
Why Choose a 5-Zone Induction Hob?
If you are already sold on getting an induction hob (if you aren't sold on an induction hob, read our article on the reasons to buy one and you soon will be), you might be wondering why many people recommend 5-zone induction hobs. I mean, a hob is a hob, right?
Buying any kind of induction hob will see your cooking experience improve, so why do so many people say "buy a 5-zone hob, you'll love it". Of course, there is a lot of personal opinion in buying an induction hob, but a 5-zone could be perfect for your home.
Before I get to our list of the best 5-zone induction hobs on the market, let's briefly look at why 5-zone induction hobs are so awesome, shall we?
Induction hobs are very sleek and modern looking, so they are perfect for the modern kitchen. Of course, the same is true for all induction hobs, so that is hardly a selling point for a 5-zone hob.
If you have been managing with a 4-zone hob all this time, then you may think that a 4-zone induction hob will serve you well. However, a 4-zone induction hob lacks some of the amazing versatility that a 5-zone hob offers.
For example, with a 5-zone hob, you can use three zones for boiling, frying and steaming. Then the other 2-zone could be used together for a large skillet. This is all at the same time, by the way, you don't have to keep this setup forever.
This means that you could cook an entire meal for four people just on the hob. You can steam the veg, you can cook the steaks, and you can boil some new potatoes.
When you use an induction hob in the way described above, it provides fantastic control. You can cook whole meals on a 5-zone induction hob just by using the versatility of the hob itself.
With a 4-zone induction hob, you can still use a large skillet or something that takes up 2-zones, but you then only have 2-zones left.
So, the space on a 5-zone induction hob is awesome. Also, as induction hobs are so versatile, you won't just use this extra zone at Christmas or at large dinner parties. You will likely use most of the zones on your induction hob every time you cook.
5-zone induction hobs do take up a bit more space than 4-zone ones. Still, if you have space, this extra zone allows the induction hob to perform magic in your kitchen, and you'll be amazed that you ever managed to cook on a 4-zone hob once you've tried it.
How Wide Is a 5-Ring Induction Hob?
The size of a 5 ring induction hob can vary, but they are generally wider than standard 4 ring hobs. M0st of the induction hobs on this list are about 80 cm wide, however there are some available on the market that are just 76 cm wide and others that are greater than 86 cm.
Conclusion
So, that is our list of the best 5-zone induction hobs on the market right now.
If we had to pick just one to recommend, it would be the AEG IKE85431FB 78cm Induction Hob. It heats quickly, is easy to control and has an impressive Hob2Hood function allowing you to connect a compatible hood to your hob.
We hope you have found your favourite induction hob on the list above. To get ready for your new induction hob, why not check out the rest of our hob articles? We have loads of articles about induction hobs on here that will help you maintain and enjoy your hob for many years to come.

Scott is a writer and a passionate home chef. His passion for cooking began when he was 10 years old. Scott has been writing professionally for over five years now and loves to combine his passion for cooking with his day job.