We are huge fans of induction hobs here at Chef's Pick and have covered them in lots of our articles before.
However, we've never looked at the best 90 cm induction hobs, but that is about to change.
We've searched all over to find the very best 90 cm induction hobs available in the UK just for you.
There aren't many 90 cm induction hobs on the market, so we have only picked out three to recommend here.
We also have a guide to choosing the right induction hob for your needs below as well. But first, the hobs themselves.
The Best 90 cm Induction Hobs in the UK
1. CDA HN9626FR 90cm 4 Zone Linear Induction Hob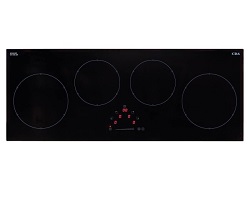 Dimensions: 90 cm wide x 35 cm deep
Cooking zones: 4
You may think that all 90 cm induction hobs are designed for larger kitchens, but not this one. This has been designed with space-saving in mind.
While it is 90 cm in width, it is only 35 cm in depth, but still has four power cooking zones to choose from.
This means that you can save some space in your kitchen, but not compromise on the amount of cooking space you have.
Its frameless design also serves to create more space, so you'll have more worktop space to use. However, this design also makes cleaning this hob a breeze and means it will fit nicely into any modern kitchen too.
So, if space-saving is a concern, but you don't want to compromise on the cooking space you have, this hob could be ideal for you.
2. NEFF N90 T50FS41X0 90cm Induction Hob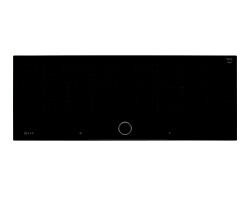 Dimensions: 90.3 cm wide x 34.6 cm deep
Cooking zones: 4 (FlexInduction)
Neff makes some of the best induction hobs in the world, so it's no surprise they ended up on this list.
This hob could feature in a new sci-fi TV show. Its style is just beautiful. It is so sleek and modern, and you can really feel the classic Neff build quality when you use it.
This hob is much like the first, in that it is nice and narrow, so you have plenty of hob space to work with.
However, unlike the hob above, that is somewhat restrictive with its cooking space, this has a FlexInduction feature.
This allows you to place a pan anywhere on the surface of the hob, and it will heat it up.
So, you can use any sized pan you like, and the hob will function perfectly.
There's a lot to love about this induction hob, but the design and the practical features like the FlexInduction tech are our favourites.
3. Smeg SIH7933B 90cm Induction Hob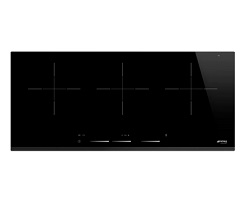 Dimensions: 90 cm wide x 41 cm deep
Cooking zones: 3
Everyone knows Smeg as an icon of the kitchen, they create some amazingly well designed and built kitchen appliances, and this hob certainly seems to stack up with their reputation.
Pretty much everyone who uses this hob loves it. They love the design, how easy the controls are, how responsive the hob is and how every feature and function of this hob works perfectly.
We'll admit that we were a bit put off by this hob only having three cooking zones, but most people don't seem to care about this missing cooking zone, and so neither will we.
For this price, you get a fantastic hob that is very easy to control. It looks great and works brilliantly.
4. NEFF N90 T59TS5RN0 92cm Induction Hob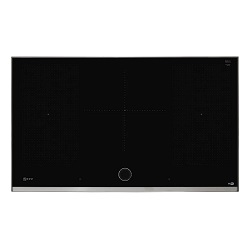 Dimensions: 91.8 cm wide x 54.6 cm deep
Cooking zones: 5
With flexible cooking zones, this induction hob allows you to use any sized pot or pan you'd like.
For everyday cooking, this hob has five zones of varying sizes, so you can boil some veg, cook some pasta and get a lovely pasta sauce reducing down as well. There is also a PanBoost feature that gets water boiling quickly.
The flexible cooking zones allow you to bridge the gaps between cooking zones and increase the size of them.
So, if you have a larger pot or pan, or a roasting tray you're trying to reduce a gravy or sauce in, the flexible zones make this nice and easy.
Neff is known for its high-quality kitchen appliances, and this induction hob is certainly no exception to this.
While the price is high, the design and functionality of this hob are too. So, you can have an ultra-stylish and highly practical hob that will look perfect in a kitchen island or anywhere else.
5. AEG IKK93431FB 91cm Induction Hob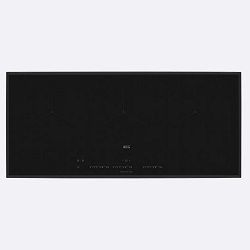 Dimensions: 91 cm wide x 41 cm deep
Cooking zones: 3
This three-zone induction hob is a good choice if you'd like an incredibly stylish hob that works fantastically.
The three zones really pack a punch too. There is a boost function, which brings water up to the boil very quickly, as well as the typical controls to really dial in the perfect power for the pan.
One of the things that most users of this hob love the most are the touch controls. They are highly responsive and allow you to quickly change the power settings of each cooking zone effortlessly.
How to Choose an Induction Hob
You may be checking out this induction hob article and wondering what hob is right for you and your kitchen.
After all, induction hobs are expensive and so choosing the perfect one for your needs is really important.
While we can't show you the exact model of hob that is right for you, we can offer some help deciding which to choose.
Size
We've just covered 90 cm induction hobs above, but we have also covered 60 cm induction hobs in other articles. The 90 cm hobs above are ideal if you want to have a bit of extra counter space in front of the hob, but there are some considerations to make with these hobs.
If you already have a 60 cm induction hob installed in your kitchen, you might need to buy new countertops to install a 90 cm one.
You may also need to buy a new cooker hood. Most standard cooker hobs are 60 cm, and depending on the model you have (if it isn't powerful enough for your new hob), you may need to buy a 90 cm hood for your new hob.
If you already have a 90 cm hob in your kitchen that you're replacing, then a 90 cm hob is perfect for the job. And if you're having a new kitchen installed, the world is your oyster (or hob in this case).
However, if you're replacing a 60 cm hob, it's worth knowing that things could get quite costly quite quickly if you choose to buy a 90 cm one.
Cost
Having mentioned cost above, we're going to do it again now too. If you have a budget for your induction hob, always, always include the installation costs in that budget.
Unless you buy a 13-amp induction hob, you will need to pay for someone to install your new hob.
So, if you factor these costs into your budget, your debit card won't scream as loudly when you're paying.
Features
Finally, what features does your hob have at the moment that you can't live without? And what features does your current hob have that you have never used, not even in a moment of curiosity?
You could spend thousands on a hob with all of the features in the world, but if you aren't going to use them, is there any point?
By finding out which features you use on your hob all the time, you can really narrow down the perfect hob for you.
Conclusion
As we said at the start of this hob article, we're huge fans of induction hobs. And the CDA HN9626FR linear induction hob was our favourite. It has a lovely design and some excellent features, and it is half the price of the other fantastic hobs on this list.
If you think a 60 cm induction hob is a better choice for you, don't forget to check out our article about those hobs too.
We also have loads of other articles about induction hobs, the best cookware to use with induction and a great deal more. So, if you're new to owning an induction hob or an expert, we have you covered.

Scott is a writer and a passionate home chef. His passion for cooking began when he was 10 years old. Scott has been writing professionally for over five years now and loves to combine his passion for cooking with his day job.