Regular induction hobs have been working their way into more and more kitchens (both domestic and commercial) over the past decade.
Their appeal lies within their heat speed (they can boil a pan of water quicker than your average kettle will!), energy efficiency, ease of cleaning, and their slender, sleek design that fits nicely into any size or design of kitchen.
So, what is a FlexInduction hob and how does it differ from a standard Induction hob?
What Is a FlexInduction Hob?
FlexInduction works the same way as standard induction—by drawing electromagnetic heat via copper coils underneath a glass top. As with gas or electric cooktops, regular induction tops generally have four 'rings' in which your pan should be placed.
FlexInduction, however, allows you to place a pan anywhere on the glass top 'zones' to draw heat, thus providing more space and flexibility with your cooking.
Like regular induction tops, FlexInduction also has four coils. However, they are unique to a traditional induction hob because they provide cooking 'zones' as opposed to typical cooking rings, thus generating more cooking space.
FlexInduction vs Standard Induction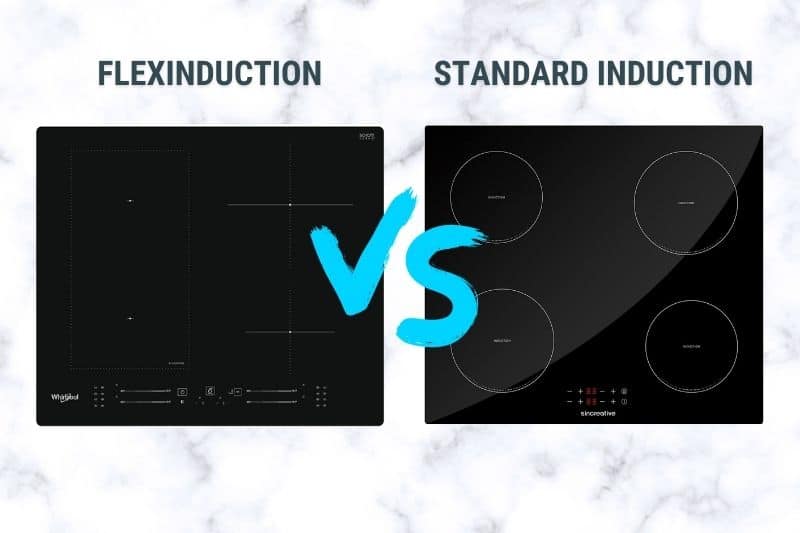 Whether you opt for a standard induction hob or FlexInduction, you will likely be impressed with what your hob can do.
If you're thinking of upgrading your domestic kitchen from a standard induction hob to a FlexInduction, there are things to consider.
While FlexInduction certainly is a powerful asset to any kitchen, it might not be necessary. It fully depends on your cooking needs and living situation.
The benefits of FlexInduction
FlexInduction will suit commercial kitchens and households with large numbers of mouths to feed because you can cook with multiple pans, and at different temperatures.
It is also a great way to gently warm foods/maintain heat after cooking. It is also a useful attribute to those who host dinner parties regularly.
Another impressive factor is that your FlexInduction can estimate the size of a pan, meaning it will heat that area only, as opposed to the entire hob or heat zone. This saves on both electricity and will prevent your kitchen from getting hot.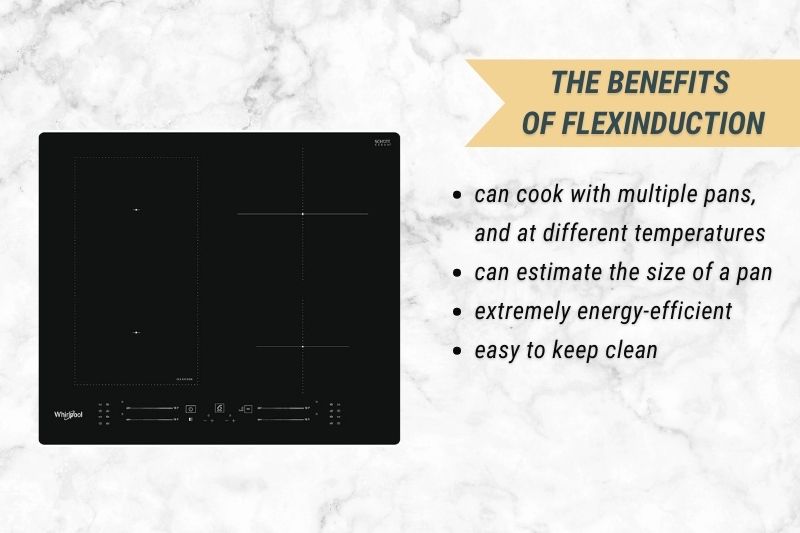 As with standard Induction, FlexInduction is also extremely energy-efficient; meaning you can cook to your heart's delight without needing to brace yourself for a hefty gas or electricity bill.
Due to their glass top nature, quick cooling methods, and lack of gas, Induction and FlexInduction are the safest ways of cooking. They're designed to eliminate the possibility of a potential gas leak or burns to yourself or your loved ones.
As with a standard Induction unit, FlexInduction is also extremely easy to keep clean.
Conclusion
Naturally, a FlexInduction hob is a no-brainer for commercial kitchens because it will allow for multiple pans to cook food quickly, and without causing unnecessary heat to the kitchen that you'd otherwise get, particularly with a gas cooktop.
They can be useful for domestic kitchens belonging to people with numerous mouths to feed. They are also extremely safe and energy-efficient, meaning you can indulge in cooking plenty of delicious treats without inviting an eye-watering energy bill!
Oh, and you can do all that and clean up after yourself in a matter of seconds!

Clara is a freelance writer and former chef. Though she may have hung up her apron, her love of food and cooking is still going strong! When she's not whipping up a verbal storm, she'll be in her kitchen sipping wine and whipping up a culinary storm.