Ceramic hobs are easy to clean, look great and typically have lots of great safety features.
Read on for our roundup of the best ceramic hobs available in the UK, plus more info on what ceramic hobs are and what you need to consider when choosing one.
Best Ceramic Hobs in the UK
1. Bosch Serie 2 PKE611CA3E Ceramic Hob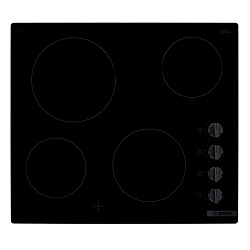 Width: 59 cm
With four different zones available, this ceramic hob from Bosch is a sleek yet practical choice for creating a variety of delicious meals.
Each ring is appropriately spaced to allow for a number of different pans at once.
The hob heats up rapidly so that you can get cooking as quickly as possible.
Overall, this is the best ceramic hob for those who have straightforward, no nonsense cooking requirements. It heats up quickly and looks very smart and modern.
It's generally easy to clean, though cleaning the knobs are a bit tricky since they can't be detached.
2. Stoves SEH602SCTC Ceramic Hob
Width: 59 cm
This ceramic hob from Stoves offers the perfect solution to hectic cooking sessions, with four generously spaced hob zones.
Touch slider controls allow you to effortlessly adjust heat levels, and cleaning can be completed in just a few wipes. You can even set timers for each ring to automatically turn them off as you please.
This is the best ceramic hob for those who want something that is both rich in features and great value for money.
There is a small learning curve involved to effectively use all of the features, but it's still pretty straightforward.
If cleaning is a soul-destroying task, you will really appreciate the presence of touch controls instead of knobs!
3. Samsung C61R2AEE Ceramic Hob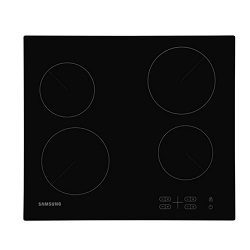 Width: 57.5 cm
This hob looks smooth and sleek on a kitchen countertop since it uses touch controls. It has four heat zones and features a control panel lock to prevent kids from turning it on.
It heats up quickly and has an auto shut-off function so you it will turn itself off if you forget to switch it off.
The Samsung C61R2AEE is a high-quality product that looks impressive and heats up quickly. One downside is that the rings are quite close together, which limits where you can fit larger pans.
However, there is quite a big gap between the rings on the left and those on the right, so you can still fit two big pans on the hob as long as they aren't on the same side.
4. GIONIEN Ceramic Hob 60cm Electric Cooktop Burner
Width: 60 cm
Completed with an elegant black glass finish, Gionien's ceramic hob offers a variety of features at a very reasonable price tag.
With a total of nine power levels, it provides you with a higher level of control over cooking temperatures to cater for more intricate dishes.
This hob can be quickly installed in under an hour and has some useful safety features included such as the Child Lock, and Automatic Switch Off.
One downside is that the rings are quite close together which isn't ideal for big pans and woks.
All in all, this ceramic hob offers excellent value for money for those on a budget!
5. Logik LCHOBKN22 Electric Ceramic Hob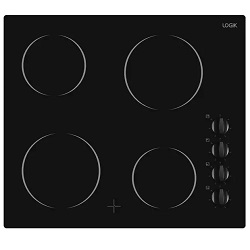 Width: 59 cm
The LCHOBKN22 ceramic hob is a popular product from Currys' own brand Logik. It's one of the cheapest ceramic hobs on the market, and could be a good choice if you're on a budget.
It has four cooking zones with six power settings, operated by touch controls.
This hob is a good budget option that works very well for the price and has some useful safety features.
It's very easy to clean food spills off this hob, but it does accumulate stains and marks unless you really scrub it hard.
6. Beko HIC64102 Ceramic Hob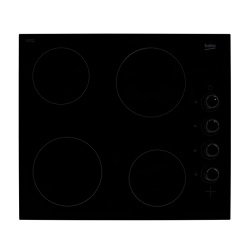 Width: 58 cm
The Beko HIC64102 is another ceramic hob with traditional-style knobs. It could be a good option for people who don't get on with touch controls, including vision-impaired people who can't use touch controls.
Like pretty much all hobs, this one has four heat zones. Each heat zone has six power levels and has a residual heat indicator that glows to show you that it's still hot.
The Beko HIC64102 is a reasonably priced hob with easy-to-use traditional knobs rather than fiddly touch controls.
Like many ceramic hobs, the Beko HIC64102 is easy to wipe clean but can accumulate stains quite easily.
Pros and Cons of Ceramic Hobs
One of the biggest advantages of ceramic hobs are that they are easy to clean. However, you have to be careful not to scratch them. Here's a summary of their pros and cons.
Pros
Easy to clean
Look stylish
Heat up quicker than solid plate electric hobs
Cons
Like all electric hobs, you can't control the heat instantaneously
Can scratch easily
Spills can become permanent stains
Ceramic Hob FAQs
What is a ceramic hob?
A ceramic hob is an electric cooker hob that has a ceramic veneer, making it easy to keep clean. The name 'ceramic hob' refers to the material use, not the way the hob works. The other main type of electric hob is referred to as a 'solid plate' hob.
Is a halogen hob the same as a ceramic hob?
Halogen hobs use infrared radiation to heat food and also produce a red light that lets you know that they're hot.
The surface of a halogen hob is made from ceramic glass. Therefore, halogen hobs are ceramic hobs. However, not all ceramic hobs are halogen hobs.
What is the difference between induction and ceramic hobs?
Induction hobs often use a ceramic surface, and can therefore be described as a type of ceramic hob. However, not all ceramic hobs are induction hobs.
Induction hobs create a magnetic field between the hob and the pan. They are more efficient because they only heat the pan, not the hob itself. However, they only work with certain types of pan.
Can you get a ceramic hob with knobs?
Many ceramic hobs use a touch interface on the hob's surface rather than traditional knobs. However, a few ceramic hobs have knobs, for example the John Lewis JLBICH601 and the Beko HIC64102.
Having raised knobs rather than touch controls makes the hob a bit harder to clean, but if you prefer them to touch controls it might be worth sacrificing the ease of cleaning.
Do you need special pans for a ceramic hob?
If your ceramic hob is an induction hob, you will need pans made from magnetisable metal (see some recommendations here).
If your hob isn't an induction hob, any pan will work but you should avoid copper and exposed aluminium pans, as they can damage the hob's surface.
The best pans for a ceramic hob are those made from hard anodised stainless steel or heavy-gauge coated aluminium.
Are ceramic hobs expensive to run?
We couldn't find any data directly comparing the cost of running ceramic hobs against other types. Ceramic hobs are more expensive to run than induction hobs as they are less energy efficient.
Do ceramic hobs break easily?
Ceramic hobs are made from strong ceramic glass which does not break easily. You're only likely to break a ceramic hob if you drop a heavy object on it, for example if a pan or jar falls onto the hob from a shelf or cupboard above it. However, ceramic hobs can scratch easily.
Can you replace the glass on a ceramic hob?
If your ceramic hob is cracked, the hob is no longer safe to use and needs to be either repaired or replaced.
In theory you could buy a replacement glass part and install it yourself, but this normally costs almost as much as buying a new hob, and unless you're an experienced professional you may not attach the glass correctly. For most people it will make more sense to buy a new hob.
Conclusion
If we had to pick just one product to recommend as the best ceramic hob, it would be the Bosch Serie 2 PKE611CA3E since it is easy to use, has good temperature controls, heats up quickly and is easy to clean, making it very popular with users.

Chef's Pick is your guide to the best kitchen equipment and appliances in the UK.
We help you understand the confusing world of cookers, ovens and cookware so you can get the most out of your kitchen.