If you are redesigning your kitchen or just need a new hob, you may be very tempted by an induction hob.
Induction hobs provide an unparalleled cooking experience. They are as fast as gas, more controllable than electric, really stylish and extremely versatile too.
But we have loads of articles telling you about how amazing induction hobs are, you don't need another one! What you need is a list of the best induction hobs on the market right now.
So, if you are looking for an induction hob and want to know what the favourite induction hobs of the nation are, you're in the right place. Here are the best induction hobs in the UK right now!
Best Induction Hobs in the UK
1. Bosch PUE611BF1B Induction Hob
This beautiful Bosch induction hob has a very sleek design. It has touch controls with 17-stage power settings on all four hob rings. Each zone has a boost function to keep water boiling fast. It is also effortless to clean, so it will stay looking stylish and modern for years to come.
So, this induction hob can heat up quickly, looks brilliant and has some awesome functions to make cooking simple and easy. However, it is also very energy-efficient too.
In this price bracket, this Bosch induction hob is really hard to beat. It looks the part and delivers some serious cooking power that most other induction hobs in its class can't match.
Pros
Has a safety timer and boost function
Robust build quality
Modern, stylish and functional
Cons
The control panel is difficult to read in low light
2. electriQ 60cm 4 Zone Induction Touch Control Hob
This electriQ induction hob is one of the cheapest on our list, but that doesn't mean this induction hob isn't packing a serious cooking punch.
This 4-zone induction hob has touch controls that allow you to easily control all of the zones. It has nine levels of power for each zone, too, so plenty of adjustment.
As this induction hob is unbranded, it means that it can be paired with just about any kitchen equipment and blend in perfectly. Plus, the black surface looks sleek and is very easy to clean too.
Also, the digital display on the hob makes fine-tuning the four zones nice and simple. There is also a control panel lock to keep this induction hob turned off when you need it off.
Pros
High specs for the price point
Lovely design
Excellent control when cooking
Cons
Not the most robust hob on this list
3. AEG IKB64401FB 56cm Induction Hob
AEG makes some of the best kitchen appliances in the world and so the fact that one of their induction hobs made it on to this list shouldn't be a shock. This fantastic induction hob has four zones that are very easy to control.
It has a touch panel that allows you to quickly switch to each zone and fine-tune the power settings. Speaking of power settings, each zone can be tuned from 0-10 and has a boost function for speedy boiling too.
Many people love the design of this induction hob. It has a very traditional design for an electric hob, with the zones marked by dotted white lines. However, it has the power and energy efficiency of an induction hob too.
Pros
Smart cooking functions
Easy to clean and use
Great build quality
Cons
The cooking surface can scratch if you aren't careful
4. Neff T36FB41X0G Induction Hob
Neff has been making induction hob for restaurants and homes for years now. The fact that they are on this induction hob list shows that they have continued to innovate in the induction hob field and continue to make some of the best induction hobs in the world.
This hob is no exception to this. This four-zone hob offers loads of control with a touch screen display and an LED timer. The control panel is lockable and has a boost function for each hob too.
Neff is renowned for its built quality, sleek design and the functionality of their cooking equipment and they have seriously delivered all of this with this hob. No matter what type of cooking you love to do, this induction hob is the perfect bit of kit.
Pros
Beautiful and stylish
Easy to use and intuitive controls
Very well built
Cons
The small zone is located at the back of the hob. This was designed with customer feedback help, but some find it frustrating.
5. AEG IKE85431FB 78cm Induction Hob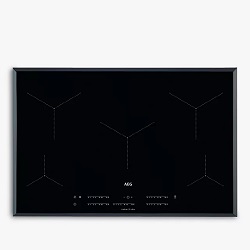 This induction hob from AEG has five zones to choose from. Each zone has very easy to use sliding controls that make boiling, simmering and frying really easy.
There are loads of awesome features on this hob that make it a cooking powerhouse. The PowerBoost function kickstarts a zone and gets your pan of water boiling incredibly fast. However, it then reduces the heat to your chosen setting. So, cooking on this hob is brilliant with this feature, but the features don't stop there.
There is also the Hob2Hood function. If you buy and install a compatible hood, it will automatically start extracting smells the moment you begin cooking.
You also have the MaxiSense feature, which recognises the size and shape of the pan you're using and sends heat to the area that the pan is covering. So, it is super safe to use.
The features of this induction hob are almost endless. And with a fantastically sleek design, too, this induction hob will look great and work great for years.
Pros
Sleek design
Easy to use sliding controls
Heats up very quickly
Cons
Can scratch if pans are placed down without care
How to Choose the Right Induction Hob
There are loads of induction hobs on the market. Some include fancy stuff like a wok burner and touch control.
Some have fantastic safety features like automatic control panel locks and timers for each burner.
So, how do you choose the right hob? Well, finding an induction hob that is perfect for your kitchen is all about you.
You need to decide which suits your cooking style better. Do you want an induction hob that has all of the safety features, perhaps you have small kids that love to touch everything. Or do you fancy getting an induction hob that has all of the bells and whistles? Perhaps you love cooking in a wok, and the wok burner on some models would be really handy.
The key to finding an induction hob that is right for you is finding the model that will benefit you the most. So, as you are reading our list of induction hobs, which one stood out as the induction hob that ticks all of your boxes?
Do you prefer a four-burner induction hob, or would you prefer the space a 5-burner hob would provide? Perhaps you are limited on space, and so a four-burner is a must, but you need it to have all of the safety features available.
With so many induction hobs on the market, the perfect hob is out there for you. So, think about things that are important to you, for example:
The size of the hob
The control panel (Is it a touch screen? Is having a touch screen important?)
The material it's made of
How robust the model is
How many burners it has
The safety features
How quickly it heats up
How easy it is to use
If you keep these in mind when looking at induction hobs and find a hob that ticks all of your boxes, then you'll have your perfect induction hob.
We know that buying an induction is a big investment. If this is your first induction hob, you want to get it right the first time. So, think about what you want your hob to have and then find the hob that matches your preferences perfectly. That induction hob may even be on the list above!
Advantages and Disadvantages of Induction Hobs
There are loads of advantages to induction hobs, and there are a few disadvantages too. Here's a breakdown of what we love and dislike about induction hobs.
Advantages
Speed – Induction hobs can boil water as fast as gas hobs.
Controls – These hobs offer much more fine control than other electric hobs.
Energy-efficient – As induction hobs heat the pan and not the stove, they are the most energy-efficient hob available at the moment.
Sleek design – If you are after a modern-looking stove, they don't come more modern than an induction hob.
Energy-efficient – These hobs use up to 70% less energy than a traditional electric hob, and 90% of the energy they produce goes directly into the pan and heats it up.
Safety – Without a pan, the hob won't heat up. Most induction hobs also have safety locks and other features, making them the safest hobs to have in a home with kids.
Disadvantages
Pans – You need to use the right kind of pans, and some older pans may not work with your induction hob.
Scratches – The ceramic top on an induction hob is the same material as any other electric hob. This is prone to scratching if you aren't careful while cooking.
Learning curve – As induction hobs are similar to gas hobs but look like electric hobs, there's a learning curve for anyone who hasn't used one of these hobs before. If you're used to an electric hob, the power and speed of these hobs may shock you. And if you're used to gas hobs, you'll really need to be careful that you don't scratch the top.
Is it Worth Getting an Induction Hob?
Whether it's worth getting an induction hob is really personal preference. However, we can say that induction hobs are amazing. They are so powerful yet controllable.
They are some of the most beautiful hobs being made at the moment and will make your kitchen look fantastic. They are also the most energy-efficient hobs being made right now too. And they are packed full of amazing features to help you cook quickly and easily.
So, in our opinion, induction hobs are worth it. And now that induction hobs are a comparable price to gas and other electric hobs, it's the best time to enjoy an induction hob!
Conclusion
If we had to pick just one induction hob to recommend it would be the Bosch PUE611BF1B. It's hard to beat for the price, looks very stylish and has some great features.
In this price bracket, this Bosch induction hob is really hard to beat. It looks the part and delivers some serious cooking power that most other induction hobs in its class can't match.
We hope you found your perfect induction hob above. If you did, make sure to read our articles about owning, installing and learning to love cooking on an induction hob. These hobs are a joy to use (once you learn how) and can make beautiful meals for your family!

Scott is a writer and a passionate home chef. His passion for cooking began when he was 10 years old. Scott has been writing professionally for over five years now and loves to combine his passion for cooking with his day job.