If you are redesigning your kitchen or just need a new hob, you may be very tempted by an induction hob.
Induction hobs provide an unparalleled cooking experience. They are as fast as gas, more controllable than electric, really stylish and extremely versatile too.
But we have loads of articles telling you about how amazing induction hobs are, you don't need another one! What you need is a list of the best induction hobs on the market right now.
So, if you are looking for an induction hob and want to know what the favourite induction hobs of the nation are, you're in the right place. Here are the best induction hobs in the UK right now!
Best Induction Hobs in the UK
1. Indesit IB65B60NE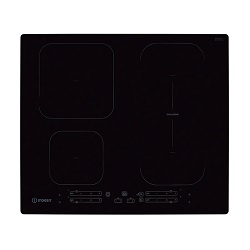 Width: 59 cm
Cooking zones: 4
This induction hob from Indesit is one of the sleekest models on the market. With a glass ceramic top and touch-screen controls, it is easy to clean and the perfect addition to any modern kitchen.
You're given two smaller electric cooking zones on both the left and right. However, the zones on the right are flexible, with the option for an extra-large heated area if needed. This makes it great for cooking all kinds of dishes big and small.
Plus, the unique square rings make it easy to cook with both square and round cookware.
You'll find all the touch controls conveniently positioned on the front panel of the appliance. They're simple and intuitive, but you can activate the advanced Push&Go feature for even more effortless cooking.
By activating the function, the hob reaches the right temperature automatically – you can boil water, keep food warm, or make coffee in just one push of a button!
2. NEFF N70 T58FD20X0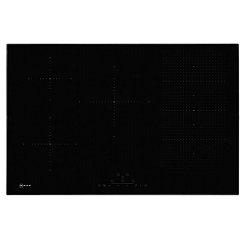 Width: 80 cm
Cooking zones: 5
This induction hob from NEFF uses innovative Flex Zone technology. This means you can place your pots and pans anywhere within the induction areas and they'll be detected and heat will be applied to their exact location.
This makes it easy to cook with cookware of all shapes and sizes while helping boost energy efficiency.
This appliance has five cooking zones in total, great for busier home kitchens. You can easily control these rings and their temperatures from the touch control panel. You can also set a timer to help you perfect your meals, and activate a lock function to avoid accidents.
The look of this design is also popular among home cooks. It has a sleek glass ceramic top with dotted lines marking out the centre of each cooking zone. However, it measures 80 cm wide and does take up a little extra space in your kitchen.
3. AEG IKB64401FB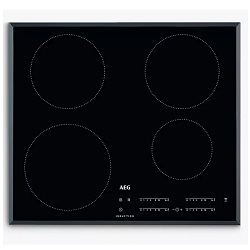 Width: 56 cm
Cooking zones: 4
AEG makes some of the best kitchen appliances in the world and so the fact that one of their induction hobs made it on to this list shouldn't be a shock. This fantastic induction hob has four zones that are very easy to control.
It has a touch panel that allows you to quickly switch to each zone and fine-tune the power settings. Speaking of power settings, each zone can be tuned from 0-10 and has a boost function for speedy boiling too.
Many people love the design of this induction hob. It has a very traditional design for an electric hob, with the zones marked by dotted white lines. However, it has the power and energy efficiency of an induction hob too.
4. John Lewis & Partners JLBIIH616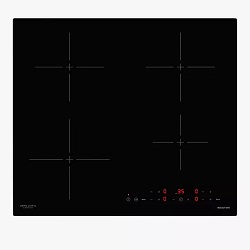 Width: 56 cm
Cooking zones: 4
John Lewis has got an outstanding induction hob for sale here. This appliance has four induction plates for cooking with multiple pots and pans at once.
The hob also features advanced cooking features, such as the PowerBoost button. Once activated, this gives an instant burst of heat and saves you time spent waiting for pans of water to reach boiling point.
This and all other controls are managed from the touch panel at the front right-hand corner. With no knobs for dirt to collect under, these controls are easy to keep clean.
You can set the cooking levels and adjust the temperature of each burner ring. With red LED lighting, these settings can be seen well even in low light levels.
There is also a timer function that can conveniently double up as a minute minder when the hob rings aren't on. Easily keep track of all your timings to whip up perfectly cooked meals every time! And all while being more energy-efficient.
5. Elica NT-PRIME-DO Venting Hob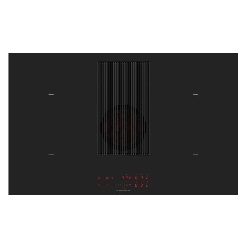 Width: 83 cm
Cooking zones: 4
Finally, we have this 83 cm induction hob from Elica. This is the largest induction hob in this list of recommendations, so you will require a little more free space in your kitchen to install the appliance. But if you've got the space, this cooktop is certainly one to consider.
The main benefit of this product is the venting feature, which combines your hob and extractor in one. This removes the need for an overhead extractor and looks extremely sleek when installed.
It's also the perfect solution for anyone installing their induction hob on a kitchen island where extractor fans don't have a home. The extractor is extremely powerful but also pretty quiet.
Additionally, the Elica induction hob features four induction zones and a cookware detector. This ensures you won't waste any energy heating inactive zones, helping your pocket and the planet.
It also has a handy Stop-and-Go function to pause and restart cooking without having to turn each burner back and reset the temperatures.
How Do Induction Hobs Work?
Induction cooking works differently from both gas and electric cooking. Rather than using a heat source to warm up the hob itself, induction cooking directly heats the pans.
It does this by using an electromagnetic current created by copper wiring under each hob ring. Electricity is run through these wires and creates a magnetic field.
When magnetised cookware is placed on top, the electromagnetic field can pass heat directly from the copper wires to the pan.
The cooktops themselves, however, don't get hot at all. The copper coils and other electronic components are beneath a glass ceramic surface. As glass is not magnetised, it cannot conduct heat itself. Instead, heat passed through the glass to the pan.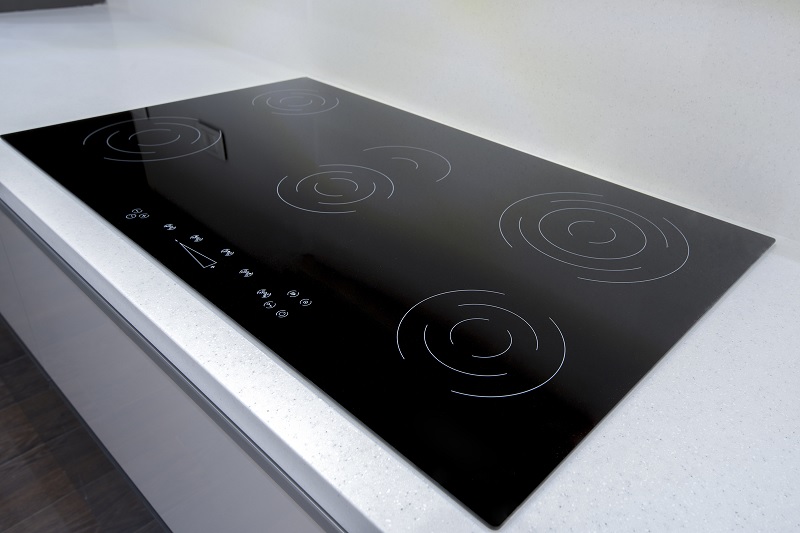 Induction Hob Power and Installation Requirements
Before purchasing an induction hob, it is worthwhile considering the installation requirements. Like most conventional cooktops, you will need a hole of the right size in your kitchen counter to slot the induction hob into.
The space you need to have available depends on the exact model you're using. Bear in mind that some induction hobs require additional space around the edges, so always check the manual before attempting installation.
Induction cooktops also need electricity to function, so you need to consider the power requirements as well. Most induction stoves usually need a 30 to 40 amp connection so that power limits are not exceeded when the hob is in use.
The majority of homes will already have these appropriate connections in place. With that said, this does all depend on the wiring and electrics in your home.
If in doubt, speak to an electrician. They might need to bring up the electric connection in your home for the induction cooktop to function or may suggest installing a 40 amp breaker to protect the electrical circuits.
You can also purchase a 13 amp induction cooktop if you want to avoid these installation issues. These cooktops can work with a standard three-pin plug and can typically be installed without requiring professional help.
How to Choose the Right Induction Hob
There are loads of induction hobs on the market.
Some have fantastic safety features like automatic control panel locks and timers for each burner.
So, how do you choose the right hob? Well, finding an induction hob that is perfect for your kitchen is all about you.
You need to decide which suits your cooking style better. Do you want an induction hob that has all of the safety features, perhaps you have small kids that love to touch everything. Or do you fancy getting an induction hob that has all of the bells and whistles? Perhaps you love cooking in a wok, and the wok burner on some models would be really handy.
The key to finding an induction hob that is right for you is finding the model that will benefit you the most. So, as you are reading our list of induction hobs, which one stood out as the induction hob that ticks all of your boxes?
Do you prefer a four-burner induction hob, or would you prefer the space a 5-burner hob would provide? Perhaps you are limited on space, and so a four-burner is a must, but you need it to have all of the safety features available.
With so many induction hobs on the market, the perfect hob is out there for you. So, think about things that are important to you, for example:
The size of the hob
The control panel (Is it a touch screen? Is having a touch screen important?)
The material it's made of
How robust the model is
How many burners it has
The safety features
How quickly it heats up
How easy it is to use
If you keep these in mind when looking at induction hobs and find a hob that ticks all of your boxes, then you'll have your perfect induction hob.
We know that buying an induction is a big investment. If this is your first induction hob, you want to get it right the first time. So, think about what you want your hob to have and then find the hob that matches your preferences perfectly. That induction hob may even be on the list above!
Advantages and Disadvantages of Induction Hobs
There are loads of advantages to induction hobs, and there are a few disadvantages too. Here's a breakdown of what we love and dislike about induction hobs.
Advantages
Speed – Induction hobs can boil water as fast as gas hobs.
Controls – These hobs offer much more fine control than other electric hobs.
Energy-efficient – As induction hobs heat the pan and not the stove, they are the most energy-efficient hob available at the moment.
Sleek design – If you are after a modern-looking stove, they don't come more modern than an induction hob.
Energy-efficient – Induction hobs are the most energy efficient hob type. They use up to 70% less energy than a traditional electric hob, and 90% of the energy they produce goes directly into the pan and heats it up.
Safety – Without a pan, the hob won't heat up. Most induction hobs also have safety locks and other features, making them the safest hobs to have in a home with kids.
Disadvantages
Pans – You need to use the right kind of pans, and some older pans may not work with your induction hob.
Scratches – The ceramic top on an induction hob is the same material as any other electric hob. This is prone to scratching if you aren't careful while cooking.
Learning curve – As induction hobs are similar to gas hobs but look like electric hobs, there's a learning curve for anyone who hasn't used one of these hobs before. If you're used to an electric hob, the power and speed of these hobs may shock you. And if you're used to gas hobs, you'll really need to be careful that you don't scratch the top.
Is it Worth Getting an Induction Hob?
Whether it's worth getting an induction hob is really personal preference. However, we can say that induction hobs are amazing. They are so powerful yet controllable.
They are some of the most beautiful hobs being made at the moment and will make your kitchen look fantastic. They are also the most energy-efficient hobs being made right now too. And they are packed full of amazing features to help you cook quickly and easily.
So, in our opinion, induction hobs are worth it. And now that induction hobs are a comparable price to gas and other electric hobs, it's the best time to enjoy an induction hob!
Conclusion
If we had to pick just one induction hob to recommend it would be the Indesit IB65B60NE. It's one of the sleekest-looking hobs on the market and is very versatile, with two flexible zones on the right-hand side that can be combined to form a bigger cooking area. At 59 cm wide, it is the standard width for a hob, so should fit most kitchens perfectly.
We hope you found your perfect induction hob above. If you did, make sure to read our articles about owning, installing and learning to love cooking on an induction hob. These hobs are a joy to use (once you learn how) and can make beautiful meals for your family!

Scott is a writer and a passionate home chef. His passion for cooking began when he was 10 years old. Scott has been writing professionally for over five years now and loves to combine his passion for cooking with his day job.