So, you've got approximately 80 cm in your kitchen and you want to fill it with an induction hob, but you're not sure where to begin, are we correct? If so, allow us to help.
This article goes through some of the best 80 cm induction hobs in the UK, covering their best features, any complaints from current users that may be worth bearing in mind, as well as prices that are suitable for different budgets.
Whatever you're looking for with your induction hob, we will get you well on your way.
Best 80 cm Induction Hobs in the UK
1. NEFF N70 T58FD20X0 Electric Induction Hob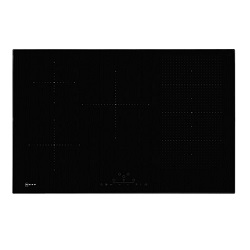 Key features:
Heat zones: 5
Main colour: Black
Basic surface material: Ceramic
Energy consumption: 177.5 Wh/kg
Dimensions: 5.1 x 80.2 x 52.2 cm
Cooking on induction can save you on two things: time and energy. And the great thing about the NEFF N70 is it built with FlexZone technology, meaning you can place your pans exactly where you want them, and heat them in that exact spot.
This gives you more flexibility when cooking, particularly if you're cooking for multiple mouths, because it will accommodate even the largest pans (including your trusty wok).
It comes with touch controls at the front of the hob, allowing you to easily select what power level you want, or set the timer, all with a single touch.
The design is simple, discrete, and chic, so it shouldn't look out of place, regardless of the style and design of your kitchen.
Users are raving at the easiness of this induction hob, as well as how easy it is to keep clean.
With its five heat zones, this can be a great addition for larger families. It is in the mid-high price zone.
2. AEG IKE85431FB 80cm MaxiSense Induction Hob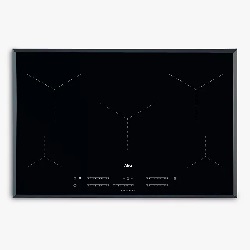 Key features:
Heat zones: 5
Dimensions: 4.4 x 78 x 52 cm
The heat zones on this AEG IKE85431FB are more subtle-looking than perhaps other brands, making it a suitable choice for minimalist designed kitchens, or kitchens with more of a retro theme.
It comes with a PowerBoost function that raises the temperature to the highest level, then reduces the heat to your desired setting ready for cooking.
It also has a unique Hob2Hood feature, which connects it to a compatible cooker hood, so it will automatically adjust the extractor fan speed depending on how you are cooking.
If safety is in the front of your mind when purchasing your induction hob, then this one may suit you well, as it comes with an automatic safety shut-off, thus reducing the risk of fire or burns.
The flat surface of this induction hob is a dream to clean, particularly for those who have recently switched to induction from a prehistoric gas cooker!
This AEG IKE85431FB is easy to use, making it well suited to older users who don't consider themselves too tech-savvy.
General opinions by current users are very favourable, although the price of this hob is on the higher end of the spectrum.
3. Siemens iQ100 80cm 5 Zone Induction Hob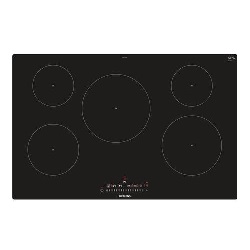 Key features:
Heat zones: 5
Timer with cooking zone shut-off function
Dimensions: 5.6 x 79.2 x 51.2 cm
Featuring five varying sizes of heat zones, this Siemens iQ100 has more of a hob "look" to it (meaning its heat zones are designed to look like hob rings).
However, although it is an 80 cm induction hob, it looks somewhat girthy, so not a great option for those wanting a more subtle-looking induction hob.
Price-wise, it's on the higher end of the cost spectrum, but the reviews from users are all extremely favourable, meaning it's considered great value for money.
4. Bosch Serie 6 PIV851FB1E Electric Induction Hob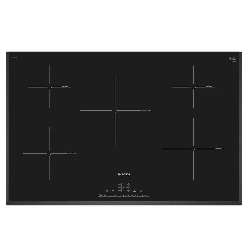 Key features:
Heat zones: 5
Simple controls with DirectSelect
Bevelled edges for a stylish integrated design
Automatic switch-off after cooking
Dimensions: 5.1 x 80.2 x 52.2 cm
The key selling feature here is the U-Bevel (sloped edges at the front and sides).
It also comes with an automatic switch-off, meaning the hob will automatically switch-off the allocated zone after a set amount of time.
The touch point controls are few and simple, which isn't always the case with induction hob tops, meaning it is a good option for those who don't like to be overwhelmed with information or options.
A couple of the user gripes are that it scratches easily and the touch point controls are small and difficult to see. Also, the glass top is quite fragile and will break is something is dropped on it.
5. Hisense I8433C 80cm Induction Hob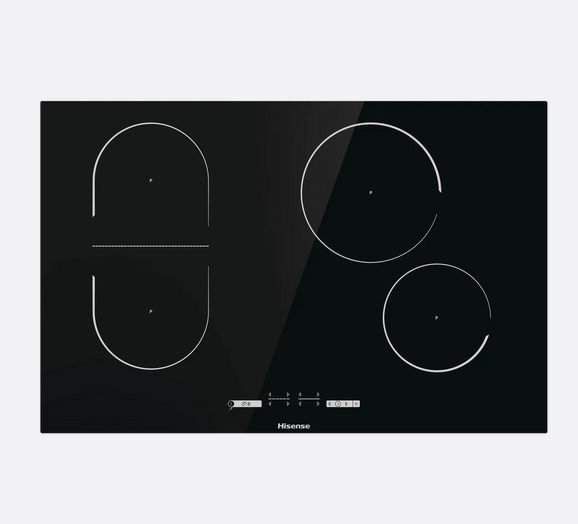 Key features:
Heat zones: 4
Bridge zones to create a larger cooking area
Rapid boil setting gives you hot water in a hurry
Dimensions: 5.4 x 79.5 x 52 cm
Those shopping for their induction hob on a budget will delight at this Hisense I8433C, as it is much less costly than the others on this list.
However, unlike the others, it only has four heat zones, though its 'bridge' zone will allow you to create a larger zone.
It also has a rapid boil feature, which gives you a powerful boost of energy to boil a pan of water quickly.
Its touch point controls are simple and easy to understand, and users are generally impressed.
Due to its lower price and simplicity, this could be a great induction hob for first-time buyers, students looking to reduce energy bills, and anyone looking to get acquainted with induction.
New to Induction Hobs?
If you're new to the wonderful world of induction, here are some pointers to make your purchasing journey easier:
Be careful if you have a pacemaker – Avoid buying an induction hob if you or someone you live with has a pacemaker. The ferromagnetic plates inside the top may interfere with a pacemaker's settings.
Make sure you have induction-compatible cookware – You will need to make sure your current pans are induction-friendly (see below for more information). If your current ones aren't, you will need to kit yourself with a new set that will work on your induction hob.
Induction is fast! – Induction is much faster at bringing heat to your pans, so your hob shouldn't be treated as though it works the same as a gas or standard electric cooker. Many induction newbies may experience a few over-flowing liquid experiences in the initial period of owning the hob!
Induction hobs sometimes buzz – They occasionally make buzzing and humming noises; and some are noisier than others. This is normal, but it can be irritating and disconcerting at first.
What Pans Can You Use on Induction?
As we stated earlier, not every pan on the face of the planet (or in your kitchen) will work on induction, which can be a nuisance, and may mean a trip to your nearest hardware store or supermarket may be in order.
So, if this is the case, here's what will work:
Cast iron
Steel or enamelled steel
Stainless steel with a magnetic base or core
Aluminium and copper with a magnetic base
Pans that won't work:
Copper
Glass / Pyrex
Ceramic
Aluminium
However, sometimes the pans listed above have a stainless-steel base, which allows them to work on induction. For example, you can get induction-compatible copper pans with a stainless-steel bottom.
How Does Induction Work?
While induction hobs are electrically powered, they work very differently from standard electric cookers.
An induction hob heats up by passing an electric current through its copper coils and into the pan. If a magnetised pan is then placed on the hob, the magnetic field will generate heat. Unlike other hob tops, it's the pan and not the cooktop that gets hot.
Can I Install the Hob Myself?
If you purchase an induction hob, you will need a professional to install it for you. Depending on the retailer you purchase your induction hob from, this may be included within the purchase.
However, it is wise not to assume this, and to check whether they will send an engineer or whether you'll need to organise/pay for this yourself.
Conclusion
So, we've shown you just some of the great 80 cm induction hobs that are currently on the market in the UK, but if you're stumped at which to go for then allow us to offer our expert advice, we're big fans of the NEFF N70 T58FD20X0 Electric Induction Hob (the first on the list).
It is stylish, energy-efficient, boasts five great heat zones, and isn't the costliest of induction hobs, meaning it'll be a great addition to your kitchen.

Clara is a freelance writer and former chef. Though she may have hung up her apron, her love of food and cooking is still going strong! When she's not whipping up a verbal storm, she'll be in her kitchen sipping wine and whipping up a culinary storm.