Below, we have the best 5-burner gas hobs available in the UK. These gas hobs are perfect for letting your creativity loose in the kitchen.
5-burner hobs give you more space for pots and pans, allowing you to cook more at once and explore plenty of possibilities with your dishes.
So, let's look at the best 5-burner gas hobs available in the UK, and some FAQs about gas hobs and how to choose the perfect gas hob for your needs and your kitchen, shall we?
Best 5-Burner Gas Hobs in the UK
1. Samsung NA75J3030AS 75cm Gas Hob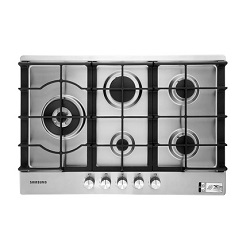 Width: 75 cm
This Samsung 5-burner gas hob has very easy to use controls, which allow you to control the height of the flame nicely.
It also features an automatic ignition. Simply turn the knob for the burner you need, and the hob will light.
Many users say that cleaning this hob is really simple. This is thanks to the removable cast iron pan supports that have been designed to run the entire length and width of the hob.
So, when you remove the pan supports, you can access the whole of the hob and clean it easily. But when in place, the supports offer a beautifully modern design feature.
Finally, this gas hob has a burner designed for woks and other oddly shaped pots and pans, so you'll always have control, no matter what you are cooking.
2. Smeg Cucina SR275XGH2 68cm Gas Hob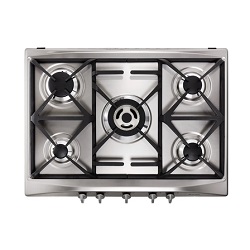 Width: 68 cm
There's a lot to love about this Smeg 5-burner gas hob, but let's start with the clever layout of the burners.
The large wok ring is placed in the middle of the hob, flanked by the four small rings. This means that any large pots and pans have plenty of support during use, but there is space to use the other burners too.
Despite this being one of the smallest gas hobs on this list, the clever layout of the burners and the side-mounted control knobs really make use of this space.
So, even though this is small, the cooking space you have feels nice and large. The lovely cast iron pan supports offer a lot of rigidity while cooking but can all be removed for easy cleaning.
3. NEFF N70 T27DS59N0 75cm Gas Hob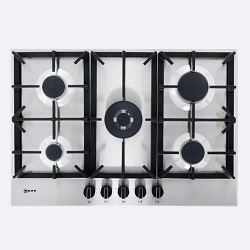 Width: 75 cm
If a modern take on a gas hob is your sort of thing, look no further. The stainless-steel top on this gas hob makes it look beautiful in any kitchen, and it makes cleaning underneath the cast iron pan supports nice and easy too.
However, it isn't just the cleaning that is easy when it comes to this hob. You can enjoy very easy cooking too. This is thanks to the precise flame adjustments.
The knobs have 9 positive stops of flame height, so you can really dial in the heat with this hob.
This hob has certain accessories that are sold separately that other hobs have as standard. Things like a wok grid and an Espresso maker grid.
This can add a fair chunk of money to the price of this hob which is a bit of a shame. However, most people are very pleasantly surprised with the build quality of this hob.
4. Smeg Classic 87cm 5 Burner Gas Hob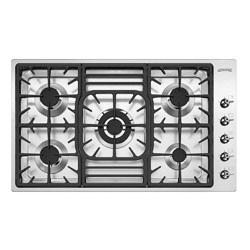 Width: 87 cm
Smeg is back on this list with a hob from its Classic range. If you have a traditional kitchen, this is a brilliant hob to choose, but we think this hob will look beautiful just about anywhere you put it.
It has some wonderful design features, like the cast iron pan supports that have a lovely design element to them.
The stainless-steel body also looks great and makes cleaning the hob really easy.
Cooking on this hob is nice and simple too. If you want to boil anything very quickly, you can use the large middle burner that puts out a whopping 4kW of power.
You also have three burners that put out 1.8kw of power and a smaller burner for finer control of heat, putting out 1.05kW of power.
Your control over the heat allows you to cook up a storm with this excellent hob.
5. NEFF N70 T29DS69N0 92cm Gas Hob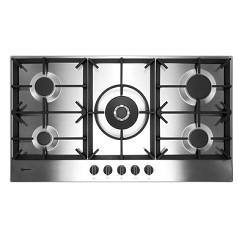 Width: 92 cm
Now, if you want power and design in a sleek package, this NEFF gas hob may be perfect for you. The large wok burner on this hob puts out 5kW of power, the most power on this list.
The back right burner is also a high-speed burner that puts out 3kW of power. So, you can boil quickly with this hob. Yet you can also enjoy very fine controls over this power as well.
With 9 steps to control the flame, you can really dial in the perfect flame for whatever you are cooking.
Some say that the control knobs are a bit too close together, making them challenging to clean, but with a small damp cloth, most have managed well.
Other than that, everyone seems to love this gas hob from NEFF, and it isn't difficult to see why.
It is a beautifully designed and well-made gas hob that has fine controls and a very sleek design; what more could you want?
How to Choose the Perfect Gas Cooker for your Kitchen
When choosing the right gas hob for your kitchen, there are a few things to consider.
Unlike other hobs like induction hobs, for example, gas hobs are nice and simple. They aren't controlled by electronics or computers. You control what your hob does and are free to cook however you wish.
Still, there's some considerations to make when choosing a gas hob to ensure you get the right one for your needs and your kitchen.
Price
Price is a factor with everything we buy for our kitchens, and a good hob is no exception to this.
We're sure you've already thought of a price you'd like to pay for your gas hob, but it's still worth mentioning.
Many people forget to include the installation cost for their gas hob in their price range. So, when it comes to buying the hob, suddenly it is out of your budget.
Installation costs for gas hobs can be anywhere from £50-£200 depending on the hob and the company you buy it from.
So, factoring in those costs as well as the cost of the hob ensures you get the best hob for your needs installed into your home.
Size
Even though all of the gas hobs above have 5 burners, there is quite a size difference between some of them. For example, the two Smeg hobs above are 20 cm different in size.
So, if you have a smaller kitchen, there is still a 5-burner hob that will likely fit nicely and not take up a massive amount of room.
Remember, though, if you're buying a 5-burner hob because you want more space to cook, a smaller 5-burner hob may not provide the space you want.
So, you may want to invest in one of the larger hobs above to ensure you aren't limited on the pots and pans you can use on the cooking surface.
Burners
All of the hobs above have 5 burners, but there are gas hobs that have 2, 4, 6, even 8 burners! Choosing the right number of burners for your needs is really important.
If you use the hob all the time, and most of your cooking is done on the hob, having plenty of burners to use could be a good option for you.
Or maybe a speciality burner that is designed for woks or rapid boiling tasks is more up your street.
Having lots of burners is great, but having the right kind of burners for the cooking you do is much better.
Style
Do you have a traditional or ultra-modern kitchen? And will the hob you buy suit the style of your kitchen?
Installing an ultra-modern gas hob into a very traditional country kitchen can work for some people, but others may absolutely hate the look of this.
So, choosing a hob that can do everything you need it to, but one that also looks perfect for the style of your kitchen, is really important.
While we can tell you about the best 5-burner gas hobs available in the UK right now, only you know which is the perfect hob for your kitchen.
So, have a think about your budget. What do you like to cook, and which pans and pots do you use the most? Is your kitchen short on space, or do you have endless space to play with?
Really have a think about what you want out of your hob, and then find the best hob in your price bracket that ticks all of your boxes.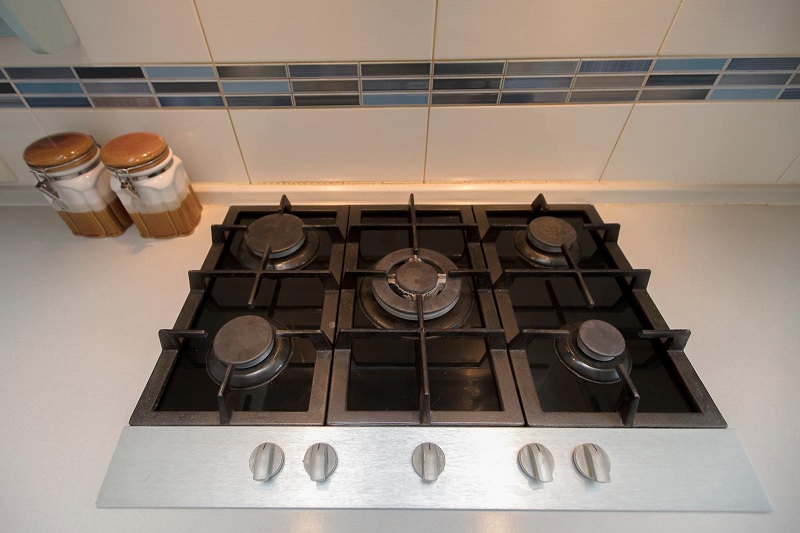 Can You Install a Gas Hob Yourself?
Technically, you can fit a gas hob yourself, but before you use the hob, it must be checked out by a gas safe registered engineer to ensure it is safe to use.
They check the gas lines and the connection from the gas supply to the hob.
So, it is much easier to pay for installation, as the engineer who installs your hob will do these checks at the time of installation.
Do Gas Hobs Require Servicing?
Most gas hob manufacturers state that a gas hob should be serviced every year by a gas safe registered engineer. However, check with the manufacturer's guidelines as some do differ.
Conclusion
We hope you found the perfect 5-burner gas hob for your kitchen above. We love the Samsung NA75J3030AS 75cm Gas Hob. It has very sturdy pan supports, a wonderful style and very precise heating controls.
To find out more about gas hobs or to go shopping for new cookware to enjoy on your new gas hob, check out the rest of Chef's Pick.
We've got everything you need for your kitchen, from hobs and ovens to cookware and cleaning tips; Chef's Pick has it all.

Scott is a writer and a passionate home chef. His passion for cooking began when he was 10 years old. Scott has been writing professionally for over five years now and loves to combine his passion for cooking with his day job.