Those looking into the wonderful world of FlexInduction may feel a bit bamboozled and unsure where to begin. And you may even have a few questions…
What even is FlexInduction? And what does it actually do?
A FlexInduction hob is a cooktop made up of several cooking zones. You can use multiple pans at multiple temperatures per zone, or combine the two zones to fit large pans or program them to cook independently.
Simply put, it gives you flexibility and complete control and evenness with your cooking, whatever size pans you use, and it does so very quickly.
So, if that's whetted your appetite a little, but you're still unsure where to begin with finding the best FlexInduction hob, allow us to get you started…
Best FlexInduction Hobs in the UK
1. NEFF N70 T58FD20X0 80cm Induction Hob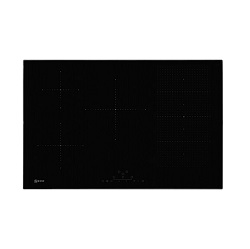 Heat zones: 5
Dimensions: 80.2 x 52.2 x 5.1 cm
Induction hobs are clever things with their heat zones using electromagnets to heat the base of your pans directly rather than the whole hob surface, therefore reducing the risk of burns or accidents.
This NEFF hob goes one extra and also lets you know when the hob is cool enough to clean after cooking.
It comes with a control panel lock, meaning you won't run the risk of accidentally changing the temperature while cooking and potentially ruining your food.
Induction hobs are typically smart, chic, and easy to keep clean, and the NEFF N70 T58FD20X0 is no exception.
It is easy and straightforward to use, even for older generations. And because of its safety features, it can be a useful addition for families with little ones and pets.
It has favourable reviews, with its main selling points being that it offers good value for money and is very easy to clean.
2. Hisense I6433C7 Electric Induction Hob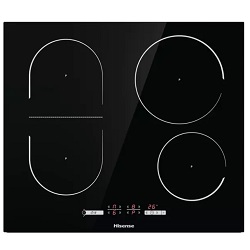 Heat zones: 4
Dimensions: 59.5 x 52 x 5.8 cm
Price-wise, the Hisense I6433C7 Electric Induction Hob is definitely ideal for those on a budget. And again, safety is paramount with this hob, as it features a childlock function, making it great for those with young children.
It also features a Stop & Go feature, which lets you pause the hob and pick up again later with the same settings, which is ideal if you get interrupted during cooking.
Cooking is simple and very quick, with boiling point being reached within two minutes. With the temperature controls, you can immediately reduce the temperature, preventing your pans from over-boiling (and making a mess!)
One or two users have said this induction hob is prone to scratches, which may be worth bearing in mind.
3. Hotpoint TB 3977B BF Electric Induction Hob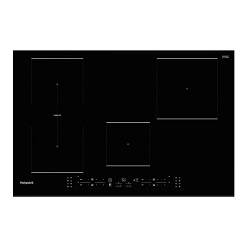 Heat zones: 4
Dimensions: 77 x 51 x 5.4 cm
This Hotpoint TB 3977B BF Electric Induction Hob may look techy and complicated, but it is actually simple and easy to find your way around with its touch controls, meaning it may be a good choice for induction newbies or older generations.
Because of its 'techy' look, for aesthetical reasons alone, this induction hob may not suit those with a rustic, retro, or more traditionally-designed kitchen.
It has largely favourable reviews online from users, who praise it for being exceptionally fast at heating up. The only complaint really is that the controls lettering is small and can be hard to read.
4. AEG IKE64450FB Electric Induction Hob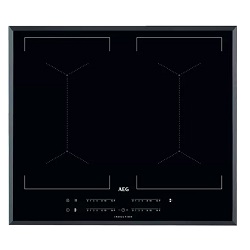 Heat zones: 4
Dimensions: 59 x 52 x 4.4 cm
This AEG induction hob has two key selling points. The first is it comes with a PowerBoost button to deliver a burst of heat (great for boiling water quickly). The second is that it can pair two zones to provide a single bridge for cooking.
It also has a child lock function that will prevent it from accidentally being switched on by any curious rugrats!
Unlike other FlexInduction hobs, this one gives you plenty of space to cook with its heat zones taking up the majority of the hob space.
A couple of users have stated that this hob is prone to scratching and discolouring.
5. Beko Pro HII64201MT Electric Induction Hob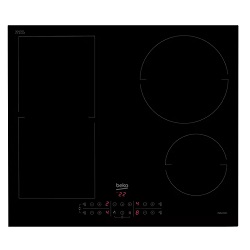 Heat zones: 4
Dimensions: 65 x 60 x 12.5 cm
As induction installation goes, this BEKO Pro HII64201MT is one of the easiest. It comes with mounted clips on the side of the hob that will secure it in place, and without needing screws or fixing features. It also comes with a child lock feature.
Many of its users are impressed with the speed and efficiency of this product, plus how it's a lot lighter on the energy bill side of things than gas cookers and standard electric cookers.
A few niggles include the touch controls being extremely sensitive and somewhat confusing.
What to Keep in Mind When Buying a FlexInduction Hob
The benefits of owning FlexInduction are many, but there may be a few key factors to bear in mind when shopping for a FlexInduction hob.
They aren't suitable for people who have a pacemaker.
You will need to make sure your pans are compatible with your induction hob. Not all pan bases ignite the ions that conduct heat from the induction plates.
They are much faster at bringing heat to your pans, so they shouldn't be treated as though they work the same as a gas or standard electric cooker.
They occasionally make buzzing and humming noises. This is normal, but it can be annoying and disconcerting at first.
What Pans Can You Use on a FlexInduction Hob?
Any given pan you have knocking about in your cupboard may not work on your swanky new induction hob.
This is because induction requires an electrical current that is triggered by ferromagnetic metal making contact with it.
So be prepared for the possibility of needing to kit yourself out with a new set of pans if you invest in a FlexInduction hob. The pans that will work are:
Steel or enamelled steel
Stainless steel with a magnetic base or core
Aluminium and copper with a magnetic base
Most modern pan packaging will state whether the products will work on induction, but if you're ever in doubt, double-check with the manufacturer.
Can You Use an Induction Hob if You Have a Pacemaker?
According to the BHF (British Heart Foundation), it isn't entirely safe for a person with a pacemaker to come within two feet of an induction hob.
This is because the electromagnetic field that's generated when an induction hob is being used may interfere with pacemaker settings.
However, because there are numerous different types of pacemakers. Some may be fine with an induction hob, but it is worth double-checking with both your physician and the induction manufacturer to make sure.
Can You Install an Induction Hob Yourself?
No. You will need a professional to do this for you. Depending on the retailer you purchase your induction hob from, this may be included within the purchase.
However, it is wise not to assume this and check whether they will send an engineer or whether you'll need to organise this yourself.
Conclusion
So, regardless of which induction manufacturer you go with (and what price you pay), you can guarantee your FlexInduction hob will ensure dinner times are made much quicker, your energy bills will be reduced, and your kitchen will be a safer environment, particularly if you have children.
No product is perfect, and despite induction hobs being modern and high-tech, they come with various niggles, regardless of the brand. They also take some getting used to; particularly if you've never used one before and you're used to gas or standard electric cookers.
It can be a shock to the system how quickly they heat pans, and pans filled with liquids prone to expanding (such as milk and cream) may find you may have one or two messy incidents with the liquid overflowing.
But which FlexInduction hob is best? Well. That's down to you and your individual needs, of course. However, since you asked for our professional advice, here's what we think.
We LOVE the NEFF N70 T58FD20X0 80cm Induction Hob. It is superior predominantly because it has five heat zones (as opposed to the typical four which most induction hobs come with). It is also very easy to keep clean, and it looks darn chic inside your kitchen!

Clara is a freelance writer and former chef. Though she may have hung up her apron, her love of food and cooking is still going strong! When she's not whipping up a verbal storm, she'll be in her kitchen sipping wine and whipping up a culinary storm.