A burger press is a very handy gadget to have if you want to start making your own burgers. You can also use burger presses for making things like fishcakes and potato fritters.
Homemade burgers are healthier than shop-bought ones as they don't contain any artificial additives or preservatives. When you make your own burgers, you know exactly what goes into them.
It's fun to experiment with different combinations of herbs and spices until you have your own perfect recipe. You could even make a lot of burgers in one go and put them in the freezer.
Burger presses are very simple to use: you just add your mince meat blended with herbs and spices and then press it into a burger shape. This is easier and less messy than trying to mould it into a burger shape with your hands.
Here are five of the most popular and highly rated burger presses available in the UK. They can all be used to make quarter pounders or other sized burgers depending on how much meat you use.
Best Burger Presses in the UK
1. GWHOLE Non Stick Burger Press
Diameter: 12 cm
Materials: Die-cast aluminium, with a plastic handle
This burger press comes with 100 non-stick waxed paper discs to make it easy to remove the burgers once you've pressed them. It's made from die-cast aluminium and is designed to be non-stick.
The GWHOLE burger press makes burgers measuring roughly 11 cm across by 2 cm deep.
It's simple to use and easy to clean, and the waxed paper discs included are handy for stopping the burgers from sticking.
One downside is that it doesn't come with any instructions, but you don't really need instructions since it's so easy to use.
The GWHOLE Non Stick Burger Press is a great choice if you want to start making homemade burgers. The paper discs included make getting the finished burgers out very quick and easy.
2. Rösle 25083 PRO Burger Press
Diameter: 11 cm
Materials: Stainless steel
This burger press from Rösle allows for simple and easy shaping of delicious hamburgers. With a sturdy stainless-steel design, it's ideal for creating larger patties between 100-350g.
It has a solid design that offers long-term durability and is very easy to clean.
As well as making burgers, you can also use this gadget for fish cakes and other similar foods.
This is the perfect option for those with heavy-duty hamburger requirements. The press even helps to keep multiple patties the same size for a satisfying uniformity aesthetic.
However, it's important to remember that this is not designed as a grilling aid, or for use on top of a grill.
3. GRÄWE Burger Press
Diameter: 12 cm
Materials: Aluminium, plastic handle
Designed by German cookware brnad GRÄWE, this is the perfect press for those who love that classic sear-marked burger look.
Developed with a firm handle and a sturdy aluminium base, it helps to produce uniform patties at a very reasonable price.
This burger press is easy to clean, with no hidden areas for meat to get stuck.
The sear marks make your burgers look more visually appealing, and it comes with separation papers to prevent patties sticking together.
One downside is that it must be hand-washed rather than washed in the dishwasher in order to maintain long term durability.
4. Kitchen Craft Hamburger Maker
The Kitchen Craft Hamburger Maker is a plastic burger press that is a bit different to the metal presses reviewed above.
It's a very affordable burger press, so it might be a good option if you're just getting started with making your own burgers and don't want to invest too much money.
It creates burgers measuring roughly 8.5 cm x 1.8 cm, and comes with 100 wax discs included to prevent burgers from sticking to the press.
This burger press makes very uniformly sized burgers, and it's easy to compact them properly.
The burgers it makes are relatively small (8.5 cm x 1.8 cm), but this size is fine for most people.
This is a cheap and effective burger press that works surprisingly well given that it's made from plastic. The burgers it makes are very professional looking, if a little small.
5. Mountain Grillers Burger Press Hamburger Maker
Diameter: 12.5 cm
Materials: Plastic
For those who enjoy consistently thick, juicy burgers, this is one of the best burger presses you can buy, with a number of sizing options available to suit a variety of demands.
The flexibility of the design allows you to add an abundance of your favourite toppings without any hassle!
While it is made from plastic, it still feels strong. The design is also dishwasher friendly, so it's easy to clean.
One issue is that meat is prone to sticking to the press upon removal, but it's easy to clean off if this happens.
Overall, this is a great choice for creating adventurous burgers, without having to spend a lifetime cleaning afterwards!
What Is a Burger Press?
A burger press is a really simple kitchen tool.
First, you pop some of your delicious burger mixes into it. My partner makes a cracking burger with lean beef mince, some breadcrumbs and an array of spices that I have not been allowed to divulge on here! Sorry, but they are very tasty, so I would like to keep enjoying them.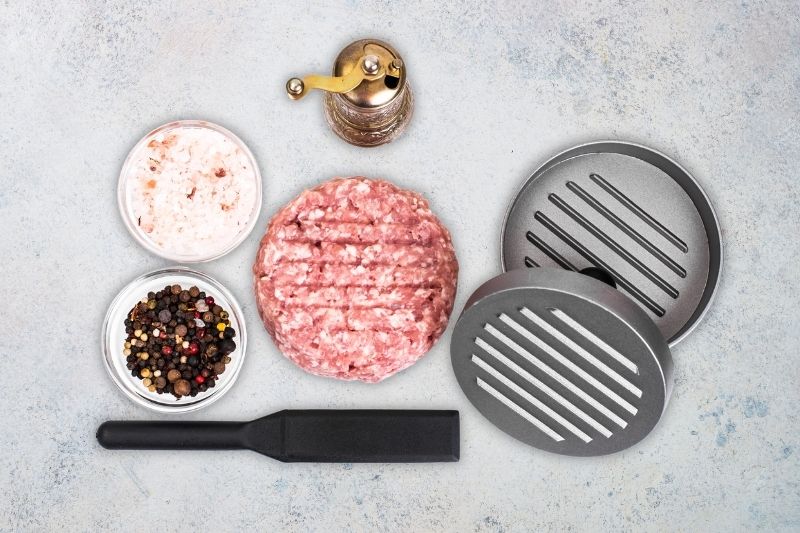 Next, you add the top of the press and press the meaty goodness down into a patty. That is pretty much it.
The burger press ensures that the patty is nice and solid, and thin. If you want a thicker patty, simply don't press down as hard on the handle, or add more mix.
However, a thinner patty means less cooking time and more moisture in the burger. More moisture means more tastiness.
Are Burger Presses Worth It?
My partner has a burger press and uses it whenever we make burgers. Not only does it make each burger really easy to make, but it also makes them a uniform thickness and size, which makes cooking times really simple.
So, if you often cook burgers for a lot of people, that can be really handy. If you're also cooking burgers on the BBQ, a burger press can be used to firm your patties up, which means they won't crumble and fall onto the coals of the BBQ. Again, very handy.
So, burger presses can be really worth it.
Plus, a burger press really isn't too large and doesn't cost that much either. And most burger presses on the market offer way more than simply pressing some meat together.
Well, okay, burger presses say they are multifunctional but can only really be used to make burgers in different sizes. That's fine by us, though.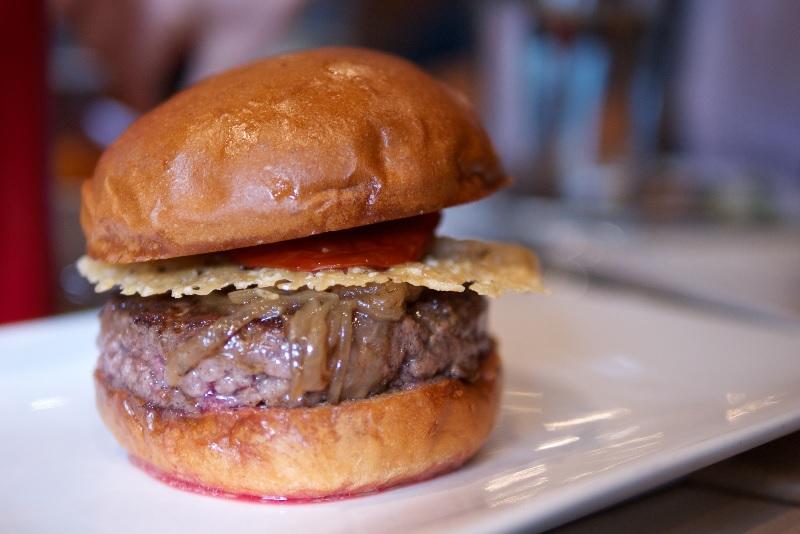 Burger Press FAQs
How do you keep burgers from sticking to the burger press?
Having burgers constantly stick to a burger press can be very frustrating. After all, you're using a burger press to make the process easier, not harder.
One of the best ways of keeping burgers from sticking to a burger press is to use a non-stick press.
Non-stick burger presses have a textured surface. This surface creates small air pockets between the meat and the press and ensures that nothing sticks during use.
Take the GWHOLE burger press above, for example. There is a very light texture on the surface of this press.
This is just enough to create air gaps between the meat and press, so your burgers don't stick.
You can use water on the base of the press to help with any sticking issues too, and this method works for any burger press.
Do you oil a burger press?
You can use oil in the burger press to prevent the burgers from sticking, but water is a better option.
Burgers don't need much oil during the cooking process as the fat they contain gets all the sizzling done for you.
So, introducing oil into the burger press can result in a greasy burger. If you're having trouble with sticking, put some water on the faces of the press.
This will allow you to press the burgers as hard as you like but will create surface tension on the faces of the press and ensure your burgers won't stick.
What can you use instead of a burger press?
Many chefs simply use their hands to shape burgers and then a flat palm to press them. If you have a lot of experience making burgers this way, they can be very uniform with this method.
If you don't have much experience with this burger-making technique, though, your burgers may not be uniform.
Of course, burgers not being uniform isn't a big deal aesthetically unless you are entering a burger beauty pageant.
However, non-uniform burgers can cook at different rates and times, so a uniform shape and size is actually quite important.
If you don't have a burger press right now, there is an amazingly easy way to batch out burgers with things you likely already have in your kitchen. You'll need two baking trays, some water and your meat.
Add a little water to the top of one of the baking trays and the bottom of the other. The trays don't need to be swimming in water. Just add enough to wet the surface.
Then portion out your meat for the patties and add them to the baking tray with water on the top of it.
Grab the tray with water on the bottom and put it over the balls of meat, and smash it down.
Give it a good press, lift it up, and you'll have some delicious burgers. You can use this burger-making technique to make as many burgers as will fit on the tray too.
Conclusion
If we had to pick just one burger press to recommend, it would be the GWHOLE Non Stick Burger Press. It's easy to use and easy to clean, and comes with 100 handy paper discs to stop your burgers from sticking.

Chef's Pick is your guide to the best kitchen equipment and appliances in the UK.
We help you understand the confusing world of cookers, ovens and cookware so you can get the most out of your kitchen.