Le Creuset is a high-end French cookware brand, famous for its colourful cast-iron cookware. Le Creuset's pots and pans are considered some of the best available as they are very durable, heat evenly and have an enamel coating that stops food from sticking to them. However, they're also very expensive.
If you want something similar to Le Creuset cookware but at a lower price there are a number of options out there. We've researched the market and picked out some of the best Le Creuset alternatives available in the UK. These products might not be quite as high quality as Le Creuset's, but they offer good performance at a lower price.
Alternatives to the Le Creuset Signature Cast Iron Casserole Dish
Le Creuset's most famous product is probably this large cast iron casserole dish, or Dutch oven. The Le Creuset Signature Cast Iron Casserole Dish
is available in a range of sizes from 18 to 34 cm and a large choice of colours. It's incredibly tough durable and should last a lifetime. In fact, Le Creuset offer a lifetime guarantee for this product. Like most cast iron dishes, it's quite heavy (the 24 cm version weighs 4.54 kg).
While it offers a lot of advantages, the big downside with this casserole dish is the price. This casserole dish can cost over £200 if you buy one of the bigger sizes, and even the smallest size costs over £100 at the time of writing. Below are a couple of cheaper alternatives.
VonShef 4.5 Litre Enamel Coated Round Cast Iron Casserole Dish
This casserole dish from VonShef looks a lot like the Le Creuset dish, but is much cheaper. It's available in two sizes: 2.5 litres (20 cm) and 4.5 litres (25 cm). The red enamel exterior gives it a similar colourful appearance to the Le Creuset Signature Cast Iron Casserole Dish.
This product is available with a 2-year manufacturer's warranty, which doesn't sound very impressive compared to Le Creuset's lifetime guarantee. However, this pan is likely to last much longer than 2 years. It's tough and well made. As a result it's very heavy (the 25 cm version weighs 5.6 kg), which is worth considering if you're not used to weightlifting!
One of the downsides to this product is that the handles are a bit smaller than those on the Le Creuset dish. Overall though, there isn't much of a difference between this product and the Le Creuset one, except for the big difference in price.
Berndes 1504101 Round Casserole Dish with Lid
This inexpensive casserole dish from German brand Berndes could be a good alternative to the more expensive Le Creuset Dutch oven. It's available in two sizes (20 cm and 29 cm) and comes in a choice of cream/white, green or red. This dish is made out of enamelled cast iron and is oven safe up to up to 280 °C.
This dish looks pretty similar to the Le Creuset one, but is a lot cheaper. It probably won't last as long, and we couldn't find out whether or not this product is available with a guarantee, but it's definitely worth a try given the price.
---
Alternatives to the Le Creuset 3-Ply Stainless Steel Saucepan Set
The Le Creuset 3-Ply Stainless Steel Saucepan Set is a stylish and high-quality set of stainless steel pans. The pans have diameters of 16, 18 and 20 cm and can be stacked on top of each other for easy storage.
These pans are easy to clean, resistant to stains and should stay shiny for years. They also work well with all hob types, including induction. However, like most Le Creuset products, they're very expensive. Here are some cheaper alternatives.
John Lewis 3-Piece 'The Pan' Stainless Steel Saucepan Set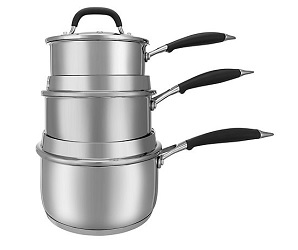 This good-looking set of stainless steel saucepans from John Lewis is smartly designed, with some intelligent features such as capacity markings on the inside so you know how much liquid they contain. They also have silicone rubber handles on the lids which don't get hot, unlike the lid handles on the Le Creuset set which you need to lift with an oven mitt.
The set contains three saucepans with the following diameters: 16, 18 and 20 cm. They work well on all kinds of hob, including induction hobs.
Unlike the Le Creuset set they might start to discolour after a while, but that's not a big price to pay given how much cheaper they are than the Le Creuset set.
ProCook Gourmet Steel Induction 4-Piece Saucepan Set
Not only is this set cheaper than the Le Creuset 3-Ply Stainless Steel Saucepan Set, it also comes with and extra pan. The four pans have diameters of 14, 16, 18 and 20 cm. Each pan has a strainer built into the lid, which is very useful.
These pans are made from 18/10 stainless steel, with a 4 mm base that allows for even heat distribution. Like the John Lewis pans reviewed above, they have some smart design features. These pans have heat-resistant glass lids, stay-cool silicone handles and pouring spouts on both sides, so they're a good choice for left-handed people.
Overall these pans offer great value for money, and it's nice to get an extra pan in the set.
---
Alternatives to the Le Creuset Toughened Non-Stick 3-Piece Saucepan Set
The Le Creuset Toughened Non-Stick 3-Piece Saucepan Set
is one of the best sets of non-stick saucepans you can buy, but it's also one of the most expensive. This set contains three pans in the following sizes: 16, 18 and 20 cm.
These pans are dishwasher safe and can be used on all types of hob, including induction. The non-stick coating is PFOA free so they're safe to use, unlike some non-stick saucepans. While they offer a lot of benefits, these pans certainly aren't cheap. Here are some alternatives that might offer better value for money.
ProCook Gourmet Induction Non-Stick Strain & Pour 4-Piece Saucepan Set
This saucepan set is very similar to the ProCook stainless steel saucepan set reviewed above, but instead uses a PFOA-free non-stick material. This set contains four pans with diameters of 14, 16, 18 and 20 cm. Apart from the reasonable price, some of the best features of this set are the built-in strainers and the fact that the pans are dishwasher safe.
Circulon Infinite Hard Anodised Cookware Set
This saucepan set has a similar price tag to the Le Creuset one, but it contains six pans rather than just three. The set includes three saucepans with lids (16, 18 and 20 cm), a 16 cm milk pan and two frying pans (20 cm and 24 cm).
These pans are dishwasher safe and can be used on all types of hob including induction. You can also put them in the oven (up to a temperature of 240 °C or 475 °F).
The non-stick material used is PFOA free, so it's safe and non-toxic. They heat very evenly, and compare well with the Le Creuset pans in this regard.
Since you get six pieces including two frying pans for roughly the same price as the Le Creuset set, this Circulon set is a good choice if you're looking to stock a new kitchen and want to get more for your money.
ProCook vs. Le Creuset
Le Creuset is a well-known and established kitchenware brand that makes amazing cookware. However, unless you are an extremely passionate home chef or someone that must have the must-haves, Le Creuset is pretty costly.
Plus, who knows if are we paying for the Le Creuset name or the products are really that much better than the competition.
Is Le Creuset really that good? Well, sure, Le Creuset is one of the kitchenware leaders, and they certainly make some fantastic products. Still, the cheaper alternatives are starting to look very appealing to a lot of home chefs.
ProCook is a well-known kitchenware brand as well. Granted, ProCook isn't as well known as Le Creuset. Still, they have a great reputation for making some exceptionally good pots and pans at a very reasonable price.
ProCook also has deals on their website all the time. Right now, ProCook has a sale on where you can get 50% off loads of their amazing cookware. This means that you can buy a full set of ProCook saucepans, some sets also include a frying pan, for the price of one Le Creuset pot!
But how? Surely the quality of the saucepans must be far inferior? Well, not necessarily.
ProCook has some fantastic saucepans. They have a triple-ply construction that holds heats really nicely. They have cool-touch handles that are stainless steel and nice glass lids with excellent handles. Plus, all ProCook kitchenware comes with a 25-year guarantee. And they look great in your kitchen too. Le Creuset does offer a lifetime guarantee on some of their products, but not all of them.
So, which is better? Well, for a large number of home chefs and people who love cooking and want the best cooking equipment but don't want to spend the earth, ProCook will give you this and more.
Their saucepans, frying pans and everything else are made with the best possible materials and feel great to use. Of course, Le Creuset kitchenware feels great to use too and will likely last a lifetime of use. But the price tag is far higher.
If you are looking for a well-built, reliable and trustworthy replacement for Le Creuset, ProCook is one of the best bets on the kitchenware market. They make fantastic kitchenware that stacks up amazingly well against even the top brands like Le Creuset!

Chef's Pick is your guide to the best kitchen equipment and appliances in the UK.
We help you understand the confusing world of cookers, ovens and cookware so you can get the most out of your kitchen.