Buying saucepans can be an exciting time for any home chef. However, this excitement can be short-lived if you don't buy the right saucepans.
Suddenly, you have more food stuck to the bottom of the saucepan than you have on your plate, and you spend years cleaning them with no avail and cooking, the hobby you loved the most in the world, becomes just another dreaded chore.
This is slightly dramatic we know, but a good set of saucepans can save you a lot of annoying hours spent scraping burnt food off the bottom of pans and provide you with an easy and pleasurable way of cooking your family a great meal.
So, today we're looking at saucepans, if you hadn't guessed already. Below are the best sets of saucepans in the UK right now.
Whether you have just moved into your new uni digs, in with your partner for the first time or your new family home, there is a set of saucepans on this list for you.
Best Saucepan Sets in the UK
1. Tefal Essential Cookware Set
This essential cookware set from Tefal is perfect for anyone starting from scratch. If you have nothing to cook in, this set is going to provide you with everything you could possibly need to cook in for years!
This set comes with two frying pans and three saucepans with lids. Every piece of this set is non-stick and has an easy-to-clean exterior.
The frying pans in this set also come with the Thermospot. This is a red dot in the middle of the pan that lets you know when the pan is ready to fry, a very simple little red dot that helps you control your cooking perfectly.
Plus, every piece of this set (including the saucepan lids) is dishwasher safe making cleaning even easier!
Pros
Extremely durable, this set will last you years
Non-stick
Holds the heat very well
Very affordable
Cons
Summary
We said above that there was a set of saucepans on this list for you whether you were moving into your first uni home, with your partner or into a new family home, well, honestly, this is perhaps the perfect saucepan set for all three of these scenarios!
They offer great control when cooking, will last years and be easy to clean for that whole time!
2. ProCook Gourmet Induction Non-Stick Strain & Pour Saucepan Set

This Procook Gourmet saucepan set was certainly designed for a serious home cook! Every saucepan in this set (you get four altogether) comes with a lid that offers very quick straining and pouring.
So, whether you are making soup or boiling some veg, these saucepans come in very handy!
You have all the sizes you need with this set too. From a small 14 cm saucepan for sauces and things to a massive 20 cm saucepan for the most amount mash potato anyone has ever seen!
Of course, as these are made for the more advanced household chef's, it goes without saying that they are non-stick. They are also suitable for use on gas, electric, halogen, ceramic, glass and induction hobs. So, no matter what you like to cook on, these saucepans are perfect for you.
Pros
Induction hob safe
Non-stick
Professional quality
Strain, drain and pour lids are a godsend!
Cons
Handles and lid handles do get quite hot
If you love cooking, or just like cooking to be easy, you have to try these Procook saucepans. This set will set you up for years and provide extremely easy and enjoyable cooking for the foreseeable future!
3. John Lewis & Partners Classic Stainless Steel Saucepan Set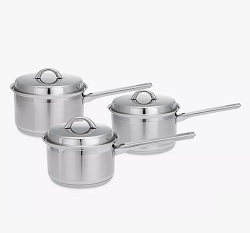 These John Lewis saucepans are for the chef of the home. They certainly aren't the saucepans for you on this list if you are on a tight budget, but they are incredible and worth their price tag.
These saucepans are made of stainless steel which provides excellent durability. They have a 6mm aluminium base that disputes heat evenly and retains heat perfectly.
Each Classic saucepan from John Lewis has a liquid indicator inside for more control while cooking. Plus, one of the best features of these saucepans is the stepped non-drip pouring rim. You can pour stuff out of the saucepans, but the rim actually helps to prevent things boiling over.
Pros
Professional look and quality
Induction hob compatible
Non-stick
Loads of sizes and pots and pans to choose from with the same style
Cons
The handles heat up a lot during cooking. We know these are metal handles, and they will heat up during cooking, but if you aren't used to that, you may burn yourself, so be careful!
Expensive, but the majority of users don't mind the price because the quality is so good.
Summary
These saucepans are expensive, there's no getting around that. However, they will probably last you the rest of your life and provide you with enjoyable cooking for the entire time! If you are a passionate chef, these will help you take your cooking to the next level!
4. Le Creuset 3-Ply Stainless Steel Saucepan Set
Le Creuset has been a cookware leader for the past 100 years. So, it goes without saying that these saucepans are some of the best that you can buy!
These three-ply stainless steel saucepans provide expertly distributed heat from the base to the rim, making cooking or boiling anything easy and quick.
This set provides all the saucepans you can need and the lids to go with them. What's more, they are stackable saving you space and dishwasher safe, making cleaning a dream.
They also have professional quality handles and "handle helpers" so you'll never lose your grip or your dinner again!
Pros
Stylish and professional
Induction hob compatible
Grill, freezer, hob, oven and dishwasher safe
Energy efficient
Cons
Summary
This is a professional-grade set of saucepans for the home perfect for any family that is serious about cooking!
5. ProCook Gourmet Steel Induction Saucepan Set
We have another set of Procook saucepans on this list for good reason, they are amazing! This set can be used on any hob and is totally dishwasher safe.
Each saucepan is also made from the highest quality of stainless steel possible to provide the best heat distribution possible. However, unlike the other pro-grade saucepans on this list, these Procook ones have stay-cool silicone handles.
So, if you want to take your cooking skill to the next level but are worried about using metal handles, these are the best saucepans on this list. They provide the quality and cooking power you need, but won't cook your hands as well as the food!
Pros
Professional-grade quality
Beautiful styling
Induction hob compatible
Dishwasher and oven safe
10-year guarantee
Cons
Summary
If you want to start getting serious about cooking, these are the best saucepans on this list for you. For the price, they are outstanding value and will help you create stunning dishes for your family and friends.
How to Choose a Saucepan Set
When choosing a saucepan set, it is worth taking some time to think about what you'll be using your saucepans for.
For example, if you'd like saucepans that you can transfer into a hot oven, you will need to choose a saucepan set that has handles and non-stick coatings that can cope with this heat. Here's how to choose the right saucepan set for your needs.
Pan material
The material that your saucepans are made from is really important. The material determines how quickly and evenly the saucepan heats up.
It also determines how strong your saucepan will be. Aluminium, for example, isn't as strong as stainless steel or carbon steel, but it heats up quickly.
Cast aluminium, though, is nice and strong but also has some brilliant heat distribution properties. Saucepans can be made from a number of materials, including:
Stainless steel – Strong, holds heat, not suitable for all hob types (depending on the grade).
Carbon steel – Very strong, hold heats nicely, takes a while to heat up and can rust unless seasoned.
Aluminium – Very quick to heat up, but lacks some strength
Copper – Heats up fast, but is the weakest material
Cast Iron – Super strong, hold heat brilliantly, but takes longer to heat up, also can rust unless seasoned and combinations of these materials
Many good quality saucepan sets are made from a combination of these materials, typically stainless steel and aluminium. This combination provides strength and brilliant heat distribution. It also allows the saucepan to work on most hob types, but more on that in a bit.
The saucepans that you choose should be made with a good quality grade of your chosen material. That way, they will last you many years.
Handles
Many saucepans have plastic handles which are fine if you only intend on using your saucepans on the hob.
However, if you want to use saucepans in the oven, you may want to consider buying saucepans with metal handles and no non-stick coating (more on that in a moment).
While plenty of plastic handles state they can go in the oven, there is typically a temperature limited on the handles. This can stop you from using the saucepans in the oven at higher temperatures and can be frustrating.
If you don't intend to use your saucepans in the oven, basically any handle material will work for you. Still, it is probably worth buying saucepans with plastic handles as they don't heat up during use.
Non-stick coating
Most non-stick coatings on the market now are PFOA-free or completely natural. Chef's Pick always tries to include these non-stick coatings on our website rather than any that could release harmful fumes and chemicals into your home.
If you intend to use your saucepan sets in the oven, it might be worth buying stainless steel saucepans or cast-iron ones. These don't require a non-stick coating, and these coatings can breakdown in the oven at higher temperatures. Again, if you don't want to use your saucepans in the oven, a good quality PFOA-free non-stick coating is a fantastic choice.
Brands
There are some brilliant saucepan brands available in the UK right now. Our favourites, though, are brands like ProCook, Le Creuset and Tefal.
Tefal offer really brilliant saucepan sets for those cooks that just want simple to use cookware. ProCook offers affordable, professional saucepans that will last you many years to come.
Le Creuset makes the finest cookware in the world, in many chefs' opinions. It will last decades and is a joy to use but come with a steeper price tag.
Hob types
Lastly, think about the hob type you have currently and the hob types you may have in the future. As we said, a lot of our favourite saucepans last many years.
If you're considering owning an induction hob in the future (or you dream of owning one), it's good good to know that your saucepans will work on that hob too.
After all, ProCook and Le Creuset saucepans will be in your home for a decade or more, so make sure you can use them on the hob you own and may want to own in the future.
What Is a Saucepan?
A saucepan is a high-sided pan that has a lid and a handle.
They are designed to fit more liquid than a frying pan or a shallower pan. This means that they are perfect for boiling water for veg or pasta, reducing sauces, or making stock or soup.
The tall sides of a saucepan also distribute heat throughout the liquid you put in the pan too.
A frying pan typically has a large, flat-bottom that means all of the heat is focused into the bottom of the pan, allowing you to fry and sauté things.
Saucepans, on the other hand, have a smaller base and taller sides. This means that the heat is distributed from the base into the sides. Thus, it heats the contents much more evenly, allowing water (and anything else) to boil quicker.
The taller sides of a saucepan also help to keep moisture in, making them even better for boiling and making sauces. A frying pan's shallower sides allow moisture to escape, which is important in lots of cooking tasks you'd use a frying pan for.
What Is a Saucepan Used For?
As the name would suggest, saucepans are perfect for making sauces, reducing water and other ingredients down into a delightful blend of flavours that can be used to dressed a whole variety of meat and veg.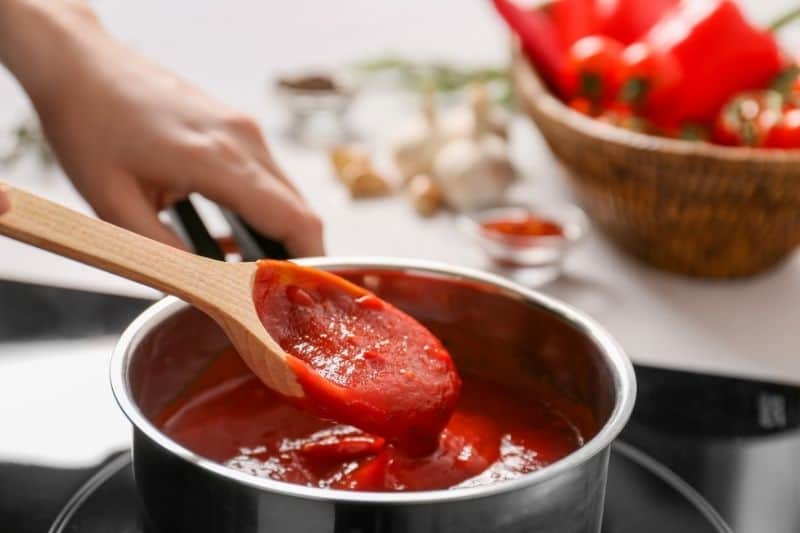 However, because of their taller sides, saucepans can also be used to boil pasta and veg, for example. They can also be used to create stock, braise, and deep fry. A
All of these cooking tasks are about heating the contents as rapidly as possible, which a saucepan was literally designed to do.
Can You Use a Saucepan as a Replacement for a Frying Pan?
Saucepans are designed to keep moisture in the pan for as long as possible. This is why they have tall sides to stop moisture from escaping. This stops boiling water from escaping too quickly, sauces from reducing too rapidly, and stock from turning into a jus.
Frying pans, on the other hand, have short sides to allow moisture to escape quickly. As moisture leaves a steak in a frying pan, for example, it will quickly evaporate, meaning the pan doesn't cool down and can continue to brown the steak.
If you were to try and fry a steak in a saucepan, the tall sides would trap this moisture in the pan.
This is a cooking technique called 'braising', and while it is a valid cooking method for cooking steaks, it may not be the desired cooking method.
Braising uses heat and moisture to break down the connective tissues in meat for very tender and moist meat. Frying doesn't do this. So, while you could absolutely cook a steak in a saucepan, it would be a different method of cooking to a frying pan.
You could use a saucepan instead of a frying pan, but it isn't a direct replacement. A saucepan cannot fry things because it is designed to trap moisture in and does this very well.
Frying pans are designed to let as much moisture escape during cooking as possible. That's why if you fry onions in a frying pan, they come out brown and crunchy, and if you cook them in a saucepan, they come out wetter and softer.
Both are valid ways of preparing onions; it just depends on the dish you are making.
What Materials Are Saucepans Made From?
Saucepans can be made from loads of different materials, but the most common materials are stainless steel and aluminium. Both of these materials have excellent heat retention and can handle the high heat needed to boil and braise.
What Can I Use Instead of a Saucepan?
Hopefully, you can begin to see a common thread between saucepans and holding in moisture as you cook throughout this article. To lock in moisture as you cook, a saucepan is an ideal pan to use.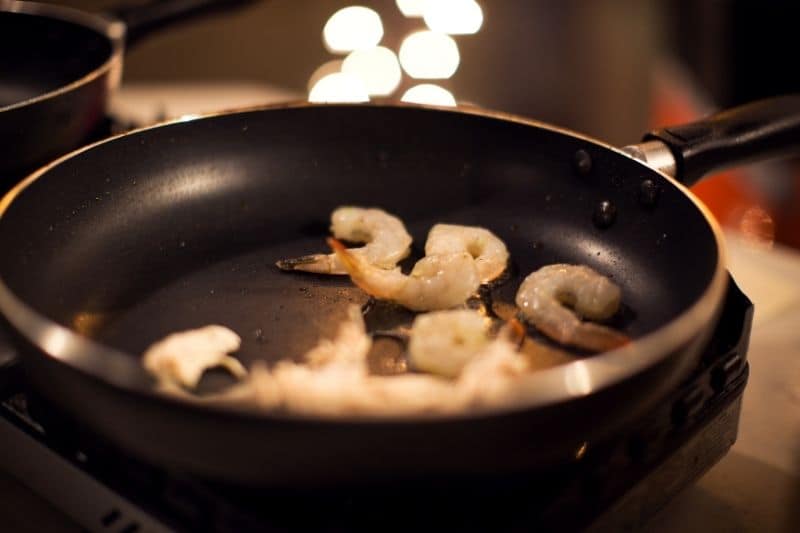 However, if you don't have a saucepan right now, you could use a sauté pan. A sauté pan is a cross between a frying pan and a saucepan. It has taller sides than a frying pan (not as tall as a saucepan), a large flat base, and a lid.
All of this means that a sauté pan is perfect for braising tasks but can be (and has in our household) used for boiling too.
You could also use a frying pan and fashion a lid out of a baking tray too. This can work, but boiling pasta, for example, in a frying pan this way can be dangerous and frustrating.
Do I Need a Saucepan?
If I were setting up my kitchen from scratch all over again, one of the first things on my shopping list would be three good-quality saucepans. A small, medium, and large saucepan.
The large saucepan can be used for boiling potatoes or pasta. The medium one can be used for veg and the smaller one for sauces.
Saucepan sets are not too expensive, and you can do a lot with three saucepans. In fact, you can do loads with a single saucepan.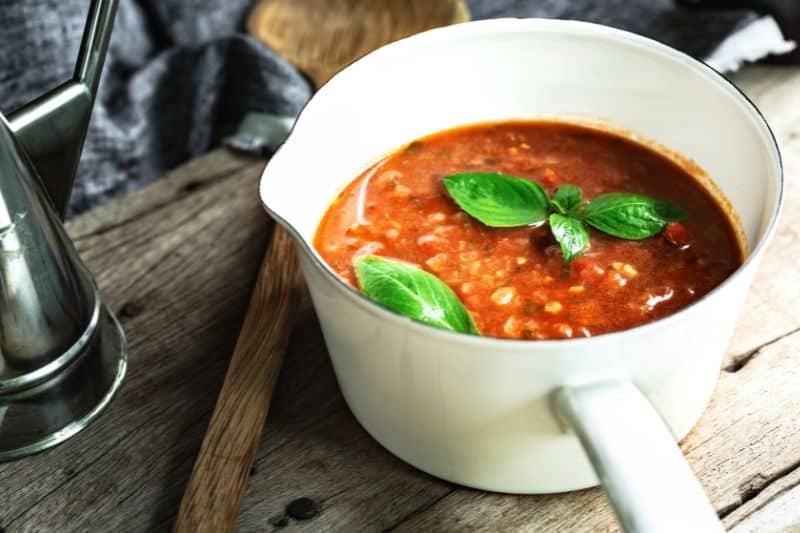 I would say that for just about any home cook in the world, a saucepan is a vital piece of kitchen equipment. So, if you don't own a saucepan at the moment, it is well worth getting at least one, but consider getting a few in different sizes.
When to Replace a Saucepan
If your favourite saucepan is looking a little worse for wear, you may be thinking that it's about time to replace that saucepan. When is the best time to replace a saucepan?
When is the right time to send it off to that great kitchen in the sky? Well, let's find out.
Non-stick and traditional saucepans do wear out at different rates but don't worry, we've included when to replace both below.
When to replace a non-stick saucepan
Most people who know a lot about saucepans say that you can enjoy five years of use out of a non-stick saucepan.
Of course, five years of a saucepan's life can vary greatly depending on the household it is being used in.
For example, if someone only has one saucepan that they use for every cooking tasks, while someone splits cooking tasks among three saucepans, the first saucepan in this scenario is going to have a much harder life.
So, generally speaking, a non-stick saucepan should be replaced when the non-stick surface has started to peel or you notice any pitting on the surface.
When a non-stick saucepan begins to peel, the coating ends up in your food. Medically, that isn't great for you, and it certainly doesn't do much for your pasta sauce either!
Non-stick coatings can peel because of heavy use. However, typically, a non-stick coating of a saucepan will begin to deteriorate because of the use of metal utensil or scrubbing with Brillo pads, for example.
If you care for your saucepans, don't get them too hot without water or sauce in them, don't use metal utensils and are careful when cleaning them. You can achieve this magical five-year lifespan.
When to replace a traditional saucepan
A traditional saucepan without a non-stick coating is a bit different. If you season a saucepan and keep topping up this seasoning, it will likely last a lot longer than five years.
If you notice sauces sticking to your saucepan, you can, of course, top up the seasoning.
In extreme cases, you can also remove the old seasoning all together and start from scratch again. Plus, if you use a traditional saucepan exclusively for boiling, you may never need to worry about seasoning it. You'll have to take extra care when boiling rice in this case though.
So, a traditional saucepan will only need to be replaced if there are large dents or heavy scratches from metal utensils.
Of course, the best things about a saucepan without a non-stick coating is that you can use metal utensils and don't need to be as careful. However, if these scratches are really deep, replacement may be your only option. The seasoning may not be able to penetrate into the scratches enough to create a non-stick layer in this case.
We hope this look at replacing saucepans has been helpful. In general, a good quality, non-stick saucepan that is looked after will last about five years.
A traditional saucepan with the same amount of care will last perhaps 10 years or more in the right kitchen. Still, if your non-stick coating is peeling or your seasoning is failing to do the job it once did, and you've tried to re-season the pan without success, a new saucepan is your best bet.
Conclusion
We hope this look at the best saucepans in the UK has been helpful in your search for saucepans. If you are still hunting for other kitchen products, check out our website further. We have everything you need to create a kitchen that is the heart of your home.

Chef's Pick is your guide to the best kitchen equipment and appliances in the UK.
We help you understand the confusing world of cookers, ovens and cookware so you can get the most out of your kitchen.