Stainless steel is a popular material used for making pans as it's durable, nonreactive and resistant to rust and scratches. On this page we'll share some tips for choosing stainless-steel pans as well as reviews of some of the best you can get in the UK right now.
Best Stainless-Steel Cookware Sets in the UK
1. John Lewis & Partners Classic Stainless Steel Saucepan Set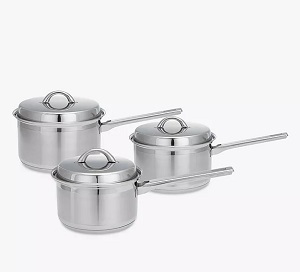 Set includes: Three saucepans (16, 18, 20 cm)
Non-stick? No
Made of premium-grade stainless steel, these saucepans have a clean and elegant appearance. Their gleaming, reflective surfaces will add brightness to your kitchen.
Whether your kitchen is more contemporary in style or more traditional, the saucepans will fit well with the decor.
The diameters of the three saucepans are 16, 18, and 20 centimetres, and their capacities are 1.5, 2, and 2.8 litres.
They're reassuringly sturdy without being too heavy. One of the reasons they're easy to manoeuvre is that their handles are designed to stay relatively cool.
If you're busy and need to minimise the time spent washing up, you'll be happy to know that these saucepans are easy to clean and safe for dishwasher use. You can also count on their durability.
They may be relatively expensive, but they're an excellent investment and can last for decades in good condition. The materials they're made of give them a resistance to corrosion.
If you have an induction cooktop, these saucepans will be compatible with it, and they're good for other kinds of hobs as well. They're also safe for oven use, assuming you don't let the oven temperature exceed 180 degrees Celsius.
One potential drawback to using them is that they don't have non-stick surfaces. You also can't pop them into a microwave.
All in all, these are impressively durable saucepans that cook efficiently. They also have a sleek, shining elegance that makes them a prized addition to a kitchen.
2. Tefal Ingenio Pots and Pans Set
Set includes: Two frying pans (22, 26 cm), three saucepans (16, 18, 20 cm), six lids, two removable handles
Non-stick? Yes
We understand that this Tefal pots and pan set may not be to everyone's taste, but it's actually causing quite the stir for many home cooks.
This pots and pans set looks like it would be right at home in a caravan, but it is one of the most professional cook sets on the market right now and perfect for everyday use.
With this set, you get 13 pots and pans that are designed to work with induction hobs. You get two handles that can be used on any of the pots and pans and lids for the pots too.
Of course, thanks to the removable handles, any of the stainless-steel pots and pans in this set can be used in the oven.
As I said, this pot and pan set from Tefal may not appeal to everyone, but it is one of the most versatile cook sets on the market right now.
3. Stellar 7000 S7C1D Five-Piece Set of Stainless-Steel Pans
Set includes: Three saucepans (16, 18, 20 cm), 14 cm milk pan, 26 cm frying pan
Non-stick? Yes (frying pan only)
If you cook only casually and occasionally, this five-piece set is probably overkill. These pans have been designed to meet the standards of professional chefs, so they're a good choice if you take your cooking more seriously.
The set is made up of a milk pan measuring 14 centimetres, a frying pan that's 26 centimetres, and three saucepans at 16, 18, and 20 centimetres.
The glass lids, which are resistant to shattering, allow you to monitor your cooking.
Each piece comes with a lifetime guarantee for durability, and the frying pan has a non-stick coating that should last for at least a decade. It's also resistant to scratches.
Made of mirror-polished stainless steel, these pans have a strikingly beautiful appearance. But their chief advantages are their durability and the way they allow for versatile and easy use.
They're compatible with every type of hob, including induction, gas, and halogen. You can also place them in the oven at a temperature of up to 210 degrees Celsius.
What's more, the pans contain markings for pints and litres, helping you quickly assess the appropriate measurements. The lids have strainer holes, and each saucepan has been manufactured with a wide lip that allows for tidier pouring.
With the exception of the frying pan, the set can handle dishwasher use, and it's relatively easy to keep each pan clean.
One word of caution is that the handles of the lids can get quite hot, making protection for your hands essential.
Otherwise, the pans have garnered positive reviews for their beautiful and functional design and the way they distribute heat with reliable evenness.
4. Prestige Everyday Milk Pan, Saucepan and Frypan Set of Five

Set includes: Three saucepans (16, 18, 20 cm), 14 cm milk pan, 24 cm frying pan
Non-stick? Yes (milk pan and frying pan only)
If you're looking for a relatively affordable set of pans, this set of five is an excellent choice. Although it isn't expected to be as durable as a set that costs twice as much, each pan is still hardy and distributes heat well.
The set is comprised of a 24-centimetre frying pan, a 14-centimetre milk pan, and three saucepans that range from 16 to 20 centimetres.
The pans are compatible with dishwasher use, and the milk pan and frying pan have a non-stick surface, making it easier for you to transfer food and clean up afterwards.
The pans work well with induction cooktops and other hobs. You can also place them in the oven, provided the temperature doesn't exceed 180 degrees Celsius.
The riveted handles are sturdy and easy to grip, giving each piece a decent manoeuvrability. Another perk is that the saucepans come with glass lids that are strong and fit well.
One complaint about the pans is that they may stain fairly quickly. Even as they continue to function well, their appearance won't necessarily remain as shining and pristine as you may like. However, they still provide good value for the relatively low price.
5. Le Creuset 3-Ply Stainless Steel Saucepan Set
Set includes: Three saucepans with lids (16, 18, 20 cm)
Non-stick? No
Le Creuset is one of the most highly regarded cookware brands, so it's not surprising that they make some of the highest quality stainless-steel saucepans on the market.
This 3-piece set is a good choice if you're looking for something pans that will last for years and don't mind investing a bit of money in them. These pans aren't cheap, but they are very well made.
The pan diameters are 20 cm, 18 cm and 16 cm, and you can stack them on top of each other to save storage space. Buying a set like this rather than a single pan gives you the ability to cook bigger and complex meals and choose the right pan size for each job.
Each pan has a metal lid which fits well, but doesn't let you see what's going on like a glass lid would.
The pans are designed with three layers; there is one layer of aluminium between two layers of stainless steel. This helps to make sure heat is spread out uniformly.
This design feature helps overcome one of the common issues with stainless-steel pans which is that the heat can be uneven, causing overheating in some parts of the pan.
These pans can be used on every kind of hob, including induction hobs. They're also dishwasher safe and can be used in the oven up to 260°C. These Le Creuset pans are built to last and come with a lifetime guarantee.
6. Stellar 1000 S1A4 Set of 4 Stainless Steel Pans
Set includes: Three saucepans with lids (16, 18, 20 cm)
Non-stick? No
This beautiful set of stainless-steel pans from Stellar is made from 18/10 stainless steel. This is what gives this set of pans its lovely, shiny, glossy look.
The shine is complimented nicely by the classic curved shape, which offers a wonderfully traditional but practical cooking experience.
Each pan in this four-saucepan set is made entirely from stainless steel too. So, all of the pans can be used in the oven, put in the dishwasher and used on any hob type.
The thick, hot forged base also provides excellent heat distribution. So, not only do these pans look fantastic, but they work brilliantly in any kitchen too.
These will be workhorses you'll use every day, and they'll look great for years to come.
7. ProWare Stainless Steel Tri-ply Induction Cookware Set of 6
Set includes: Four saucepans with lids (14, 16, 18, 20 cm), 24 cm stockpot, 24 cm frying pan
Non-stick? No
If you're looking for a collection of stainless-steel pans to completely kit your kitchen out with, you can't go wrong with this set from ProWare.
Included with this set are four saucepans ranging from 14 to 20 cm, a 24 cm stockpot and a 24 cm frying pan.
The three larger saucepans come with lids; the smallest one acts as a brilliant milk pan. The stock pot also comes with a stainless-steel lid.
All of the pans in this set feature stainless handles so they can be used in the oven, thrown in the dishwasher, and all are compatible with every hob type.
All of the handles on the pans and the lids are also riveted in place with stainless steel rivets. This not only means they are robust and really durable, but they give the pans a wonderfully polished and finished look too.
Pros and Cons of Stainless-Steel Pans
Stainless steel is generally regarded as one of the best materials for making pots and pans. However, there are some disadvantages to using stainless-steel pans. Here's an overview of the pros and cons.
Pros
Rust and scratch-resistant
Dishwasher safe
Durable and last a long time
Nonreactive
Cons
Relatively ineffective at conducting heat
Poor heat distribution
Food can stick
How to Choose Stainless-Steel Cookware
Like most products, there is some special terminology you need to understand when choosing stainless-steel pans.
Stainless steel grades
Stainless steel pans aren't made from 100% stainless steel, but rather contain a mixture of metals, in particular chromium and nickel. They are graded with two numbers, the first of which refers to the percentage of chromium and the second of which refers to the percentage of nickel. The three most common grades are 18/10, 18/8 and 18/0.
18/10 stainless steel contains 18% chromium and 10% nickel. This is one of the most popular grades of stainless steel used in pans. It's more expensive than other grades, but has a better shine and is more rust-resistant.
18/8 stainless steel contains 18% chromium and 8% nickel. It's cheaper than 18/10 stainless steel but has some of the same benefits.
18/0 stainless steel contains 18% chromium and 0% nickel. It's the cheapest type of stainless steel but isn't as durable as the other types.
Are stainless steel pans suitable for all hob types?
18/10 grade stainless steel pans can be used on any hob type. Most stainless steel pans these days are induction compatible, but you should check this before buying as there are some exceptions. See our roundup of the best pans for induction hobs if you're not sure.
How much do stainless steel pans cost?
Stainless-steel pans tend to be more expensive than aluminium pans but not as expensive as copper pans. The price varies a lot depending on the brand and size of the pan.
The cheapest stainless-steel pans cost less than £10, while the most expensive from brands such as Le Creuset can cost over £100.
What is the best thickness for stainless steel cookware?
When it comes to stainless steel cookware, the general rule is, "the thicker, the better".
The cheapest stainless-steel cookware on the market is likely to have a thickness of around 0.5mm. While you can certainly cook with this cookware, it likely won't stand up to too much abuse in the kitchen.
Stainless steel is certainly a hardy material, but when it is this thin, it is easily damaged.
Professional stainless-steel cookware typically has a thickness of around 5mm. This means that the pans are heavy but really robust.
The thickness also means that heat is held in the pan. Thicker pans will take longer to heat up and distribute the heat, but when they get to cooking temperature, they will stay there for longer.
So, if you're wondering which stainless-steel pans to buy, try and avoid anything really cheap. They will be made from very thin stainless that will likely bend over time.
Instead, try and find thicker pans within your budget. That way, you can enjoy amazing heat retention and feel the quality with each use.
When should you replace a stainless-steel pan?
If you take care of a stainless-steel pan, in theory, the pan will last a lifetime. This is why we recommend buying stainless steel pans that are the best quality you can afford.
If you do, the chances are very high that the pans will be in your kitchen forever; you may even pass them down to your kids.
If you buy cheaper stainless-steel cookware, this often means the metal is much thinner. This means the pans are much more likely to warp during use.
They can also get pitting over time as the finish of the metal isn't as good, and some stainless-steel pans can even rust over time.
So, buy good quality stainless steel pans, clean, use and store them properly, and you'll likely find you won't ever have to buy another pan again.
Are Stainless-Steel Pans the Best Type of Pan?
Many professional and home chefs swear by stainless steel pans, and this may have convinced you that these pans are the best.
But are stainless steel pans really the best for you to have in your kitchen?
Well, like many other cooking questions, it greatly depends on how you like to cook and the type of cooking you do.
One of the reasons many people love stainless-steel pans is because they are uncoated. This means that these pans can go in the oven at any temperature, and there is no coating to react to certain types of food.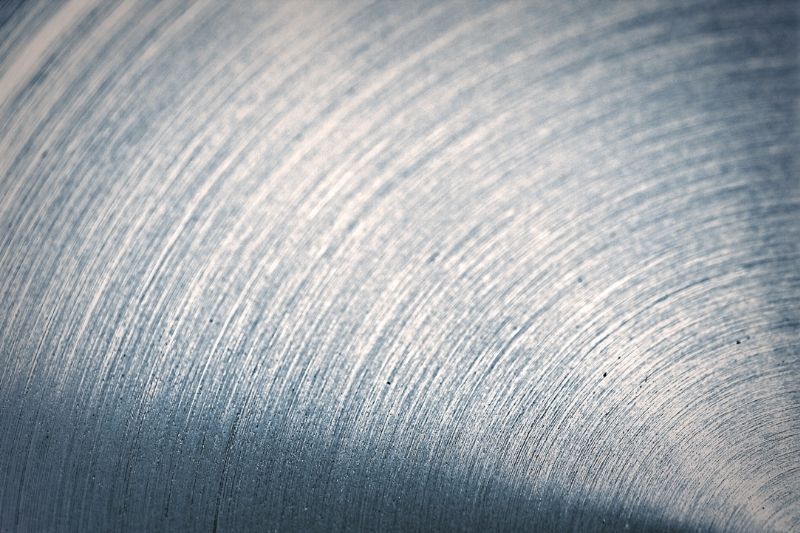 The surface of a stainless-steel pan is also very hard-wearing and long-lasting. This makes it a workhorse in the kitchen.
Another great thing about stainless steel is that its structure is very uniform. This means that the pans will heat up very evenly and maintain this heat very well while cooking.
So, for browning and braising tasks, they are really hard to beat. But you can use stainless steel pans for nearly any type of cooking task!
Some of the pros of stainless-steel pans include the following:
Durable
Easy maintenance
The surface doesn't react to food
Uniform heat
Dishwasher and oven safe (depending on handle material)
So, it sounds like stainless steel pans really are the best type of pans on the market, right?
Well, there are some considerations to think about.
Here are a few cons of stainless-steel pans:
Can be tougher to clean
Nowhere near as non-stick as a non-stick frying pan
If you are just starting your cooking quest, it might be worth buying non-stick cookware and getting to grips with that first.
Stainless steel doesn't have the non-stick properties of other cookware, and so you may struggle with it, to begin with. If you are already a seasoned home chef, you may not have these issues.
However, it is also worth having a non-stick pan in your cookware arsenal for certain cooking tasks like cooking pancakes and frying eggs.
We would estimate that 90% of home cooks that swear by stainless steel cookware also have a secret non-stick pan hidden away in their cupboards for cooking things that are prone to sticking.
If you love cooking and want to take your cooking to the next level, stainless steel pans can help you reach that level. However, either keep your old non-stick pan or invest in a cheap, good-quality non-stick pan so that you can tackle these stubborn cooking tasks too.
We love stainless steel pans just as much as the next home chef, but there are certain tasks that these pans are not the best at.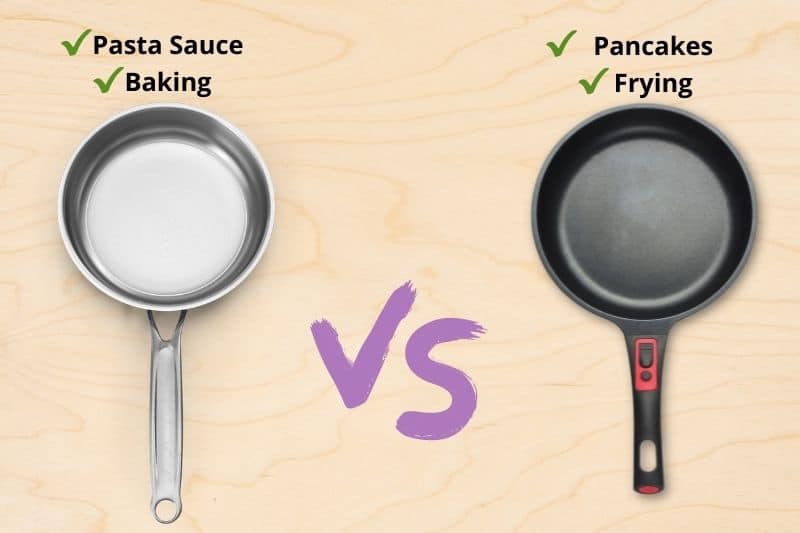 For pasta sauce, braising, and many baking tasks along with much, much more, stainless steel is really unbeatable and a real asset to your kitchen toolbox.
Should you buy some stainless-steel pans? Just like many other Chef's Pick articles, this one will end with "it depends on the type of cooking you do".
If you do now think stainless steel pans are perfect for you, take a look at the best stainless-steel pans in the UK right now.
If you'd also like a cheeky non-stick pan that you can hide away in your cupboard, we have an article about those too!
In fact, Chef's Pick has an article about all the cookware, ovens, and hobs you could ever need!
Conclusion
If we had to pick just one stainless-steel cookware set it would be the John Lewis Classic Stainless Steel Lidded Saucepan Set as they are sturdy and well made, induction compatible, and much more affordable than alternatives from brands such as Le Creuset.

Scott is a writer and a passionate home chef. His passion for cooking began when he was 10 years old. Scott has been writing professionally for over five years now and loves to combine his passion for cooking with his day job.