Non-stick saucepans are something of a staple in most kitchens. We've all experienced the annoyance of using a saucepan without a non-stick coating and then cleaning it afterwards.
However, what are the best non-stick saucepans in the UK? Well, we've researched the market and picked out some of the best options.
Best Non-Stick Saucepans in the UK
1. Tower Cerastone Forged Pan Set with Non Stick Inner Coating
Set includes: Three saucepans and lids (18, 20 and 22 cm)
Materials: Steel base, aluminium body, Cerastone non-stick coating
The Cerastone coating of these saucepans allows you to cook with less oil, so for the health conscious of us, they are perfect. The silicon handle also means that they are safe to pick up even after being on the hob for a while.
These saucepans are made of forged aluminium so they are as tough as old boots and the induction base means that you can get cooking almost instantly.
It seems that everyone that uses these Tower saucepans loves them. In fact, most people have completed their set of pans with even more Tower products after using these pans. We couldn't find much wrong with this set either.
The set includes every size of saucepan you can possibly want for everyday cooking, and the non-stick coating works brilliantly. We can't say more than that, this saucepan set towers above most of the competition.
2. Circulon Premier Professional Pans Set of 5
Set includes: 14 cm milkpan, 16 cm and 18 cm saucepans, 20 cm stockpot, 20 cm skillet, lids
Materials: Hard anodised aluminium body, stainless steel base, non-stick coating
This amazing set of professional pans from Circulon is perfect if you have nothing to cook with right now.
In this set, you get a milk pan, two saucepans, a stock pot and a frying pan. All of them are suitable for induction hobs, and all come with a premium non-stick coating.
Circulon gives you everything you need in this set. You can use the stock pot for cooking chilis or a massive amount of pasta.
The saucepans are a great size for any boiling task. The frying pan is large enough to cook steaks to perfection, and the milk pan is brilliant for sauces and heating up milk, of course.
Amazingly, this pan set also comes with a lifetime guarantee. It also has the Circulon Hi-Low non-stick coating, which is extremely tough and durable.
So, whether you're looking for your first set of pans or you want some pot and pans that are going to last a very long time, this is an excellent set to choose.
3. Tefal Ingenio Essential Non-stick Saucepan Set
Set includes: 16, 18 and 20 cm saucepans, detachable handle, lids
Materials: Aluminium, non-stick coating
Obviously, Tefal was going to appear on this list. Tefal has been an industry leader in non-stick saucepans for as long as there's been an industry to lead.
This set of saucepans is compatible with all hobs, is dishwasher safe and has an extremely durable non-stick coating perfect for chefs that love a crispiness to everything they cook!
While this set is described as having seven pieces, this is a bit confusing as it only contains three saucepans. The seven pieces include the three saucepans, three lids and a detachable handle that fits all of the pans.
Overall, this set of saucepans is excellent. The handle can be a bit fiddly, but once you've got used to it, it is as helpful as the pans themselves.
The one downside to these non-stick pans from Tefal that we found is that they are a little small, but for a couple or small family, they are wonderful.
4. Le Creuset Toughened Non-Stick Saucepan Set
Set includes: 16, 18 and 20 cm saucepans, lids
Materials: Hard anodised aluminium, stainless steel, non-stick coating
This three-piece saucepan set is guaranteed for life, a tell-tale sign that Le Creuset truly believes in their products. The non-stick coating works excellently and is PFOA free.
The hardened bodies of these pans means that even if you are unkind to your kitchenware, they will last for many years to come.
If you aren't used to having cast metal handles, then you should approach these saucepans with caution each time you use them. Remember, metal handles get hot, so proper care should be taken when cooking with these.
However, for a truly professional feel in your home kitchen, these metal handled, toughened non-stick saucepans are hard to beat. They work great and look like the real deal because they are the real deal.
5. Morphy Richards 970030 Equip Pan Set

Set includes: 16, 18 and 20 cm saucepans, lids
Materials: Aluminium, non-stick coating
Morphy Richards designed the Equip range to provide good quality pans at reasonable prices so that anyone can enjoy cooking.
This pan set has three saucepans (16, 18 and 20cm) to ensure you have all the pans you need to cook just about anything.
Now, yes, this pan set is nice and affordable, but that doesn't mean that Morphy Richards has skimped on quality.
All three pans have a ceramic non-stick coating. This isn't the hardiest of non-stick coatings, but it certainly does a great job and will last a good couple of years of daily use.
This is a classic saucepan set that is really good quality for the money and will last anyone a good few years. It is the perfect saucepan set to buy if you're just dipping your toes into home cooking for the first time.
6. Salter BW02986G Collection Forged Aluminium Non Stick 3 Piece Saucepan Set

Set includes: 16, 18 and 20 cm saucepans, lids
Materials: Forged aluminium, non-stick coating
These three saucepans offer lots of style and functionality. We love the colour of the marble grey non-stick coating on the exterior and interior of these pans; it makes them look wonderful in just about any kitchen.
We also love the shape of the pans. It is a lovely design feature, but it is a practical shape too.
The pans are made from forged aluminium, so they are nice and thick and have a good weight to them.
Forged aluminium is a brilliant material to make a pan out of. And the shape of these pans lends itself to quick heat distribution around the entire pan. And the incredible PFOA-free non-stick coating provides a smooth surface for food to glide over too.
There is a lot to love about these saucepans. The non-stick coating is one of the best on the market, they look and feel great to use, and the price is very impressive too.
7. GreenPan Premiere Stainless Steel Ceramic Non-Stick Saucepan & Lid Set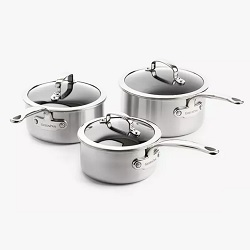 Set includes: 16, 18 and 20 cm saucepans, lids
Materials: Stainless steel, aluminium
GreenPan has created one of the most beautiful and innovative pan sets here. They are made from stainless steel and have a three-ply construction.
The middle layer is aluminium, while the other layers are stainless. The core layer of aluminium distributes heat around the pan really quickly and evenly, and the stainless holds on to this heat.
Then comes one of the toughest non-stick coatings ever put on a pan. It is a ceramic non-stick coating that is enhanced with diamonds to make it almost indestructible.
You can use metal utensils with these saucepans, and they won't bat an eye. This means that you can use less oil while cooking, and clean-up is so easy too.
The non-stick coating is super tough. These saucepans can go in the oven up to 220 degrees Celsius too. That is usually impossible with non-stick saucepans!
There's so much to love about this saucepan set from GreenPan. The style and design are fantastic.
They really do look like professional saucepans. However, they also have the technology to make cooking easy and pleasurable.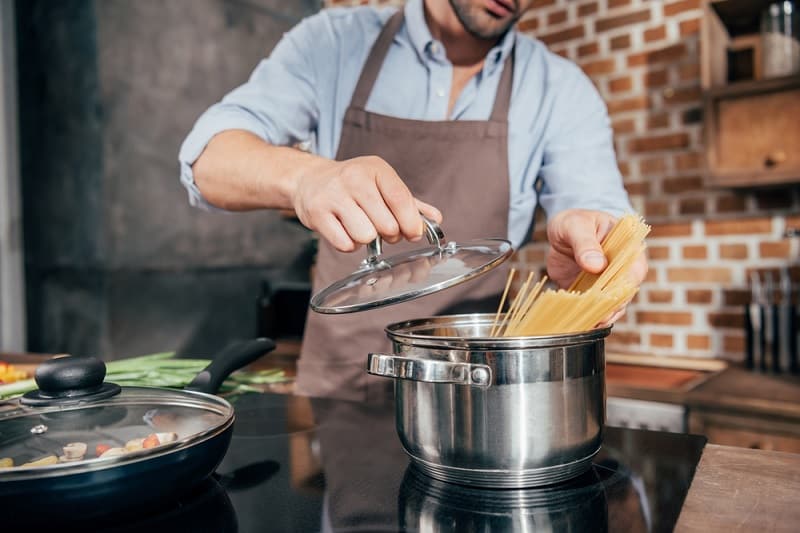 How to Choose a Non-Stick Saucepan Set
There are plenty of saucepan sets on the market right now, as you've likely seen. So, choosing the right saucepan set for your needs can be difficult.
When searching for your new set of pans, there are some things you can think about that should help you narrow down your search, including:
Non-stick coating
We would avoid any saucepans that have a PFOA non-stick coating. While it's on the saucepan, it is relatively safe, but if the coating becomes damaged and starts to chip, it can lead to health issues if it gets in your food.
We prefer a non-stick coating that is made from ceramic or other natural stones. These outperform PFOA non-stick anyway and generally last longer too.
PFOA non-stick coatings are becoming harder to find, but there are still some saucepan companies using it.
Materials
Should your new non-stick pans be aluminium or stainless steel? These are the most common materials for non-stick saucepans to be made from at the moment, but how do you choose which saucepan set is right for you?
Well, both respond well to heat, but aluminium does heat up a bit quicker than stainless. Stainless can come either polished or have a brushed look, while most aluminium saucepans are coated with non-stick on the exterior as well as the interior.
Aluminium is often cheaper than stainless, although you can find some budget stainless pans too. The pans you choose greatly depends on what you like to use, the style you want and the budget you have.
What do you get in the set?
You can see from our non-stick saucepan set list that there are different sets available. Some sets include three saucepans, while others have saucepans, milk pans, stock pots and frying pans included.
If you're starting your cookware collection from scratch, buying a full kit is a great option. Whereas, if you've already got plenty of pans, you may only need two or three saucepans to complete your collection.
Guarantee
Some of the saucepan sets we featured above come with a three-year guarantee, and others come with a lifetime guarantee. The prices tend to reflect how long the guarantee is.
If a saucepan set with a lifetime warranty is a bit out of your budget, but you may be able to stretch to that price, it might be really worth the investment. These saucepan sets are made incredibly well and will likely last you for decades.
Price
We're sure you have a budget in mind for your new pan set, and you'll likely find the perfect set within this budget if you search for long enough. However, it can be worth looking at saucepan sets just outside your budget too.
Let's say you have £200 to spend on a new set of saucepans, but you find some really good quality ones for £250 that come with a lifetime guarantee; they are made from robust materials and have an excellent non-stick coating. It might be worth considering spending that extra £50.
That extra £50 is an investment that is well worth it if the pans are going to last you a lifetime and be a joy to use every day.
We know that cookware budgets can sometimes be set in stone, but if there is some wiggle room, you may be able to find some really high-quality saucepans that you won't need to replace for a very long time.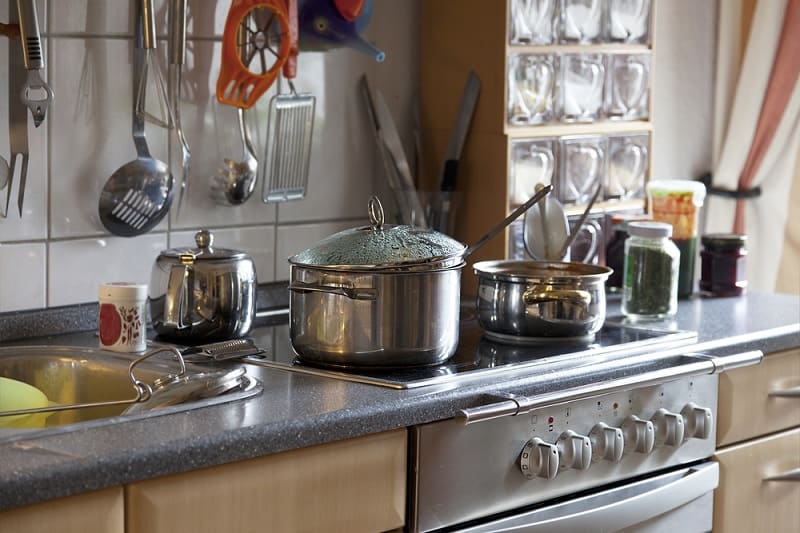 Non-Stick Saucepan FAQs
Are non-stick pans bad for you?
The coating on non-stick pans contains chemicals known as PFOA (perfluorooctanoic acids), the most well known of which is Teflon. If a non-stick pan becomes too hot, this can cause the coating to break down and release particles or toxic gases.
In most cases, this won't happen until the pan goes beyond 260 degrees Celsius (500 degrees Fahrenheit). Beyond this temperature, the non-stick coating begins to break down.
Now, you may think that this is quite a high temperature for a pan to reach. However, an empty non-stick saucepan can reach this temperature within two to five minutes.
Although there have been safety concerns surrounding non-stick saucepans since they were created, the chances of you breathing in enough harmful chemicals to get sick is extremely rare. You would need to heat a massive saucepan up to an extremely high temperature and stick your nose over it for quite some time for it to have any lasting effects on your health.
Are non-stick pans dishwasher safe?
Most non-stick pans claim to be dishwasher safe. However, the super-hot water and the harsh detergents used in dishwashers can make the non-stick coating deteriorate over time.
Having said that, if you use natural cleaners and low-temperature settings to wash your non-stick pans, the coating will survive. But if you are worried about your expensive non-stick pans losing their non-stick powers, you can hand wash them instead.
Do non-stick pans really work?
Yes, they do really work. Throughout history, people have created non-stick coatings on cast iron skillets using oil. When you season a cast iron skillet with oil, you are filling in the gaps in the metal and creating a smooth surface that food has trouble sticking to.
The non-stick coating found on saucepans nowadays is basically an improved version of this method. Using a coating like PTFE fills the pores of the metal and creates a long-lasting, hard-wearing coating that doesn't need to be maintained like an oil coating.
Should you buy a saucepan set or individual pans?
Of course, this is really down to personal opinion and the position your kitchenware is already in. If you are starting from scratch, then buying a set of quality saucepans is a great idea. You can get all the sizes you need and perhaps saves some money.
However, if you already have some pans then buying singles pans to fill a hole in your kitchen is an excellent idea. Basically, we can't really answer this question! It depends on your saucepan needs!
Conclusion
We hope this look at non-stick saucepans has been helpful as you choose your next set. If we had to choose just one to recommend, it would be Tower Cerastone Forged Pan Set since it uses a great PTFE- and PFOA-free non-stick coating, is highly rated by users and is very affordable.
To find out more about other cooking and kitchen equipment products, please explore our website further.

Scott is a writer and a passionate home chef. His passion for cooking began when he was 10 years old. Scott has been writing professionally for over five years now and loves to combine his passion for cooking with his day job.