Here at Chef's Pick, we are huge fans of Le Creuset cookware. It is some of the most beautiful cookware in the world, and it can last decades when looked after.
However, what if Le Creuset fails? After all, this cookware is expensive, and so if it fails, what happens?
Well, today, we're exploring Le Creuset's warranty policies for all of its cookware.
Le Creuset does offer a lifetime warranty for a lot of their cookware. But you may be wondering what this warranty actually covers.
Many cookware companies claim a lifetime warranty and then have more hoops to jump through than Sonic the Hedgehog has seen in his whole life!
So, first, let's look at the cookware from Le Creuset that does have a lifetime warranty and what that warranty covers.
Which Le Creuset Cookware Has a Lifetime Warranty?
Le Creuset covers a lot of its cookware for life. Much of its professional cookware is covered for life. Life, by the way, is from the day you buy your new Le Creuset and for the lifetime of the original owner. The Le Creuset lifetime warranty extends to the following cookware ranges:
Cast iron
3-ply stainless steel
Toughened non-stick (with exceptions – The paella pan, rectangular roaster, square and rectangular grills from the toughened non-stick range all have a 10-year warranty)
Professional hard anodised
Bakeware
What the Le Creuset lifetime warranty covers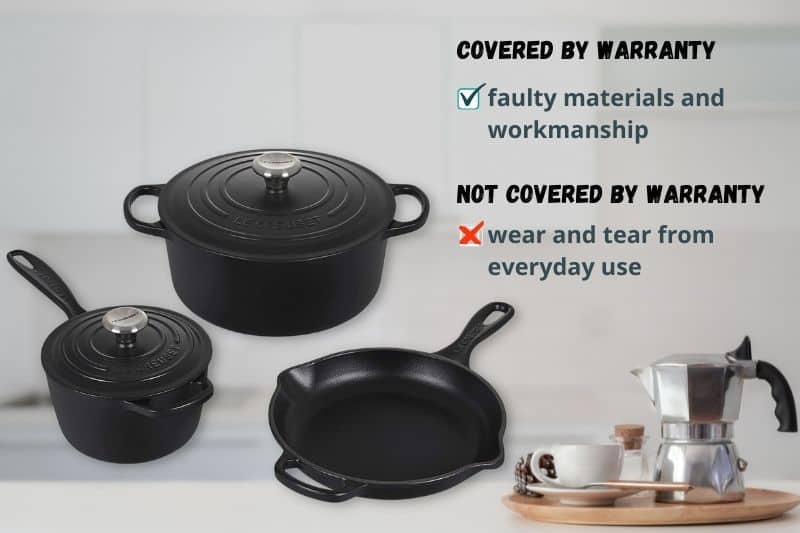 The lifetime warranty from Le Creuset covers faulty materials and workmanship when the cookware is used in typical domestic conditions while following the care and use instructions provided.
This means that wear and tear from everyday use isn't covered; if you drop your Le Creuset and it smashes or dents, that isn't covered, and any other type of misuse.
Interestingly though, if you were to hand your Le Creuset down to your kids or sell it, as long as you are still alive and healthy, the warranty is too. So, if your kids notice the cookware failing, they can return it to Le Creuset and get a new piece of cookware.
Will Le Creuset Repair My Old Cookware?
Le Creuset will try to repair your cookware when you send it back to them. However, if they cannot repair your cookware, a replacement will be sent out to you. The replacement will either be the exact same pot or pan or an equivalent if the pan you had isn't made anymore.
What Le Creuset Cookware Ranges Don't Have a Lifetime Warranty?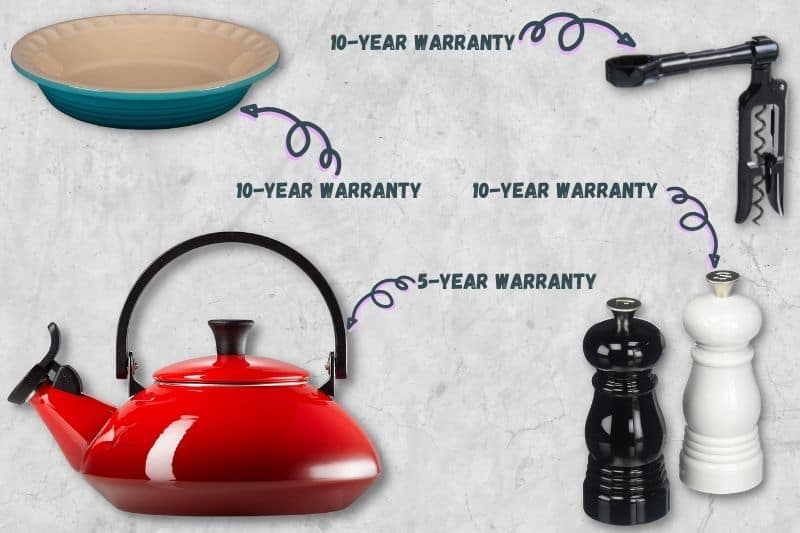 There are a few cookware ranges from Le Creuset that is not included in its lifetime warranty policy. The following are not included:
Stoneware – 10-year warranty
Kettles – 5-year warranty
Wine accessories – 10-year warranty
Salt and pepper mills – 10-year warranty
Again, the cookware ranges above are covered for usual domestic use during the time frame of the warranty. Any accidents, misuse or damage caused in other ways isn't covered.
We hope this look at Le Creuset warranty policies has been helpful and interesting. You can read more about Le Creuset's lifetime warranty policies on the Guarantee page of their website.
Don't forget to check out Chef's Pick other Le Creuset articles while you are here. We have all the best Le Creuset and plenty of information about this fantastic cookware and company right here.

Scott is a writer and a passionate home chef. His passion for cooking began when he was 10 years old. Scott has been writing professionally for over five years now and loves to combine his passion for cooking with his day job.