If your Le Creuset has cracked or chipped, you may think there is nothing you can do. You may think that your Le Creuset is now set to become nothing more than a lovely ornament in your kitchen.
However, there is hope…
Does this mean that you can repair Le Creuset then?
Unfortunately, no. But there is a solution to your cookware problem.
In this article, we'll be looking at the enamelled cast iron cookware from Le Creuset only. Some of their cookware does differ from the information below, so check on the Le Creuset website if you don't have this type of cookware.
Can You Repair Cracked Le Creuset Cookware?
No, you cannot repair cracked or chipped Le Creuset cookware. That doesn't mean you need to spend your hard-earned money on new a Le Creuset though.
Le Creuset cast iron cookware comes with one of the best lifetime warranties in the world. This means that if you do get a crack or chip in your cookware, they will replace it if they deem that crack or chip to meet their criteria.
Replacement Le Creuset cookware
Now, Le Creuset doesn't just replace its cookware for any old reason. For example, if the cookware has cracked or chips on the exterior, but it is still useable, they won't replace it. If the crack is on the inside and is affecting its use, they will.
If the enamel coating has cracked, the cookware is still useable in most cases, so they don't tend to offer replacements in this case.
However, if the enamel and the cast iron have cracked, or there is a noticeable chip in the enamel, they will replace the dish with the same model.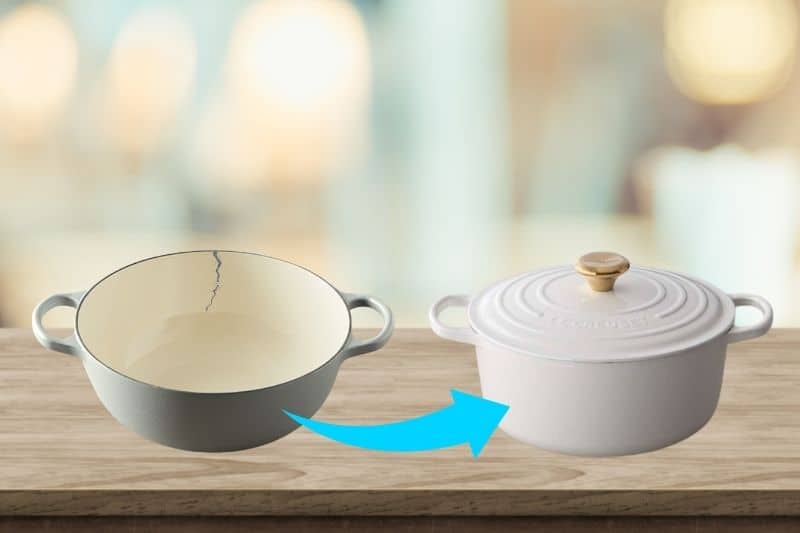 If you aren't sure if the crack in your Le Creuset cookware is only in the enamel or in the cast iron as well, it is best to give them a call. You can also send them a photo of your dish and the damage.
You can find Le Creuset's details on their website here.
Once you have a reference number from Le Creuset, you can send your dish back to them. They will take a look at your dish for you. If they find significant damage, they will send a brand-new replacement dish.
So, while you cannot repair Le Creuset cookware, it doesn't mean that your cooking journey with this amazing brand has come to an end.
Oh, and you also get another lifetime warranty with the new dish that Le Creuset sends out, so you are, once again, covered for life, and you can cook up a storm once more.
If you love Le Creuset and want to see the best cookware from this exceptional brand, explore Chef's Pick some more. We've got loads of Le Creuset articles on here because we love them just as much as you.

Scott is a writer and a passionate home chef. His passion for cooking began when he was 10 years old. Scott has been writing professionally for over five years now and loves to combine his passion for cooking with his day job.