If you have just dropped your Le Creuset pot, and it has chipped, you may be wondering whether you can still safely cook with it or not. Today, we're looking at chips in Le Creuset to find out. There are a few theories to this cooking question, so let's jump straight in, shall we?
Sadly, most sources say, even Le Creuset themselves, that you shouldn't use their pots if they are chipped. Thankfully, though, this isn't because the cast iron may explode or anything like that.
It is simply because the chip could grow as food comes into contact with it, and you may end up with enamel in your food. Also, as the chip grows, more metal will be exposed, and it will rust.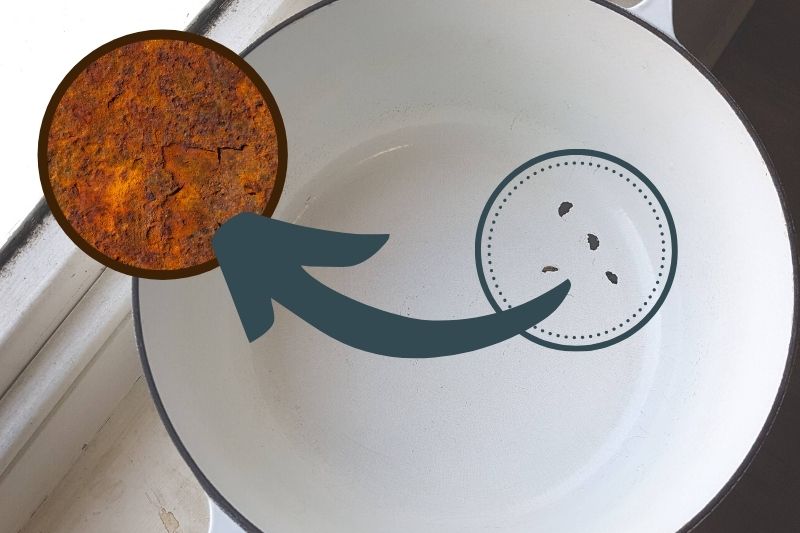 So, if you have chipped the outside of your Le Creuset pot, you could still use it, but we would be cautious about using anything that is chipped. As the enamel has chipped, the cast iron underneath will begin to rust, and you really don't want rust anywhere near your food!
So, if you have chipped your Le Creuset pot, sadly, it may be time to part ways with it and buy a new one. Unless, of course, you can repair your Le Creuset cookware, wouldn't that be great?
Let's find out whether you can repair Le Creuset and other enamelled cookware, shall we?
Can You Repair Chipped Le Creuset Pots?
Le Creuset doesn't offer a repair service for chips that have been caused by accidents as standard. They do offer repairs to their cookware when it is the manufacturing process at fault or if it has been damaged during shipping.
So, basically, if the chip wasn't your fault, they will either repair or replace it. Sadly, as of writing this, Le Creuset doesn't offer a repair service for chips that have happened by accident.
Some people claim that you can use a food-safe epoxy to fill in a chip on this cookware. However, they offer this solution as a temporary one, which likely means that the epoxy will fail at some point and end up in your dinner.
So, as of right now, Le Creuset pots and pans cannot be repaired by them or you if there is a chip that wasn't made by the factory, shop you got it from, or a shipping company.
We are sorry to say that your Le Creuset cookware may have cooked its last meal. Don't be too sad, though; Le Creuset has some beautiful cookware ranges in stock right now.
They have added loads of new colours to their cookware range recently. So now is a great time to buy new Le Creuset cookware.
Why not take a look at Chef's Pick and all of our articles about Le Creuset? We have loads of beautiful examples of this fantastic cookware that will be the perfect replacement for your one!
We have loads of other cookware articles too if you aren't ready to say goodbye to your Le Creuset just yet.

Scott is a writer and a passionate home chef. His passion for cooking began when he was 10 years old. Scott has been writing professionally for over five years now and loves to combine his passion for cooking with his day job.