If you're eyeing up some Le Creuset cookware to add to your kitchen toolkit, you may have some questions about this fantastic cookware.
For example, the cookware question we are covering today: Can Le Creuset be used in the microwave?
Well, let's take a look, shall we?
Can You Microwave Le Creuset Cookware?
The stoneware collection from Le Creuset can be used in the microwave, but not the cast iron collection.
Stoneware collection
Le Creuset was founded in 1925, and so you may think that this fantastic cookware can't hold up in a modern kitchen. However, even though the design and manufacturing process has gone largely unchanged for decades, nothing could be further from the truth.
Not only is Le Creuset's stoneware cookware microwave safe, but you can also put it in the dishwasher, pop it in the fridge or put it in the freezer.
You can even use this stoneware cookware under the grill and in the oven up the 260 degrees Celsius.
So, even though Le Creuset stoneware cookware hasn't changed for decades, you can still use it in a modern kitchen with modern kitchen tools.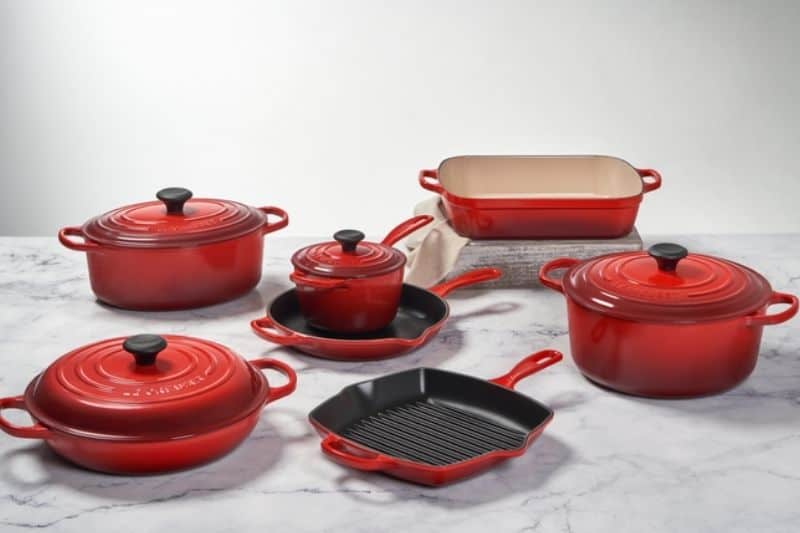 Enamelled cast iron cookware
Le Creuset has crafted its enamelled cast iron cookware since the beginning, and it can be used in a host of cooking appliances in the home.
However, Le Creuset doesn't recommend that it be used in the microwave. This is because of the cast iron, of course.
Despite the enamel coating, the cast iron will still be highly volatile in the microwave. This goes for any Le Creuset cookware that is made from metal.
Just to recap, the stoneware collection from Le Creuset is perfectly safe to use in the microwave, but cast iron and other metal collections are not.
We hope this look at Le Creuset and whether it can be microwaved has been helpful.
Le Creuset has some beautiful cookware in its stoneware range. If you already have some Le Creuset, this collection will fit right in.
If you don't, it will be the shining example in your kitchen. Le Creuset is very traditional cookware, yet, it can add bags of style to even the most modern kitchen. Before we leave you, let's look at some of Le Creuset's stoneware collection, shall we?
Microwave-Safe Le Creuset Cookware
1. Le Creuset Stoneware Rectangular Dish

This cherry red stoneware dish is fantastic for loads of cooking tasks. You can use it in the oven, the grill, pop in the fridge or even the freezer.
Of course, as it is in the stoneware collection, it is microwave safe too, but this dish is 26 cm wide, so it may not fit into your microwave if you have a smaller model.
However, this shallow dish can be used for roasts, pies, and some of the best potato gratins you'll ever taste.
Le Creuset stoneware is also nice and tough. It is covered in a layer of their famous enamel which offers some more protection and some excellent non-stick properties. So, it's easy to keep clean, but it is dishwasher safe too.
2. Le Creuset Stoneware Tapas Dish
This dish is 14 cm and is perfect for tapas, but you'll use it for so many other dishes too. It is wonderful for making pies, for example.
Once again, this stoneware dish is covered in a layer of their enamel that adds a lot of protection but also a pop of colour.
We chose the beautiful Marseilles Blue for this article. We personally think Marseilles Blue is one of the finest colours Le Creuset has ever produced.
Of course, Marseilles Blue is not only used on the stoneware collection. It is used throughout the Le Creuset range, meaning this dish will fit right in with any other Le Creuset you may have.
You could also mix the colours for the famous Le Creuset rainbow, which is such a pleasing sight.
3. Le Creuset Petite Casserole Dish

This casserole dish looks like Le Creuset's famous cast-iron casserole dish but in miniature form. We choose this dish because we think it's cute, but it can also be used in the microwave, and it has so many uses. It is ideal for dips, nibbles and side dishes, along with so much more.
Something that gets us excited about this casserole dish, though, is the array of colours you can get it in. you could almost complete the Le Creuset rainbow with just these dishes which would make your parties absolutely awesome.
We love the Le Creuset stoneware collection. As this collection is coated in the famous enamel coating, the colours available are just as varied and beautiful as the enamelled cast iron range. But the stoneware collection is fantastically well priced too.
It is the perfect way to start off your cookware collection and get some excellent cookware that can be used in every appliance in a modern kitchen.
If you'd like to see some of our favourite cast iron Le Creuset cookware available in the UK right now, please explore Chef's Pick further. We have loads of articles about Le Creuset and the many beautiful examples of its cookware right here.
Just like many other chefs, we are huge fans of Le Creuset. The build quality of their cookware is exceptional, and using it always provides great results in the kitchen.

Scott is a writer and a passionate home chef. His passion for cooking began when he was 10 years old. Scott has been writing professionally for over five years now and loves to combine his passion for cooking with his day job.