Le Creuset makes some of the most beautiful cookware in the world. Cookware that is likely to last you the rest of your life.
So, while choosing the right colour of Le Creuset cookware may not seem like such a big deal, it really is.
That casserole pot is going to be in your home for 50 years, so it is pretty important that you find the perfect colour for you.
Of course, the perfect colour for your Le Creuset cookware is completely subjective, and we can't choose that colour for you.
However, we can tell you about our favourite colours of Le Creuset cookware and why we love them.
Right now, Le Creuset has 14 colours to choose from on its website for its world-famous casserole dish.
These colours range from classic colours that Le Creuset has been using from the beginning and brand-new colours that they have added for special collections like their recent Mother's Day collection.
With 14 colours to choose from, your quest for collecting Le Creuset cookware could be much harder than you first thought.
So, here are our favourite colours that Le Creuset has created over the years to help you find your favourite.
The Classic – Volcanic Flame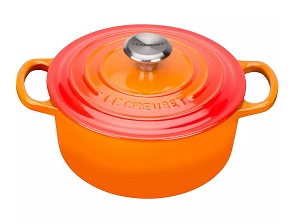 The Volcanic Flame colour from Le Creuset was used in the company's very first piece. It has since become the signature colour of the company.
If you love the classics, this is the colour your cookware should be. Even though this colour has been around since 1925, it is still beautiful and still looks great in every kitchen, no matter how modern.
The deep red slowly sun-bursting into a bright orange really brightens up any kitchen, and the colour is the most recognised colour of Le Creuset too!

The Traditional – Satin Black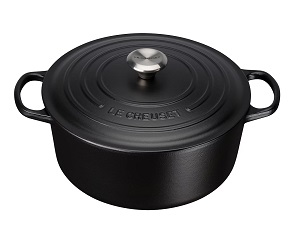 This is the closest colour to raw cast iron that Le Creuset has ever produced and probably ever will.
Le Creuset, of course, makes beautiful enamelled cast iron cookware, which allows them to colour their pans and pots with any awesome colour they like. And Le Creuset is very much known for bold colours, but satin black is not one of these, but that's why we love it.
If you want the best quality cookware in your kitchen but want it to be understated, this is a brilliant option. The satin black looks beautiful. It is simple, sexy and works with loads of kitchen styles.

The Beautiful – Marseille Blue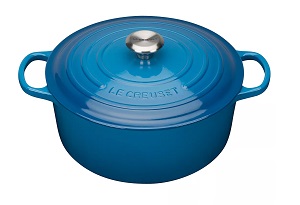 Switching gears completely from the understated to the bold now. We love the satin black cookware from Le Creuset.
Still, if you want bold cookware that tells everyone who enters your kitchen that you have the finest taste of cookware in the world, Marseille Blue is a great option. This colour pops so much and looks fantastic in just about any kitchen.
We can really imagine this fantastic blue in an ultra-modern kitchen. We love this deep shade of blue. It reminds us of the sea, of the Mediterranean and of beautiful seafood!

The Bright – Soleil Yellow

Here is another pop of colour for your kitchen that would still look wonderful in a modern kitchen and be right at home in a traditional kitchen.
Soleil Yellow has a similar sun-burst effect as volcanic flame, so it tips its hat to the classic Le Creuset, but it isn't as bold.
Instead, the lid of the casserole dishes and the bottom of the pan burst with colour and then the middle fades into a pastel yellow.
This is perfect for any kitchen that is in need of a pop of colour, but one that won't draw the eye too much.

The Clean – Teal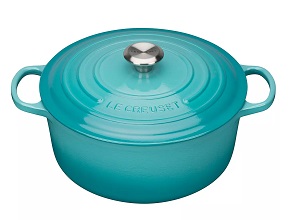 Finally, we have Teal. Now, we love all of the colours of Le Creuset cookware we have mentioned here, but Teal is just beautiful!
Again, it has a slight sun-burst pattern with deeper blues on the bottom of the pot and lid that just look amazing.
We can really see this cookware in a bright, modern kitchen, but it would work equally well in a traditional home too.
This colour calls back nicely to the more traditional colours that Le Creuset is known for. Still, it is a colour for the modern kitchen that works wonderfully.

How to Choose the Colour of Your Le Creuset Cookware
While we love the colours of Le Creuset cookware above, we did start this cookware article by saying that it is completely subjective. And you may prefer another colour of Le Creuset cookware, and that is fine.
Choosing the perfect colour of Le Creuset cookware is important, but how do you do it? Well, many cooks try to match the cookware to the current colour scheme of their kitchen.
It is worth noting that the cookware is likely to outlive your current colour scheme by a long way, though. This is why many other cooks choose to go with a more traditional or classic colour of Le Creuset cookware.
As anyone who knows anything about cookware knows these colours and knows they mean quality.
If you are buying multiple pieces of Le Creuset cookware, you may want to stick with one colour and create a set of beautiful cookware that will look beautiful displayed on shelves in your kitchen. Of course, there is no need to. You could easily create the LGBTQ+ flag with your Le Creuset cookware collection if you wanted to.
So, it ultimately comes down to your own style. If you want your cookware to be bold, bright and beautiful, mix and match the colours and have fun with your cookware.
If you prefer your cookware to offer a classic or traditional feel to your kitchen, go for a plainer or more traditional colour.
We hope this look at the colours of Le Creuset cookware and the colours that we love has been helpful. Sorry we can't choose the perfect colour for your cookware. However, take a look at the colours we listed above as they are truly beautiful.
No matter what colour Le Creuset cookware you decide on, the cookware will provide years and years of use even in the busiest kitchen! Also, for more Le Creuset articles, please explore Chef's Pick further.

Scott is a writer and a passionate home chef. His passion for cooking began when he was 10 years old. Scott has been writing professionally for over five years now and loves to combine his passion for cooking with his day job.