Downdraft extractors offer a smart way to ventilate your kitchen without needing a bulky overhead cooker hood.
You can hide a downdraft extractor from view when you're not using it, making it an excellent choice for a minimalist modern kitchen.
They can be installed in any area of a kitchen and are particularly useful for using on an island with a cooker hob.
If your ready to invest in one of these amazing extractor fans, see our recommendations below.
Best Downdraft Extractors in the UK
1. Cookology CDD900BK Downdraft Extractor Fan

Cookology make some of the most popular downdraft extractor fans on the market in the UK. Their products are cheaper than alternatives from brands such as Smeg and Bosch, offering a touch of luxury for an affordable price.
We're talking about Cookology's 90 cm extractor fan here, but the brand also offer a 60 cm version.
The Cookology CDD900BK is a cool piece of kit. Press down a button for a few seconds and it will rise up from behind your hob—great for impressing friends and family!
This hood has a maximum extraction rate of 700 m³/hr, making it one of the most powerful downdraft hoods on the market, despite being at the lower end of the price spectrum.
It's also reasonably quiet at 67 dB—just a bit louder than a conversation.
Additional features include LED lighting and 4 speed settings. You can also purchase a carbon filter separately.
All in all, this is a great downdraft hood, offering an excellent combination of value for money, style and performance.
2. Neff D95DAP8N0B 90cm Downdraft Extractor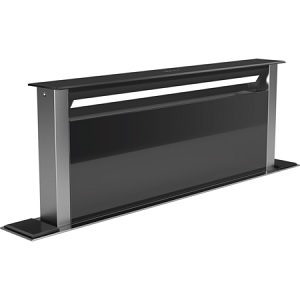 If you need something ultra-powerful, consider the Neff D95DAP8N0B. Its maximum extraction rate is 750 m³/hr, making it one of the most powerful downdraft extractors on the market.
As well as being powerful, it's also pretty quiet, with an average volume of around 62 dB. That's slightly louder than the average human voice.
This extractor is fairly wide at 90 cm, making it a good choice for large hobs and range cookers.
This is an impressive extractor, but it's worth pointing out that some users have had issues with the rising/lowering mechanism being temperamental or noisy.
3. electriQ 60cm Downdraft Cooker Hood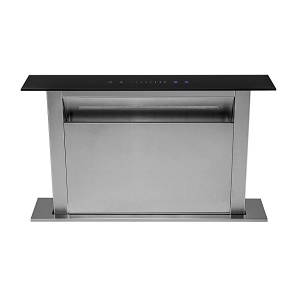 Downdraft extractors usually cost well over £1,000. Here's one you can pick up for less than £500.
The electriQ downdraft cooker hood offers excellent value for money, and has all of the standard features most people want from a downdraft extractor.
This cooker hood extracts air at a maximum rate of 563 m³/hr and features a timer which you can program from 5 to 40 minutes.
It does get a bit noisy if you use it on the highest setting—the maximum volume is 72 decibels.
There's an LED lamp to light up the hob while you're cooking, plus touch controls to compliment a modern hob.
The full width is 60 cm, so this product is a good choice for smaller hobs but may not suit large range-style hobs. To install it, you need a niche measuring 50 x 11.5 cm.
If you want a stylish downdraft extractor without breaking the bank, the electriQ is ideal.
4. Smeg KDD90VXNE 88cm Downdraft Extractor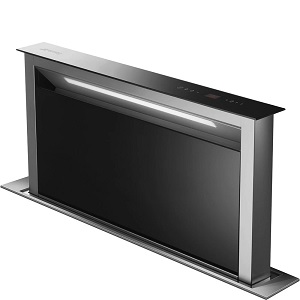 As you'd expect from Smeg, the KDD90VXNE is an exceptionally stylish downdraft extractor.
You can hide it under the hob when you're not using it, and then press a button to make it rise up when you need it—you'll feel like you're cooking in a spaceship!
There's also an LED light to add to help you see what you're doing while cooking.
This extractor fan offers a range of power settings. You can extract as much as 670 m³/hr on the top setting, or choose a less powerful (and quieter) setting when you don't need something so intense.
At 69 decibels, the highest setting isn't as loud as on some other cooker hoods.
If your budget can stretch this far, the Smeg KDD90VXNE is a valuable addition to any modern kitchen.
5. Elica PANDORA-BLK 84 cm Downdraft Cooker Hood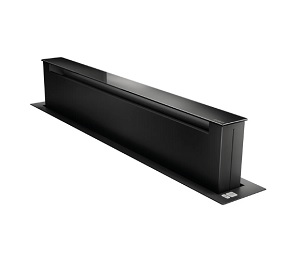 Here's another stylish downdraft hood in the £1,000-£1,500 price range.
The Elica PANDORA measures 90 cm wide, making it a good choice for large hobs and range cookers.
It will remove up to 647 cubic metres of air an hour, so it does a great job at removing smells and moisture.
The maximum noise level is 67 dB, so it's fairly quiet even on the highest setting.
Another good thing is that the grease filter can be easily removed for cleaning, and is even dishwasher safe at low temperatures.
6. Bosch Serie 8 DDD97BM60B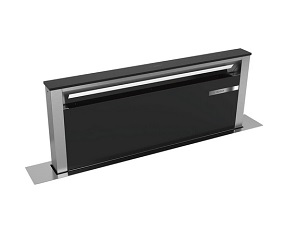 The most expensive product on our list (at the time of writing), the Bosch Serie 8 DDD97BM60B is a cool-looking hood from a reliable and well-respected brand.
With a maximum noise level of 62 dB, it's quiet by cooker hood standards. However, it's not the most powerful hood on this list—the maximum extraction rate is only 530 m³/hour.
Additional features include LED lighting and a boost mode for when you need to remove air more quickly.
This extractor fan looks very stylish, and has nice touch controls that would complement a modern induction hob.
How to Choose a Downdraft Extractor
1.Measure up, and choose the right size
The most important thing to check is that you are buying the right size extractor.
You should choose a downdraft extractor that matches the width of your hob. Measure your hob carefully, or look the product number up online to check its dimensions.
Downdraft extractors are fitted behind the hob, so you need to make sure there is enough space behind your hob for the extractor to fit comfortably.
You will need at least 70 cm of under-counter height to fit the hood.
You also need at least 75 cm of space above the hob, in the "hot zone", as well as 9 cm to the left and right of the hob to give the extractor fan enough space.
2. Know what extraction rate you need
The bigger the kitchen, the more powerful an extraction fan you need in order to successfully remove the air.
You need an extraction rate of at least the following:
kitchen width x kitchen length x kitchen height x 10 (all units in metres)
You can also use our kitchen hood extraction rate calculator tool here if that is easier.
3. Decide which features you want
There isn't a great deal of variation in downdraft extractors—most of them do pretty much the same thing.
Some features to look for include:
LED light – This will add some ambience and help illuminate your hob.
Touch controls – These will blend in well with induction hobs.
Multiple extraction speeds – Most fans offer several speeds, and may also have a "boost mode".
Carbon filters – These help remove gases and harmful substances from the air.
Downdraft Extractor FAQs
How does a downdraft extractor work?
Downward extractors are housed at the back or the side of the hob, and when you're not cooking the appliance is hidden from view creating a more streamlined effect in your kitchen.
When you need to cook, you just press a button and the downdraft extractor will rise from the countertop ready to use. Once activated, the downdraft extractor removes moisture, smells and grease from the cooking area.
How do I install a downdraft extractor?
The best option for installing a downdraft extractor is against a wall, as the ducting can drop down underneath cabinets and straight outside. However, if you want to install a downdraft extractor into a kitchen island, the planning process can be a little more complicated.
Ducted downdraft extractors usually have to be fitted into a kitchen island at the time the kitchen is built, so that they can be vented underneath the floor.
The motor for a downdraft can be situated within the extractor, remotely, or even outside your home. If the motor is located outside your home, you can significantly reduce the amount of noise in your kitchen when using the downdraft extractor, but if the distance is too far between the downdraft and the motor the extractor will be less effective.
If housed indoors, the motor would take up the majority of kitchen cupboard space underneath the hob so you wouldn't be able to have an oven underneath.
Recirculating downdraft extractors can be easier to install as they don't need to be ducted, cleaning the air by pushing it through filters to remove cooking odours and grease, however these models are often not as effective as ducted ones.
Are downdraft hoods effective?
Downdraft extractors work by sucking the cooking smells and smoke to a pipe using a powerful fan, but for this to work properly adequate airflow is needed.
Smaller kitchens in particularly may not have enough airflow or circulation, meaning your kitchen can fill with smoke or food odours, although this is less of a problem if your kitchen is already well-ventilated.
The type of hob you use may also affect how well a downdraft hood works. Downdraft extractors are typically narrower in design than a traditional hob, with four zones in a line to take steam and fumes away.
A downdraft extractor used with a traditional-style hob might not successfully vent as much steam or odours from pots and pans placed on the front rings as those on the back when cooking, and a panoramic hob is perhaps the best type of hob if you're thinking of installing a downdraft hood.
It's also worth noting that installation can affect the effectiveness of a downdraft hood – for example if the ducting pipes used for extraction are too small in diameter, the hood will be less effective.
Downdraft extractor fans often have a reputation as not working as effectively as other methods of extraction; however recent models have become much better at removing odours, steam and grime when cooking with improved design and more powerful extraction rates.
Conclusion
If we had to pick just one downdraft extractor to recommend, it would be the Cookology CDD900BK. Not only is this extractor affordable, it's also powerful, fairly quiet, and very stylish.
We hope you enjoyed this roundup. Check out the rest of our site for more cooking appliance recommendations and tips.

Chef's Pick is your guide to the best kitchen equipment and appliances in the UK.
We help you understand the confusing world of cookers, ovens and cookware so you can get the most out of your kitchen.