Downdraft Extractors are a fairly new addition to the kitchen appliance market, and can be a neat method of ventilating your kitchen because the extractor is hidden from view when you're not using it. They can be installed in any area of a kitchen and are particularly useful for using above an island with a cooker hob.
Best Downdraft Extractors
1. CDA 3D9BL Touch Control Downdraft Extractor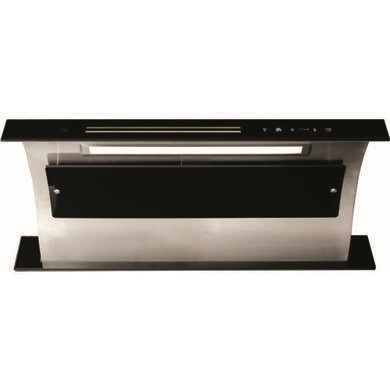 The CDA 3D9BL is an ultra-stylish and incredibly effective downdraft extractor which hides silently beneath your worktop when it isn't being used. The glass touch control panel lets you choose from 4 extraction speeds, and you there's also a ten minute timer that will turn off the extractor automatically after cooking.
This downward extractor is suitable for ducted or re-circulation installation (you'll need to replace the filters for re-circulation mode), and is certified to be used with gas hobs with a rating of 11.3kW or under.
This model isn't one of the cheapest available, but is one of the most stylish and most effective at removing cooking odours from your kitchen.
2. Neff D95DAP8N0B
The Neff D95DAP8N0B Downdraft Cooker Hood can help your kitchen stay fresh and free from odours while you cook. It can simply be extended from your worktop when you cook whenever you need it, staying neatly behind the hob when not in use. It also offers a high extraction rate, and has integrated LED lighting helps to illuminate your hob while you cook.
Suitable for ducting or re-circulation, its noise-optimised design is a real plus point of this downdraft extractor, meaning you can remove odours, grease and steam much more quietly while you cook.  This isn't a cheap option, but it is one of the most powerful downdraft extractors available with excellent extraction capabilities.
3. Neff I99L59N0GB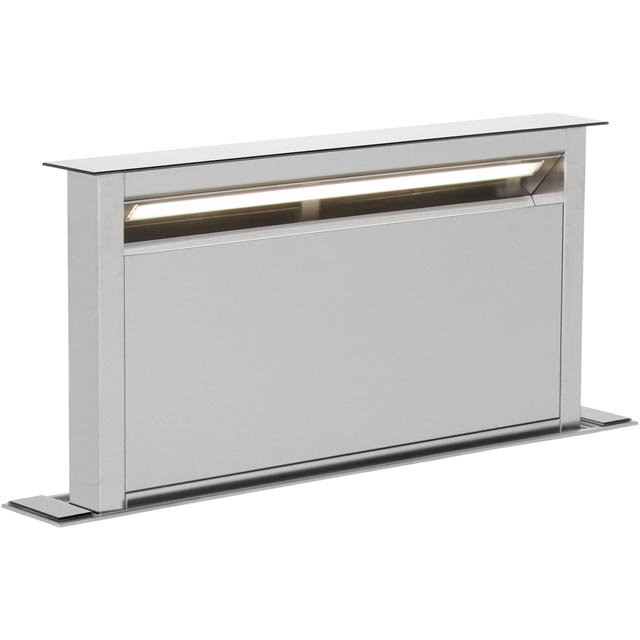 The Neff I99L59N0GB is one of the best choices of downdraft extractors for a large kitchen space and is capable of clearing an impressive 750 cubic metres of air every hour.
Measuring 90cm wide, it can be used effectively with large hobs, and it also has an impressive boost mode feature that can quickly remove unwanted cooking odours such as fish in super quickly if you're waiting for dinner party guests to arrive.
You can choose whether this model extracts outside or recirculates the air, and the washable filter makes cleaning and maintenance super easy. Although this downdraft extractor isn't the cheapest, it has some of the best reviews around for both appearance and performance.
No longer available online
4. Bosch Serie 8 DDD97BM60B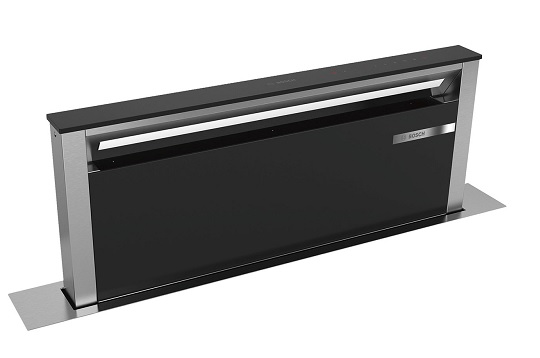 The Serie 8 DDD97BM60B from trusted manufacturer Bosch is a well-designed, high quality downdraft extractor that looks equally good in use and concealed when not in use. The talking point of any kitchen, the extraction rate of 530 cubic metres of air per hour makes it ideally suited for medium-sized kitchens and at 90cm this model is perfect for large hobs.
The LED lighting makes it easy to see your cooking area, and this model also has a handy boost mode when you want to get rid of stronger cooking smells in a hurry.
5. Smeg KDD60VXE-2
With a stainless steel and stunning black glass finish, the Smeg KDD60VXE-2 leaves a stylish impression. Hidden until you need to use it, the hood rises at the touch of a button to provide an extraction rate of 375 cubic metres of air per hour, which can be boosted to 570 m³/hour on intensive mode – suitable for most medium-sized kitchens.
Suitable for venting or re-circulation, it has an impressive list of features which includes four speeds, automatic switch-off, a filter cleaning/replacement indicator and a bright LED light to illuminate your cooking area. In normal extraction mode this model is fairly quiet whilst still effectively removing cooking odours and grease from your kitchen.
Downdraft Extractor FAQs
How does a downdraft extractor work?
Downward extractors are housed at the back or the side of the hob, and when you're not cooking the appliance is hidden from view creating a more streamlined effect in your kitchen. When you need to cook, you just press a button and the downdraft extractor will rise from the countertop ready to use. Once activated, the downdraft extractor removes moisture, smells and grease from the cooking area.
How do I install a downdraft extractor?
The best option for installing a downdraft extractor is against a wall, as the ducting can drop down underneath cabinets and straight outside. However, if you want to install a downdraft extractor into a kitchen island, the planning process can be a little more complicated.
Ducted downdraft extractors usually have to be fitted into a kitchen island at the time the kitchen is built, so that they can be vented underneath the floor. The motor for a downdraft can be situated within the extractor, remotely, or even outside your home. If the motor is located outside your home, you can significantly reduce the amount of noise in your kitchen when using the downdraft extractor, but if the distance is too far between the downdraft and the motor the extractor will be less effective. If housed indoors, the motor would take up the majority of kitchen cupboard space underneath the hob so you wouldn't be able to have an oven underneath.
Recirculating downdraft extractors can be easier to install as they don't need to be ducted, cleaning the air by pushing it through filters to remove cooking odours and grease, however these models are often not as effective as ducted ones.
Are downdraft hoods effective?
Downdraft extractors work by sucking the cooking smells and smoke to a pipe using a powerful fan, but for this to work properly adequate airflow is needed. Smaller kitchens in particularly may not have enough airflow or circulation, meaning your kitchen can fill with smoke or food odours, although this is less of a problem if your kitchen is already well-ventilated.
The type of hob you use may also affect how well a downdraft hood works. Downdraft extractors are typically narrower in design than a traditional hob, with four zones in a line to take steam and fumes away. A downdraft extractor used with a traditional-style hob might not successfully vent as much steam or odours from pots and pans placed on the front rings as those on the back when cooking, and a panoramic hob is perhaps the best type of hob if you're thinking of installing a downdraft hood.
It's also worth noting that installation can affect the effectiveness of a downdraft hood – for example if the ducting pipes used for extraction are too small in diameter, the hood will be less effective.
Downdraft extractor fans often have a reputation as not working as effectively as other methods of extraction; however recent models have become much better at removing odours, steam and grime when cooking with improved design and more powerful extraction rates.
Conclusion
If we had to recommend just one downdraft extractor to recommend it would be the CDA 3D9BL. While it's quite pricey, it's definitely one of the most stylish and effective downdraft extractors on the market.