What's the most powerful cooker hood on the market in the UK? In this article we'll be answering that question and listing some cooker hoods with especially high extraction rates.
Since the style of cooker hood affects extraction rates, we've decided to look at the most powerful models in each different category of cooker hood.
About Cooker Hood Extraction Rates
How is extraction rate measured?
The extraction rate of a cooker hood is measured in cubic metres of air extracted per hour, usually written as m³/hour.
What is a good extraction rate for cooker hoods?
The average kitchen in the UK is roughly 30 m³. This means that it in theory, it would only take 6 minutes of having a 300 m³/hour cooker hood on full to replace all the air in the kitchen.
One formula used to calculate what extraction rate you need is the following:
kitchen width x kitchen length x kitchen height x 10 (all units in metres)
Therefore, a kitchen that was 4 metres wide by 6 metres long and 2.6 metres high would require an extraction rate of:
4m x 6m x 2.6m x 10 = 624 m³/hour
The average extraction rate of a domestic cooker hood in the UK appears to be around 300-500 m³/hour, so anything above that is relatively powerful.
Chimney and canopy hoods tend to offer the highest extraction rates while integrated and visor hoods usually have quite low extraction rates.
Cooker hood extraction rate calculator
Canopy Hoods
1. Neff N50 D55MH56N0B Canopy Cooker Hood
Maximum extraction rate: 650 m³/hour
Width: 55 cm
Neff's stainless-steel cooker hood can handle a variety of steamy scenarios in the kitchen with ease. Available with 3 different speeds and even an intensive mode to clear stronger odours for the more exotic cooking sessions.
Using the recirculation mode, you can remove grease in the air through the use of a carbon filter. Thankfully, the metal grease filter cassettes can be easily removed for cleaning in the dishwasher.
It's important to be aware that the extraction kit is sold separately, which makes this cooker hood quite an expensive option all in. However, the value provided over many years makes it well worth the investment!
2. Elica Elibloc HT 80 Built-in Cooker Hood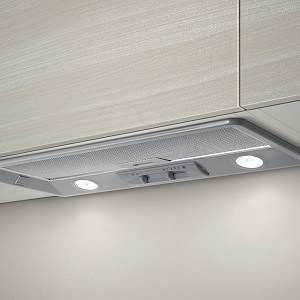 Maximum extraction rate: 647 m³/hour
Width: 72 cm
With a total width of 72cm, the Elica cooker hood is ideal for smaller sized kitchen areas. The canopy style makes it perfect for fitting underneath your cupboard units to cater for those who need the extra space.
Thanks to the twin centrifugal fans, it rapidly eliminates odours, by sending them outside or filtering and recirculating air. Operated by speed slider controls, you have 4 settings to choose from, for the most demanding of meals. Whilst this can cause a build-up on the aluminium grease filters, they are easily washable for long term use.
However, the boost in power does come with a slight raise in noise levels, at a maximum of 64 dB.
3. Siemens LB57574GB Canopy Cooker Hood
Maximum extraction rate: 610 m³/hour
Width: 55 cm
This is a high-end canopy cooker hood by Siemens which will serve as the perfect centrepiece to complete a modern kitchen. At just 55 cm wide, it's designed to be neatly tucked away to preserve space, so that you only see it when you need it!
You'll be adding a premium feel to your kitchen as the extractor offers great value with a max airflow rate of 610 metres cubed per hour to maintain a fresher breathing environment. However, installation isn't as straightforward as most other cooker hoods, so it might be a good idea to hire somebody else if you're not a fan of DIY!
Ceiling Hoods
CDA EVX101SS 100cm Ceiling Cooker Hood with Remote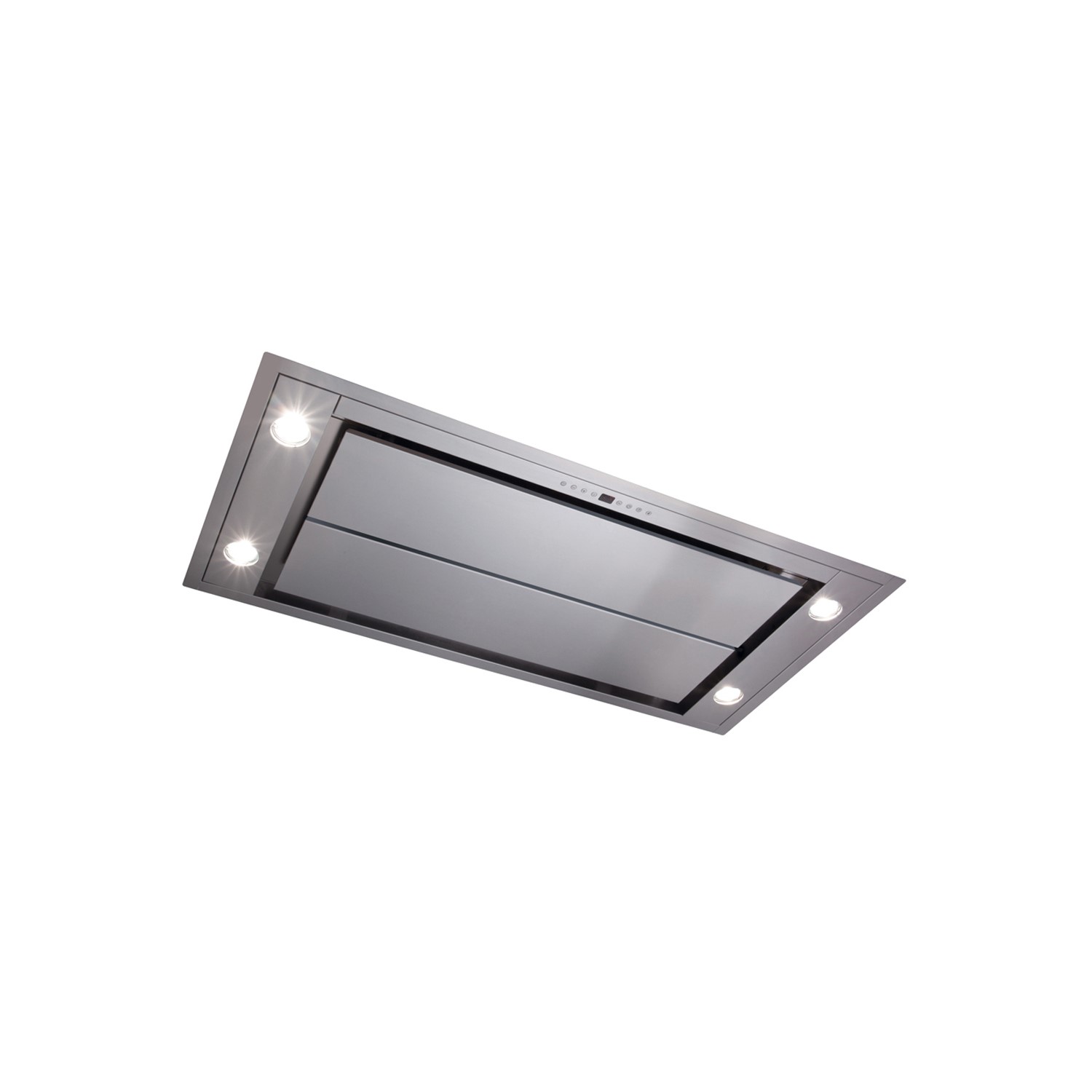 Maximum extraction rate: 690 m³/hour
Width: 100 cm
Ideal for medium to large cooking spaces, this is one of the best ceiling cooker hoods available with a whopping 690 metres cubed per hour extraction rate! Using as many as 8 fan speeds as well as an intensive mode, it will make light work of any type of airborne particles.
The remote control is a unique feature, which can be used to adjust the settings from anywhere around the kitchen, to accommodate for those with bigger spaces.
Whilst the integrated lighting helps to illuminate your food well, it may be slightly too bright for those with sensitive eyes, and unfortunately, there isn't a dimmer setting available.
Chimney Hoods
1. electriQ 90cm Angled Black Glass and Steel Cooker Hood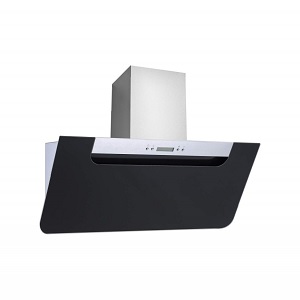 Maximum extraction rate: 796 m³/hour
Width: 90 cm
This steel chimney hood from electriQ is finished with black tempered glass, to add a touch of class to your kitchen, and seamlessly integrate with your other appliances. The angled feature minimises any accidents from banging your head, as well as allowing for better viewing positions whilst your food cooks.
With extraction speeds up to 796 metres cubed per hour, it offers excellent value for money in terms of suction power – although it can be rather noisy.
The added remote makes it really easy to adjust the settings whilst scurrying around the kitchen, which is always handy for when you've got your hands full!
2. Rangemaster 103250 Opal 90cm Wide-Angled Chimney Cooker Hood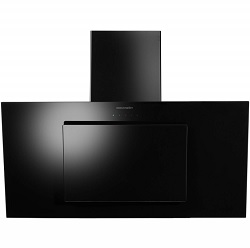 Maximum extraction rate: 700 m³/hour
Width: 90 cm
The Rangemaster provides an ultra-modern aesthetic to your kitchen. It's perfect for those who enjoy a minimalistic design. Available in 3 widths, there is a variety of options to suit your kitchen.
Whilst the max extraction rate is a whopping 700 metres cubed per hour. This also means an increase in the maximum level of noise at 66 dB. Compare that to the average human voice, which is 60 dB, and an alarm clock at around 80 dB – it's not the best for those who like some conversation whilst cooking!
Also, the controls are a little high on the side, which isn't ideal for the shorter chefs out there!
3. CDA EVG9BL Designer Angled 90cm Chimney Cooker Hood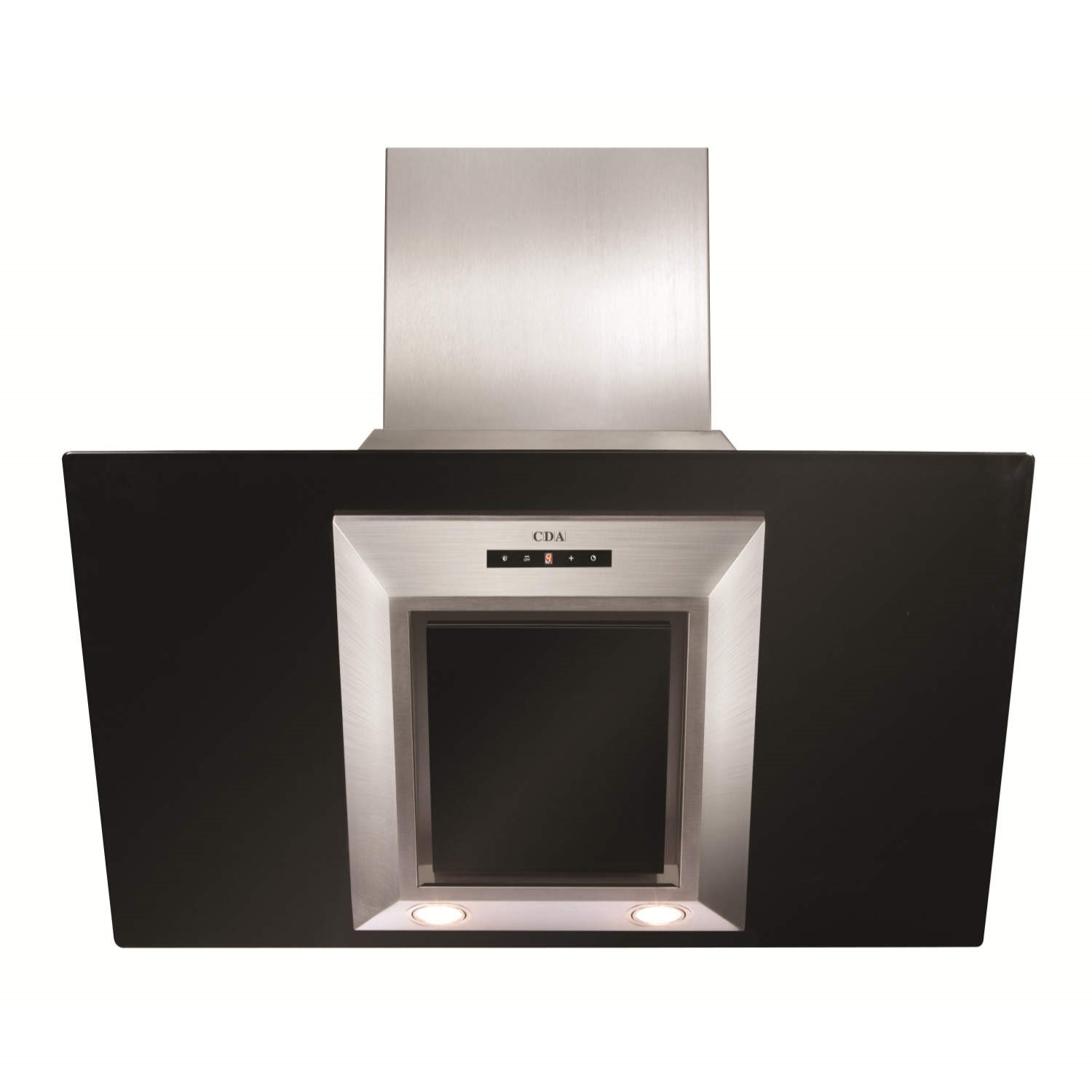 Maximum extraction rate: 703 m³/hour
Width: 90 cm
This angled chimney hood from CDA offers a smooth and stylish design to compliment your kitchen interior.
Created with a filter saturation warning light, it lets you know when cleaning is recommended so that you can always experience properly filtered air.
The two 20W Halogen lamps carefully illuminate your hob without being overbearingly bright – although they aren't as economical as LEDs. With a D level efficiency rating, you might be spending a little more money to use it than other hoods.
It's the perfect choice if you're looking for a quieter model for smaller volumes of steam and smoke. That being said, the extractor isn't as effective at the lower settings, so it's best used for less heavy-duty aeration.
Downdraft Hoods
Cookology 90cm Downdraft Cooker Hood
Maximum extraction rate: 700 m³/hour
Width: 90 cm
Cookology's downdraft cooker is a contemporary solution for those with more modern tastes. Built into your countertops, you can claim back space in your kitchen when not in use, by simply hiding it away.
The centre panel adds an element of class to your kitchen with responsive touch controls and a cutting-edge downdraft extractor. Cool white lighting can be adjusted to create the appropriate level of ambience in your kitchen.
Whilst this product is ideal for ceramic or induction hobs, it's important to be aware that it will only work with electric hobs and cannot be installed in kitchens using gas.
Integrated Hoods
Bosch Serie 2 DEM66AC00B 60 cm Integrated Cooker Hood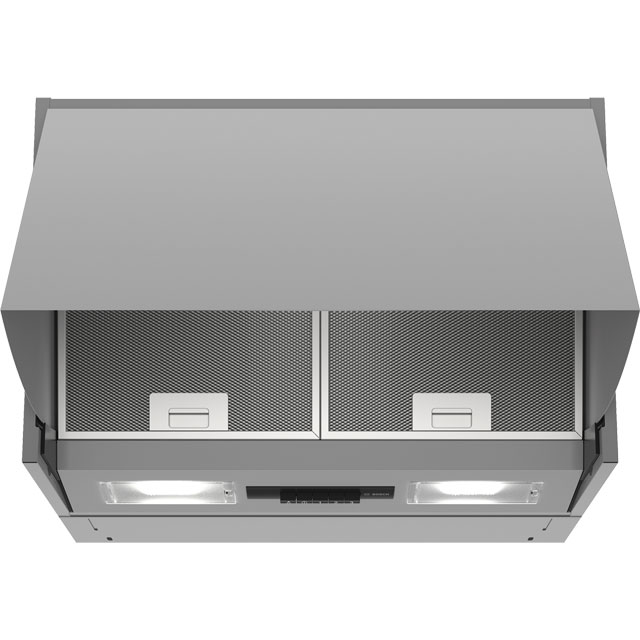 Maximum extraction rate: 625 m³/hour
Width: 60 cm
The Bosch Serie 2 DEM66AC00B integrates into a cabinet above your kitchen countertop. At 60 cm wide, it fits well over a standard-sized hob.
This hood can quickly remove cooking odours from medium-sized kitchens thanks to its powerful extraction rate of 625 cubic metres per hour.
It offers a choice of three speeds and is quite easy to install, though it's fairly noisy.
Telescopic Hoods
1. Elica GLIDE-LED-60 Telescopic Hood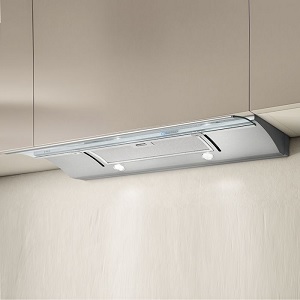 Maximum extraction rate: 610 m³/hour
Width: 60 cm
The Elica Telescopic hood offers a flexible design that can be easily installed into kitchens of many shapes and sizes.
With a mixed glass and stainless-steel exterior, it exhibits an incredibly attractive, yet unobtrusive aesthetic for your home. At just 60 cm wide, it's ideal for those with less space for installations, or those who want to implement a minimalistic theme. LED lighting efficiently brightens up your worktop for flawless observation whilst cooking.
The extractor packs a heavy punch to swiftly remove lingering odours. Although, with a D energy rating, it's not the most cost-effective option available for the long term.
Visor Hoods
At the time of writing, we couldn't find any visor hoods that can extract more that 500 m³ of air per hour. If you want something with a very high extraction rate, consider a different type of cooker hood.
What's the Most Powerful Cooker Hood on the Market?
When researching this article, the most powerful cooker hood we could find was the electriQ 90cm Angled Black Glass and Steel Cooker Hood, which has a maximum extraction rate of 796 m³/hour.

Chef's Pick is your guide to the best kitchen equipment and appliances in the UK.
We help you understand the confusing world of cookers, ovens and cookware so you can get the most out of your kitchen.