What's the most powerful cooker hood on the market in the UK? In this article we'll be answering that question and listing some cooker hoods with especially high extraction rates.
Since the style of cooker hood affects extraction rates, we've decided to look at the most powerful models in each different category of cooker hood.
About Cooker Hood Extraction Rates
How is extraction rate measured?
The extraction rate of a cooker hood is measured in cubic metres of air extracted per hour, usually written as m³/hour.
What is a good extraction rate for cooker hoods?
The average kitchen in the UK is roughly 30 m³. This means that it in theory, it would only take 6 minutes of having a 300 m³/hour cooker hood on full to replace all the air in the kitchen.
One formula used to calculate what extraction rate you need is the following:
kitchen width x kitchen length x kitchen height x 10 (all units in metres)
Therefore, a kitchen that was 4 metres wide by 6 metres long and 2.6 metres high would require an extraction rate of:
4m x 6m x 2.6m x 10 = 624 m³/hour
The average extraction rate of a domestic cooker hood in the UK appears to be around 300-500 m³/hour, so anything above that is relatively powerful.
Chimney and canopy hoods tend to offer the highest extraction rates while integrated and visor hoods usually have quite low extraction rates.
Cooker hood extraction rate calculator
Canopy Hoods
1. Bosch Series 6 DHL785CGB 70 cm Canopy Cooker Hood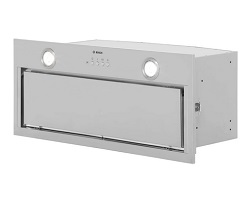 Maximum extraction rate: 730 m³/hour
Width: 70 cm
Coming in at 70 cm wide, this cooker hood is ideal for a standard 60 cm cooker. It will keep a good-sized kitchen smelling and feeling fresh and clean too, thanks to the powerful extraction.
It can move up to 730 cubic metres of air an hour. So, even on the nights when you're cooking fish, this hood will stay on top of all the smells.
The handy boost functions ensure that any smells are eliminated quickly, and the grease filters inside trap all the unwanted stuff. Plus, to clean the grease filters, you can simply pop them in the dishwasher or hand scrub them.
Whether you intend to use this cooker hood as an extraction or recirculating unit, the installation is simple. It is very easy to use once installed, and it can be easily hidden from view for a seamless kitchen design.
2. Neff N50 D55MH56N0B Canopy Cooker Hood
Maximum extraction rate: 650 m³/hour
Width: 55 cm
Neff's stainless-steel cooker hood can handle a variety of steamy scenarios in the kitchen with ease. It offers three different speeds and even an intensive mode to clear stronger odours for the more exotic cooking sessions.
Using the recirculation mode, you can remove grease in the air through the use of a carbon filter. Thankfully, the metal grease filter cassettes can be easily removed for cleaning in the dishwasher.
It's important to be aware that the extraction kit is sold separately, which makes this cooker hood quite an expensive option all in. However, the value provided over many years makes it well worth the investment!
Ceiling Hoods
1. Neff I97CPS8W5B Ceiling Cooker Hood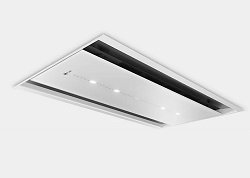 Maximum extraction rate: 933 m³/hour
Width: 90 cm
If you have a Neff hob, this cooker hood will work in partnership with the hob perfectly. You can link the two together and have control over the extraction and lighting directly from the panel on your hob.
If you don't own a Neff hob, though, this cooker hood can be controlled via remote control or from the unit itself.
Still, thanks to Neff's automation technology, controlling the hood is as simple as turning it on. When you start cooking, turn the hood on, and it will do the rest.
This cooker hood can detect when it needs to increase and decrease the power and does it automatically. This makes it incredibly easy to use.
The extraction power of this cooker hood is extremely impressive, and many people love the automation of it. However, the lights seem to be the most popular thing about this cooker hood.
There are four very powerful LED lights that are completely customisable. You can use the dimmer function to dial in the perfect light while cooking and then the best mood lighting for your meal.
2. Siemens LF16RH560 100 cm Ceiling Cooker Hood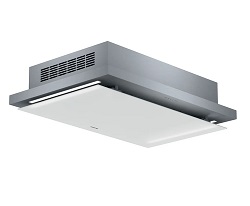 Maximum extraction rate: 850 m³/hour
Width: 100 cm
If you own a larger range cooker, the 100 cm width of this cooker hood ensures that any smells and smoke are quickly expelled from your kitchen.
This powerful hood can move a massive 850 cubic metres of air in an hour. So, when you're cooking with spices or fish, this cooker hood will power through all the smells and ensure nothing lingers, only the lovely taste of your meal.
Of course, as this cooker hood is so powerful, it is ideal for a larger kitchen or if you are really worried about smells. The boost function can also be used to draw massive amounts of air out of the kitchen very quickly.
This cooker hood is also ideal if an extraction unit isn't possible. It is a recirculating hood with a huge amount of power. So, it will clean the air in your kitchen very quickly and ensure all the grease from cooking is stored in the washable grease filters inside the unit.
Chimney Hoods
1. Bosch Series 6 DIB98JQ50B 90cm Island Cooker Hood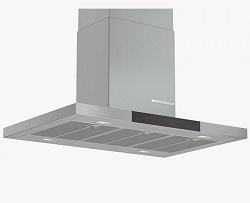 Maximum extraction rate: 837 m³/hour
Width: 90 cm
This modern and stylish chimney cooker hood is the perfect addition to any kitchen island. It will look beautiful in any modern home. Yet, Bosch has designed this with much more than looks in mind.
This is one of the most powerful cooker hoods in this article, moving up to 837 cubic metres of air in an hour.
Yet, it is still whisper-quiet. In fact, even in the boost mode, this cooker hood only reaches 54 dB. So, you can comfortably have a conversation standing underneath this cooker hood.
There are tonnes of amazing features that make this cooker hood stand out as one of the best on the market.
We love the PerfectAir Ventilation system, though. Once you turn the hood on, this mode takes care of the rest. It will increase or decrease the power depending on how much fresh air is needed taking all the guesswork out of it.
You can enjoy cooking while the hood extracts or recirculates all of the air in your kitchen quickly.
2. Neff N90 I96BMV5N5B 90cm Island Cooking Hood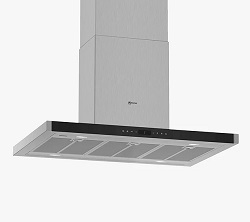 Maximum extraction rate: 867 m³/hour
Width: 90 cm
This Neff cooker hood has the same amazing tech inside as the Neff cooker hood we featured earlier in the list.
This one can also be linked to your Neff hob and controlled via the panel on the hob. You can also control it right on the unit itself or turn it on and let it take control.
This cooker hood senses everything from the moment you turn it on and will adjust the power accordingly. So, if your veg starts to steam or you put a steak in a pan to sear, the cooker hood will sense this and increase the power.
This makes controlling your cooking area and all the smells in it really simple.
Neff has designed a very easy-to-use, powerful and stylish cooker hood here but has also put a lot of effort into making it quiet too.
The drive motor is energy efficient and whisper quiet, and there is additional noise insulation inside the cooker hood to keep it even more quiet. So, you can enjoy all the power with a fraction of the noise.
3. electriQ 90cm Angled Black Glass and Steel Cooker Hood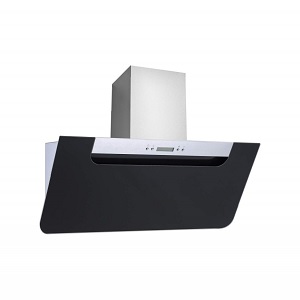 Maximum extraction rate: 796 m³/hour
Width: 90 cm
This steel chimney hood from electriQ is finished with black tempered glass, to add a touch of class to your kitchen, and seamlessly integrate with your other appliances.
The angled feature minimises any accidents from banging your head, as well as allowing for better viewing positions whilst your food cooks.
With extraction speeds up to 796 metres cubed per hour, it offers excellent value for money in terms of suction power – although it can be rather noisy.
The added remote makes it really easy to adjust the settings whilst scurrying around the kitchen, which is always handy for when you've got your hands full!
Downdraft Hoods
1. SIA DD90BL 90cm Downdraft Cooker Hood
Maximum extraction rate: 850 m³/hour
Width: 90 cm
This downdraft cooker hood is ideal for an induction hob on a kitchen island. It is 90cm wide too, so it's perfect for the larger hobs on the market or if you want to make sure that none of the smells from cooking leave the kitchen.
You'll certainly have the power too. This cooker hood can move an impressive 850 cubic metres of air in an hour. This is enough to keep all of the smells and grease from cooking at bay.
Plus, there are three speed settings and a timer, so you can leave this hood running while you enjoy your dinner.
The cooker hood looks amazing when it is closed, so it won't interfere with a clean and modern design at all. Plus, you can set this cooker hood up to recirculate or extract the air, so if you have ducting in place, this could be the ideal cooker hood for you.
2. Montpellier DDCH60 60cm Downdraft Cooker Hood
Maximum extraction rate: 750 m³/hour
Width: 60 cm
This extractor will look amazing when you aren't using it. The unit is completely smooth, thanks to the fully touch-screen controls. So, it's nicely hidden in the counter.
When are using it, you'll enjoy a powerful extractor will plenty of modes to help you keep the smells and nasty stuff out of your kitchen.
This cooker hood has a timer with several options to choose from. Select the length of time you'd like the extractor to run for, and then leave it to it.
Once the timer ends, the extraction will turn off, and the unit will disappear into the counter automatically.
This is certainly a very powerful extractor and a very reasonably priced one compared with other models on the market.
There are no brand names visible either, so it will blend in nicely with your other appliances.
Integrated Hoods
1. AEG DGE5661HB 54 cm Integrated Cooker Hood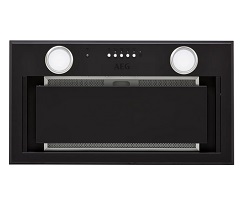 Maximum extraction rate: 700 m³/hour
Width: 54 cm
This cooker hood comes with AEG's famous Hob2Hood technology. This automatically activates and adjusts the fan speed settings based on what you are cooking and how much smoke and steam is in the air.
So, this cooker hood allows you to focus on cooking your meals and enjoying the process while it powers up and takes care of the nasty stuff.
You will need a compatible AEG hob for this feature, but if you have one, it is a brilliant feature that comes in so handy almost every time you cook.
Despite it only being 54 cm wide, this cooker hood has loads of power. It can move 700 cubic metres of air in an hour. Yet it is designed to almost disappear once it's installed.
And, thanks to the automatic feature, the only time you'll ever think about this cooker hood is when you are washing the filters.
2. Bosch Serie 2 DEM66AC00B 60 cm Integrated Cooker Hood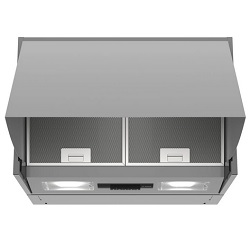 Maximum extraction rate: 625 m³/hour
Width: 60 cm
The Bosch Serie 2 DEM66AC00B integrates into a cabinet above your kitchen countertop. At 60 cm wide, it fits well over a standard-sized hob.
This hood can quickly remove cooking odours from medium-sized kitchens thanks to its powerful extraction rate of 625 cubic metres per hour.
It offers a choice of three speeds and is quite easy to install, though it's fairly noisy.
Telescopic Hoods
1. Elica GLIDE-LED-60 Telescopic Hood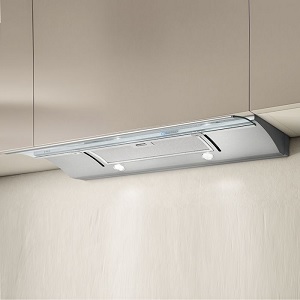 Maximum extraction rate: 610 m³/hour
Width: 60 cm
The Elica Telescopic hood offers a flexible design that can be easily installed into kitchens of many shapes and sizes.
With a mixed glass and stainless-steel exterior, it exhibits an incredibly attractive, yet unobtrusive aesthetic for your home. At just 60 cm wide, it's ideal for those with less space for installations, or those who want to implement a minimalistic theme. LED lighting efficiently brightens up your worktop for flawless observation whilst cooking.
The extractor packs a heavy punch to swiftly remove lingering odours. Although, with a D energy rating, it's not the most cost-effective option available for the long term.
Visor Hoods
At the time of writing, we couldn't find any visor hoods that can extract more that 500 m³ of air per hour. If you want something with a very high extraction rate, consider a different type of cooker hood.
What's the Most Powerful Cooker Hood on the Market?
When researching this article, the most powerful cooker hood we could find was the Neff I97CPS8W5B Ceiling Cooker Hood, which has a maximum extraction rate of 933 m³/hour.

Chef's Pick is your guide to the best kitchen equipment and appliances in the UK.
We help you understand the confusing world of cookers, ovens and cookware so you can get the most out of your kitchen.