If you're looking for a cooker hood that doesn't need ducting, this roundup of the best recirculating cooker hoods is for you.
A cooker hood is a vital piece of kitchen equipment. It can stop your kitchen smelling, stop mould and damp causing issues in your kitchen and, of course, can complete the perfect look for a modern kitchen.
However, with so many cooker hoods on the market, how do you know which one to buy?
Here's a roundup of the best recirculating cooker hoods available in the UK. We've tried to include something for all budgets and kitchen styles.
Most of these hoods don't come with carbon filters included, but you will have the option to include them when buying from retailers such as Currys.
Best Recirculating Cooker Hoods in the UK
1. Belling UH100B 100 cm Chimney Cooker Hood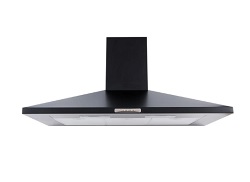 Style: Chimney
Dimensions: 100 cm wide x 56 cm high x 48.5 cm deep
Functions: Recirculation and extraction
Noise level: 52 dB
This cooker hood from British brand Belling has a chimney-style design and is available in either a black or stainless-steel finish.
It's important to point out that this hood is quite wide at 100 cm. Most cookers are only 50-60 cm wide, so this hood is a good choice if you have a wider cooker or want something that will cover more space over your hob.
You can use this hood as a recirculating hood or an extraction hood depending on your preference.
It offers three extraction speeds and features two lights to illuminate the cooking area. It is relatively quiet at 52 dB.
This cooker hood offers good value for money and is a good choice if you're looking for something wider than the average.
While it's technically one of the quieter models on the market, it still sounds quite loud, but this is true of almost all cooker hoods.
2. Neff D55MH56N0B 52cm Canopy Cooker Hood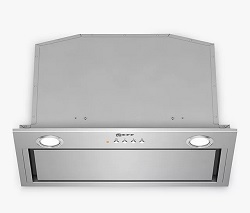 Style: Canopy
Dimensions: 52 cm wide x 42 cm high x 30 cm deep
Functions: Recirculation and extraction
Maximum noise level: 67 dB
The Neff D55MH56N0B is a canopy-style cooker hood that offers both recirculation and extraction functions. It fits into your kitchen cabinets above the hob in an unobtrusive way, where it will remove steam and odours from your kitchen without being an eyesore.
The maximum noise level of 67 dB is quite loud, but not excessively so. It has three extraction speeds as well as an intensive boost option.
The two built-in 1W LED lights are a nice addition, and help you see what you're doing while you're cooking.
To use the recirculation function, you will need the Neff Z5135X3 Standard Recirculation Kit, which needs to be bought separately.
3. CIARRA CBCS6506B 60cm Glass Cooker Hood
Style: Chimney
Dimensions: 60 x 50 x 53 cm
Functions:Recirculation and extraction
Noise level: 67 dB
This stylish recirculating cooker hood combines stainless steel and glass to give a modern finish.
With a width of 60 cm, it's suitable to use over any standard-size cooker and hob and will clean the air quickly in a small to medium-sized kitchen.
This cooker hood has three venting speeds to suit any amount of smells and sizzling plus two bright LED lights.
You can choose to use this product as a recirculating hood using carbon filters (not included), or connect it to a vent and use it as an extraction hood.
It's compatible with CBCF004 filters, which are easy to get hold of online.
If you're looking for a chimney-style recirculating cooker hood, this one from CIARRA offers good value for money and looks stylish, though it can be tricky to install due to the confusing instructions manual.
4. CIARRA CBCS6201 60cm Cooker in Stainless Steel
Style: Chimney
Dimensions: 60 x 57.3 x 48.2 cm
Functions: Recirculation and extraction
Noise level: 62 dB
The stainless-steel design of the Ciarra cooker hood adds a touch of elegance to complete the aesthetic of your kitchen.
At 380 cubic metres per hour, it offers a fantastic extracting rate, including the ability to absorb smoke, dust, and even grease to protect your family from unhealthy aromas.
Not only does it look expensive, but it also provides great value for money in terms of performance, with two ventilation modes: recirculation inside and duct outside.
The only design flaw would be the extremely short power wire, which may require an extension cable if you don't have a convenient plug socket nearby.
5. Logik L60CHDB17 Chimney Cooker Hood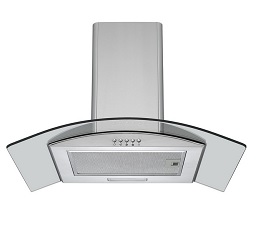 Style: Chimney
Dimensions: 45-83 cm high x 60 cm wide x 47 cm deep
Functions: Recirculation and extraction
Noise level: 58 dB
This reasonably priced chimney cooker hood offers three extraction speeds and features dishwasher-safe grease filters.
It's relatively quiet (the maximum setting is 58 dB), so it's a good choice if you find the noise produced by most cooker hoods to be irritating.
Like many of the products reviewed here, you can either use this hood as a recirculating hood or connect it to an external vent.
This cooker hood looks great and offers good value for money. The best thing about it is that it's fairly quiet, though it does vibrate and rattle sometimes.
What Is a Recirculating Cooker Hood?
A typical cooker hood is set up to extract air from your kitchen via a vent or duct. They're called extraction hoods, for obvious reasons.
These types of cooker hoods expel the smells and damp air from your kitchen and out into the world.
By contrast, a recirculating cooker hood passes the smells and the air through carbon and grease filters and then recirculates it back into your kitchen.
This means you don't need to drill a massive hole in the side of your house and install ducting.
The biggest advantage of recirculating hoods is that they don't require ducting.
The ducting you need for an extraction hood can look unsightly in your kitchen, and could cause damp issues if it isn't properly sealed. The installation requirements also make extraction hoods more expensive to install.
One good thing about recirculating cooker hoods is that they can be installed anywhere in your kitchen. So, if your cooker isn't placed on an external wall, it doesn't matter at all.
One of the only downsides to recirculating cooker hoods is that the filters may need to be replaced more frequently than the filters in more traditional cooker hoods.
However, the filters may only need to be changed once a year, so it is hardly going to break the bank!
Many cooker hoods offer you the option of functioning either as a recirculating hood with the use of carbon filters or as an extraction hood with the use of ducting.
Often neither the carbon filters nor the ducting is included, so you need to decide how you will use the hood and remember buy the necessary extras when you buy the hood itself.
Pros and Cons of Recirculating Cooker Hoods
Here's an overview of the pros and cons of cooker hoods versus extraction hoods.
Pros
Easier to install
Cheaper to install
No ugly ducting in the kitchen
Usually quieter
Cons
Less effective at extraction
Filters require replacing regularly
Choosing a Recirculating Cooker Hood
Here are some things to think about when looking for a recirculating cooker hood for your kitchen.
Style
Of course, one of the biggest selling points for a cooker hood is how it looks. It has to add some style to your kitchen, but that shouldn't be the only thing it adds!
You also need to consider which type of cooker hood you are buying. Types of cooker hood include integrated, visor, chimney and island.
Which type you need will depend on where your cooker is located in the kitchen, how much space you have and whether you want the hood to be discrete or be a feature in the kitchen.
Function
As well as the look of your cooker hood, it's worth thinking about how it will function too.
It's no good getting a beautifully stylish cooker hood only to find out that it's no good. Of course, you won't have this problem because we are about to show you the best recirculating cooker hoods in the UK, but style and function need to go hand in hand.
Filters
Other things that are worth thinking about when buying a recirculation cooker hood include how often the filters need changing and how easy it is to change them.
We all like to keep things simple, and so the task of changing the cooker hood filters should be as simple and easy as using the thing daily. Otherwise, the lovely cooker hood you just bought may become the stuff of nightmares.
Installation
You should also find out how easy a cooker hood is to install. Whether you are installing it yourself or not, if the install is a bit more complicated, it may cost more for a company to do it or it can cause you a lot of stress.
Also, by finding out how difficult the cooker hood is to install, this can help you price this part of the cost up and keep within your budget.
Conclusion
The best recirculating cooker hood for you depends on the layout and style of your kitchen as well as the size of your cooker. Our favourite in this list is the Belling UH100B, but check that it fits your kitchen layout before considering ordering it.

Chef's Pick is your guide to the best kitchen equipment and appliances in the UK.
We help you understand the confusing world of cookers, ovens and cookware so you can get the most out of your kitchen.