You may have stumbled upon this cooker article during your quest for a cheap electric cooker under £100.
As you may have guessed, it is incredibly challenging to find a brand new electric cooker for under £100. In fact, during our research for this cooker article, we couldn't find any! (Not new, at least).
So, if you need a cooker and don't want to spend a lot of money, what are your choices?
Well, below, you'll find a few ways to get a cheap electric cooker. There are some cookers below that are under £200, and we have a section about secondhand electric cookers too. So, let's dive right in, shall we?
Finding a Cheap Electric Cooker for Under £100
There are a few fantastic resources that you can use to find an electric cooker for under £100. Granted, any electric cooker that you find for this price will be secondhand or refurbished.
However, if this is your budget for an electric cooker and you really can't stretch to £200, then the places below are your best bet to find a cooker that fits your needs.
Facebook Marketplace
Facebook Marketplace is an excellent place to find a secondhand electric cooker. A lot of people will sell their cookers on here rather than throwing them away.
Most people also want their cookers gone quickly and so you can often find brilliant deals on cookers and other big appliances. We have a section below about buying a secondhand cooker and whether it is a good idea. So, make sure you check that out.
Gumtree
Gumtree may not be used as frequently as Facebook Marketplace any more. However, it is still a viable place to find a secondhand cooker. Typically the price of electric cookers on Gumtree is comparable to on Facebook Marketplace too, and you may find a deal locally.
Refurbished appliance stores
Another fantastic place to find electric cookers for under £100 are refurbishing companies. They will often have loads of cookers of different specs at great prices. You might have to travel a bit to find the cooker you are after, but you'll get a great cooker and typically a warranty.
Is it a good idea to buy a secondhand cooker?
If you are thinking of buying a secondhand cooker, there are a few things to consider. Firstly, remember that a secondhand cooker won't come with a warranty.
A refurbished electric cooker is likely to have some form of warranty, but from the store you buy it from not from the manufacturer. Of course, a secondhand cooker may also be more temperamental than a new one.
Buying a secondhand electric cooker is just like buying a secondhand car. In most cases, the cooker will work great for you. However, every so often, you'll find an electric cooker that is more of a headache than it's worth.
When you are looking for a secondhand electric cooker, it is worth asking why the person is selling it. If they have just remodelled their kitchen and they have replaced their cooker, the cooker could be great. If, though, they have replaced the cooker for another reason, the cooker might not work correctly.
Seeing that the cooker functions correctly before you drive away with it is ideal, but often that can't be done. So, if you are buying a secondhand cooker, try and find out as much info as you can.
Has it ever broken down? Why is the person selling the cooker? Did the cooker have heavy use during their time of owning it?
All of these questions will help you discover whether this cooker will last you a while. Also, some people may tell you that the electric cooker they are selling still has some of its manufacturer warranty left. This is great, but like many other things, a cooker can lose its warranty if it is sold on.
This section isn't here to put you off buying a secondhand cooker. We are just saying that it's important to find a good quality cooker. If a secondhand cooker hasn't had much use and is still in great condition, it will likely last you for a good few years!
As we said, we struggled to find brand new cookers for under £100. If you'd prefer to find a cooker that is brand new, here are a few excellent cookers for under £200.
Some Fantastic Electric Cookers for Under £200
Electra SE50B Electric Cooker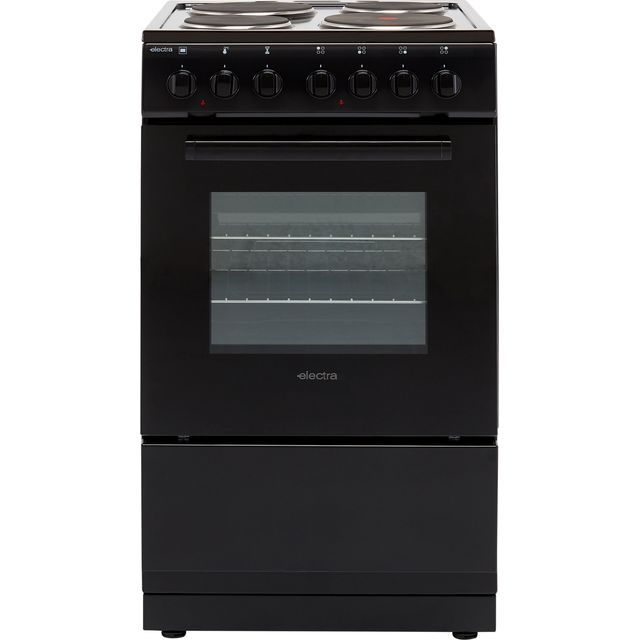 The Electra 50cm electric cooker is A-rated and comes with a sturdy, solid plate hob. It has one oven, but don't worry, that oven can also become a grill, so you'll have plenty of versatility with this oven. It also has a cooking timer so you won't burn anything!
This oven has a capacity of 60 litres. This means that you'll be able to cook for a family of four pretty comfortably in this oven. The specs of this oven are fairly basic compared to higher-priced models. Still, for an electric oven under £200, it is very impressive. Plus, it comes in a few colours too so you can match your oven to your kitchen or your other appliances.
Pros
Can cook a roast for 4
Easy to use with simple controls
Built surprisingly well
Beko KS530S Electric Cooker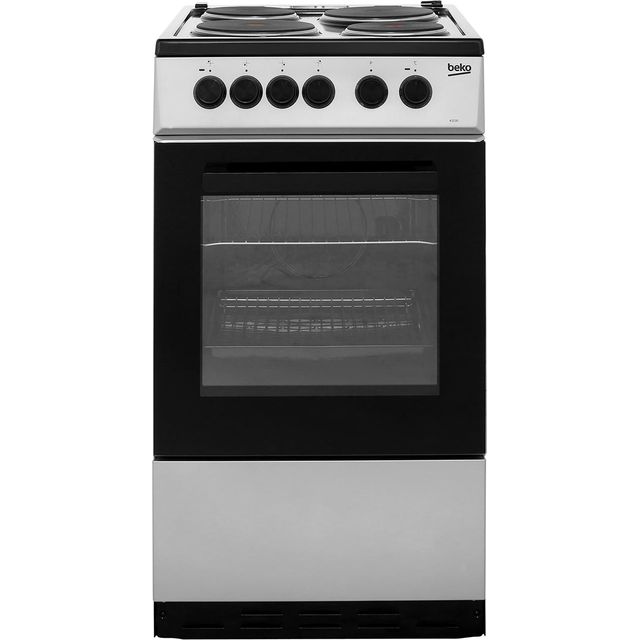 This Beko electric cooker may look fairly similar to the cooker above. Well, we believe that this cooker is pretty much the same as the one above. It is 50cm, it has a 60-litre capacity, a single oven and solid plate hob too. Also, this Beko cooker is very similar in price as the one above too.
So, why put this electric cooker on this list too? Well, we actually prefer the styling of this cooker. Sure, the controls are just the same, and the single oven provides the same cooking power and stuff, but the two-tone colour is lovely. Plus, Beko makes very good cookers, and this one is no exception. So, if you like the cooker above but fancy something a little more stylish, check this one out!
Pros
Plenty of room in the single oven
Simple to use
Built nicely and looks good
Cons
Again, this is a basic cooker, but it works very well.
Indesit IS5V4KHW Single Oven Electric Cooker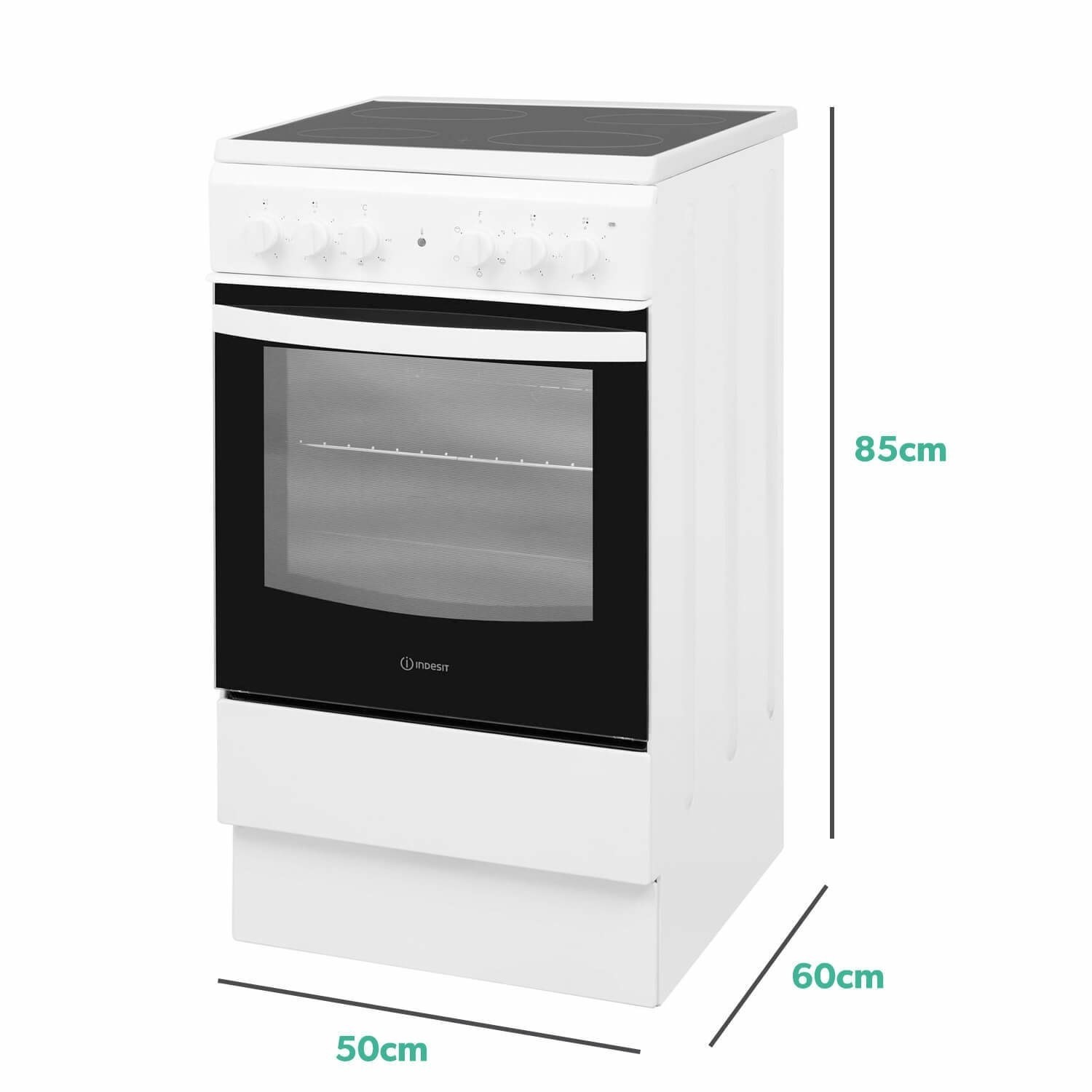 This Indesit is slightly different from the other cookers on this list. It comes with a ceramic cooktop. Each cooking zone has 6 power levels that are simply controlled with the knobs on the front of the cooker. The oven (that also doubles as a grill) has double glazed doors and a 61-litre capacity. Also, this cooker has a storage compartment underneath the oven, so it is great for a smaller home.
Even though this cooker offers space-saving solutions for smaller homes, it will still cook for a family four. There are two shelves in the oven, so there is plenty of space for even the biggest of meals. Plus, the four hob rings offer even more versatility.
Pros
Easy to use
Heat indication light (the other cookers on this list do not have this)
Just an all-round solid oven for the price
Cons
Heats up a bit slowly according to some owners
Conclusion
We hope this look at cookers on a budget will help you find the perfect cooker for your home. There's a deal to be had on a cooker somewhere near you. However, if you can spend a bit more on a cooker, you can get a brand new one like the ones on our list above.
Make sure to check out the rest of our cooker articles on here for more tips and tricks relating to cookers too. Check out our roundup of the best electric cookers to get started. Happy cooking!

Scott is a writer and a passionate home chef. His passion for cooking began when he was 10 years old. Scott has been writing professionally for over five years now and loves to combine his passion for cooking with his day job.