You may have stumbled upon this cooker article during your quest for a cheap electric cooker under £100.
As you may have guessed, it is incredibly challenging to find a brand new electric cooker for under £100. In fact, during our research for this cooker article, we couldn't find any! (Not new, at least).
So, if you need a cooker and don't want to spend a lot of money, what are your choices?
Well, below, you'll find a few ways to get a cheap electric cooker. There are some cookers below that are under £250, and we have a section about secondhand electric cookers too. So, let's dive right in, shall we?
Finding a Cheap Electric Cooker for Under £100
There are a few fantastic resources that you can use to find an electric cooker for under £100. Granted, any electric cooker that you find for this price will be secondhand or refurbished.
However, if this is your budget for an electric cooker and you really can't stretch to £250, then the places below are your best bet to find a cooker that fits your needs.
Facebook Marketplace
Facebook Marketplace is an excellent place to find a secondhand electric cooker. A lot of people will sell their cookers on here rather than throwing them away.
Most people also want their cookers gone quickly and so you can often find brilliant deals on cookers and other big appliances. We have a section below about buying a secondhand cooker and whether it is a good idea. So, make sure you check that out.
Gumtree
Gumtree may not be used as frequently as Facebook Marketplace any more. However, it is still a viable place to find a secondhand cooker.
Typically the price of electric cookers on Gumtree is comparable to on Facebook Marketplace too, and you may find a deal locally.
Refurbished appliance stores
Another fantastic place to find electric cookers for under £100 are refurbishing companies. They will often have loads of cookers of different specs at great prices.
You might have to travel a bit to find the cooker you are after, but you'll get a great cooker and typically a warranty.
Is It a Good Idea to Buy a Secondhand Cooker?
If you are thinking of buying a secondhand cooker, there are a few things to consider. Firstly, remember that a secondhand cooker won't come with a warranty.
A refurbished electric cooker is likely to have some form of warranty, but from the store you buy it from not from the manufacturer. Of course, a secondhand cooker may also be more temperamental than a new one.
Buying a secondhand electric cooker is just like buying a secondhand car. In most cases, the cooker will work great for you. However, every so often, you'll find an electric cooker that is more of a headache than it's worth.
When you are looking for a secondhand electric cooker, it is worth asking why the person is selling it. If they have just remodelled their kitchen and they have replaced their cooker, the cooker could be great. If, though, they have replaced the cooker for another reason, the cooker might not work correctly.
Seeing that the cooker functions correctly before you drive away with it is ideal, but often that can't be done. So, if you are buying a secondhand cooker, try and find out as much info as you can.
Has it ever broken down? Why is the person selling the cooker? Did the cooker have heavy use during their time of owning it?
All of these questions will help you discover whether this cooker will last you a while. Also, some people may tell you that the electric cooker they are selling still has some of its manufacturer warranty left. This is great, but like many other things, a cooker can lose its warranty if it is sold on.
This section isn't here to put you off buying a secondhand cooker. We are just saying that it's important to find a good quality cooker. If a secondhand cooker hasn't had much use and is still in great condition, it will likely last you for a good few years!
As we said, we struggled to find brand new cookers for under £100. If you'd prefer to find a cooker that is brand new, here are a few excellent cookers for under £250.
Cheap Electric Cookers for Under £250
1. Currys Essentials CFSEWH18 50 cm Electric Solid Plate Cooker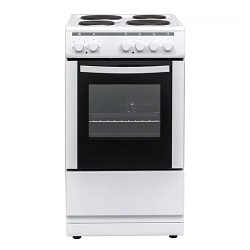 Dimensions: 92 x 55 x 68.5 cm
This small cooker from Currys Essentials range is a small freestanding cooker with a single oven that has an integrated grill.
The cooker has a four-zone electric solid plate hob with individual easy-to-use dial controls.
The cooker is ideal for families who need all the functionality of a regular electric cooker but don't have the space for a full-size cooker.
This basic conventional cooker has a double-glazed door that gives you a good view over your cooking dishes, whilst still trapping the heat inside.
Whilst most users find that this cooker performs well and is simple, some owners find that it is difficult to accurately set some temperatures with the temperature control knob for the oven itself, and that the knobs can be difficult to grip.
2. Electra SE50B Electric Cooker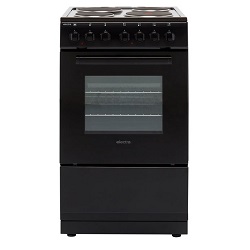 The Electra 50cm electric cooker is A-rated and comes with a sturdy, solid plate hob.
It has one oven, but don't worry, that oven can also become a grill, so you'll have plenty of versatility with this oven. It also has a cooking timer so you won't burn anything!
This oven has a capacity of 60 litres. This means that you'll be able to cook for a family of four pretty comfortably in this oven. The specs of this oven are fairly basic compared to higher-priced models.
Still, for an electric oven under £250, it is very impressive. Plus, it comes in a few colours too so you can match your oven to your kitchen or your other appliances.
3. electriQ 50cm Electric Cooker with Sealed Plate Hob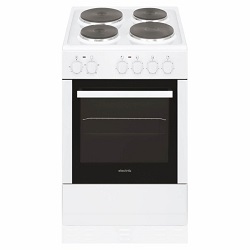 Dimensions: 50 x 60 x 90 cm
This small, affordable 50 cm electric cooker from electriQ has an A energy rating, so not only is it kind to your wallet, but it's kind to the environment and your bank balance too.
As standard, this cooker comes with one oven shelf and grill pan, but you can add an extra oven shelf if you like.
This cooker might be small in stature, but the 48 litre capacity means that it has plenty of space to cook just about everything, from a roast dinner to a casserole.
This electric cooker has four oven functions including a grill setting, and the controls are very easy to use.
4. Bush BESAW50B 50cm Single Electric Cooker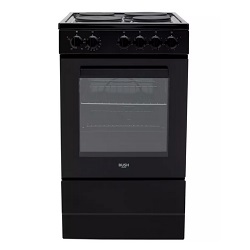 Dimensions: 89.5 x 49.6 x 59.7 cm
This dainty single electric cooker from Bush has a huge 63 litre usable capacity and a solid plate hob with four cooking zones.
The cooker has a sleek, modern finish in a choice of black or white, and the oven door is hinged at the bottom for easy access.
The Bush cooker is ideal for small households, whilst still offering more than enough space to cook a Sunday roast.
Not only is this cooker affordable to purchase, but its "A" energy efficiency rating means it will be kind to your wallet in the long term too.
Conclusion
We hope this look at cookers on a budget will help you find the perfect cooker for your home. There's a deal to be had on a cooker somewhere near you. However, if you can spend a bit more on a cooker, you can get a brand new one like the ones on our list above.
Make sure to check out the rest of our cooker articles on here for more tips and tricks relating to cookers too. Check out our roundup of the best electric cookers to get started. Happy cooking!

Scott is a writer and a passionate home chef. His passion for cooking began when he was 10 years old. Scott has been writing professionally for over five years now and loves to combine his passion for cooking with his day job.